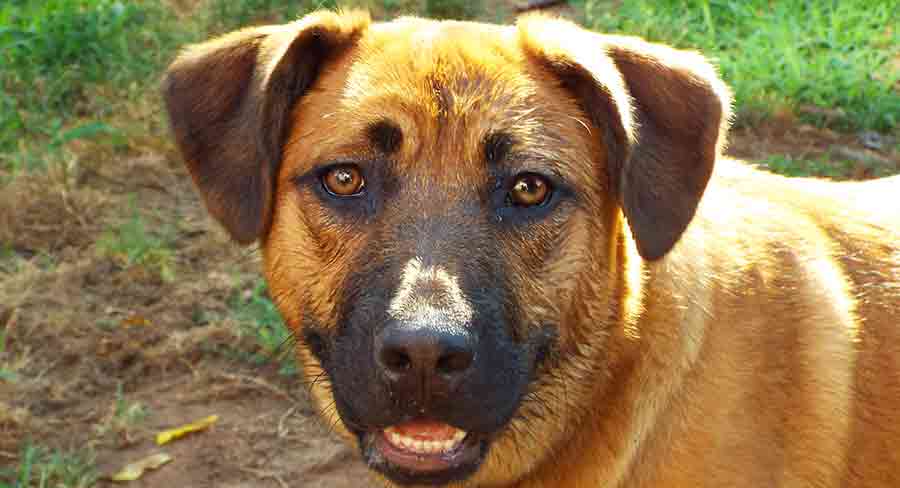 The Black Mouth Cur dog has a black muzzle or mask, and a short coat. This breed is loyal, affectionate, and very active. They were originally bred as a working dog, so are best suited to active families that can dedicate time to training. A Black Mouth Cur will grow to at least 16 inches tall, weighing between 35 to 90 pounds as an adult. Today we're going to look at which lifestyles and families are best suited to a pet Black Mouth Cur. And it how to raise and care for your Black Mouth Cur puppy, to help them grow into a happy, healthy adult dog.
The Black Mouth Cur is best suited to families that spend lots of time working outdoors, or who love dog agility and training. They respond really well to positive reinforcement training techniques, and need a bunch of exercise too. When properly cared for these are healthy dogs with a decent lifespan too.
What is a Black Mouth Cur Dog?
A Black Mouth Cur is a working, herding, protective breed that is usually found in the United States. They have short coats in several possible colors, and dark mouths.
Popularity: growing
Purpose: working and sporting dog
Weight: 35 – 90 lbs
Height: Over 16 inches
Temperament: Loyal, hardworking, alert
Coat: Short, dense in a range of colors
Common Black Mouth Cur Questions
| | |
| --- | --- |
| Are Black Mouth Curs good family dogs? | Yes, for very active owners and homes with lots of space. |
| How much do Black Mouth Cur puppies cost? | $500 – $1500, depending on location, demand, and breeder. |
| Are Black Mouth Curs hypoallergenic? | No breed is truly hypoallergenic. BMCs will shed moderately. |
| Are Black Mouth Curs easy to train? | Yes if consistent, positive methods are used. They are eager to learn and work. |
| Are Black Mouth Curs Smart? | Yes, these dogs are very intelligent. |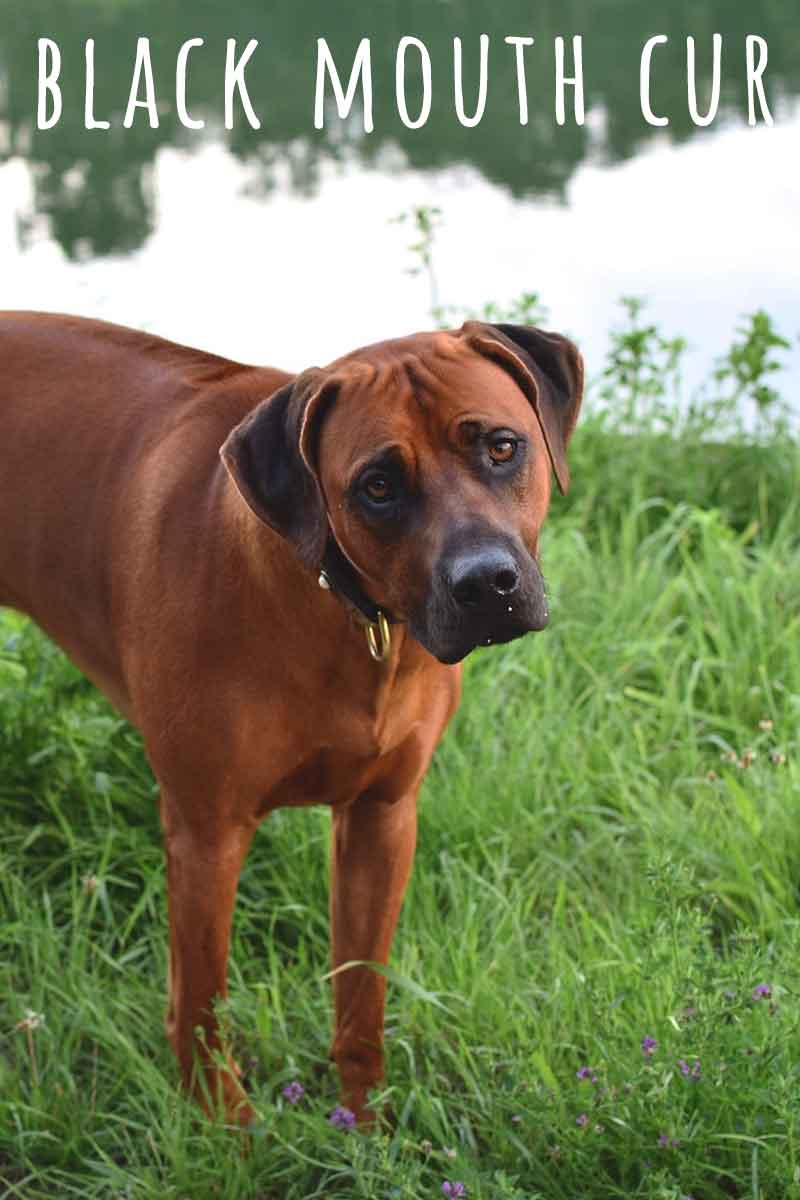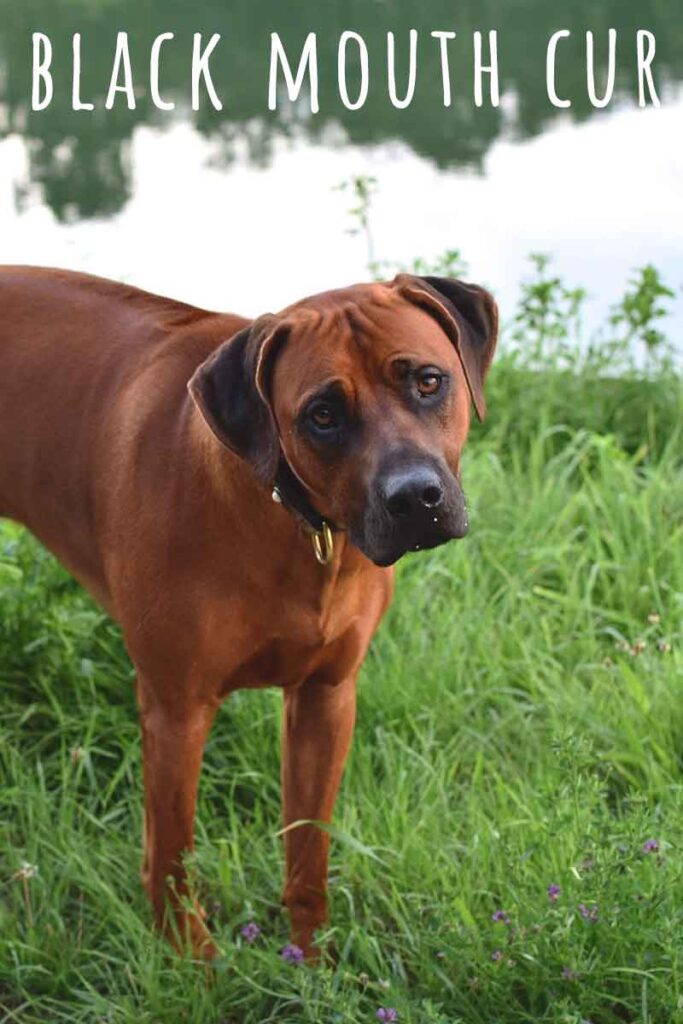 Black Mouth Cur History and Original Purpose
Breed enthusiasts are unsure about the exact origins of the Black Mouth Cur. Some claim that they originated in Tennessee. Others argue that the breed was first developed in Mississippi.
What we do know is that the Black Mouth Cur was popular amongst early American settlers, especially in the south. We also know that the breed originated as a versatile, all around working dog.
They hunted, herded livestock, and guarded the homestead. So, it is no wonder that as settlers moved west, they took their dogs with them.
Fun Facts About the Black Mouth Cur Dog
You might recognize this breed from the 1957 Disney film Old Yeller. The main pup star in this, called Yeller, is a Black Mouth Cur dog!
Another fun fact is that it's not actually a recognized breed by the American Kennel Club. As of 2021, they have 197 registered breeds, which are allowed to participate in their events. But, sadly, the Black Mouth Cur is currently not one of those.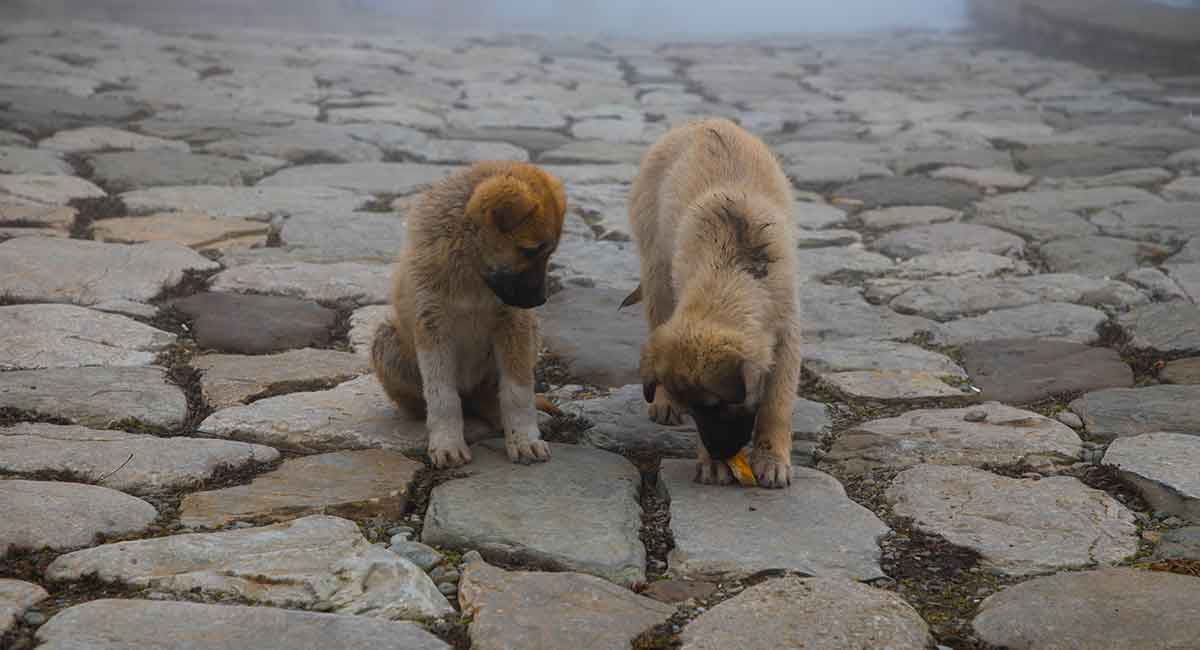 Why Aren't They AKC Registered?
There are a number of reasons why the AKC don't recognize certain breeds. For instance, they won't recognize a breed if there are too few of the dogs in the country. Or just not enough interest in the breed!
For a breed to be registered with AKC, they need a National Breed Club! So there's nothing to say it won't happen in the future!
This breed is also not recognized by the Kennel Club (UK). But it was recognized by the United Kennel Club on November 1st, 1998. The UKC have an official standard for the breed, in case you're looking to show your Cur.
Black Mouth Cur Appearance
Black Mouth Curs get their name from their distinctive appearance. Most dogs have a black muzzle. But, this is not a necessary trait. Usually, BMCs are bred for performance. So, many breeders do not care about the color of the coat or the size of the dog. As long as they are healthy and can get the job done, they are happy.
| | |
| --- | --- |
| | Black Mouth Cur |
| Size: | Medium to large |
| Height: | Minimum of 16 inches |
| Weight: | 35 – 90 pounds |
| Color: | Red, yellow, fawn, black, brown, buckskin, brindle |
| Markings: | May have a black muzzle or mask |
| Coat type: | Short, dense coat |
Coat and Colors
Acceptable colors for Black Mouth Curs are all shades of the following:
Red
Fawn
Yellow
Brown
Black
Buckskin
Brindle
Whether you have a tan, brown, or brindle Black Mouth cur, your dog will have a short, dense coat.
Black Mouth Cur Size
Black Mouth Cur size is usually medium to large. Males often weigh between 40 to 50 pounds, and females may weigh slightly less. Some bloodlines breed bigger dogs. You may find adults that weigh between 60 and even 90 pounds.
The UKC has minimum heights set at 16 inches for females and 18 inches for males. But, sizes will vary depending on the breeder that you choose and the dogs they breed from.
Black Mouth Cur Shedding
Black Mouth Cur dogs have a short, dense coat. They are quite low maintenance in terms of grooming. Generally, they will do best when brushed once or twice a week.
Shedding is moderate, and may be heavier during summer. You may need to bathe them occasionally. Particularly if they get muddy or dirty during their daily work.
They'll love the social and affectionate side of grooming sessions! But, make sure to get your BMC used to this from a young age.
Are Black Mouth Curs Hypoallergenic?
Many people believe that hypoallergenic dogs will never cause allergy symptoms in dog owners. But, sadly, no dog breed is truly hypoallergenic. Even breeds like the Poodle.
Dog allergens are found in dander and saliva rather than in shed fur. Studies into "hypoallergenic" and low shedding dogs have often found no difference in allergens between them and high shedding dogs.
So, a BMC is not hypoallergenic. These dogs also shed moderately. There's a chance they will set off your allergies if you are prone to them. But, you can control shed dander with a solid grooming and cleaning routine.
Black Mouth Cur Temperament
These dogs love to work. Like most working breeds, they are bred for stable, reliable temperaments. They are tenacious and courageous, traits that make them ideal hunting and cattle dogs. They are also loyal, protective, and affectionate with their families.
Black Mouth Cur temperament is often described as confident, bold, and trusting. Hunting is not all these dogs can do.
They are also used for herding, and can handle smaller livestock like goats and sheep as well as cattle. Some breeders select dogs with traits better suited for these disciplines, so if you are looking for a hunting dog, you may want to avoid herding bloodlines.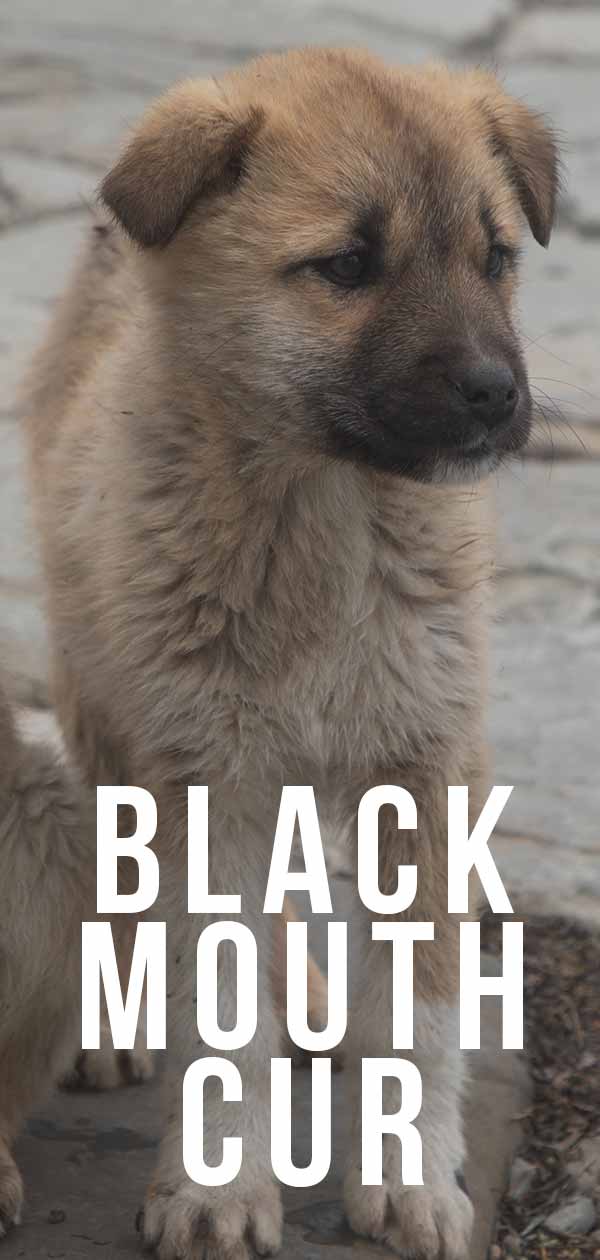 Are Black Mouth Curs Aggressive?
Strangers might find this breed aloof, but they are loving and playful with their families. However they can be protective. So, it's very important to socialize a Black Mouth Cur puppy to lots of different people and outside the home and inside the home.
These dogs were originally bred as all around homestead dogs, which means they take their job of protecting their family and property seriously. However, their temperament is not usually aggressive. They tend to work well with other dogs, especially if they are socialized as puppies.
With the right training and socialization, these dogs can make wonderful family dogs, especially for families who enjoy spending time outside.
Black Mouth Cur Barking
These days, the primary purpose of the breed is for hunting. They are scent hounds. They use their nose, as well as their eyes and ears, to track and tree game.
Unlike some hounds, Black Mouth Curs are generally quiet. Silent trackers are preferred by hunters, but the dogs may bark if very hot on a trail or when the game is freed.
If you aren't meeting your dog's needs, they may also bark. BMCs that aren't getting enough exercise, mental stimulation, or attention may bark to tell you they're bored or stressed.
As long as you're meeting your dog's needs, they usually won't bark much at all.
Training and Exercising your Black Mouth Cur
This breed is active, and used to working with people. With consistent training, Black Mouth Cur dogs can take really well to learning commands.
Active training is also a great way to satisfy their high energy needs! They're also very eager to learn and to please their family members.
Use positive reward methods to encourage and create a strong bond between you and your dog. Make sure you also keep training interesting, consistent, and fun.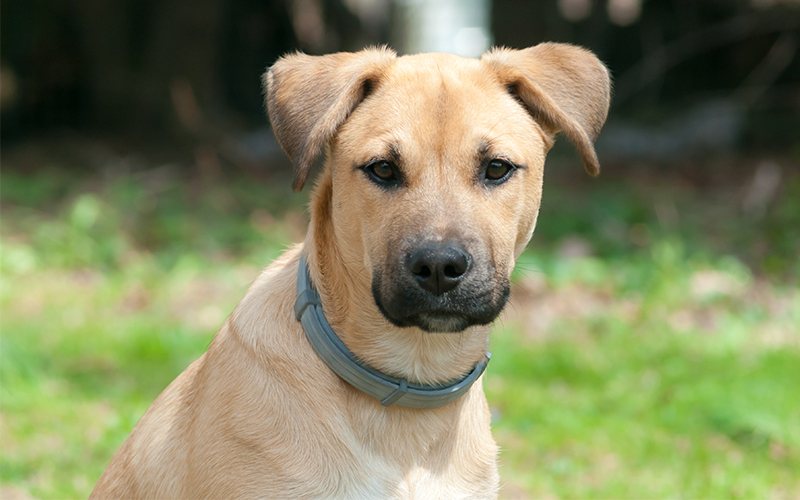 Exercise Needs
These dogs have high energy requirements, which is why they're so well suited to working lifestyles. So make sure you are prepared to go for plenty of long walks if you are thinking about bringing home this pup.
Training will provide some exercise to your dog. BMCs will also enjoy dog sports like agility, tracking, retrieving, and more. If you're unable to give this dog daily exercise, it will not be the best for you.
Black Mouth Cur Health and Care
No breed of dog is safe from health problems. But, Black Mouth Curs are an unusually healthy breed. This is possibly because most breeders breed for performance instead of looks.
Healthy dogs perform better, whether they are hunting, herding, or performing in dog sports, and so the breed does not have some of the structural genetic defects, like hip dysplasia, found in other breeds. But no dog is perfect. There are still things to watch out for.
| | |
| --- | --- |
| Ears: | Ear infections |
| Joints: | Hip and elbow dysplasia |
| Other: | Bloat, obesity |
Ear Infections
Black Mouth Curs may be prone to ear infections. Their dropped ears can trap moisture and dirt, especially if they are worked under wet conditions like swamps, so be prepared to check and clean your dog's ears on a regular basis.
Hip and Elbow Dysplasia
As a medium to large dog, the BMC is also potentially at risk of hip and elbow dysplasia. This is a joint problem in which your dog's socket joint will be malformed. This can be painful for your pup, and can cause difficulty moving, walking, and running.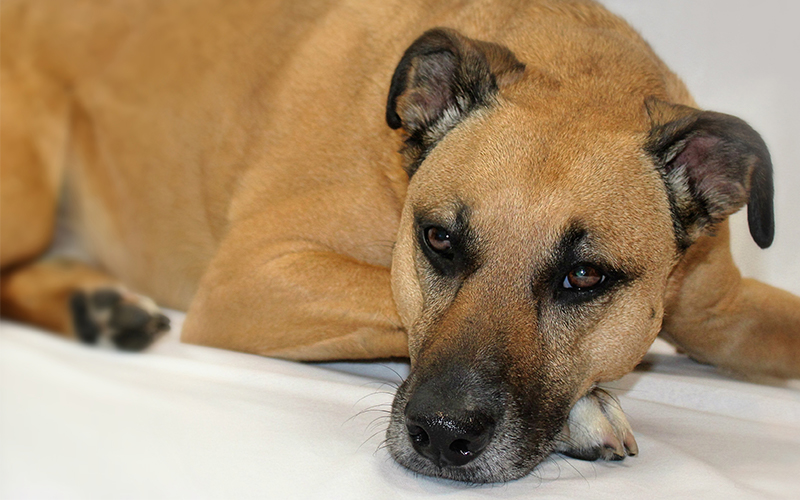 Bloat
This is another issue that disproportionately affects large dog breeds. It is also known as canine gastric dilatation volvulus.
This problem causes your dog's stomach to fill with gas and twist, often after eating too quickly, or eating too soon after exercise. It can be fatal.
Obesity
If you choose to bring home this breed, talk to your veterinarian about the best diet and weight for your dog. Obesity, as with any dog breed, can lead to serious health problems like diabetes and joint disease, and puts stress on your dog's body.
Keeping your dog at a healthy weight will reduce these risks and help your dog live a long, healthy, active life.
General Care of a Black Mouth Cur
On top of a good diet, it's important that you regularly check your dog's ears, teeth, paws, and nails. You might choose to do this during grooming sessions.
Trim their nails regularly if they are not being ground down appropriately during work and daily life. Long nails can be prone to breaking, which is painful for your dog.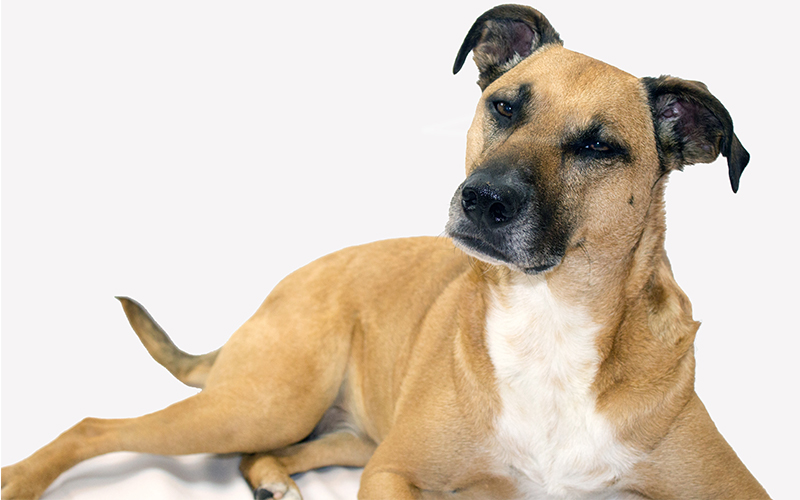 What is the Black Mouth Cur's Life Expectancy?
Despite their relatively large size, Black Mouth Curs live a long time. The average lifespan for the breed is 12 to 16 years, with some dogs living longer.
This is well above average for bigger breed dogs. With the right nutrition and veterinary care, your pup could live well into his teens.
Pros And Cons of Getting A Black Mouth Cur
| | |
| --- | --- |
| Pros | Cons |
| Generally healthy dogs | Can be wary of strangers if not well socialized |
| Short coat that requires little grooming | Can be overprotective of family members |
| Affectionate and playful with close family | You may struggle to find puppies |
| Well suited to an active family | Can show unwanted behaviors if not properly exercised and stimulated |
Do Black Mouth Curs Make Good Family Pets?
The decision to purchase or rescue a dog ultimately depends on you and your family. These dogs need regular exercise. They may not be well suited for owners with very small backyards or sedentary lifestyles. This breed is a good choice for sporting owners who plan to hunt or compete with their dogs.
The Black Mouth Cur temperament is typically stable, non-aggressive, and loyal. So they can also be good family dogs, as long as they are socialized around other pets and children. See if you can find some near you so that you can spend some time with them. This is a great way to see if you get along with the general breed temperament.
Sporting dog shows are a good place to start, or breed enthusiast groups. You can also use those opportunities to ask more questions about the breed from people who have firsthand experience owning, handling, and training them.
Rescuing a Black Mouth Cur
Rescuing a dog can be very rewarding, and comes with the added benefit of knowing you are helping an animal in need. This breed is still not hugely popular at the moment. But, many owners may give these dogs up for adoption if they realise they can't keep up with their exercise and mental needs. So, don't lose hope if you're keen to adopt a BMC.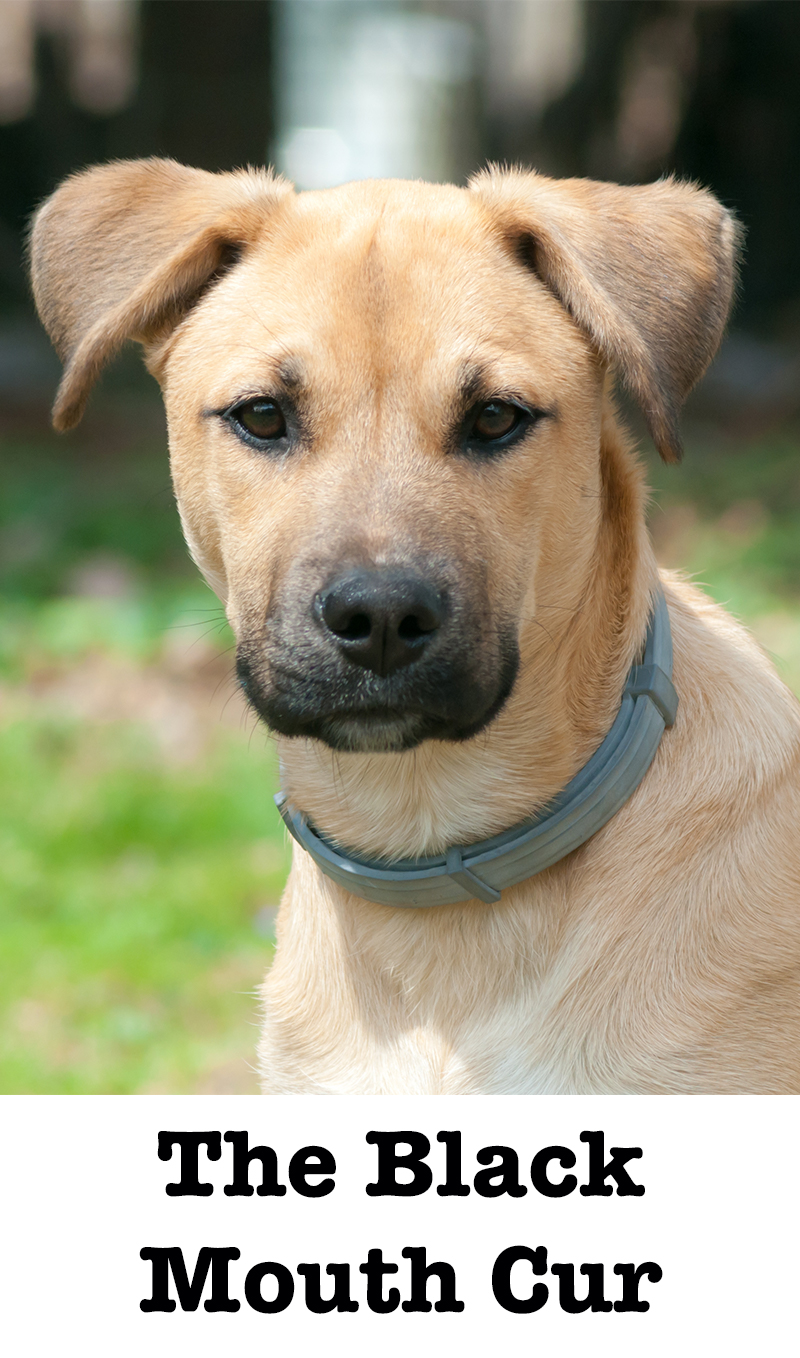 Finding a Black Mouth Cur Rescue Center
There are several options if you are interested in rescuing this breed. A few breed specific rescue organizations can be found in the U.S., especially in the south. You can find rescues online.
You can also talk with all-breed rescue groups near you or online to see if there are any Black Mouth Curs in the shelter. Some rescues will even keep your information on file and contact you if one shows up in their system. If you do know of any specific rescues for this breed, please let us know in the comments so we can add them to this list!
Finding a Black Mouth Cur Puppy
It's important to choose a reputable breeder when looking for a Black Mouth Cur puppy. Most importantly, find out if they perform regular health testing on their breeding dogs. Get the breeder to send evidence of this across to you, and if possible, go and see the puppies and mother dog in person.
These are hunting dogs. So you may also be able to find information about breeders in hunting publications. For instance, Ladner's Yellow Black Mouth Curs have been featured in Full Cry magazine. Some breeders list information in the classified ads of these magazines, or may be mentioned in articles themselves.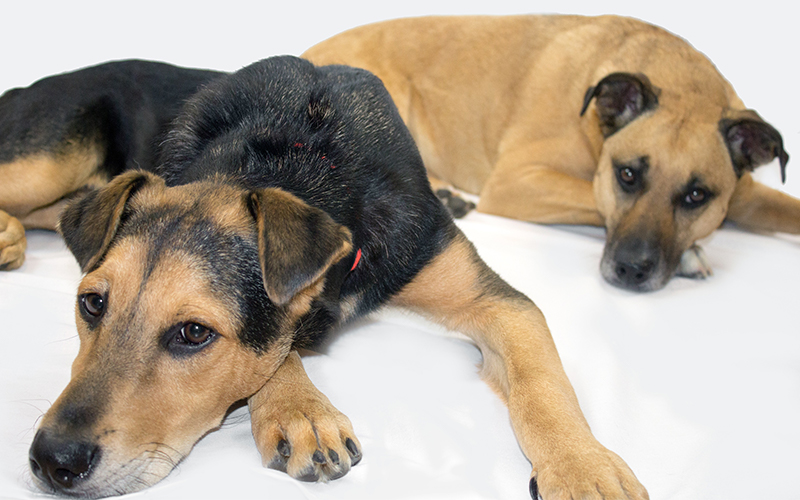 Hunting vs Family Dogs
Be upfront with the breeder about what you are looking for. If you want a hunting dog, then the breeder may be able to recommend a puppy from a litter with strong hunting lines.
If you are looking for a family dog, hunting instincts won't be as important, and so you may be able to find a breeder who breeds for family traits, or purchase a less promising hunting prospect for a reduced price.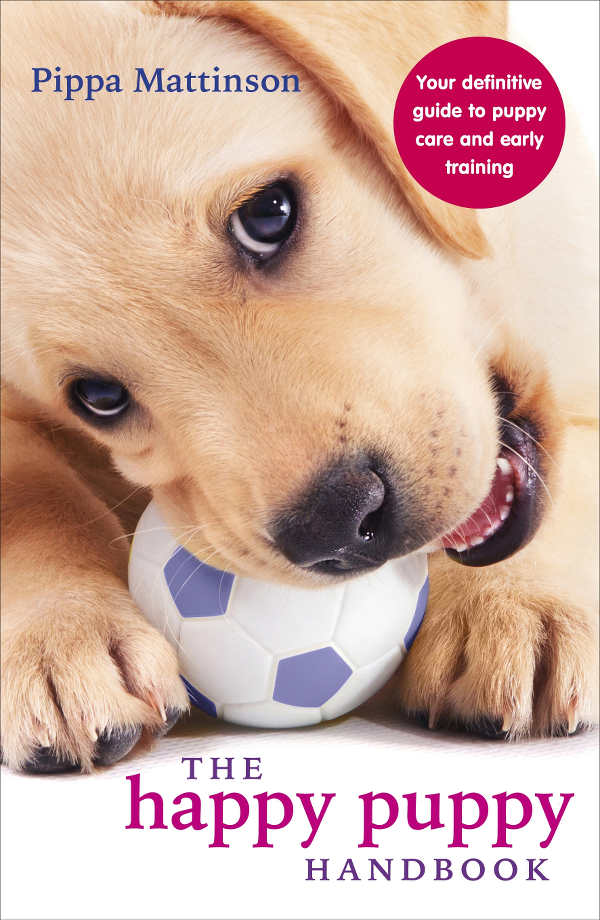 Where to Avoid Puppy Buying
No matter where you end up getting your puppy from, make sure you avoid puppy mills and pet stores. Puppy mills usually breed without any care for the health of the puppy or its mother.
And pet stores often buy their pups from these breeders to save money. If a puppy price looks too good to be true, it probably is. So how much should you be looking to pay?
Black Mouth Cur Price
The price of this breed will depend on the breeder, the dog's pedigree, and the amount of training that has gone into the dog. In general, you can expect to pay more for a dog with preliminary training in a discipline like hunting or herding than you would for Black Mouth Cur puppies.
An untrained Black Mouth Cur puppy ranges on average from $450 to $800. Those bred from hunting or herding lines with lots of training can cost well over $1000.
If you purchase a puppy, remember to calculate the cost of veterinary visits and a spay or neuter for the first year, plus toys, training, and supplies.
Raising a Black Mouth Cur Puppy
Caring for a vulnerable BMC puppy is a big responsibility. There are some great guides to help you with all aspects of puppy care and training.
Popular Black Mouth Cur Breed Mixes
Each mix can vary widely in temperament, size, and health. Some of this will depend on the breed of dog mixed with it.
A similar type of hunting dog, for example, may produce a mix that is relatively similar to this breed in appearance and temperament. A Catahoula Black Mouth Cur mix will probably produce a hunting dog similar to both breeds.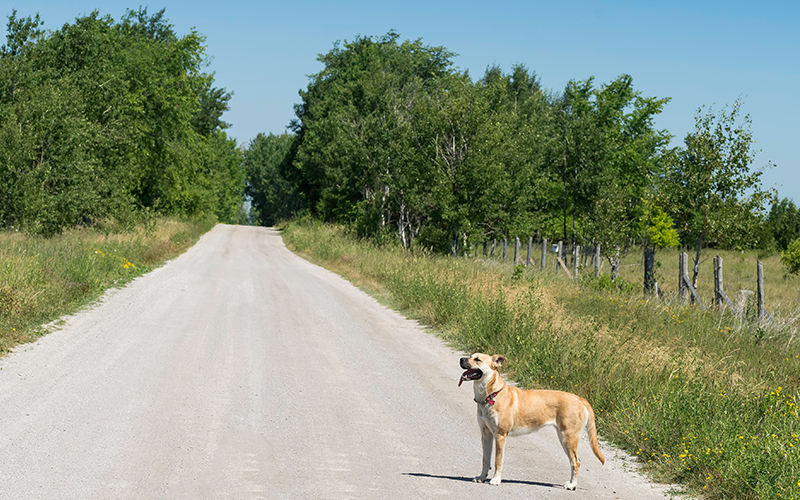 A mix that includes two very different parents, on the other hand, like a Black Mouth Cur Labrador mix, could yield offspring that are somewhere in the middle in size, appearance, and temperament. You can read about some of these mixes here:
Comparing the Black Mouth Cur with Other Breeds
We also have a great article that compares a ton of different Black Mouth Cur mixes!

Check it out here!
Similar Breeds
If you aren't sure this breed will suit your home, you might want to consider a different, but similar breed.
These dogs may be easier to find than the currently uncommon Black Mouth Cur.
Black Mouth Cur Products and Accessories
There are plenty of things you'll need to get to prepare for the arrival of a Black Mouth Cur. So take a look at some of our guides to the best products and accessories below.
The Black Mouth Cur: Summary
Are you lucky enough to share your home with a Black Mouth Cur? Or are you currently still looking for one of these energetic dogs?
For the right home, a BMC will be a perfect family member!
References And Resources
Gough, A. (et al) 'Breed Predispositions to Disease In Dogs and Cats', Wiley Blackwell (2018)
O'Neill (et al) 'Longevity and Mortality of Dogs Owned In England', The Veterinary Journal (2013)
Schalamon (et al) 'Analysis of Dog Bites In Children Who Are Younger Than 17 Years', Pediatrics (2006)
Duffy, D. (et al) 'Breed Differences in Canine Aggression', Applied Animal Behavior Science (2008)
Adams, V. J. (et al) 'Results of a Survey of UK Purebred Dogs', Journal of Small Animal Practice (2010)
Farrell, L. L. (et al) 'The Challenges of Pedigree Dog Health: Approaches to Combating Inherited Disease', Canine Genetics and Epidemiology (2015)
Oberbauer, A. M. (et al), 'Ten Inherited Disorders in Purebred Dogs by Functional Breed Groupings', Canine Genetics and Epidemiology (2015)
United Kennel Club
Vredegoor, D. (et al), 'Can F Levels in Hair and Homes of Different Dog Breeds: Lack of Evidence to Describe Any Dog Breed as Hypoallergenic', Journal of Allergy and Clinical Immunology (2012)
Nicholas, C. (et al), 'Dog Allergen Levels in Homes with Hypoallergenic Compared with Nonhypoallergenic Dogs', American Journal of Rhinology and Allergy (2011)
Ginja, M. (et al), 'Diagnosis, Genetic Control and Preventive Management of Canine Hip Dysplasia: A Review', The Veterinary Journal (2010)
Xun, X. 'Risk Factors and Prevention of Canine Gastric Dilatation-Volvulus', Nanjing Police Dog Institute of Ministry of Public Security (2012)