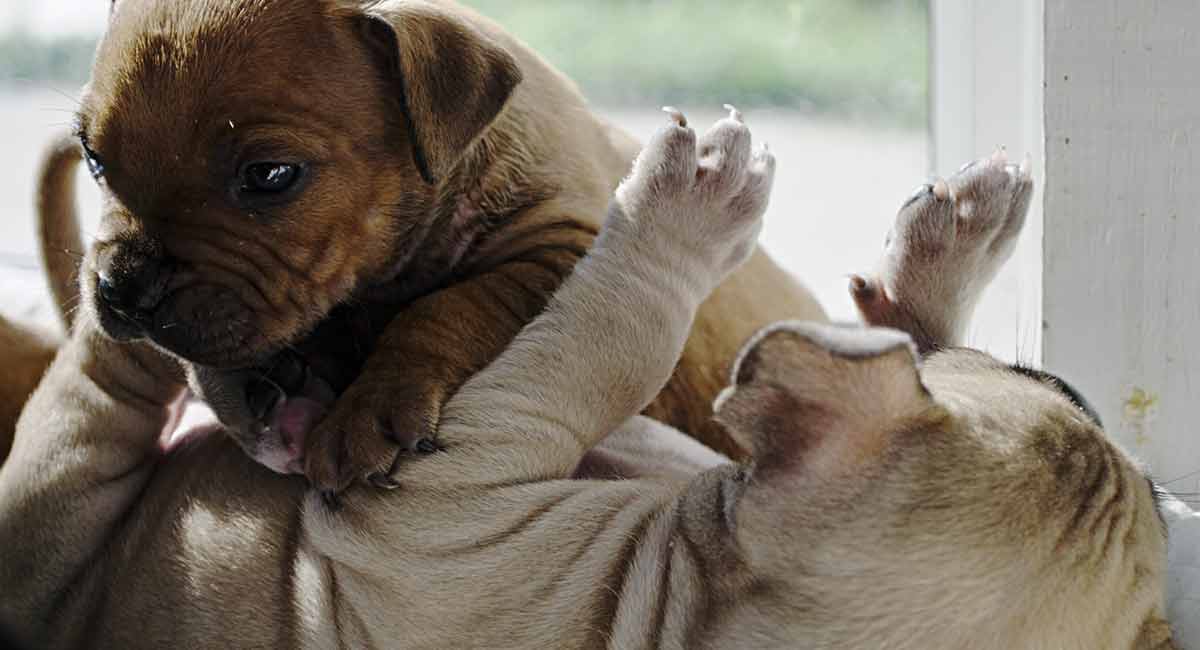 The American Bully, or Bully Pit, is a muscular, stocky, mix breed dog. It was bred with the loyalty of Pitbulls in mind. But also as an attempt to breed out traits like aggression and gameness.
Contents
What is the American Bully?
The American Bully is a hybrid breed created to resemble the popular Pitbull Terrier but without the Pitbull's guarding or fighting tendencies.
This is a medium-sized dog that should be confident, gentle, and friendly. Especially towards children, strangers, and other animals. Like all powerful dogs, proper training and socialization are essential for this breed.
Where Does the American Bully Come From?
The American Bully is quite a new mixed breed dog. Its origins date back to around 1990.
It most closely resembles the American Pitbull Terrier. But with more of a classic Bulldog appearance. This is due to some crossbreeding with the English Bulldog, the American Bulldog, and other similar breeds.
The American Bully was made in response to the negative reputation of the Pitbull.
Breeders have worked to breed out aggression and gameness while keeping the Pitbull's steadfast loyalty.
As a designer mixed breed dog, the Bully Pit is meant to inherit the most desirable traits of its parent breeds. But there is some controversy over hybrids. You can read about that here.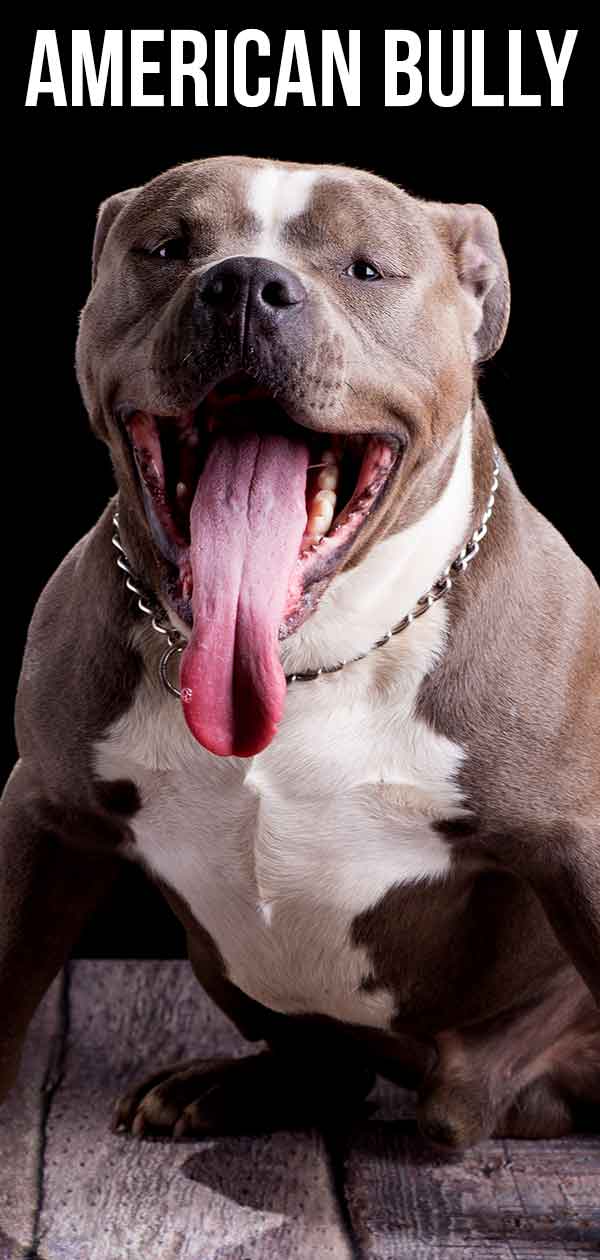 Getting an American Bully Pros & Cons
On the one hand, The American Bully was bred to be a friendly and good-tempered companion. Tendencies towards aggression are not cultivated by responsible breeders. And from the right breeder an American Bully can make a great family pet.
Other benefits of the American Bully are a short, easy to manage coat, and a strong lively dog that should be able to cope well with the rough and tumble of family life.
On the other hand, your American Bully can look very much like an intimidating Pitbull. This can lead to negative comments and behavior from people who find Pitbull Terriers intimidating.
It's also worth considering that Pitbull-type dogs are often the subject of breed-specific legislation. These are local laws that ban owning certain dog breeds. So be sure to check on any breed restrictions in your community before you get a dog.
American Bully Appearance
The overall appearance of the American Bully is thickset and muscular, with a large, wide head.
Adult males stand between 17 to 20 inches tall at the shoulder.
Whereas females are 16 to 19 inches tall.
No weight range is given for the American Bully. The traditional American Bully is a medium-sized dog. And weight should be proportionate to height. Some breeders will advertise "pocket" or "XL" dogs. But responsible breeders will not produce overly massive dogs or excessively tiny dogs, as breeding for extremes in size and shape can cause health problems.
Coat Type
The coat is very short and glossy. It will shed, though not excessively.
This mix comes in a variety of coat colors and combinations (except albino and merle).
American Bully Temperament
Despite its strong and intimidating appearance, the American Bully has been bred as a companion animal. It is bred to be good with kids and friendly to strangers and other animals.
Bully Pits that come from responsible breeders should not be aggressive, vicious, possessive, or overly shy.
The ideal Bully Pit should be confident, gentle, and cheerful.
Is This Temperament Guaranteed?
The temperaments of the different breeds that went into this mix vary quite a bit.
The good-natured personality of the English Bulldog is desirable in the American Bully.
But, some of the other parent breeds do have backgrounds as guardian or fighting dogs.
How to Ensure the Best Temperament
There are two ways to ensure a good temperament in your pup:
choose a responsible breeder
train your dog from an early age
We'll talk about finding an American Bully soon. But first let's look at training and socialization.
Training Your American Bully
Of course, training and socialization are important for all dogs.
But it's especially important for powerful dogs like this.
Training should start at an early age and include both potty training and crate training.
The American Bully is an eager-to-please breed. This makes training easier than in more independent and stubborn dogs.
Best Training Methods
That tough exterior doesn't reflect the average Bully's nature. So avoid harsh punishment-based training methods.
Use only positive reinforcement training methods that reward good behavior.
What about exercise?
Exercise
This dog's appearance can be a concern when it comes to exercise.
The breed is stocky and well-muscled. But the Bully should never be so extreme in appearance that it affects your dog's ability to move freely.
Extreme physical features include bowed legs, splayed feet, overly broad chest, or an oversized head.
The structure of the head and face in dogs with English Bulldog ancestry can also impact your dog's ability to exercise without getting breathing or overheating issues.
We'll talk more about this, and other potential health problems, next.
American Bully Health
Most purebred dogs have some inherited health issues.
Several breeds are believed to have gone into this mix.
Your dog could be prone to the health problems from any of them.
English Bulldog Health
Health can be a key concern in dogs with English Bulldog ancestry.
Ideally, your dog's head should resemble a Pitbull more than a Bulldog.
But your dog could have more Bulldog-like features,like a short muzzle, undershot jaw, or thick neck. If it has these features, your dog could be at risk for a chronic health condition called brachycephalic obstructive airway syndrome (BOAS).
The short, stocky body of the American Bully could also lead to spine and joint problems. These issues are seen in English Bulldogs and similarly compact breeds.
Other Pitbull-type breeds that go into the American Bully tend to be more robust than the English Bulldog, with better health.
Staffordshire Terrier Health
Pitbull-type dogs like the American Staffordshire Terrier can suffer from health conditions common to many medium and large dogs.
Pitbulls can suffer from the painful joint condition hip dysplasia.
These dogs can also be prone to some inherited heart problems. As well as a serious neurological condition called cerebellar ataxia.
Fortunately, there are tests available for many inherited canine health problems.
We'll talk more about this shortly.
Do American Bullies Make Good Family Dogs?
This breed may look intimidating.
But it was made to be a friendly and gentle companion.
Fans of the American Bully attest to its loyal nature and love of family.
The dog's strength may make it better suited for families with older children. Or owners with experience handling strong dogs.
As with any dog, always supervise your American Bully. Especially around small children and new people and animals.
Rescuing an American Bully
Rescuing an American Bully is a great option. Especially if you are keen to adopt an adult dog.
Pitbull-type dogs are often overrepresented in U.S. shelters.
So, rescue is a great way to give a Bully Pit a second chance at a new life.
Finding an American Bully Puppy
If your heart is set on getting an American Bully puppy, choose a responsible breeder.
Avoid buying a puppy from an online ad or retail pet store.
Dogs from these places often come from large-scale breeding operations known as puppy mills.
Health Testing
Reputable breeders will test all their dogs for inherited health conditions.
Testing can come in the form of DNA tests or physical examinations by veterinary specialists. It can help you ensure you're choosing the healthiest puppy possible.
Your breeder should share all tests results with you.
Responsible breeders will never cultivate aggression. Or an extremely large, muscular appearance in their Bully Pits.
Be wary of breeders who offer miniature or extra-large puppies.
These dogs may not be as healthy as standard-sized dogs.
Raising an American Bully Puppy
Like all puppies, your little Bully will need lots of TLC!
How do you raise a happy and healthy puppy?
Choose a quality food that's right for your puppy's size and stage of development.
Start the training and socialization process early. Especially house training.
Less experienced owners can benefit from formal puppy kindergarten classes. Or one-on-one sessions with a qualified trainer.
Grooming
Get your puppy used to regular grooming.
The American Bully doesn't need a lot of baths or trips to the groomer. It's quite a low-maintenance breed in this respect! But you should get in the habit of a once-a-week brushing.
You should also get your puppy used to ear cleaning, nail trimming, and tooth brushing.
Get all health and vaccination records from your breeder. And make an appointment for a first visit with your vet.
Products and Accessories
Preparing for a new dog takes a lot of planning! Are you ready to go shopping for puppy supplies?
Your new puppy shopping checklist should include these basic items:
crate, playpen, and/or baby gates
collar, leash, harness
food and water bowls
cleaning supplies
brush, toothbrush, nail clippers
interactive, squeaky, and chew toys.
Similar American Bully Breeds
Not sure you're ready for a dog that will get lots of stares and attention wherever you go?
There are plenty of other breeds and breed mixes to choose from. Even if you're looking for one with similar characteristics.
The American Bulldog and American Staffordshire Terrier are two breeds that share similarities with the American Bully.
Pitbull mixes are very popular in the U.S.You might want to look at the Pitador (Pitbull mixed with Labrador Retriever), the Golden Bull (Pitbull mixed with Golden Retriever), and the Pitsky (Pitbull crossed with Husky).
It's best to avoid choosing a Pitbull cross that has been mixed with flat-muzzled breeds. Such as Pugs and French Bulldogs.
These mixes can inherit issues like brachycephaly and skeletal problems.
American Bully Rescues
You can find an American Bully that's right for you at an animal shelter or rescue organization.
There are many Pitbulls and Pitbull mixes of all shapes and sizes ready for adoption at U.S. shelters.
There are also many breed-specific rescue groups for Pitbulls and Pitbull mixes in the U.S. and Canada.
Let's take a look at some below.
USA
Canada
Other Rescue Groups
Know of any other American Bully rescues? Let us know in the comments!
Shelters and rescue groups do their best to identify the mixed breed dogs in their care.
But it helps to keep an open mind when searching for adoptable American Bullies. As appearances can vary.
Is an American Bully – AKA the Bully Pit Right for Me?
Looking for a dog that's tough on the outside but tender on the inside?
This just may be the dog for you!
It is great for owners who like the look of Pitbull-type dogs. But want a family pet that's gentle and friendly.
Choose a responsible breeder when choosing a Bully Pit.
Plus, be sure to train and socialize your dog from an early age.
Do you share your life with one of these impressive pups? Tell us about your Bully in the comments below!
References and Resources
American Bully. United Kennel Club.
Packer, R.M.A., Hendricks, A., Tivers, M.S., et al. Impact of Facial Conformation on Canine Health: Brachycephalic Obstructive Airway Syndrome. PLoS ONE, 2015.
Brown, E.A., Dickinson, P.J., Mansour, T., et al. FGF4 Retrogene on CFA12 is Responsible for Chondrodystrophy and Intervertebral Disc Disease in Dogs. Proceedings of the National Academy of Sciences of the United States of America, 2017.
Canine Hip Dysplasia. American College of Veterinary Surgeons.
Downing, R. Ataxia in Dogs. VCA Hospitals, 2015.