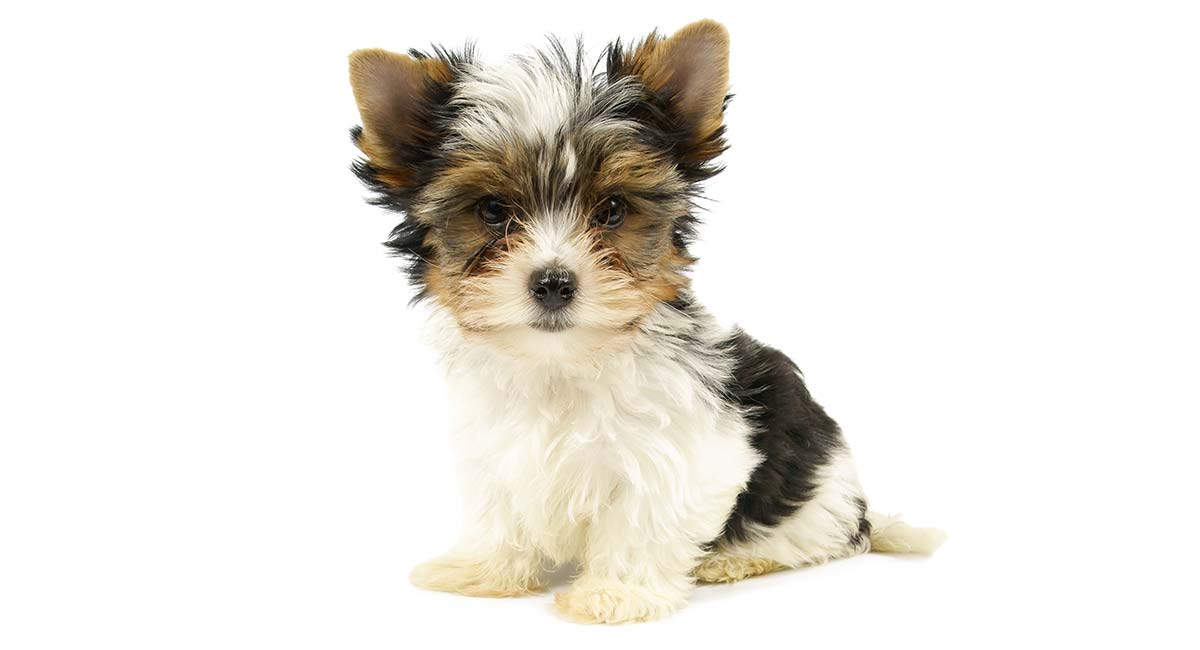 The Biewer Terrier (pronounced "bee-vah"/"beaver") is a toy-sized dog similar to the Yorkshire Terrier.
This breed is also sometimes called the Biewer Yorkshire Terrier or Biewer a la Pom Pon.
The Biewer Terrier is one of the most recent breeds to achieve AKC recognition, and they secured it an unprecedented and unique way!
Where Does the Biewer Terrier Come From?
The first Biewer Terriers were developed from Yorkshire terriers.
Yorkshire Terriers are an old English breed kept first to control vermin and then increasingly as a companion.
They combine the alertness and vigor of a working terrier with the amiable and friendly temperament of a toy dog.
Yorkies are dark grey and brown in color (referred to in show standards as 'blue and tan' or 'blue and gold').
In contrast, the Biewer Terrier is tricolor: white, black, and tan. The gene that causes the large white areas on the Biewer Terrier is also found in other dogs breeds such as the Havanese and German Short-Haired Pointer.
This sort of dog coat coloring is described variously as white spotting, piebald, parti-color, and tricolor.
It is inherited as a recessive gene, meaning both parents need to carry it for the puppies to have the tricolor appearance.
Is A Biewer the same as a Yorkie?
The Biewer Terrier breed was founded from Yorkies in the 1970s and 80s by a German couple called Werner and Gertrude Biewer.
Unfortunately, due to ill health they were forced to close their breeding program without fully establishing a Biewer Terrier stud book.
So for the next three decades, many people simply regarded the Biewer breeding lines as nothing more than mismarked (and therefore inferior) Yorkies.
In fact terrier enthusiasts had countless spirited arguments about what, if anything, distinguished a Biewer Terrier from a parti-colored Yorkshire Terrier.
A Breed Apart?
Nonetheless, in 2014 Biewer Terriers secured a place in the AKC's Foundation Stock Service.
Then in 2019 they accomplished something completely unprecedented.
Until then, new breeds vying for full recognition had to prove they were distinct from any other breed using detailed pedigree documentation.
But the Biewer Terrier became the first breed proven to be distinct and unique using genetic testing. This secured them a place in the AKC's Miscellaneous group.
Entry in the Miscellaneous class is still a step away from full recognition, but it does effectively recognize Biewers as being different from Yorkies.
And go some way to settling that decades long argument.
But only time will tell if Biewers can achieve large enough numbers and consistent population growth to achieve complete recognition in the Toy group.
Fun Facts About the Biewer Terrier
The first Biewer Terriers were immediately popular in their native Germany. This was was partly due to a celebrity owner.
The singer Margot Eskens, who was a chart-topping German language singer in the 1950s and 1960's, had a Biewer.
Biewer Terrier Appearance
Mr & Mrs Biewer developed the original breed standard, and a version of this is still in use.
This standard describes the desired body shape and pattern of coloration, including symmetrical face markings and white legs.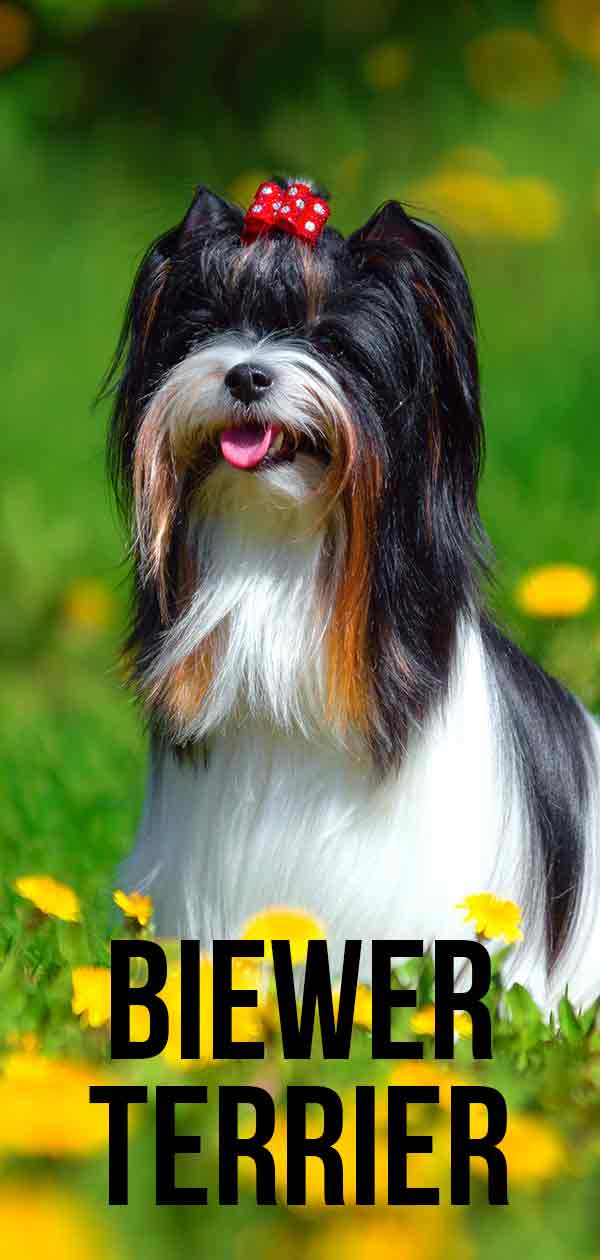 They are a very petite terrier with a coat that will sweep the ground unless clipped.
The coat is largely white with various amounts of black and smaller areas of tan.
The Biewer Terrier in Germany often had a docked tail until 1998 when docking was no longer permitted in that country.
Fortunately having a natural tail is now standard world-wide.
Biewer Terrier Temperament
Some describe Biewer Terriers as behaving more like a sedate toy breed.
The Yorkshire Terrier on the other hand, retains more terrier pluck and boldness.
However, this has not been objectively assessed. Biewers will tend to be alert, amiable and ideal household pets.
Training Your Biewer Terrier
As with any dog, early socialization and positive training is required to promote good animal welfare.
As a terrier breed, Biewer Terriers have a moderate tendency towards barking and may require persistence with house-training.
Biewer Terrier Health
Biewer Terriers are robust for their size and have the typical long lifespan of toys breeds, of 10-16 years.
Databases of canine congenital disease rarely have these dogs listed due to their rarity. Information relating to the Yorkshire Terrier is likely to apply.
Case reports have been published of Biewer Terriers suffering from necrotizing encephalitis. However, there is no evidence that this breed is at increased risk of the disorder.
The Biewer Terrier has a narrower genetic base than the Yorkshire Terrier. Any purebred Biewer Terrier descends from only a handful of animals.
For this reason, breeders should be able to demonstrate a plan to avoid inbreeding. In addition, they should not employ excessive line-breeding (mating closely related dogs).
The Biewer Terrier has a long silky coat that reaches the floor. Long hair grows from the head requiring a "ponytail" to allow the animal to see and avoid eye irritation.
Regular grooming is essential. Some owners prefer to keep the hair clipped short in what groomers call a "puppy cut".
Do Biewer Terriers Make Good Family Dogs?
A Biewer Terrier is a great family dog in the right household.
Due to their small size care should be taken bringing them into a house with young, boisterous children.
They are better suited to exercise than many toy breeds. That said, you should take care to ensure proper conditioning before extensive walks or hikes.
Rescuing a Biewer Terrier
You are not likely to find a Biewer in shelters or rescues.
The only rescue where you are likely to find them is one associated with a breed club.
You might also contact a breeder who may have had a dog returned to them or otherwise in need of a good home.
Finding a Biewer Terrier Puppy
Depending on where you are in the world, Biewer Terriers are either rare or potentially unavailable.
As such you need to show caution in accepting claims from a seller that a puppy is a Biewer Terrier.
If you wish to ensure your puppy is from the Biewer breed, check that that both parents and the litter are on the list of a reputable registry.
When buying from a breeder ask to see parents, ask about testing for congenital disorders.
They should be familiar with risks for disorders including congenital blindness (progressive retinal atrophy) and dislocated kneecaps (patellar luxation).
Check for evidence of inbreeding such as the same animal appearing multiple times in a heritage chart.
Raising A Biewer Terrier Puppy
Follow our puppy raising guidelines for a toy-sized dog.
Accustom your puppy to any activities you will want them to be comfortable with as an adult dog. These activities may include: handling, tooth brushing, and travelling in a carrier.
Biewer Terrier Products and Accessories
Ensure that you feed a diet appropriate for a small breed.
This may include a small breed diet such as one of these.
You should groom your Biewer regularly. You can do this on a dry coat using a slicker brush designed for small dogs.
Pros and Cons of Getting a Biewer Terrier
A Biewer Terrier is a particularly attractive toy dog with a lively personality.
Their health issues are in line with other toy breeds and they tend to have long lives.
The Biewer's small size may limit their suitability for some households.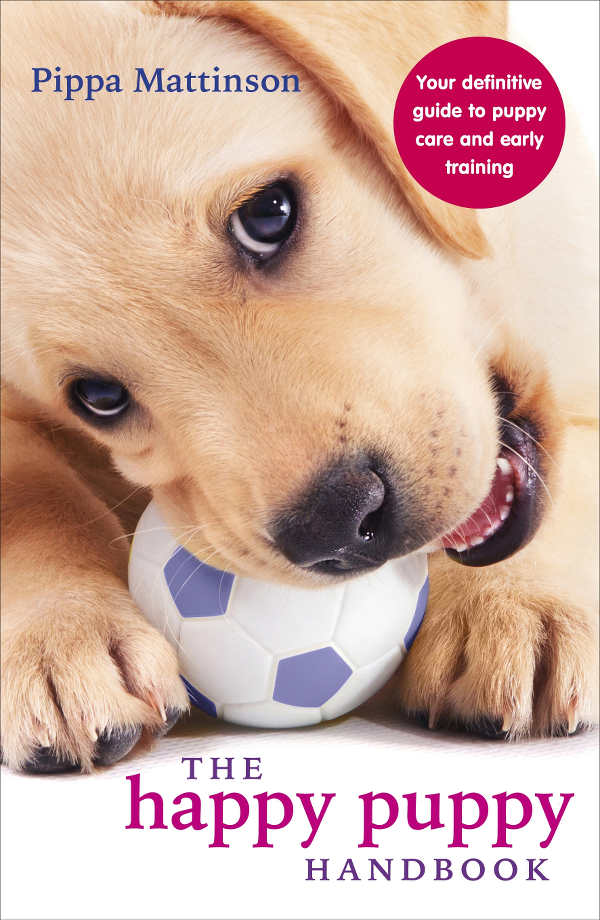 Also, their rarity can make them difficult to find. This may mean they are more expensive than other breeds with similar characteristics.
Similar Biewer Terriers and Breeds
Biewer Terriers are still unusual, and can be hard to find.
Great alternative small terriers include:
Biewer Terrier Rescues
We have listed some Biewer rescue groups below. Please let us know in the comments section if you are aware of any others.
Is a Biewer Terrier Right for Me?
If you are seeking an uncommon breed that combines many of the benefits of a plucky terrier with the affability of toy breed, the Biewer Terrier is a great choice.
Owners of this breed praise them highly, and their adorable appearance is undeniable.
Some people still disagree with their status as a newly developed breed. Also, they may be unavailable or expensive in some areas.
You could consider other small terriers if Biewer terriers are unavailable.
Have you got your heart set on a Biewer? Let us know in the comments!
References and Resources
Kavin, K. (2016). The Dog Merchants: Inside the Big Business of Breeders, Pet Stores, and Rescuers. Pegasus Books.
Schmutz, S. M., & Melekhovets, Y. (2012). Coat color DNA testing in dogs: theory meets practice. Molecular and cellular probes
Sponenberg, D. P., & Rothschild, M. F. (2001). Genetics of coat color and hair texture. The genetics of the dog
Von Praun, F., Matiasek, K., Grevel, V., Alef, M., & Flegel, T. (2006). Magnetic resonance imaging and pathologic findings associated with necrotizing encephalitis in two Yorkshire terriers. Veterinary Radiology & Ultrasound.
University of California Davis. Genetic Diversity Testing for Biewer Accessed April 18, 2019.