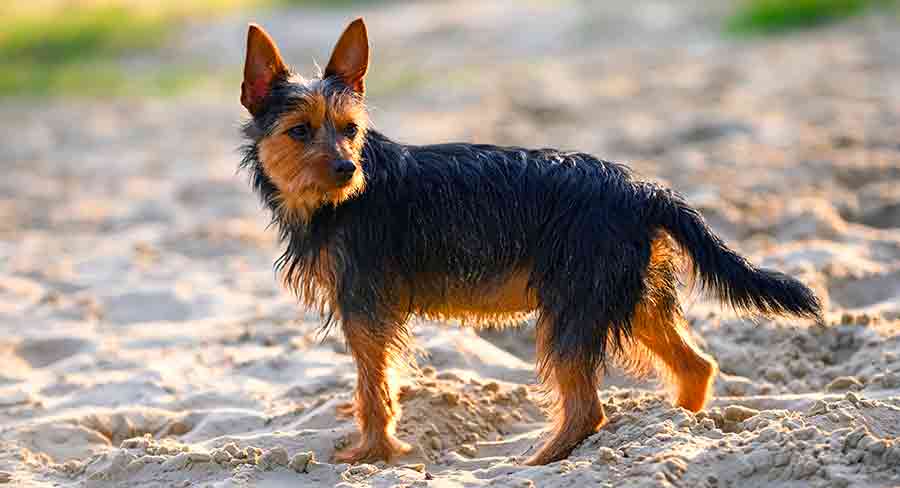 The Australian Terrier is a versatile, small terrier breed.
They stand less than a foot tall and weigh up to 20 pounds. Most owners prefer the blue and tan coat – similar to the Yorkie!
The Australian Terrier breed is distinct from the better known Australian Silky Terrier, which is even smaller.
For some people they are the perfect pet. But it's important to find out exactly what you're taking on!
Breed At A Glance
The Australian Terrier is a truly Aussie take on the classic terrier template.
Here's some headline information about them:
Popularity: 140th out of the 197 breeds recognized by the AKC
Purpose: Pest control, and more recently companionship
Weight: 15 – 20 pounds
Temperament: Upbeat, devoted, fearless
Australian Terrier Breed Review: Contents
There's a lot to learn about the Australian Terrier before you bring one home:
You can use those links to navigate this article. Or join us from the start to find out everything!
History and original purpose of the Australian Terrier
The Australian Terrier started out life as a mishmash of working terrier breeds imported to Australia by British settlers in the early 1800s.
Breeds thought to play a part in the founding of the Aussie Terrier include:
Cairn Terriers
Norwich Terrier
Scottish Terriers
Skye Terriers
When they first settled there, Australia's human residents wanted a tough, brave dog who could kill vermin from rats to snakes.
They refined their new companions throughout the 19th century. And the first Australian Terrier breed club was officially convened in Melbourne in 1887.
Aussie Terriers landed on American shores not long after. The American Kennel Club (AKC) recognized the breed in 1960.
These days, people are less likely to rely on small dogs for their pest control needs.
Which means the modern Aussie Terrier is more likely to be a companion and canine family member than a working dog.
Australian Terrier appearance
Australian Terriers are amongst the smallest terrier breeds.
In show condition they stand 10 to 11 inches tall at the shoulder, and weigh 15 to 20 pounds. But some pet Aussie Terriers can fall slightly outside this range.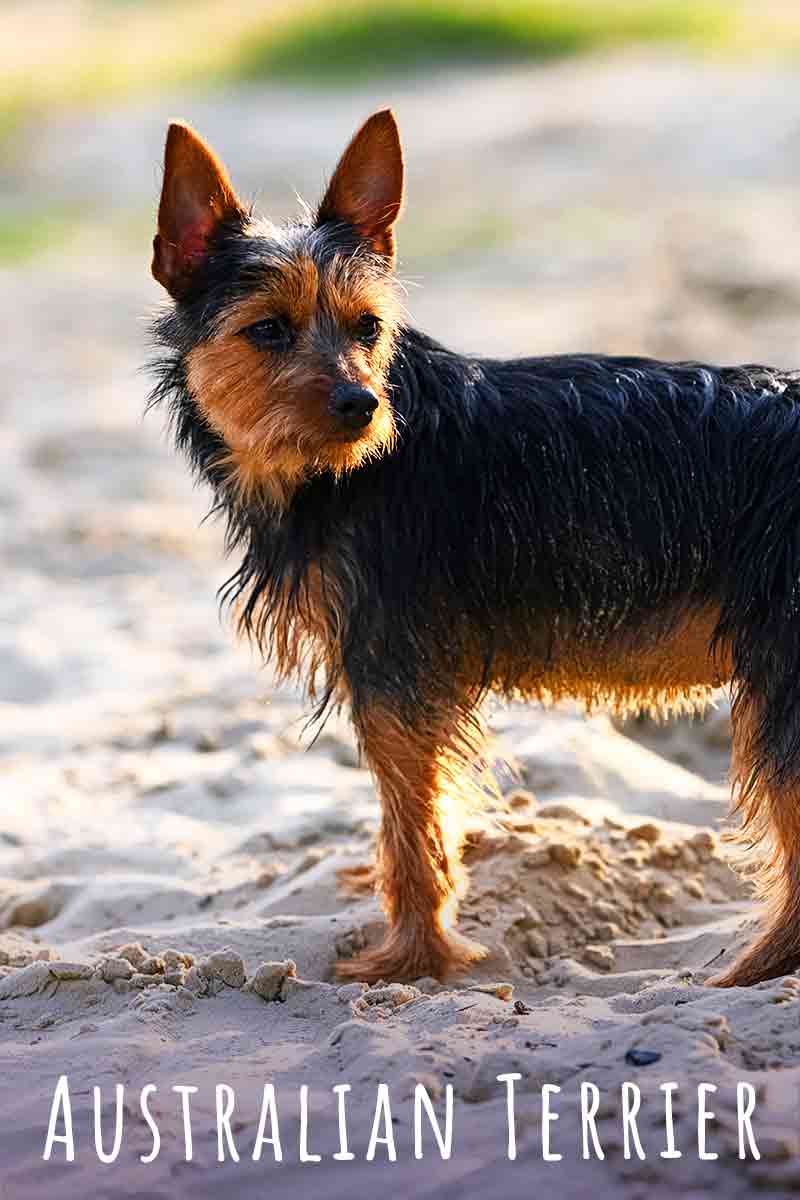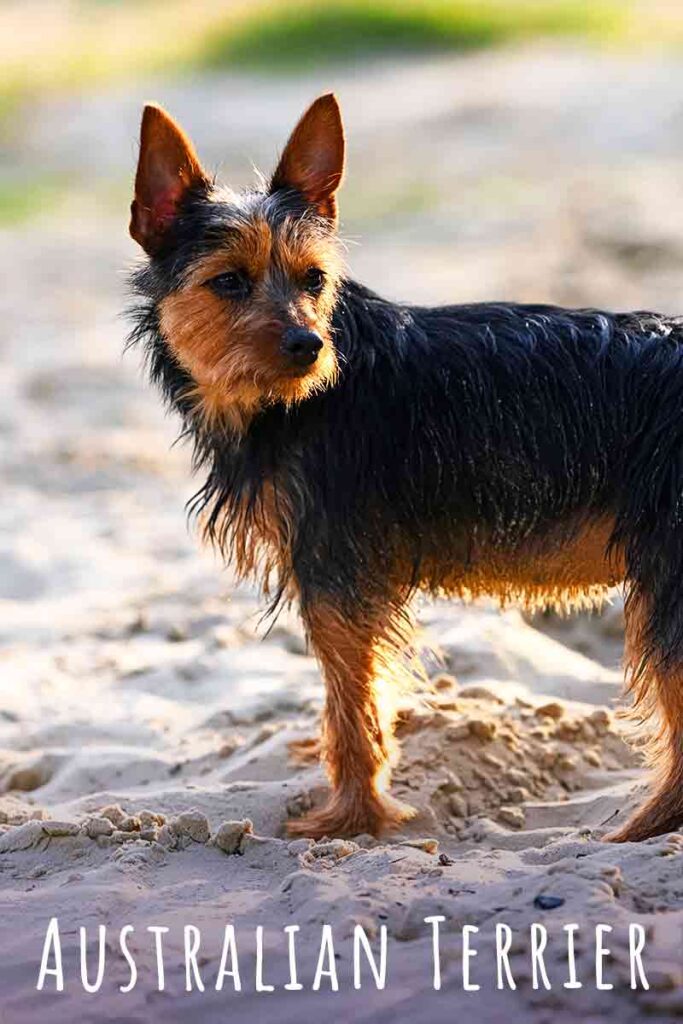 They have a distinctive low-shedding rough coat. Colors can be blue and tan, solid sandy colored, or solid red.
They have triangular, upright ears, and a distinctive mane of longer fur around their neck.
Traditionally their tail would have been docked and their dew claws removed, to reduce the possibility for injury whilst working.
But Aussies destined for the pet life today might be left unaltered. Depending on the breeder.
Australian Terrier temperament
Australian Terriers have lots of quintessential terrier traits.
They are typically bold and confident. This is very important for dogs who take on snakes!
They tend to be vocal when they spot someone approaching their home. Many terrier breeds were originally expected to double up as little watchdogs too.
Unsurprisingly, they also have a high prey drive. This means they're likely to chase anything smaller than them, or fast moving.
Aussies are also noted among terriers for being especially affectionate, and people focussed.
Their owners say that they insist on being at the center of the family at all times.
Sometimes to the extent that breeders recommend keeping them as only dogs because they don't like to compete for attention.
Training and exercising your Australian Terrier
Aussie Terriers may be small. But their ancestors were bred from the dogs most able to deliver a long day's work in tough conditions.
So today they still have lots of physical energy. Nothing will put them off wanting to go out and burn it off!
Australian Terriers benefit from at least an hour of exercise a day. This could include:
Walking
Hiking
Keeping you company on a jog
Playing fetch in the yard
Or taking part in dog sports such as Earthdog.
Mental Stimulation
Their lively bodies also contain lively minds. So as well as exercise they'll also need plenty of mental stimulation.
This could be in the form of puzzle feeders, interactive toys, or training games. Or better yet – all three!
Terriers also enjoy having somewhere outdoors where they're allowed to dig.
They have a strong digging instinct. Lots of terriers will find somewhere to dig of their own accord if they find themselves at a loose end anyway.
So pre-empting that behavior and providing a suitable corner of the yard or a dirt box can save a lot of conflict!
Australian Terrier health and care
Lots of terrier breeds are notable for their general good health.
They were bred for their ability to work above all else. And there was no space for sickly dogs that couldn't earn their keep.
That's partly true of Australian Terriers too. But just like all pedigrees, there are some issues which occur in this breed at a higher frequency than in the overall dog population.
They are:
Hip Dysplasia. An abnormal formation of the hip joint, which can progress to painful arthritis.
Patella Luxation. A condition where the kneecap slips out of position, which needs surgery to fix.
Tooth decay and gum disease. As a result of packing 42 teeth (the same as a wolf!) in a small set of jaws.
Thyroid disease.
Degenerative myelopathy. A progressive neurological condition which is carried in some breeding lines.
Fortunately, potential breeding dogs can be screened for all of these problems before a decision is made to mate them.
This protects future generations from getting more and more health problems.
Australian Terrier life expectancy
Since Australian Terriers are quite uncommon, we're not aware of any large scale surveys of how long they live.
A small sample of 11 dogs included in a larger study of dog longevity in 2010 found that they lived for 12 years and 1 month on average.
But the oldest individual lived for 15 years.
Both of these numbers compare favorably to the all-breed average lifespan of 11 years and 3 months.
Do Australian Terriers make good family pets?
Australian Terriers are affectionate members of the terrier group. They adapt best to homes which can offer lots of engagement and interaction.
This might mean an active retired couple. Or a family with older kids who can all take part in providing their pup with company.
Always supervise younger children with dogs. Especially Aussies, since they are so small, and prone to accidental injuries from clumsy toddlers.
Due to their high prey drive Aussie Terriers might pose a threat to smaller pets like cats, rabbits or guinea pigs.
Can They Ever Live With Other Pets?
You may be able to teach your Aussie to ignore other pets if they are raised around them from puppyhood. Make sure you allow time for this and commit to doing it properly if it will be an issue for you.
Some Australian Terrier owners also believe that they don't adapt well to living with other dogs.
Talk to your breeder about this, if you already have dogs at home.
Better still, look for a breeder who owns more than one dog themselves. And ask to observe how their Aussie Terrier interacts with the other dogs.
Finally, since they are very energetic and vocal, Aussie Terriers are better suited to homes with large yards and no very close neighbors. They do not suit apartments!
Rescuing a Australian Terrier
Lots of people prefer to adopt an older dog than purchase a puppy, for all kinds of reasons.
(If you're not sure which you'd prefer, take a look at this article!)
Since Australian Terriers are an unusual breed, they're also rare in the shelter dog population.
So you're more likely to have success by contacting a breed-specific rescue organization.
We've got links to some Australian Terriers rescues at the end of this article.
Finding a Australian Terrier puppy
Of course, the alternative to rescuing an older dog is buying a puppy.
Since Australian Terriers are quite rare, breeders may have waiting lists for their puppies.
So, be prepared for a good breeder to interview you about why you're interested in the breed, and place you on a waiting list for a future litter.
This is also a good chance to ask any more questions you have about Australian Terriers!
And don't be embarrassed to interview the breeder a little too. Ask them what health tests their breeding dogs have had, where the puppies will be whelped and raised, what early training and socializing they'll do.
A good breeder will appreciate your interest and be happy to give detailed answers!
Our Puppy Search Guide has more guidance on finding a healthy, well-raised puppy.
Raising a Australian Terrier puppy
Raising an Australian Terrier puppy is a big responsibility.
Most puppy parents go through a period of feeling overwhelmed by the commitment they've made.
We have some great guides to help you through the first few days, weeks, and months with confidence.
You might also be interested in the Puppy Parenting course on our Dogsnet site.
It has everything you need to know about preparing for a new puppy, settling them in at home, starting training and troubleshooting puppy problems.
Plus, students get access to a private forum where the Dogsnet team can help you out and cheer you on.
Similar Breeds
The lively Australian Terrier isn't for everyone.
But if you're not sure they're the right fit for you, don't worry! There are lots of other small dogs to consider:
Italian Greyhound
Irish Terrier
Pros And Cons of Getting A Australian Terrier
There's a lot to weigh up before committing to any dog breed.
Here's a summary of the pros and cons of the Australian Terrier:
Cons
High prey drive.
Breeders may have long waiting lists.
May not adapt well to living with other dogs.
Pros
Very affectionate.
Great for hikers and walkers, but doesn't need a big car.
Low shedding coat.
Australian Terrier Breed Rescues
Do you know of another great Aussie Terrier rescue service?
Tell us about them in the comments box down below!
Readers Also Liked
References And Resources