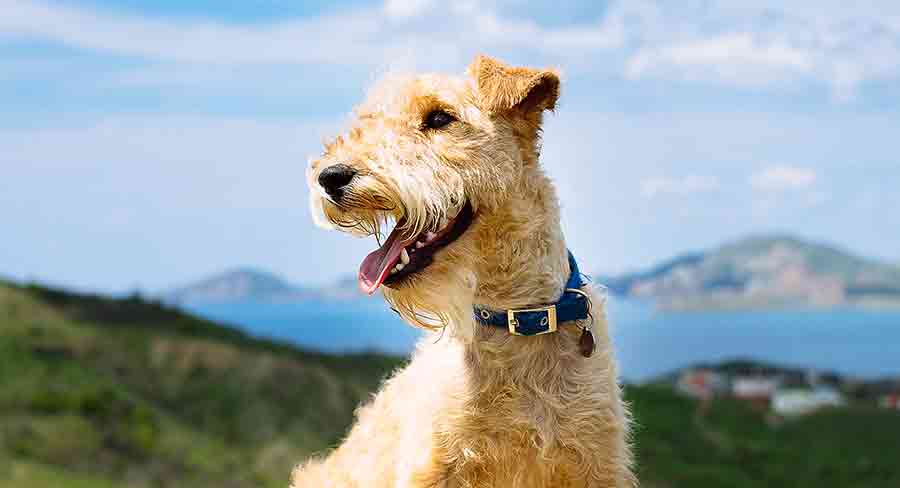 The Lakeland Terrier is a rare small terrier breed from the Lake District in England. They tend to weigh around 17 pounds, growing somewhere between 14 and 15 inches tall.
Lakies have a wiry, low shedding coat which makes them popular with dog owners that suffer from allergies. They are prized for being affectionate and versatile.
Are you preparing to bring home the uncommon Lakeland Terrier dog breed?
Lakeland Terrier At A Glance
We think everyone ought to know more about the lovely Lakeland, starting with these quickfire facts!
Popularity: 147 out of 197 breeds recognized by the American Kennel Club
Purpose: Originally, fox control
Weight: 17 pounds
Temperament: Companionable, hardy, and frightened of nothing.
And now, our full breed review…
Lakeland Terrier Breed Review: Contents
History and Original Purpose
The Lakeland is one of the oldest terrier breeds – dating back to the 18th century.
They were founded by farmers who grazed sheep in the beautiful but rocky and unforgiving Lake District region of northern England.
They needed a tough, nimble, unflagging dog to protect their flocks from foxes, especially during lambing season.
Everything about the Lakeland Terrier's appearance and temperament is a result of honing a dog perfect for that job, in that landscape.
In their ancestral homeland, Lakelands are still working dogs today. But in the United States – where they have been recognized by the AKC since 1934 – they are more likely to be kept as pets.
Fun Facts About Lakeland Terriers
Zelda Van Gutters, the quick-quipping dog in Nickelodeon Magazine was a Lakeland Terrier.
Neil Tennant, of the pop duo The Pet Shop Boys had a Lakeland Terrier named Kevin.
Lakeland Terriers are sometimes also known as Patterdale, Fell, Cumberland and Westmoreland Terriers.
Lakeland Terrier Appearance
Lakeland Terriers essentially look like a smaller version of the better known Airedale Terrier.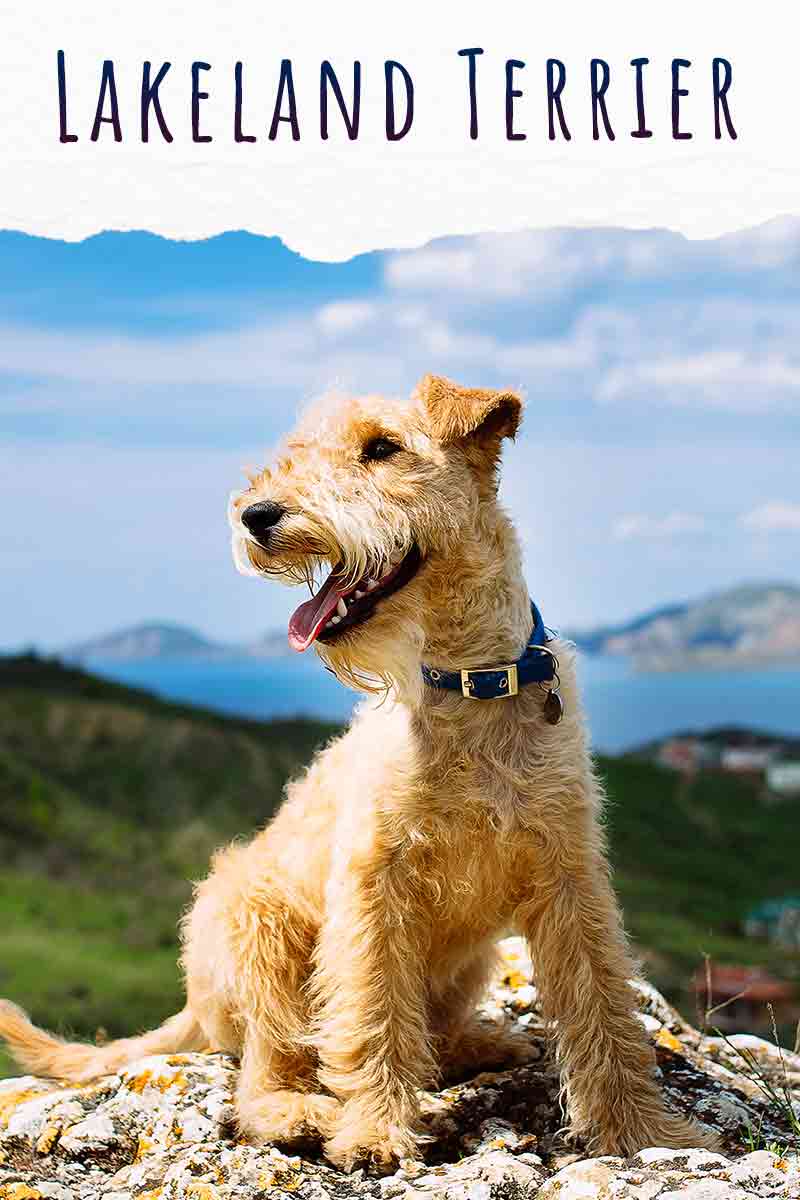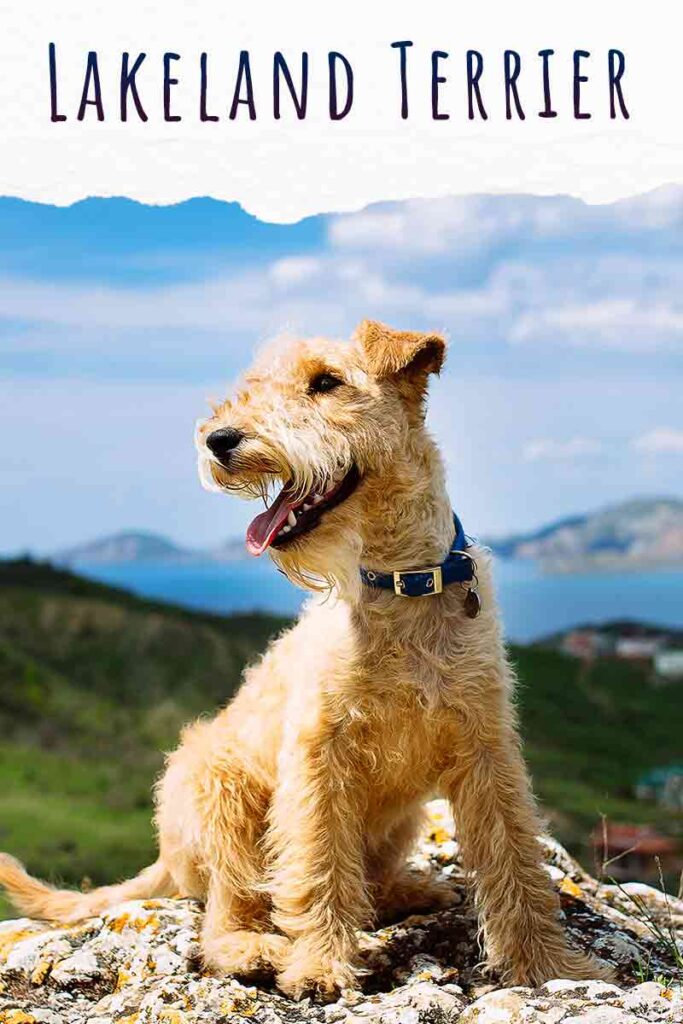 They reach 14 to 15 inches tall at the shoulder, and weigh around 17 pounds.
Despite being small, they are one of the 'long-legged' terrier breeds – meaning that overall their proportions are tall, and designed for comfortably covering long distances above ground.
(Compared to say, the Westie, which has short legs for chasing vermin underground.)
According to their breed standard, the ideal Lakeland Terrier is also relatively narrow, for squeezing through gaps in rocky terrain.
Coat Type and Colors
Lakelands have a wavy double coat, with a soft insulating under layer, and a wiry protective outer layer.
Like many breeds for which working ability is considered more important than looks, they are accepted for show in any color.
Lakeland Terriers groomed for show have a distinctive area of long fur over their forehand and muzzle (similar to a Bedlington Terrier) and a handsome beard and whiskers to match.
Lakeland Terrier Temperament
Lakies ooze charisma.
According to their breed standard they are 'bold, gay and friendly, with a confident, cock-of-the-walk attitude'.
On the Lakeland Club of America website, their owners also talk about how quickly their brains work. There are even stories of Lakies who worked out how to answer the phone!
An Independent Streak
Lakeland Terriers are intelligent dogs, but they were also bred to work in packs with other Lakies, tracking down vermin at a distance from their owner.
Due to this, they tend to be confident being apart from their owner, and also find making their own decisions about what to do next very rewarding.
For modern owners, this can feel like willfulness, stubbornness, or selective deafness. But it's nothing to do with deciding to be naughty, or trying to give their human the run around.
Barking and Natural Instincts
Lakies are also typically very vocal, and quick to sound an alert! Their forefathers hunted in packs, so they would have used a lot of barking and noise to communicate with one another whilst working.
This makes them handy watch dogs.
But, they are terrible guard dogs! Lakies are usually very fond of their families and of meeting new people too. In fact, many have successful careers as therapy dogs in schools, hospitals and old folks' homes.
Finally, like all terriers, Lakies have a high chase instinct. If it moves, they will go after it.
Since they were bred to kill foxes much bigger than them, they also have very little concern about putting themselves in danger in order to chase something.
Owners report that they will cover exceptional distances, and follow quarry into all kinds of places.
Training and Exercising Your Lakeland Terrier
Lakies are small, but they have formidable strength, speed, and stamina!
Their physique is designed for pursuing overground prey over long distances, and even today they still need plenty of exercise.
You'll need to balance this with their instincts to chase wildlife. So ideally you'll have access to a large yard or secure field to exercise them in.
Lakies like to have a purpose, so engaging them in activities such as scentwork or Earthdog challenges will help keep them occupied.
Undesirable Behaviors and Training Methods
If they're left to get bored, they're likely to resort to unwanted behaviors such as digging, chewing and scratching, for physical and mental stimulation.
Lakies, like all dogs, are moderately easy to train. They are very clever, but historically they are more accustomed to working at a distance from their owner rather than in close partnership.
Positive reinforcement training is the best way to motivate a terrier to take part in training and overcome 'selective deafness'.
Lakeland Terrier Health and Care
On the whole, like many breeds for whom working ability was paramount, Lakelands are generally healthy dogs.
According to one study of longevity in dogs, the average Lakeland lives for 15 years and 5 months. More than 4 years longer than the all-dog average lifespan!
However, all purebred dogs are at an increased risk of hereditary disease due to breeding within an artificially restricted gene pool.
This is a particular risk for very rare breeds like the Lakie, which only has a small number of dogs from which to create the next generation.
An additional disadvantage of being so unusual is that Lakies are underrepresented in medical studies of dog health.
So it's hard to accurately estimate the frequency of individuals carrying genetic disorders.
Problems to be Aware Of
The most documented problems affecting Lakies are eye diseases. Approximately 1 in 12 develop cataracts, and there are also cases of primary lens luxation – a painful condition where the lens of the eye slips out of position.
There are also recorded cases of:
Degenerative Myelopthy (a hereditary neurologocial condition)
and Hypocalcemic Tetany (a hereditary condition which looks very similar to epilepsy, but is medically distinct)
A good Lakie breeder will understand the health problems facing the breed, and be willing to talk about the steps they have taken to protect the health of the next generation.
Do Lakeland Terriers Make Good Pets?
Lakeland Terriers are very affectionate with people, and make winning pets in the right homes. However, like any breed, they're not suitable for everyone.
Due to their terrier instinct for hunting vermin, they might not be suitable for households with smaller pets like cats and rabbits.
Since they tend to be noisy, they are not well suited to apartments or city dwelling either.
They need to live with a household who can provide plenty of safe outlets for their physical energy – someone who lives rurally and enjoys hiking would be ideal.
Lakies get on well with children and their breed club has a very active youth membership.
But, due to their small size they are at risk of being injured by young children who don't understand yet about how to play safely with dogs.
So they're best suited to households with older children and teenagers.
Finding a Lakeland Terrier puppy
The most significant problem facing people looking for a Lakeland Terrier is the sheer lack of numbers.
This means the number of individuals of breeding age is low. And the proportion of those who are healthy, have good temperaments, aren't related, and live close enough to arrange mating is even smaller.
The United States Lakeland Terrier Club maintains a list of active breeders within this small community, and at the time of writing there are only 25 people on it, across a dozen states.
So to find a Lakeland puppy of your own, you'll need to be ready to demonstrate to a breeder why you're a good match for one of their puppies, probably join a waiting list for a litter, and also be prepared to travel to collect your pup.
You should also approach the breeder with lots of questions of your own. Our puppy search guide will help you get ready to approach breeders.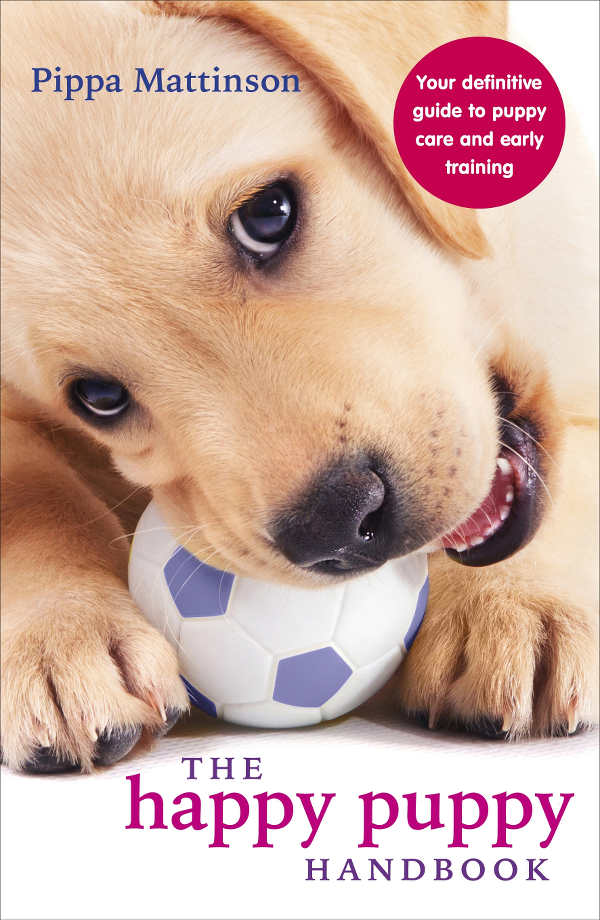 Raising a Lakeland Terrier Puppy
Taking on a Lakie puppy is a big responsibility!
Small breeds, including Lakelands can take longer to toilet train than average. Put simply, they have tiny bladders that can't hold much pee!
Our toilet training schedule will help you achieve success as quickly as possible.
If you have other small pets, it will be important to introduce your Lakie to them carefully, so that they learn to interact nicely and not give chase.
Luckily Lakelands aren't noted for suffering from separation anxiety, and they can usually be crate trained with relative ease. You can read more about getting started with that here.
Thinks About Grooming
As your puppy gets older you'll also need to decide how to take care of their coat. It will need brushing frequently to remove tangles and debris. You might also want to take them to a groomer to be trimmed.
Some owners report that clipping makes Lakies' skin very sore, so scissoring is kinder.
Show dogs should be hand stripped to remove dead fur and keep their coats in peak condition.
Similar Breeds
What if you don't live in one of the states with a Lakeland Terrier breeder?
Luckily, the terrier group is full of other amazing dogs which might be your perfect match:
Welsh Terrier – very similar to a Lakie, but slightly bigger.
Airedale Terrier – also similar to the Lakeland and Welsh Terrier breeds, but bigger still.
West Highland White Terrier – similar in size to the Lakeland, but only available in white.
Wire Hair Fox Terrier – one of the breeds which originally contributed to Lakie lines, and still very popular today.
Border Terrier – another terrier breed originally bred to control foxes and other breeds
Jack Russell Terrier – needs no introduction!
Cesky Terrier – Unique and unusual!
Australian Terrier – Small but mighty!
Irish Terrier – An all round Terrier breed!
Pros And Cons Of Getting A Lakeland Terrier
There's a lot to weigh up when considering whether a Lakie could be your next pet.
Here's a round up of the pros and cons of this feisty pup:
Cons
Strong prey drive, and a daredevil lack of regard for danger.
High maintenance coat.
Hard to find.
Pros
Affectionate.
Low shedding.
Healthy.
Does Your Heart Already Belong To A Lakeland Terrier?
Tell us about them in the comments box down below!
References And Resources