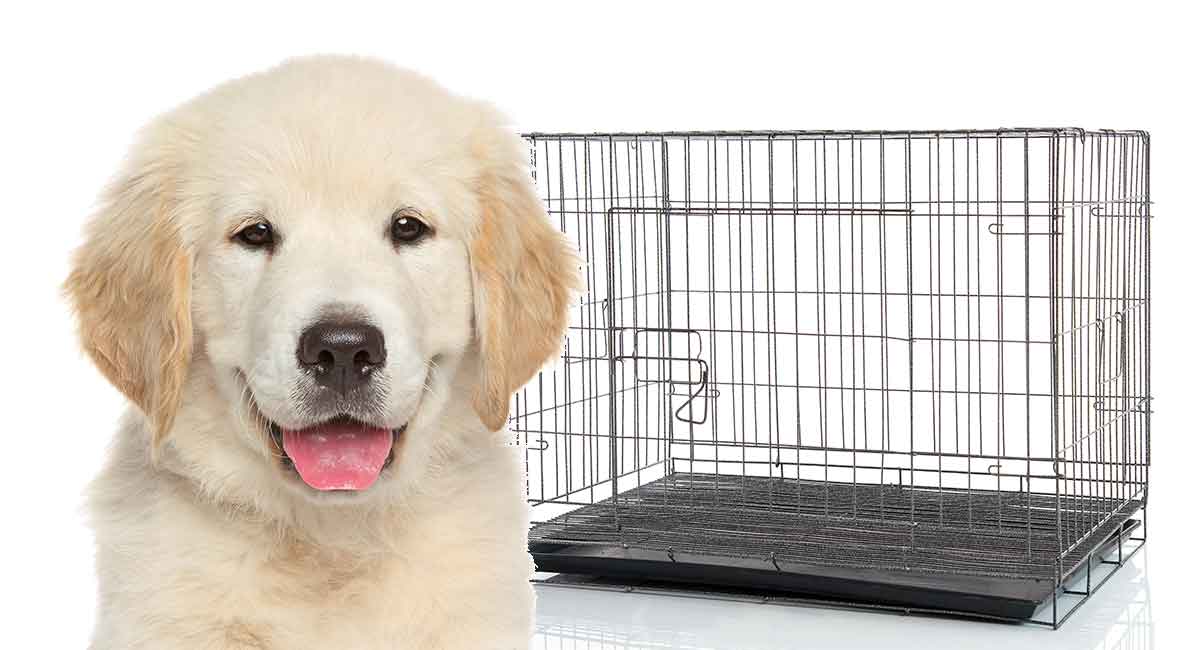 What size crate is best for Golden Retriever puppies or adult?
The best dog crate for Golden Retriever puppies allows them to stand up and stretch out, as well as turning around. But it's not a lot bigger than that, to avoid them using a corner as a bathroom. You can choose to buy one that fits their build now, or that is big enough for their adult size but has a divider to keep the space small temporarily. There is no perfect crate for every dog, you'll want to think about your needs too. Today I'll share tips for choosing between soft sided, metal or plastic options, and let you know how to measure up your pup.
Contents
A Crate For All Ages
Your Golden Retriever will start out life as a tiny puppy, but that sure won't last long! At 7 weeks, your pup may weigh a whopping 3 pounds. Fast forward to 12 months, and that same dog now weighs anywhere from 55 to 75+ pounds!
Many training crates feature a divider system. With the help of the crate divider, you can reduce the size of the crate to suit your puppy's needs. And then remove the divider when your Golden reaches her full adult size.
Less Is More
The first thing to know about correctly sizing your Golden's dog crate is that more space isn't better for a dog crate. You are aiming for a snug, comforting fit that mimics the den a wolf might find for himself in the wild.
He will need a few spare inches of head and side room, but no more than that.
Wild wolf dens typically measure 40″L x 50″W x 20″H. The entranceway itself is about 18 inches across. These dimensions are mirrored in the recommended crate size for an adult Golden Retriever dog.
Best Dog Crate For Golden Retriever Puppy
Each of these awesome crates features that key essential you need during puppyhood: the divider. Each also offers a slide-out under-tray for easy cleaning, and all will fold down for storage or travel.
Paws Pals
We love the Paws Pals OxGord 42" Dog Crate*(paid link). This affordable, versatile, and functional metal dog crate features a side door and a front door. Along with a removable divider for use during puppyhood.
The crate measures 42″L x 27″W x 30″H, folds down easily for travel or storage, and has a top carry handle. The slide-out under-tray is easy to clean and replace.
MidWest Homes
The MidWest Homes for Pets Dog Crate*(paid link) is a great option. This high-quality large dog crate comes in a single-door and a double-door model and measures 42″L x 28″W x 30″H. It comes with a removable divider for use during puppyhood and a slide-out dog tray for easy cleaning.
There is a top handle for carrying, and the crate folds down flat for travel or storage. The doors have two bolts per door for safety. One neat feature about this crate is the rolling feet to help protect your flooring.
New World
New World Folding Metal Dog Crate*(paid link) is another popular and highly rated metal dog crate. It comes in single- and double-door models. Each features a double latch system with two latches per door.
The slide-out, leak-proof under-tray makes cleaning easy and fast. This crate measures 42″L x 30″W x 28″H and folds down flat for storage or travel.
Precision Pet
The Precision Pet Wire Dog Crate*(paid link) is a feature-rich, high-quality two-door dog crate measuring 42″L x 30″W x 28″H. It comes with a removable divider and slide-out tray for easy cleaning.
The crate has rounded, smooth corners for safety, and the whole crate is coated with a rust-resistant finish. The entire unit collapses to a width of two inches, making it easy to store or use for travel.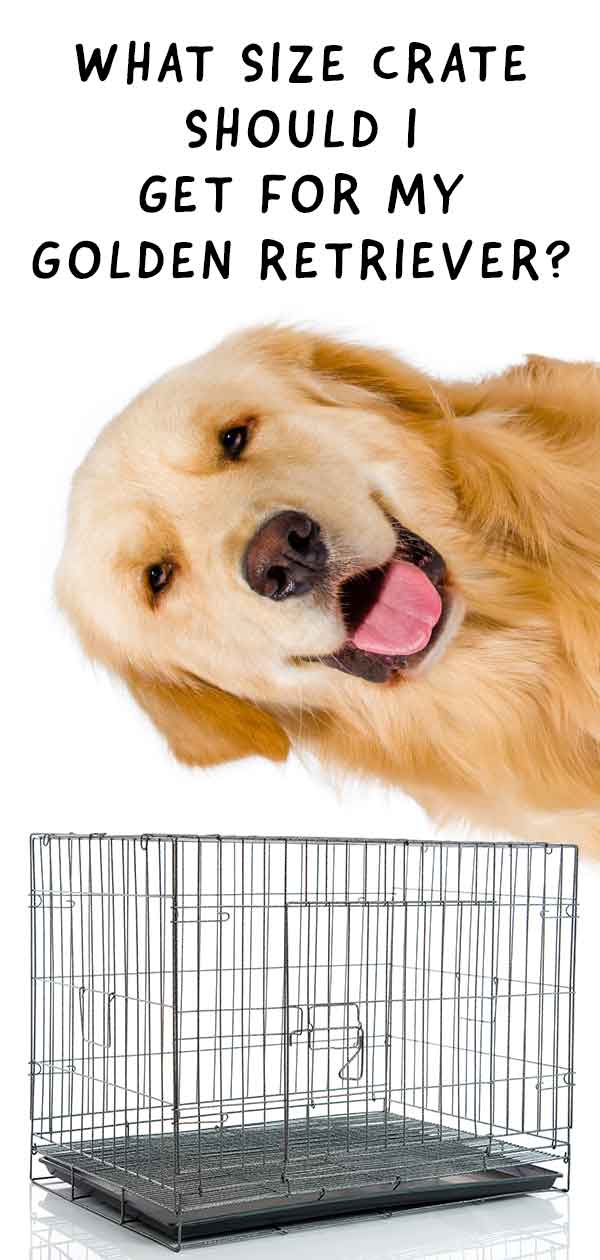 Best Crate For Golden Retriever Adult Dog
These crates provide a range of features, from economy to deluxe.
LuckUp
We really like the LUCKUP Heavy Duty Dog Cage*(paid link). This heavy duty, high-end dog crate comes in silver or black models and will also take spray paint, if you desire.
It is rust resistant and comes on heavy-duty locking casters to rotate it 360 degrees or move it outside or from room to room as you desire.
The door is actually a door-within-a-door to give you more interaction flexibility. The plastic under-tray is easy to slide out, clean, and replace. The locks have an extra feature: safety buckles to prevent escape.
Best Pet
The BestPet Wire Cage*(paid link) is another great option! This functional, affordable metal crate option measures 42″L x 30″W x 28″H and features a front and side door, each with double latches. The tray slides out and back in for easy cleaning.
The cage is coated with a durable anti-rust black epoxy. It folds down easily for storage or travel. It also offers a handy top carry handle.
Best Travel Crate For Golden Retriever Dogs
The size recommendations don't change when you are traveling. You want the same close, cozy fit, where your dog has just enough room to stand up to full height and turn around fully. This is for safety as well as comfort.
But you may want a different crate for car travel, specifically one that is soft-sided or plastic and lighter weight. For air travel, you will need a crate that is approved for use on the carrier you are flying with. This can differ from one carrier to the next, so be sure to call the carrier ahead of time for guidance!
Go Pet Club
The Go Pet Club Soft Travel Crate*(paid link) is one of our favorite options. This soft-sided travel crate measures 42″L x 37″W x 30″H and comes with its own sheepskin mat insert and carrying case. The sides roll up with Velcro hinges to offer ventilation.
JesPet
JesPet Soft Dog Crates*(paid link) are great. This 3-door, soft-sided travel crate features a strong steel crate frame covered in durable, washable fabric.
The sides can be rolled up and secured with Velcro for ventilation. The frame is spring-loaded and collapsible for storage or travel, and it comes with a handy, adjustable handle. A sheepskin bed is included.
Midwest Homes
The Midwest Homes for Pets Portable Tent Crate*(paid link) is built over a sturdy steel collapsible frame. It measures 42″L x 26″W x 32″H and features a carrying handle, zippered doors and windows, water resistant cover material, and a sheepskin bed.
Amazon Basics
The AmazonBasics Folding Soft Dog Crate*(paid link) is great value for money. This affordable, functional travel crate features soft sides with a collapsible steel frame.
It measures 42″L x 30.7″W x 30.7″H and features a top and side door and ventilated mesh windows. The fabric is durable polyester.
Affiliate link disclosure: Links in this article marked with an * are affiliate links, and we may receive a small commission if you purchase these products. However, we selected them for inclusion independently, and all of the views expressed in this article are our own.