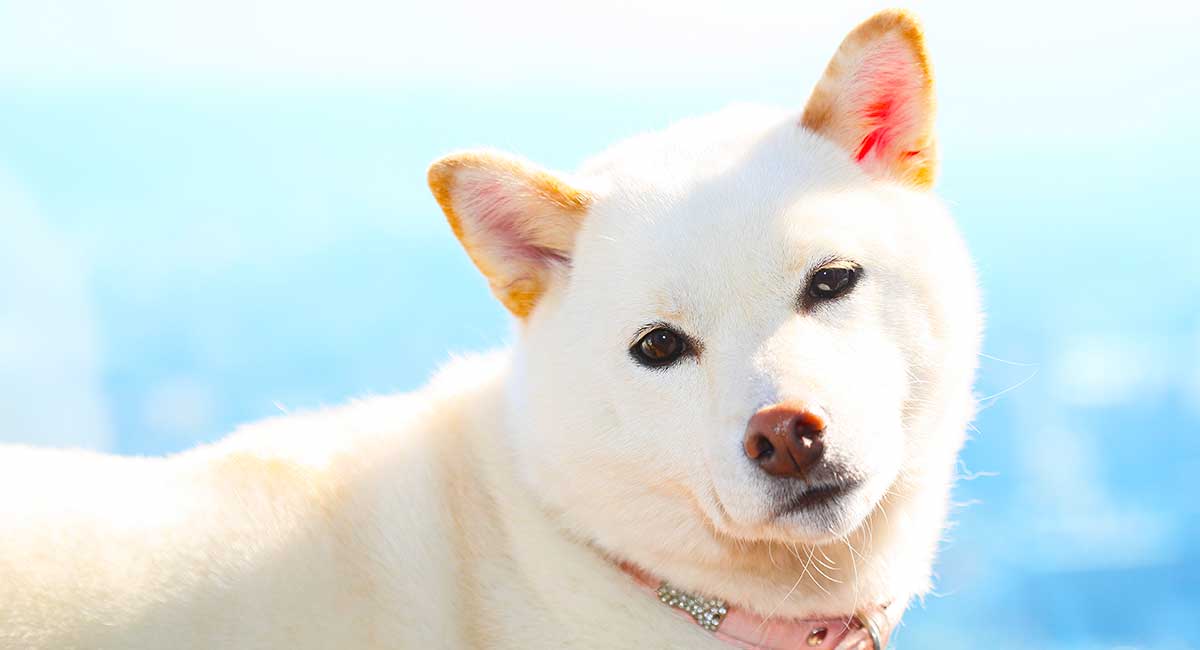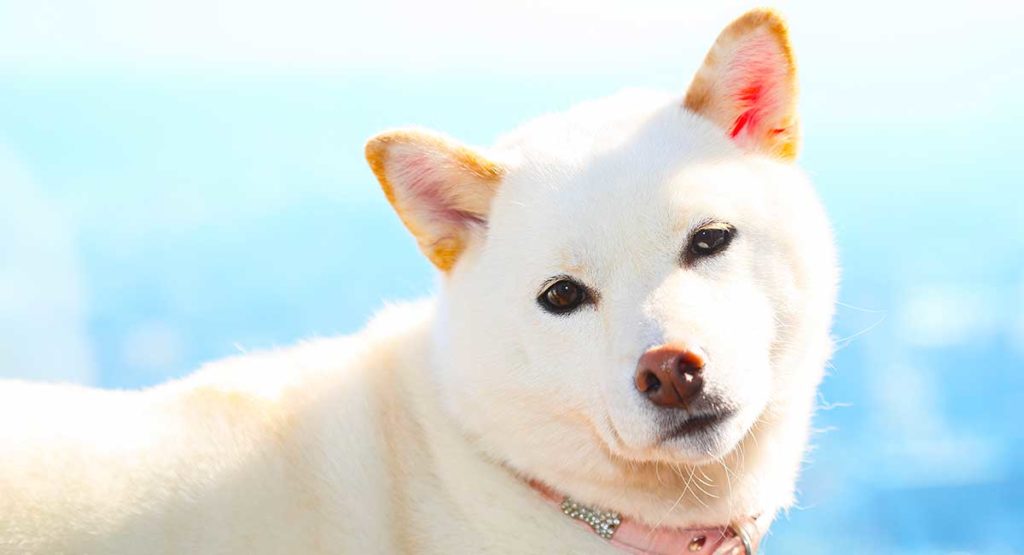 White dog names are often inspired by winter and snowy landscapes. But there are other sources of great names for white dogs. We'll share those with you here, and give you some helpful tips for creating an original and beautiful name for your white puppy.
Contents
There are lots of different pedigree dogs that are predominantly white. And many cross breeds or mixes too.
Some popular white dog breeds include: Samoyeds, West Highland Terrier, Bichon Frise, and Maltese. You'll also find very pale cream or white Pomeranians, Poodles, and Golden Retrievers.
Many breeds can produce white dogs across a whole range of different shades, but if you are looking for a cream or white puppy, those popular breeds are a good place to start!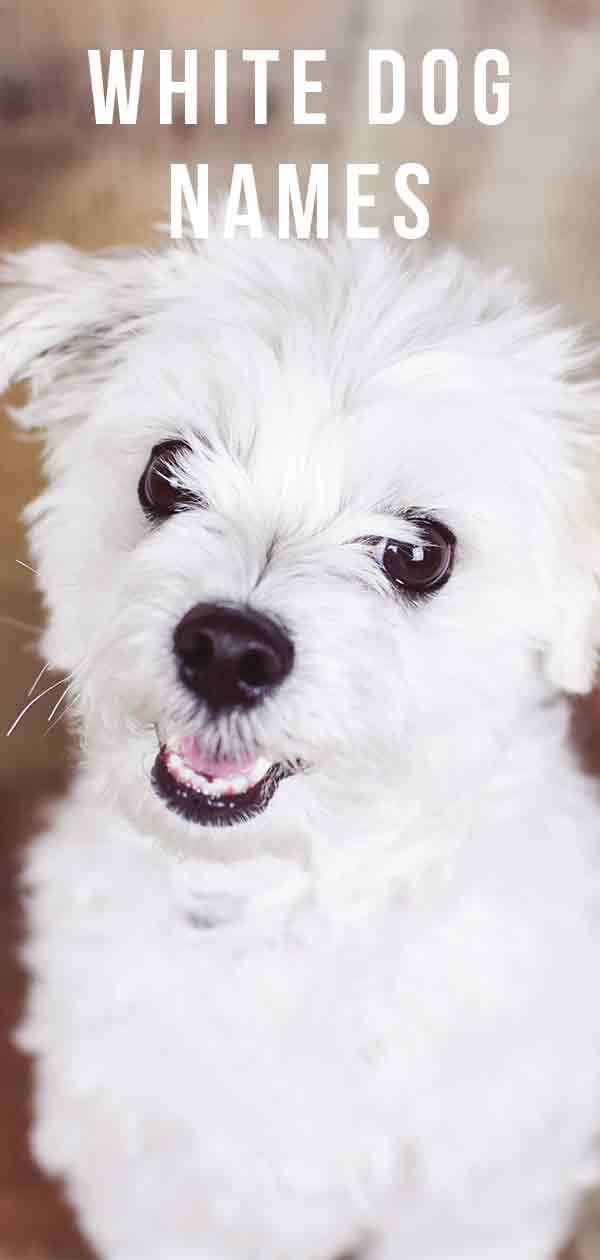 Why choosing the right name for your white dog matters
Dogs all have their own unique personalities, just like people! And it's fun to choose a name that reflects this.
Of course, when a pup is still growing, he develops in personality as well as physically. For that reason, you'll often have to take a best guess at how your puppy will turn out and hope to choose a name that suits him when he's fully grown.
Brief is best
You'll also want your pet's name to mean something to them. And for your dog to respond when you call out their name.
The best dog names are often those with only one or two syllables. That's because very long, complex names are hard for your pup to memorize. You can still choose a longer name for your puppy. You may just need to abbreviate it to a nickname that's shorter!
Where to find ideas for white dog names
There are lots of sources of inspiration for white dog names. Cold weather is a popular one, but you can also look at other aspects of the natural world. Flowers, minerals, precious stones, animals, and even town and place names, can work as very attractive and unusual dog names.
You don't have to stick to the color white, for example, you might want to name a pedigree white dog after his parents, or perhaps his breeder. Or some aspect of a sport or hobby that you enjoy
Maybe you have a friend with a totally cool moniker that would look great on a white dog! Or are you a massive fan of a particular pop or rock star with a name that would suit a cute white puppy?
People names for white dogs
Another really good resource for white dog names are baby name books.
These books are aimed at parents-to-be, but they are just as useful for people who want to find a good name for a new puppy.
Check out good book stores, or buy a copy of a baby book online and get searching!
As well as a great selection of male and female names, each name in the book comes with a definition of its original meaning, making it a breeze to find something that perfectly suits your pup.
White dog names with a weather-related theme
One really good source of inspiration for white dog names is the weather.
Here's a few ideas for weather-related white dog names:
Snowy
Blizzard
Frosty
Winter
Jack (frost)
Whiteout
Ski
Cloud
Misty
Flakey
Foggy
Ice
Nimbus
Avalanche
Glacier
The weather is surely a place to find some of the best names for white dogs!
Cute dog names for white dogs
White pups are prime candidates for really cute dog names!
Here's our take on some cute names for white dogs.
Pearl
Phlox
Popcorn
Polar – a great white dog name for a malamute, husky, or Siberian shepherd dog
Puff
Mojito – a perfect name for a Chihuahua or a Pomeranian
Moon
Nova
Opal
Female dog names for white dogs
There are plenty of great female white dog names to choose from.
Blondie
Bianca – means "white" in Italian
Beluga – after the type of white whale, an ideal big white dog name
Aspen – after the snowy mountains in Colorado
Artemis – after the Greek goddess
Arctica
Anjo – means "angel" in Portuguese; a pretty name for a pretty white lady pup!
Angel
Alaska – perfect for a malamute, husky, or Siberian shepherd
So, those are some really neat white girl dog names. But what about the boys?
White male dog names
Here are some neat white boy dog names to choose from.
Casper – after the ghost character
Chalky
Cloudy
Coconut
Comet
Cotton
Creamer
Dazzle
Cool names for white dogs
White dogs are undoubtedly cool to look at!
Here are some suitably ice-cold names for your white puppy that you might want to consider:
Dude (as in cool dude)
Chilly
Glacier
Grizzly
Icy
Igloo
Ivory
Kaya (means "pure" in Greek)
Lily
Luna (means "moon" in Spanish and Italian)
Gelo (means "ice" in Portuguese)
Small white dog names
If you have a tiny white puppy, he's almost sure to grow up to be a small white dog.
We believe these can make great little white dog names:
Diamond
Dove
Egret
Twinkle
Fairy
Fluffy
White fluffy dog names
Here's a list of white dog names that we think perfectly suit fluffy white dogs:
Baby
Puffball
Junior
Mini
Shorty
Smalley
Fluff
Tiny
Unique white dog names
Now, you don't want to pick a name that every other white dog has.
A great way to find unusual dog names is to brainstorm ideas around a theme that is personal to you. Place names can be unusual too. Think of places that are often snow covered. Mountain tops, or northern towns. Here are some ideas to get you started
Place names for white dogs
Alsaka
Siberia
Tundra
Kodiak
Everest
Flower names for white dogs
Peony
Snowdrop
Lily
Jasmine
Daisy
Names of white food
Marshmallow
Sugar
Sesame
Parsnip
Sorbet
Crumpet
Here's some more examples of unique white dog names to help your pooch stand out in the crowd:
Puro – ("pure" in Portuguese)
Quartz
Shimmer
Shiro (japanese for white)
Nanook
Siberia
Sirius (after the white dwarf star)
Starshine
Funny white dog names
White dog names that are funny can be a popular choice.
Just remember that your dog will have his name for life – so be careful that you don't choose something you'll later regret.
We think that these silly names would make good dog names for black and white dogs too.
Yoda
Trump
Pope
Ninja
Hyde
Comet
Homer
Google
Popsicle
Strictly
Fuzzy
Ewok
Cupid
Bones
Yoghurt
Tofu
Swan
Bingo
Bilbo
Bonkers
Important considerations when choosing white dog names
There are a few important things to bear in mind when you're looking around for white dog names.
Choose a short name that has only one or two syllables and easy for your pup to learn and remember. If you do choose a long name, pick one that you can easily abbreviate to a memorable nickname.
If you already have a dog (or a cat), don't pick a white dog name that sounds too similar to the moniker of one of your pup's housemates.
Don't choose a name that could be confused with one of your favorite training commands. For example, if you're going to use "Sit" as a training command, don't call your dog "Fritz!" Although that's a cool name, it could cause your poor dog great confusion if he mistakes your command for a come to call!
White dog names – summary
Choosing a great name for your new white puppy is extremely important.
Name-choosing is also a really fun way to spend some time before you get your puppy home.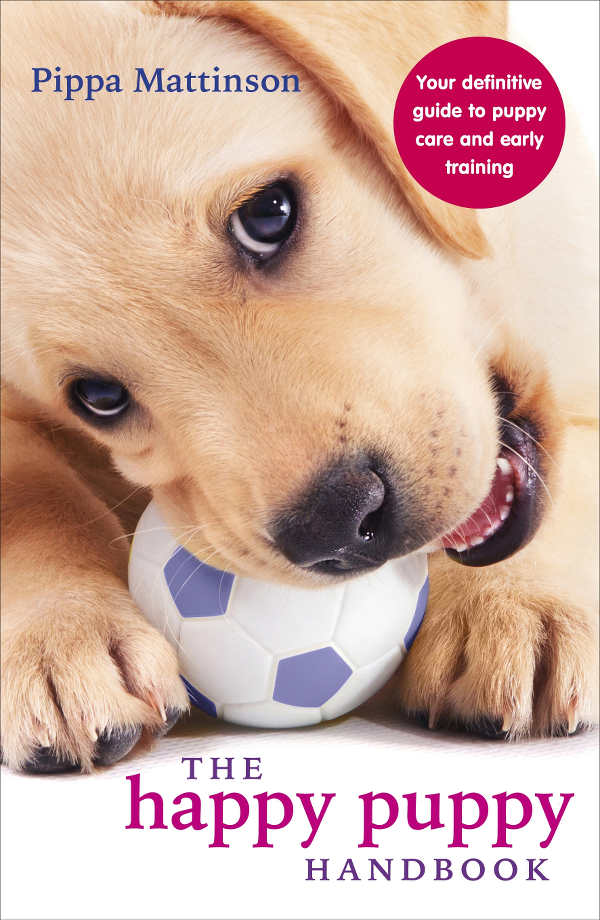 First of all, the name must be one that you will always really love.
Also, though it can seem like a great joke at the time, try not to pick a name that will go out of fashion or that will lose its meaning as time goes by.
Always choose a white dog name that your puppy will find easy to learn and remember.
Beware of names that sound too much like training commands or could be confused with the name of one of your other dogs.
What is your white dog called?
We hope you enjoyed this fun article and that you've taken away lots of inspiration for white dog names for your new puppy.
If you finally settled on one of our suggestions, please let us know in the comments section below!
If you already have a white dog, we'd love to know what his or her name is and where your inspiration came from!
If you're still stuck, take a look at our Husky name guide!