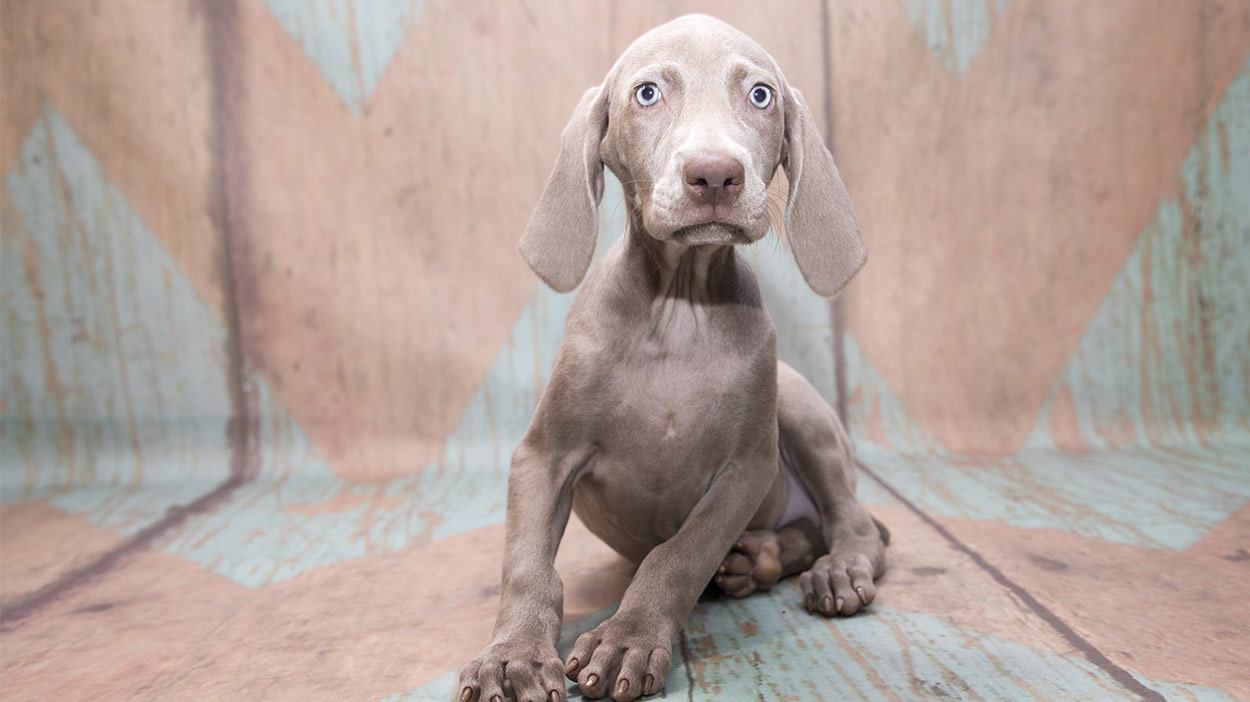 Weimaraner names have an awful lot to live up to. One of the hardest working and most loving breeds, the Weimaraner puppies don't just have unique personalities, they are stunning and distinctive too. Your silver grey puppy deserves a name that is almost as awesome and unique as they are!
Contents
Female Weimaraner Names
If you're bringing home a female Weimaraner, there are plenty of beautiful names to choose from. Female Weimaraner puppies are incredibly pretty, and you might like to use either a memorable girl's name or one that you've seen on baby name sites.
Missy

Lulu

Roxy

Mia

Darcy

Mischa

Belle

Eloise

Aurora

Mabel

Sophia

Carmela

Coco

Gigi

Ava

Lara

Karlie

Ruby

Chica

Amazon

Paisley

Liberty

Bacardi

Aliona

Rosie

Brandy

Oceania

Aria

Harper

Layla
Male Weimaraner Names
Weimaraner dog names, male, can also be found by choosing your favorite baby names. But there are also lots of options for choosing something a bit more individual.
Ranger

Bolt

Zion

Rio

Marble

Amigo

Ronnie

Reggie

Spike

Rex

Domingo

Caspar

Ghost

Neptune

Hercules

Bruce

Trigger

Zeus

Diego

Apache

Arlo

Danny

Trooper

Pirate

Hackett

Alfred

Balmoral

Toronto
German Weimaraner Names
The Weimaraner breed comes from the Weimar area of Germany, with the breed club being formed in 1897. As a result, you might decide you'd like to give your new Weimaraner puppy a German name too.
Male German Weimaraner Names
Adel (brave)

Axel (source of life)

Ber (bear)

Rudy (famous wolf)

Garan (guardian)

Wolfgang (advancing wolf)

Otto (wealth and fortune)

Hamlet (from the little village)

Drugi (strong)

Edward (wealthy guardian)

Rollo (famous in the land)

Nardo (strong or hardy)

Conrad (honest and brave)

Fritz (peaceful ruler)

Tab (brilliant)
Female German Weimaraner Names
Margo (pearl)

Ada (noble and serene)

Suzanne (lily)

Joli (pretty)

Hilda (battle maid)

Ottilia (fortunate heroine)

Irma (warrior)

Bertina (bright or shining)

Etta (little one)

Griselda (gray battle maiden)

Della (bright)

Karlesha (tiny and feminine)

Mina (love)

Truda (beloved warrior)

Evony (archer)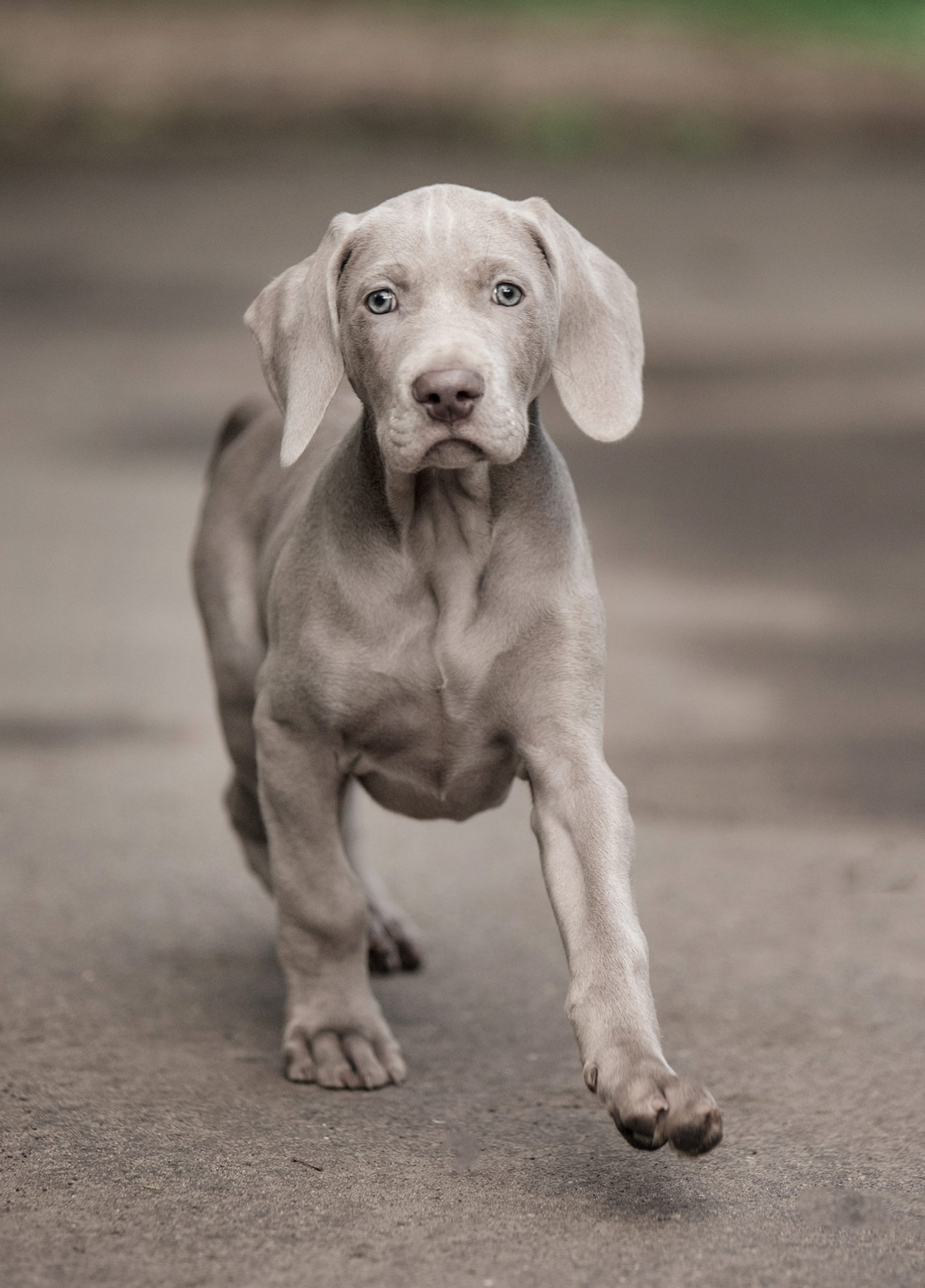 Silver Weimaraner Names
Weimaraners are well known for their beautiful short-haired coats with that distinctive silver hue. You can almost be guaranteed that your Weimaraner puppy will be the subject of admiring glances and comments wherever you go with them. As such, you might be tempted to give your Weimaraner a name inspired by this feature.
Mercury

Argento

Titanium

Opal

Pearl

Plata

Sterling

Silvio

Dollar

Steel

Jewel
Blue Weimaraner Names
As well as the silver tones found in Weimaraners, it's easy to see a blue shade in the coats of these gorgeous dogs as well. So what about using those beautiful pale blue tones as inspiration for your dog's name?
Flint

Indigo

Azure

Violet

Iris

Denim

Midnight

Cadet

Lapis

Arctic

Periwinkle

Sapphire

Zafira

Blue

Cobalt

Marine

Cornflower

Tiffany

Blueberry

Galaxy
Unique Names
If some of the more obvious names don't appeal to you, we've got some great suggestions for unique names too! It's quite fun to take some time researching unusual names to find something truly special for your new puppy. While very few names are truly unique, we've found some that are certainly less conventional. We've included their meanings, to help you decide if they could just be the perfect choice for you.
Arian (Female. Welsh for "silver")

Aroha (Female. Maori – a language spoken in New Zealand – for "love")

Saoirse (Female. Irish Gaelic for "freedom" or "liberty." Pronounced "sear-sha")

Iona (Female. Gaelic word associated with "blessed")

Romilly (Gender neutral. Thought to be derived from the Hebrew for "God's loved ones")

Mavi (Gender neutral. Turkish for "blue")

Talento (Male. Spanish for "talent" or "gift")

Finbar (Male. "Fair-haired" in Irish Gaelic)

Quintus (Male. Latin for "fifth" – perfect if your Weimaraner is going to be your fifth dog!)

Messi (Male. Associated with famous Portuguese soccer player)
Weimaraner Names From The Movies
Sometimes your favorite film can be a great source of inspiration when coming up with the best Weimaraner names. Most of us have seen the films Avatar and The Smurfs, which are also based around some memorable blue characters. Some of these have great names which could be perfect for your new dog.
From Avatar
Neytiri (female)

Mo'at (female)

Tsu'Tey (male)

Jake Sully (male)
From The Smurfs
Peyo (the creator of The Smurfs)

Smurfette

Smurf

Sassette
Lots of other films have some great names for inspiration, which we think are perfect names for dogs too. See if you can guess which films these names are from!
Baloo

Mowgli

Akela

Raksha

Moana

Maui

Stitch

Cosette

Eponine

Marius

Gavroche

Maximus

Proximo

Cassius

Gandalf

Legolas

Gimli

Frodo

Merry

Pippin

Samwise
Names Inspired By Nature
Some truly beautiful names can be found simply by looking at nature around us. Take inspiration from trees, clouds, mountains, special locations, and more, in order to find the perfect name for your new puppy.
Star

Orion

Luna

Niagara

Sky

Brook

Willow

River

Alaska

Olive

Ash

Frost

Misty

Luz (means 'light' in Spanish)

Shadow

Lichen

Blossom

Fern

Amber

Birch

Summer

Zephyr

Sirocco

Nevada

Nimbus

Atlas

Cloud

Winter

Lark

Foggy