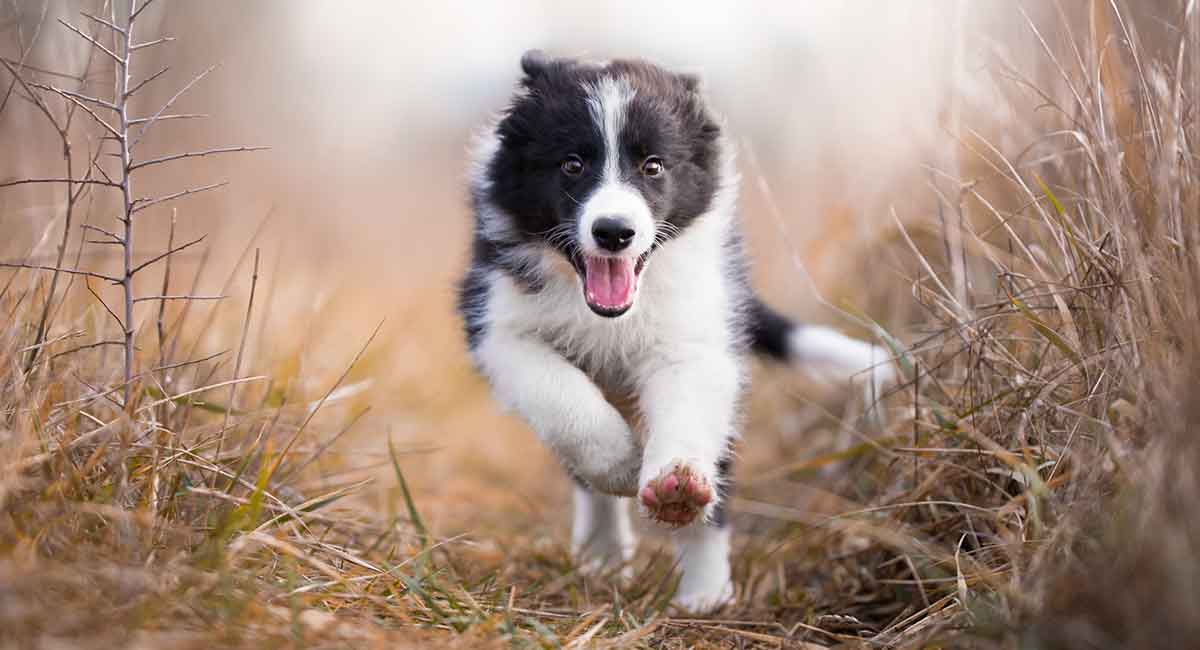 If you are on the hunt for dog names that start with T, we are so glad you are here!
Bringing a new puppy or rescue dog into your life is such a special event – congratulations! As a dog lover, you will probably have friends and family who are keen to help you celebrate the new addition and welcome your new pup. You will probably also get lots of questions about what you plan to name your new furry sidekick – especially if you have a tradition of choosing dog names that start with T!
Contents
Naming your puppy or rescue dog
Some dog names never go out of style. Here are some possible reasons:
the names are short and sweet
they're easy to say, and
easy for your dog to remember and respond to
In fact, research shows that shorter, catchy names are more likely to serve you and your dog well in training and daily life. Just steer clear of names that sound too much like common commands or you may end up in the situation where your new pup "Beau" starts to think his name is really "No!"
Our Favorites
These are some of the most popular and best dog names that start with T.
Turner.
Troy.
Tucker.
Toby.
Tripp.
Toto.
Turbo.
Tess.
Teddy.
Trixie.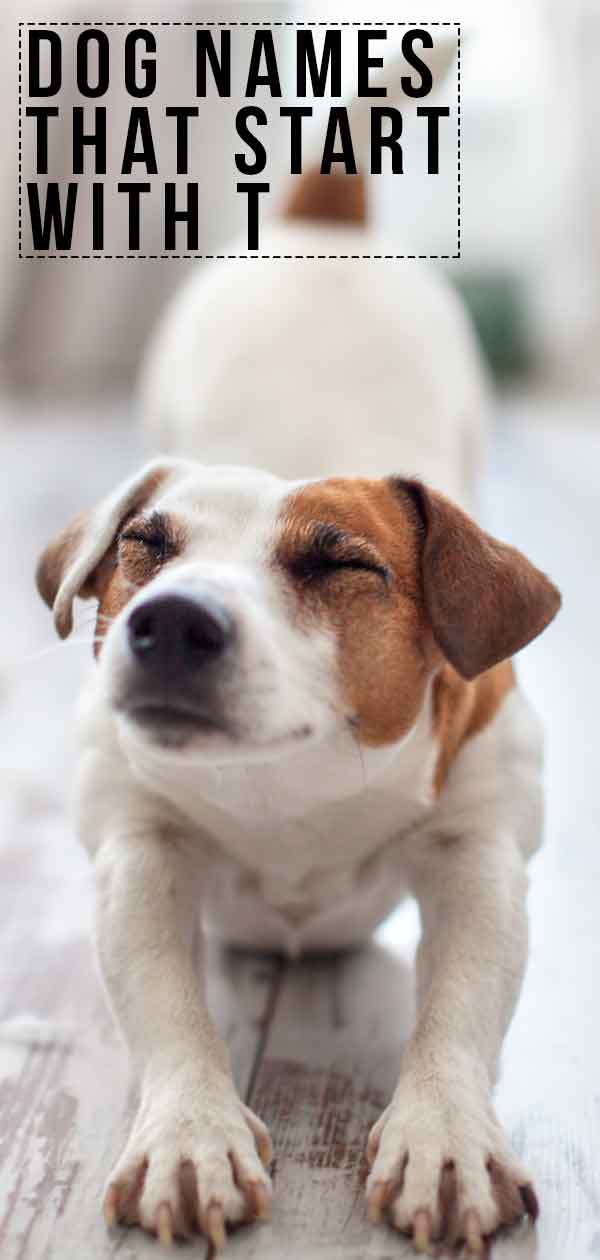 Female dog names that start with T
Whether your lady pooch is tiny and dainty or big and buff, you may find the perfect name in this list of female dog names that start with T!
They may even be perfect for a dog that isn't female at all.
Tessa.
Trestle.
Trina.
Tiana.
Terra.
Trix.
Tana.
Tamira.
Tuvie.
Tizzie.
Teya.
Temari.
Thandie.
Turquoise.
Tulsi.
Taffeta.
Tulip.
Tiara.
Topaz.
Talitha.
Tania.
Tully.
Tawny.
Tyra.
Tilly.
Tomika.
Tala.
Trinity.
Twila.
Truly.
Enjoy even more female dog naming ideas by heading over to this article.
Male dog names that start with T
These male dog names that start with T are short and sweet, yet unique enough so you won't have every dog at the dog park coming running when you call!
Though they're technically male names, of course they work for girl dogs as well.
Tycoon.
Tay.
Terron.
Tag.
Trip.
Taleb.
Thad.
Tug.
Trace.
Twain.
Tinsley.
Teller.
Tinker.
Tai.
Tortie.
Trek.
Tennessee.
Tibo.
Tudor.
Thurber.
Thoreau.
Tibet.
Tanner.
Toki.
Tegmen.
Tarka.
Toulouse.
Tango.
Tatum.
Truman.
Find even more creative name ideas for male dogs in this article.
Cool T dog names
Bring your pup's canine cool to life with these cool dog names that start with T!
Tattoo.
Tracer.
Triumph.
Tiffin.
Tomsky.
Terni.
Truth.
Timber.
Tito.
Tarot.
Tardis.
Tirza.
Tao.
Tolkien.
Turanga.
Toledo.
Turing.
Tetra.
Toshio.
Tobias.
Tars.
Timon.
Tantor.
Trusty.
Tapas.
Topher.
Tracker.
Tikki.
Taeko.
Tabla.
For more cool canine naming inspiration, be sure to check out this article.
Cute names that start with T
Cuteness, thy name begins with T – as do each one of these cute dog names that start with T!
Triscuit.
Twinkie.
Twizzler.
Tic Tac.
Toyboy.
Tadpole.
Tinkerbell.
Tutu.
Thistle.
Truffle.
Tahini.
Tugboat.
Tweety.
Treasure.
Tiger Lily.
Tansy.
Tabit.
Toya.
Talcum.
Thirsty.
Tapioca.
Turkey Lurkey.
Tata.
Tuttle.
Trifle.
Tiramisu.
Toucan.
Trixiepop.
Tweedledee.
Toppy.
Craving more cute dog names? This article has them.
Funny dog names that start with T
Some of these funny dog names that start with T may get even funnier depending on your new dog's looks, size, personality or breed!
T-Bone.
Mr. T.
Tiny.
Taco.
Tank.
Tootsie Roll.
T-Rex.
Tonka.
Tater Tot.
Taz.
Taxi.
Turnkey.
Tigger.
Tik Tok.
Tahiti.
Tinkles.
Turnip.
Tinder.
Thicc.
Thighbone.
Tuna.
Tomtom.
Taichi.
Toffee.
Tapir.
Tipsy.
Thoracic.
Tiddlywink.
Tootie.
Tuba.
Unique Ideas
These creative dog names that start with T take inspiration from people, places and things – real and fictional!
Tacoma.
Tema.
Tatooine.
Turkey.
Toledo.
Tonglen.
Toontown.
Tailspin.
Torturo.
Tula.
Target.
Toronto.
Tartare.
Tasty.
Texas.
Teacake.
Tabor.
Trophy.
Threepio.
Thrash.
Totem.
Thumper.
Twiggy.
Titanium.
Toad.
Trench.
Tailor.
Trifecta.
Tuck.
Twilight.
Enjoy more unique dog names by reading this article.
Tough Names
For the tough pup in your life, these tough dog names that start with T might be the perfect fit!
Thunder.
Tempest.
Thug.
Tron.
Tarzan.
Tornado.
Timeout.
Triton.
Trouble.
The Terminator.
Thor.
Tiger.
Tigress.
Tuff Stuff.
Tequila.
Titus.
Tarantula.
Tazer.
Trigger.
Titan.
Trooper.
Thora.
Teutonic.
Torino.
Transylvania.
Tarantino.
Tundra.
Thorn.
Takeo.
Tramp.
For more tough canine names, you will want to bookmark this article.