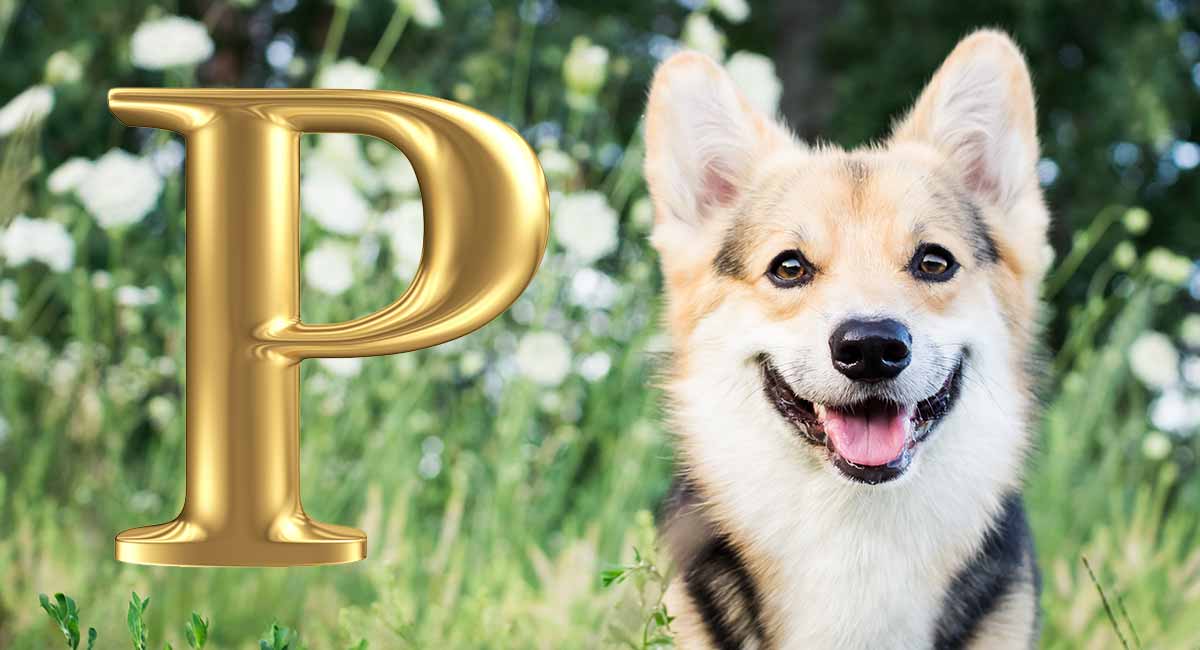 Many great things begin with the letter P, including one of our favorite things in life: Puppies! So, what about dog names that start with P?
Pugs, Poodles, and pooches of all kinds start with this popular letter, so it's no surprise many dog owners are on the hunt for the perfect dog name that starts with P.
Whether your fur baby is a rescue or came from a breeder, you know your pup is the pick of the litter.
Now, it's time to find a name as perfect as they are.
Naming Your Puppy or Rescue Dog
Naming your new furry family member is a fun and exciting endeavor, but it can also be quite stressful.
Maybe naming your dog has become a family affair and not everyone can get on the same page.
Or, perhaps you have searched high and low for that perfect dog name and still find yourself stumped.
Whatever the problem, we're here to help.
First and foremost, let's talk rules. There are none! Still, there are some guidelines you may want to consider following.
For example, P names are cool and all, but you probably don't want to name your new pup something like "Poopers" or "Pee-Pee".
While names like these might seem funny initially, they could become embarrassing when out and about at the dog park.
Or when trying to call your dog in from the backyard while your neighbor next door is sitting on their patio.
But that's not all you should consider when considering naming your dog a P name. There is also the dog to think about.
Tips on Naming Your Dog
Did you know that dogs latch on quickest to names with more than one syllable and less than three?
This means that if you want your dog to learn his name quickly, you should probably go with two syllable names. Examples of these are Riley or Boomer.
Forgo shorter names like Max or longer names like Penelope.
Still, if you have your heart set on a super short nickname for your dog or you would prefer an ironically big name to suit your itty-bitty pup, then go for it.
With time, patience, and positive reinforcement, experts agree that most dogs can learn their names in as little as a week.
So, have we piqued your interest? If you would like to look at a wide range of great dog names, then visit us here.
However, if you would like to continue on to a massive list of dog names that begin with the letter P, then keep reading!
Best Dog Names that Start with P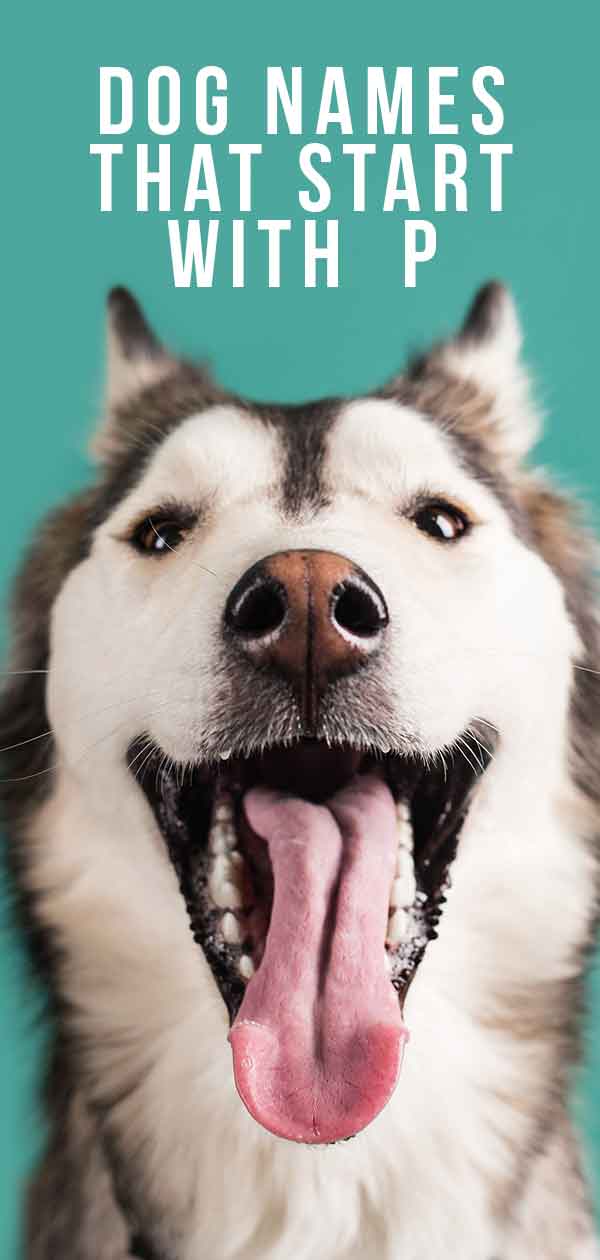 There are a number of popular dog names that begin with the letter P, but let's talk about the crème of the crop!
Below you will find a list of twenty of the world's most coveted dog names that begin with the letter P!
Patches
Puppers
Pogo
Pongo
Paige
Picasso
Princess
Pesto
Primo
Prince
Pepe
Pero
Pepper
Precious
Penn
Prissy
Presto
Pluto
Paddington
Peyton
Not into trends? Would you prefer to be the trendsetter yourself? Don't worry. We've got a list of unique P names for you coming up.
But first, let's talk gender. Are you looking for some pretty P names for the lady dog in your life? Well, look no further!
Let's take a look at some female dog names.
Female Dog Game Names That Start with P
While these names are classically feminine, the rule is that there are no rules! So, if you find a name below that suits your dog, don't worry if he's a he or if she's a she.
The most important thing is that you find the perfect name that speaks to you.
With that being said, let's take a look at some of our favorite feminine sounding dog names that begin with P!
Piper
Patty
Paisley
Pearl
Pippi
Paulina
Paprika
Poppy
Polly
Perdita
Priscilla
Pippi
Purdy
Prima Donna
Prudence
Petra
Peta
Petunia
Phoebe
Penny
Did the above list catch your eye but leave you wanting more? Great! We've got an even larger list of female dog names to pick from right here.
Male Dog Names that Start with P
As we mentioned above, there are no rules here. So just because this list has a masculine feel, you can use these names for either gender.
We just love that these names are strong, confident, and all things boy.
Check out this wonderful list of P names for male (or female) dogs!
Pudge
Poenius
Peleus
Pontius
Paco
Poco
Parker
Penrod
Prancer
Plutus
Peleus
Paragon
Peder
Poko
Pong
Papu
Pavlov
Panos
Pollux
Pinocchio
And for an even broader list of masculine sounding names for dogs, we encourage you to visit us here!
Cool Dog Names that Start with P
Does your dog have swag? Is he the cool kid in class and the most popular pup on the playground?
Then this is the list for you! Loaded with personality and pizazz, this list of twenty cool P names for dogs will help to ensure your pup stays at the top of the cool-dog totem pole!
Check it out!
Pandora
Plato
Phoenix
Panthera
Paradise
Paris
Paxton
Poet
Plato
Pisces
Pazzo
Plexi
Pandemonium
Papoose
Pizzaz
Papillion
Prodigy
Pathfinder
Portia
Pavlov
If you didn't feel the chill you needed to feel when reading through this cool list of P names for dogs, don't worry.
Bundle up, because we've got an even larger list of cool dog names for you here!
Cute Dog Names that Start with P
In need of some adorably cute dog names that begin with the letter P? You're in luck! We've got a list of twenty precious P names sure to melt your heart.
Take a look!
Panda
Pumpkin
Peewee
Popcorn
Popsicle
Piglett
Pops
Peabody
Pooh
Peaches
Peanut
Pizza
Pebbles
Porkchop
Puddles
Potato
Piggy
Peppermint
Puppers
Puffball
If you haven't passed out yet from cuteness overload, then you might want to take a seat. This massive list dedicated to way too cute dog names is sure to have you swooning!
Funny Dog Names that Start with P
The internet is alive with hilarious dog names and funny dog name puns. If you have a devilish sense of humor and your dog is quite the comedian as well, then this list is the one you've been waiting for.
Start your puppy or rescue dog off with a smile by giving him a funny dog name that begins with P!
President Puppers
Professor Wigglesworth
Paw-mela Anderson
Princess Poppy
Picnic
President Pawsington
Puppy-Pants
Pancake
Poopsy
Pickle
Pumpkin Spice Latte
Pup Tart
Puppy the Vampire Slayer
PB&J
Pumpernickel
President Dwight D. Eisen-Howler
Pudding Pup
Peanut Pupper
Pupcake
Prince Pupperton
Are you dying for an even larger list of hilarious dog names? Click here and prepare your giggler.
Unique Dog Names that Start with P
Alright, you trendsetters. If you read the popular name list above and weren't too impressed, then perhaps this list will tickle your fancy.
With twenty of the most unique P dog names we could find, you're sure to walk away with something completely original and unlike anything you have ever heard before.
There will be no mistaking who your dog is at the dog park! Check out this list of twenty totally off the wall dog names for your one of a kind dog!
Porgy
Packer
Peaselblossom
Porgy
Pacio
Porlo
Pheba
Porker
Philander
Philo
Painter
Pave
Portly
Patton
Pia
Philo
Piano
Paget
Paxo
Paillette
Would you like an even larger list of unique dog names to choose from? Great! We have an entire article dedicated to unique dog names perfect for you and your exceptional pup.
Just click here!
Tough Dog Names that Start with P
Perhaps your new Chihuahua thinks he is a bona fide guard dog. Or, perhaps your Great Dane snuggles in your lap and hides during thunderstorms.
Or maybe you just want your squishy little love bug to have a fierce title to contradict his not-so-tough personality.
Regardless, you're looking for tough dog names and we're here to deliver. Check out this badass list of twenty tough sounding dog names.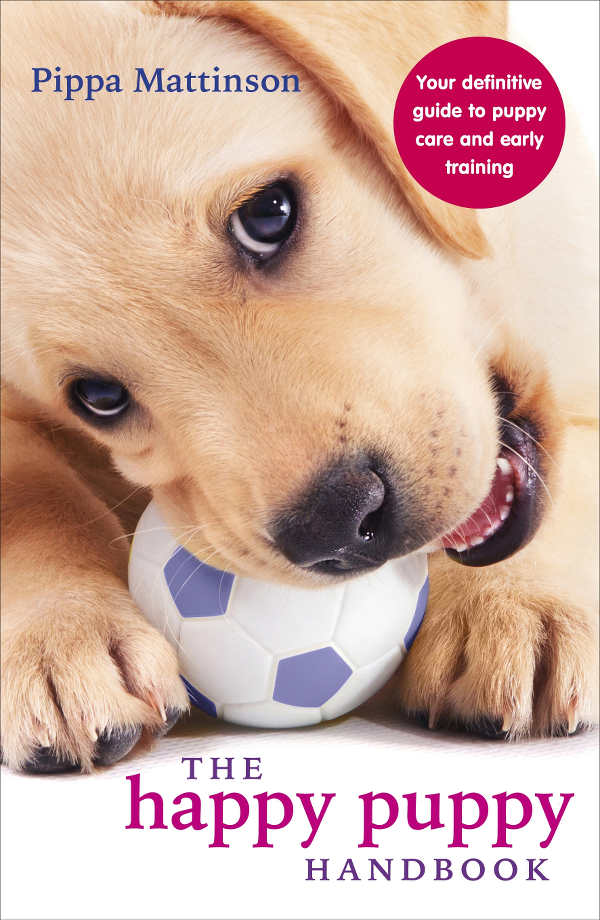 Poltergeist
Pirate
Pistol
Patriot
Piranha
Perish
Puck
Panther
Pharaoh
Pompey
Punk
Pest
Protein
Punch
Prototype
Phantom
Poison
Proton
Popeye
Poseidon
Did you like our list of tough-sounding P dog names but would like to have a few more options?
Click here for a huge compilation of tough-sounding dog names for the tough dog in your life.
Fun Facts About Dog Names that Start with P
Did you know that some of history's most famous dogs had names that began with the letter P?
That's right! So, if you've decided to name your dog a name that starts with the letter P, your pooch will be in good company.
Mickey Mouse's dog Pluto, 101 Dalmatian's characters Perdita and Pongo, and the brilliant Mr. Peabody are just a few famous dogs who proudly sport P names.
So, did any of our above P dog names catch your eye? Let us know which ones you liked best by leaving us a note in the comment section below!
References and Further Reading
Kaminski J, Call J, and Fischer J.2004. Word Learning in A Domestic Dog: Evidence for "Fast Mapping." Science. DOI: 10.1126/science.1097859
Harris MB. 1983. Some Factors Influencing Selection and Naming of Pets Psychological Reports. DOI: 10.2466/pr0.1983.53.3f.1163
Kutsumi A et al. 2013. Importance of Puppy Training and Future Behavior of the Dog. Journal of Veterinary Medical Science. DOI: 10.1292/jvms.12-0008
Dunbar I. 2004. Before & After Getting Your Puppy: The Positive Approach to Raising a Happy, Healthy & Well-Behaved Dog. New World Library.
Hare B and Tomasello M.2005. Human-Like Social Skills in Dogs?, Trends in Cognitive Sciences. DOI: 10.1016/j.tics.2005.07.003
Prato-Previde E. et al. 2003. Is the Dog-Human Relationship an Attachment Bond? An Observational Study Using Ainsworth's Strange Situation. Behavior. DOI: 10.1163/156853903321671514