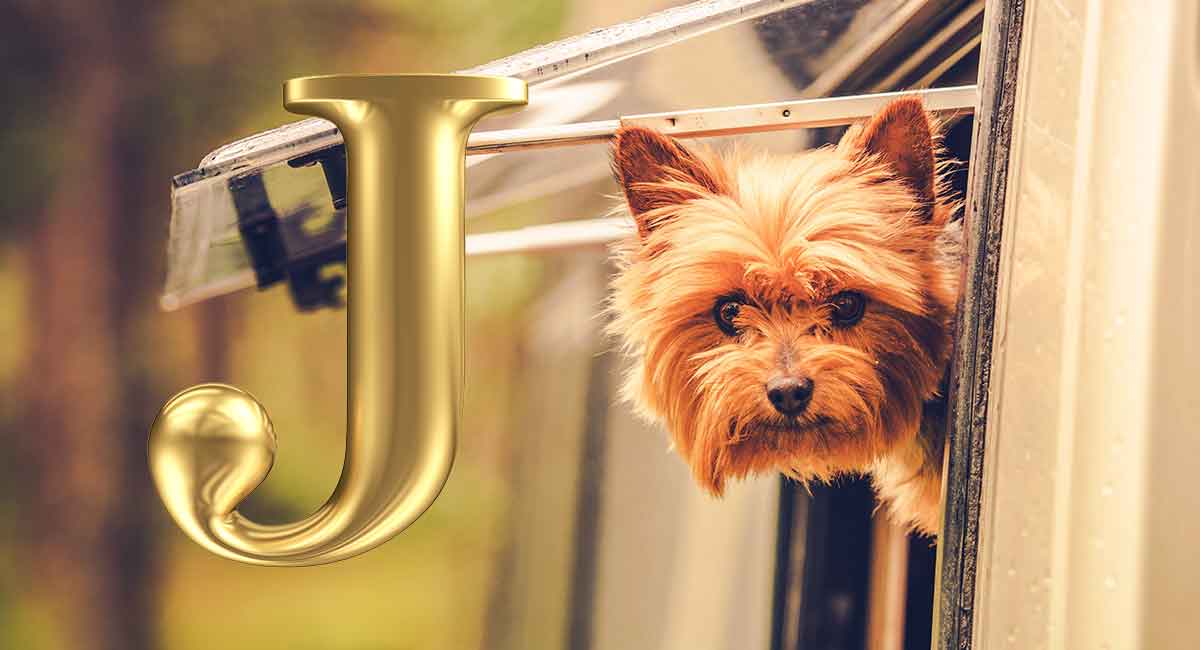 Did you know that the top dog name beginning with J is Jake? And several cool breeds of dog start with this letter too, including the Jack Russell, Jagdterrier,Japanese Chin and Jindo! Today I'll share the best dog names that start with J, and help you to get inspired to come up with your own creative ideas too.
Contents
If you're coming up with your own ideas, make sure to try and stick to just a couple of hard syllables. The easier it is for your dog to distinguish their name, the quicker they'll learn to come when you call it.
Best Dog Names That Start With J
There are quite a few very popular dog names that start with J.
Jabbo
Jabot
Jaccs
Jack
Jackal
Jacki
Jacopo
Jeremy
Jerez
Jerice
Jerkin
Jerome
Jeromy
Jerri
Jerrod
Jerrold
Jeru
Jiro
Jocko
Classic Female Dog Names That Start With J
There are so many gorgeous girly J names that I've broken them down by the beginning of the word.
JA
Jabsi
Jaca
Jacatra
Jackie
Jackina
Jacklin
Jacky
Jaclina
Jacobinia
Jacquelin
Jacqueline
Jada
Jade
Jaelle
Jaen
Jaenna
Jaffa
Jaffe
Jafra
Jaga
Jagira
Jagna
Jagsi
Jahna
Jahsra
Jaika
Jaila
Jaimie
Jaja
Jakarta
Jaki
Jakurta
Jala
Jaldin
Jali
Jalina
Jalinka
Jalka
Jalla
Jallie
Jallin
Jalna
Jalta
Jalve
Jalvi
Jama
Jamaica
Jamaika
Jamaikana
Jamba
Jameika
Jamie
Jamie-Lee
Jamina
Jamira
Jamy
Jana
Janana
Janara
Janca
Janda
Jandra
Jane
Janet
Janett
Janette
Janga
Jani
Janice
Janie
Janila
Janin
Janina
Janine
Janita
Janka
Jankara
Janke
Janki
Janko
Janna
Janne
Jannett
Janni
Jannie
Jannine
Janny
Jansie
Janta
Janti
Jany
Japura
Jaqueline
Jara
Jari
Jarina
Jarise
Jarmela
Jascha
Jaska
Jaskya
Jasmien
Jasmin
Jasmina
Jasmine
Jasra
Jassa
Jassi
Jassie
Jasska
Jassy
Jaste
Jastie
Jastin
Jasty
Jata
Jatranca
Java
Jave
Jawa
Jawasa
Jawina
Jaya
Jazz
Jazza
JE
Jean
Jeanett
Jeanne
Jeannie
Jeanny
Jeany
Jecki
Jeckie
Jecky
Jeffa
Jeidi
Jeika
Jeike
Jeila
Jeki
Jela
Jeli
Jelka
Jella
Jelly
Jelphie
Jemi
Jemy
Jen
Jena
Jende
Jeni
Jenie
Jeniver
JenkaJenke
Jenna
Jennana
Jenne
Jenner
Jenni
Jennie
Jenny
Jennya
Jenta
Jeny
Jera
Jerina
Jermaine
Jeri
Jerrie
Jerrita
Jersey
Jersie
Jesicka
Jesika
Jeska
Jeslie
Jess
Jessa
Jessi
Jessie
Jessienala
Jessika
Jessy
Jessyka
Jesta
Jetske
Jetta
Jette
Jetti
Jetty
Jeunesse
Jeva
Jewel
Jeywood
JI
Jicy
Jieny
Jiffy
Jiga
Jika
Jil
Jilka
Jill
Jilla
Jille
Jilli
Jillian
Jilly
Jina
Jindra
Jiness
Jini
Jinna
Jinni
Jinnja
Jiny
Jiphaine
Jipsie
Jipsy
Jira
Jirana
Jisa
Jiska
Jiskia
Jissy
Jitka
Jitta
Jity
Jjka
Jkoy
Jlka
JO
Jo-Aenn
Joana
Joanana
Jo-Ann
Joanna
Joca
Jocka
Jockie
Jocla
Joda
Jodie
Jodita
Jody
Joeie
Joela
Joesie
Joeta
Joga
Jogi
Johanna
Johla
Joice
Joie
Jo-Jo
Joka
Joke
Jokohoma
Jokonita
Jola
Jolana
Jolanda
Jolande
Jolanthe
Jyvonne
Male Dog Names That Start With J
Jab
Jabadao
Jabo
Jacco
Jacomo
Jaccoro
Jach
Jacker
Jake
Jakko
Jako
Jakob
Janus
Jap
Jappeloup
Japs
Jarass
Jarbo
Jarco
Jard
Jesko
Jesper
Jesse
Jester
Jet
Jibe
Jibson
Jicco
Jigger
Cool J Dog Names
If you think your dog is cool, you'll need a badass name that starts with J!
Jole
Joli
Jolie
Jolka
Jolla
Jolle
Jolli
Jollie
Jolly
Jombie
Jona
Jonda
Joni
Jonie
Jonka
Jonna
Jopie
Jora
Jordi
Jorga
Jori
Jorino
Cute Dog Names That Begin With J
If your new four-legged chum is a real cutesy pup, you'll want an adorable name that starts to fit them.
Juanita
Judah
Judy
Juicy
JuJu
Jules
Julie
Juliet
Julio
Julius
Jin
Jingles
Jinn
Jinx
Jissa
Jive
Jizell
JJ
Funny Dog Names That Start With J
Some people like to pick names for their pets that reflect their sense of humor. And there are quite a few funny dog names that start with J.
But be careful! If you pick a funny dog name, make sure you won't offend others. Also, some jokes can become irrelevant over time, so today's in-joke might not be quite so funny tomorrow.
Jabba
Jinks
Jaws
Jello
Jellybean
Jeronimo
Jezebel
Jigglypuff
Jittery
Juan Carlos
Jumanji
Jumper
Unique J Names
Your dog is one of a kind. He's unique, so he deserves a special name. Here are a few ideas for unusual and unique dog names that start with J that might fit your pup:
Jubilee
Juggles
Jujitzo
Julia
Junebug
Juneau
Juniper
Tough Dog Names That Start With J
Some dog breeds look tough, even though they may be big softies at heart! If you have chosen a tough-looking pup, you may like the idea of giving him or her a tough name that starts with J.
Jabber
Jackknife
Jaguar
Jailbait
Jethro
Jetson
Jingo
Jowls
Judge
Juno
Jurassic
Justice