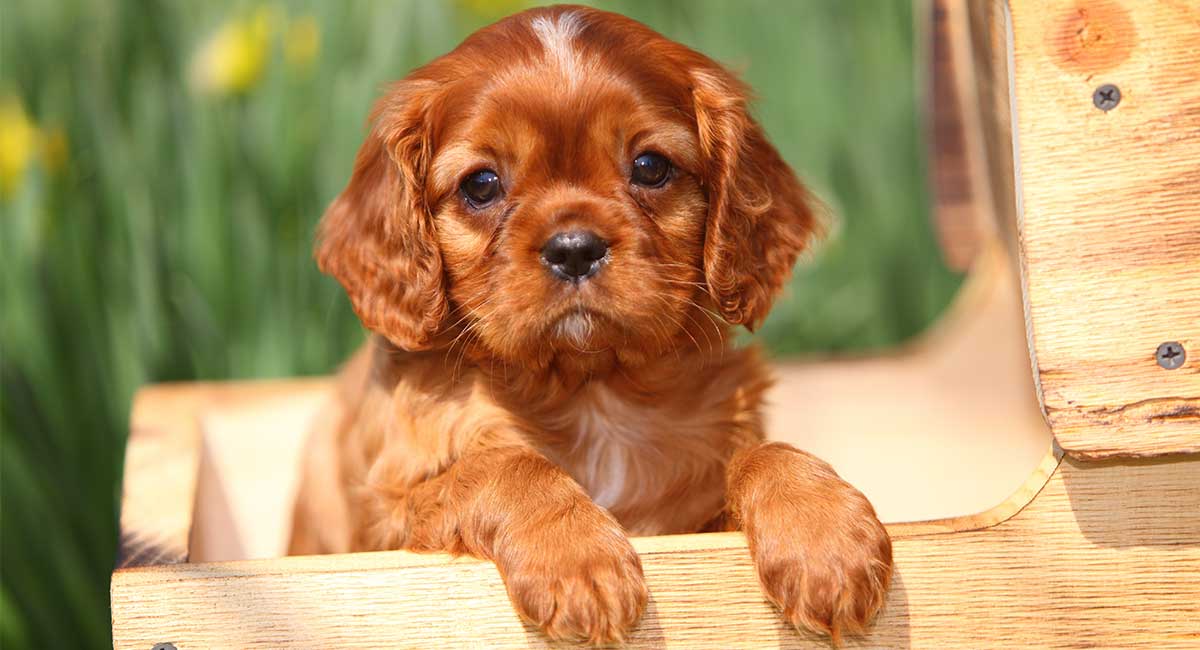 Dog names that start with a C are popular choices for new puppy parents. It's not just because there are so many great ones to pick from. Even common C names can still sound unique when you use them on your dog rather than a human! Today I'll share hundreds of cool ideas for pet names that start with C. Whether you're looking for a hard C, a crisp CR, a clever CL or a challenging CH!
Contents
There are lots of sources of inspiration that you can use to find dog names that start with C. For example, you might have a really good buddy or a favorite uncle or aunt whose name starts with C, and you may decide to name your puppy after them. Or how about using a country or state that begins with C as a source of inspiration?
Movie stars, rock gods, and trendy bands can also have names that would look good on a dog. Just bear in mind that these kinds of names can quickly go out of fashion and become meaningless. However, if you really love a name that's currently en vogue and you're sure you won't get tired of it, don't let that put you off!
C names for girl dogs
Girl dog names that begin with C can be as traditional as human names, or inspired by something much more individual. Like a reference to your favorite movie. You'll notice that the most popular girl dog names often start with Ch, or are female C dog names that end with IE or Y. Giving them a softer, more feminine sound.
Candy
Cutie
Cherry
Chichi
Cara
Carey
Carlie
Cali
Catalina
Catherine
Chloe
Cora
Cissy
Cha Cha
Coral
Corine
Cherie
Carla
Caro
Cassie
Catalia
Celine
Celia
Cesara
C names for boy dogs
Boy dog names that start with C can be as simple as the top baby names that year, or as obscure as your favorite brand of battleship! Boy names that start with C and end with Y or IE, like the ever popular Charlie, are always well received by friends and family.
Most of the ideas listed here are one or two syllables long to make them a good fit for a dog. But interestingly, one of the trending name types is 7 letter boy names starting with C. Which would make for a bit of a mouthful!
Carl
Charlie
Clyde
Clive
Carus
Caruso
Cary
Carzan
Casan
Casanova
Casch
Cash
Casimir
Casino
Casinor
Casio
Cole
Cai
Calum
Cooper
Corey
Caiden
Callan
Caspar
Cian
Coby
Connor
Cadan
Cael
Caine
Cairo
Cadan
Cale
Calan
Chico
Ch dog names
If your name begins with Ch, you might want to choose a dog name that starts with Ch too! Dog names starting with Ch are especially fun choices for breeds of dog that start with Ch, like the Chihuahua or Chow Chow.
Charlie
Chichi
Ches
Chuck
Cher
Chappy
Chummy
Chris
Chezzie
Chaney
Chewey (after Chewbacca from Star Wars)
Checkers
Chester
Chief
Chip
Chien (French word for dog)
Chuma
Cherry
Chai
Champagne
Chai
Chandra
Chantelle
Charity
Chica
Chintz
Chou (Japanese name meaning butterfly)
Chen
Cheney
Chet
Chevy
Chidi
Chili
Chip
Chirico
Christo
Chuck
Ché
Charlee
Chelsea
Charley
Chanel
Chiaria
Chandler
Cherish
Charity
Charis
Charvi
Chaya
Chesney
Christa
Christy
Chole
Dog names that start with Cr
Although you aren't as likely to find human names that begin with a Cr (although there is always Crystal or Crosby), there are lots of great names for dogs that start with these letters. Because dogs' names can be inspired by anything!
Crumpet
Cranberry
Cricket
Crosby
Crinkle
Cray
Crackle
Crackers
Creeper
Crochet
Craw
Craggs
Cranky
Crystal
Crisps
Crow
Cropper
Crimper
Crew
Crown
Creek
Crab
Dog names that start with Cl
There are plenty of human names that begin with Cl, and even more when you branch into the more unusual and slightly wacky world of dog names. Here are some great ideas for you to get your claws into!
Clara
Claire
Cleo
Clover
Claude
Clive
Cloud
Clown
Clumsy
Cleric
Clam
Claws
Clinker
Clerk
Clarke
Clipper
Clarence
Cloggs
Clay
Claxon
Clash
Clutch
Cloak
Dog names that start with C and end with N
Do you have a strong idea of the type of name you want, but not the exact name itself? You can find some powerful names by mapping out the sounds you like.
Chiffon
Chicken
Cain
Corn
Cyan
Coin
Caiman
Calvin
Chieftain
Captain
Cute dog names that start with the letter C
Cute C names for dogs can be inspired by anything, but sometimes it's easier to drill down to exactly what you want when you pick a theme. Like these great C dog names from Greek mythology!
Cyrene (a fresh water nymph)
Cronus (Titan god of time and the ages)
Crius (Titan god of the constellations)
Corus (spirit of surfeit)
Clotho (spinner of the life thread)
Clio (muse of history)
Chrysus (spirit of gold)
Chione (goddess of snow)
Charon (the ferryman of Hades)
Chaos (nothingness from which all else sprang
Ceto (goddess of the dangers of the ocean and of sea monsters)
Cerberus (three-headed hound who guarded the gates of Hades)
Carpo (goddess of weather, time and prosperity)
Carme (spirit who presided over the harvest festival)
Calypso (Oceanide)
Caicias (god of the northeast wind)
Caerus (the spirit of opportunity)
Unique dog names that start with a C
If your puppy is a particular breed, you could play on that when choosing a dog name that starts with C. For example, how about Chichi the Chihuahua? Or how about choosing a dog name that starts with C that originates in the country your dog's breed is from? For example, if you have a French Bulldog puppy, you might want to choose French names that start with C.
Catrin
Cecile
Chauncy
Chevy
Chapin
Ciel
Christien
Celeste
Claudette
Clemence
Chantelle
Chevalier
Colville
Clarice
Celina
Clovis
Cheyenne
Corvin
Coyan
Corbett