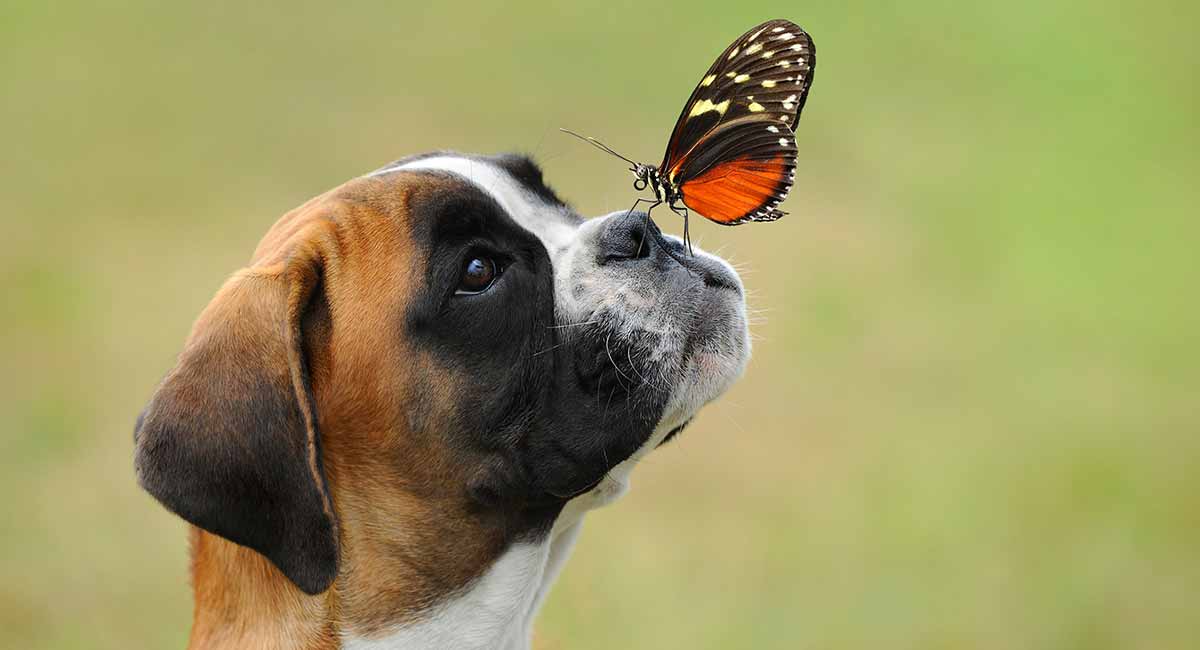 Welcome to the very best Boxer names for your new puppy or rescue dog.
As you are pondering the best boxer names for your new canine sidekick, you are in good company. The boxer dog is currently the 11th most popular pet dog in America, according to the American Kennel Club (AKC).
Of course, this means you have great taste in dogs, but it also means you want to consider selecting boxer names that won't bring every boxer at the dog park running when you call.
In this article, we take a look at the best female and best male boxer dog names so you can pick out your favorite boxer names for your new pup.
Choosing Boxer Dog Names
Ideally you want to pick out great boxer dog names that are easy for you to pronounce and a name that your dog will remember.
This includes nicknames. For example, if your dog's name is "Maximillion," calling your dog "Max" will only work if you do it consistently enough that he'll remember his nickname and original name.
Be careful with identifying your dog by a name that is also a commonly used word in your day-to-day life.
For example, if you work in a flower shop and name your dog "Rose," you're going to get your dog's attention quite a bit when you're actually talking about a customer's order.
This is also a good reason to shy away from cutesy, trendy names that don't age well.
Naming your puppy
The same confusion can apply if you name your dog after a family member or friend who is consistently around your boxer.
They may not know who you're talking to if both of them have the same name.
Or, maybe your family member or friend will be honored by the duo name dynamic.
And if not, ask your family member or friend to team up with you to find a different name.
Finally, you may want to steer clear of any names that sounds too much like common commands (i.e., "Fido" = "No!") so your pup doesn't get confused during training.
With these brainstorming tips out of the way, let's jump right into our lists of the best boxer dog names.
Male Boxer Dog Names
These boy boxer dog names will give your pup a proud name to grow up into—a name with strength, nobility and poise that captures your boxer dog's true personality.
Pablo
Matthias
Guiseppe
Canto
Fender
Rex
Edgar
Sam
Darcy
Opi
Frisbee
Buckley
Fred
Ernesto
Bogey
Ronald
Buck
Beasley
Deniro
Magic
Shiner
Darwin
Rocket
Luke
Leroy
Martin
Crunch
Bond
Judd
Tucker
Find even more great male dog names here.
Female Boxer Dog Names
These girl boxer dog names are short, simple and sweet, just like your boxer dog girl.
Suzie (read Suzie the boxer's amazing story here)
Aylia
Agatha
Sabina
Bellaterra
Olivia
Ingrid
Fata
Edda
Tetyana
Tuula
Angel
Clementine
Wendy
Tina
Donna
Penelope
Joanna
Lindy
Angelina
Taryn
Shelby
Ophelia
Lori-Ann
Emily
Matilda
Sandy
Nora
India
Madison
Find even more great female dog names here.
Cute Boxer Dog Names
While boxer dogs may look fierce, you are likely fast finding out what other boxer owners already know—these dogs are all heart.
They love to be with "their" people, doing whatever you are doing or just enjoying life together.
These female and male cute boxer dog names will help you capture the sweet heart of your new fur baby.
Romeo
Valentino (or Valentine)
Cupid
Anteros
Pothos
Eros
Helios
Morpheus
Pan
Zeus
Dionysus
Hermes
Adonis
Atlas
Hermes
Hathor
Hera
Juno
Parvati
Vesta
Brigid
Aphrodite
Venus
Kuan Yin
Artemis
Isis
Shakti
Freya
Inanna
Rati
Find even more cute dog names here.
Cool Boxer Dog Names
These cool boxer names might just be a perfect fit for your laid-back furry other half, who makes the perfect companion for any occasion.
Nikki
Albie
Ginger
King
Coop
Murphy
Jess
Gina
Finn
Hammie
Mona
Rose
Toby
Franklin
Ava
Nate
Jim
Jordie
Liberty
Hannah
Ozzy
Beauty
Pirate
Phil
Harris
Patty
Ray
Maisie
Jewel
Lincoln
Find even more cool dog names here.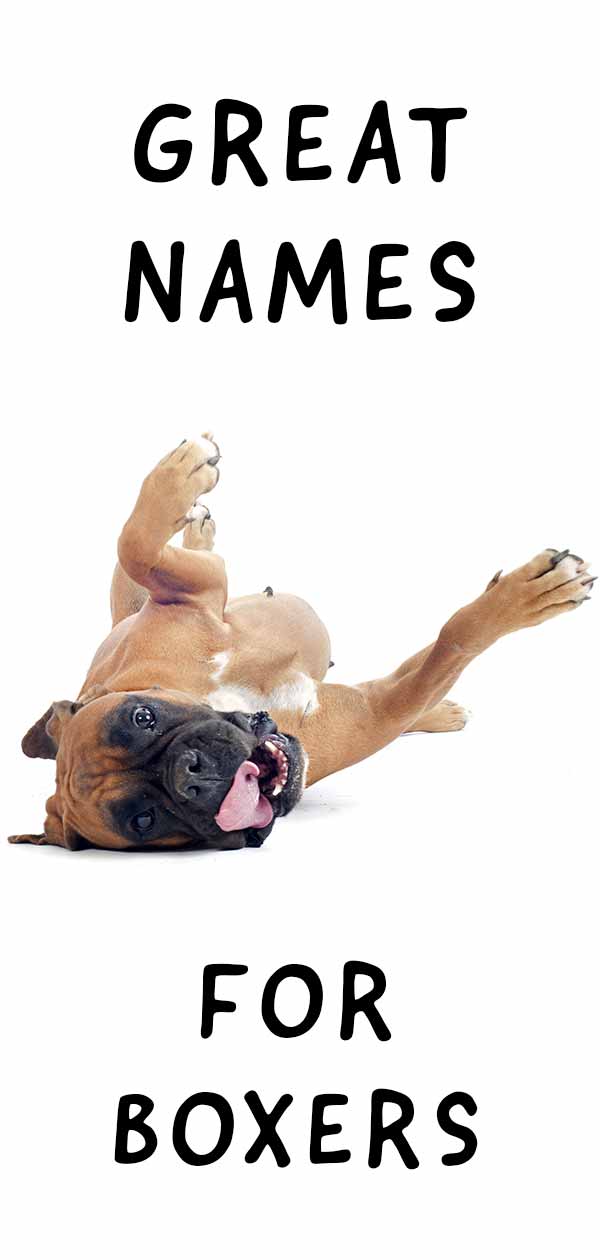 Unique Boxer Names
How many boxer dogs have show titles to their name? As these unique boxer names demonstrate, quite a few.
Boxers have been capturing the limelight in the show ring for generations. And who knows? Your boxer might be next.
Bang Away
Warlord
Brandy
Prima Donna
Devlin
Maxx
Millee
Ko
Tiggin
Biff
Cruise
Bart
Jillian
Stardust
Toni
Jake
Johnny
Gus
Ellie
Danny
Tommie
Derek
Monroe
Sedona
Bosco
Scarlett
Macey
Germiona
Amalia
Barbie
Find even more unique dog names here.
Movie Boxer Dog Names
Canine film stars have been stealing the show from their human co-stars since the earliest days of cinema.
Is your boxer puppy a budding superstar? Pick out one of these show-stopping, top boxer dog names with authentic star power (each name includes its movie reference so you can check out the flick as well).
Angus ("Mr. Magoo")
Andrew ("Mary Poppins")
Bayard ("Alice in Wonderland")
Beast ("The Sandlot")
Sonny ("The Dogfather")
Spike ("Tom & Jerry")
Tito ("Oliver & Company")
Toto ("The Wizard of Oz")
Verdell ("As Good As It Gets")
Shoeshine ("Underdog")
Odie ("Garfield")
Nevins ("The Cat in the Hat")
Moses ("Meet the Fockers")
Max Goof ("A Goofy Movie")
Luiz ("Rio")
Lady ("Lady & the Tramp")
Greta ("Play Dead")
Genevieve ("Madeline")
Fifi ("Open Season")
Daphne ("Look Who's Talking Now")
Bonny ("Seven Psychopaths")
Beatrice ("Best in Show")
Cora ("To Dance With a White Dog")
Daisy ("Snatch")
Evie ("We Think the World of You")
Grace ("Kitt Kittredge")
Jenna ("Balto")
Lucy ("Wendy and Lucy")
Maggie ("Wild River")
Nana ("Peter Pan")
Find even more great movie dog names here.
Famous Boxer Dog Names
We realize this wouldn't be a truly well-rounded article about boxer dog names if we didn't include a section about names inspiration from famous "people" boxers as well.
Here are names of some of the most talented and famous female and male boxing champions in modern history to inspire your naming creativity (both first and last names are listed so you can learn more about each boxer and see if the name might be a fit).
Muhammed Ali
Floyd Mayweather
George Foreman
Manny Paquito
Joe Frazier
Sugar Ray Leonard
Joe Lewis
Roberto Duran
Julio Cezar Chavez
Rocky Marciano
Marvelous Marvin Hagler
Jack Dempsey
Jack LaMotta
Jack Johnson
Laila Ali
Christy Martin
Lucia Rijker
Mia St John
Holly Holm
Ann Wolfe
Claressa Shields
Regina Halmich
Natascha Ragosina
Christina Hammer
Jackie Frazer-Lyde
Katie Taylor
Hagar Finer
Marcela Acuna (La Tigresa)
Yesica Tuti Bopp
Giselle Salandy
Celebrity Boxer Dog Names
Perhaps the best-known celebrity "power couple" who shared life with a boxer was Humphrey Bogart and Lauren Bacall.
Their boxer dog, Harvey, was a wedding gift. Later on, Baby and George, two more boxer dogs, joined their happy canine-centric family as well.
As this list showcases, many celebrities past and present also have a special heart for boxer dogs.
You can take inspiration from their naming ideas when you pick out the perfect name for your own boxer.
(The celebrity who owns each boxer is listed beside the name so you can learn more about their story.)
Harvey (Humphrey Bogart/Lauren Bacall)
Baby (Humphrey Bogart/Lauren Bacall)
George (Humphrey Bogart/Lauren Bacall)
Roxy (JLo)
Bear (JLo)
Bernard Hopkins (Khloe Kardashian)
Jax (Chelsea Handler)
Gruden (Misty-May Traynor)
Mona (Jennifer Love-Hewitt)
JJ (Hugh Jackman)
Penny (Luke Perry)
Buckley (Justin Timberlake)
Brennan (Justin Timberlake)
Shane (Jordan Knight)
Foster (Greg Biffle)
Gracie (Greg Biffle)
Caesar (Shirley Maclaine)
Rocky (Kim Kardashian)
Presley (Travis Brorsen)
Orphan (Dedee Pfeiffer)
Bonny (Alan Langer)
Clyde (Alan Langer)
Willy (Gisele Bunchen)
Sunshine (Aishwarya Rai)
Lizzie (Nick Saban)
Killer (Dale Earnhardt, Jr.)
Wendell (Dian Fossey)
Charlie (Rick Ehrenberg)
Jezebel (Alan Ladd)
Brindie (Alan Ladd)
Boxer Names
We hope you have found inspiration browsing through this curated list of good boxer dog names.
References and Further Reading:
"Atibox 2018 World Boxer Show/The Swedish Boxer Club"
Parolisi, L., et al., 2014, "2014 American Boxer Top Twenty"
Reisen, J., 2017, "8 Boxer Facts You Might Not Know," American Kennel Club
Wiginton, P., 2017, "Deities of Love and Marriage," ThoughtCo
Willis, K., 2018, "Meet the boxer dog who loves foster kittens and has helped them to find new homes," Mirror UK
Wrigley, T., 2012, "Humphrey Bogart & Lauren Bacall's Boxers," AnOther