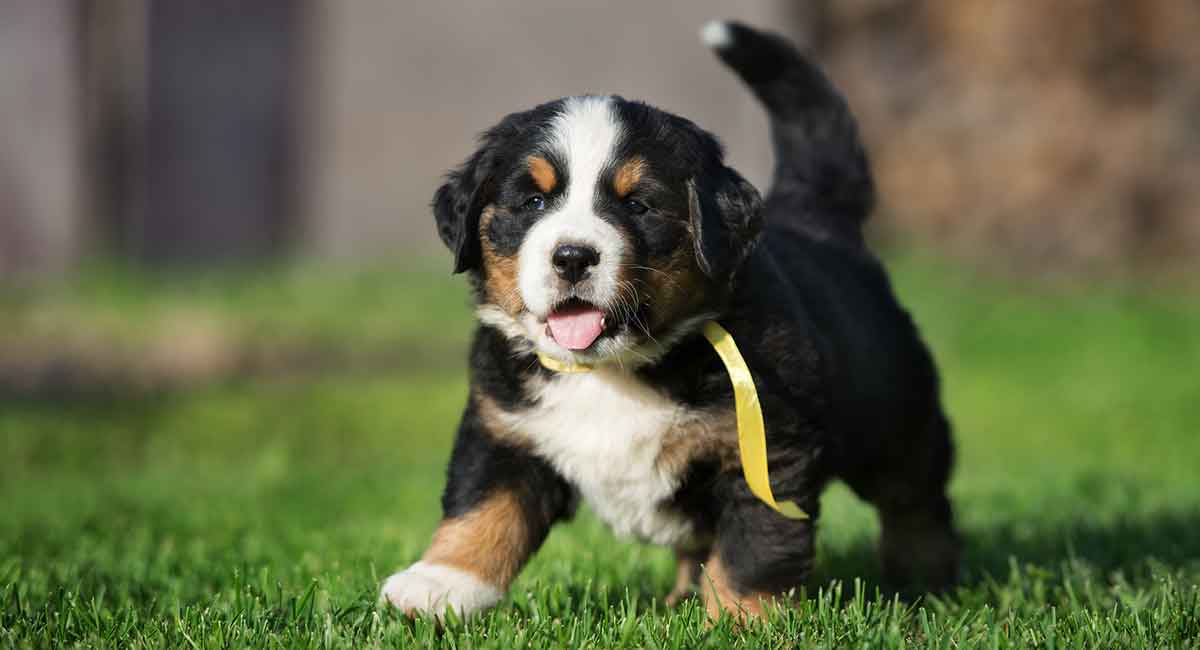 The Bernese Mountain dog is a breed apart! Today we are going to share great male and female Bernese Mountain dog names, Bernese Mountain dog puppy names. We'll have names based on cuteness, uniqueness, coat colors, breed history, and much more! We'll also give you some helpful naming tips from canine experts, to help with choosing Mountain dog names that will grow with your dog from puppyhood all the way into the golden years!
Contents
Take your time. It won't harm your bonding one bit if you don't come up with a name right away. In fact, you'll likely spend quite a bit of time brainstorming names and reading through lists of names like this. But the right name might hit you when you're doing something else entirely. When you think you have found just the right name for your little pup, you might also want to check it against these helpful tips:
Make sure it doesn't sound too similar to the commands you want to teach your puppy or s/he might get really confused.
It is great if you want to name your puppy after someone you care about, but be sure to ask them first if it is okay.
Choose a name you won't mind shouting out loud in public!
Be sure you choose a name that is simple enough to say easily (this will come in handy during training).
Coat color Bernese Mountain dog names
The Bernese Mountain dog coat color is always tri-colored: white, black and rust are the three colors. Typically the base coat color is jet black. The rust colors appear over the eyes, on the cheeks, on the legs and tail, and on the chest. The white color is an accent that can appear on the muzzle, feet, tip of the tail, and the center of the chest.
These colors make for a striking trio even in puppyhood, but when your Berner reaches full size, they are a sight to behold! Enjoy these names that are inspired by the Bernese Mountain dog's famous three-color coat.
Pepper.
Rusty.
Merlot.
Picasso.
Porter.
Russet.
Red.
Shadow.
Noir.
Orange.
Sev.
Sangria.
Candie.
Rose.
Ferrari.
Carmine.
Sunset.
Tortie.
Jade.
Jewel.
Daisy Mae.
Coconut ("Coco" for short).
Chantilly.
Lacey.
Blossom.
Nimbus.
Lady Marmalade.
Cider.
Terra.
Bistre.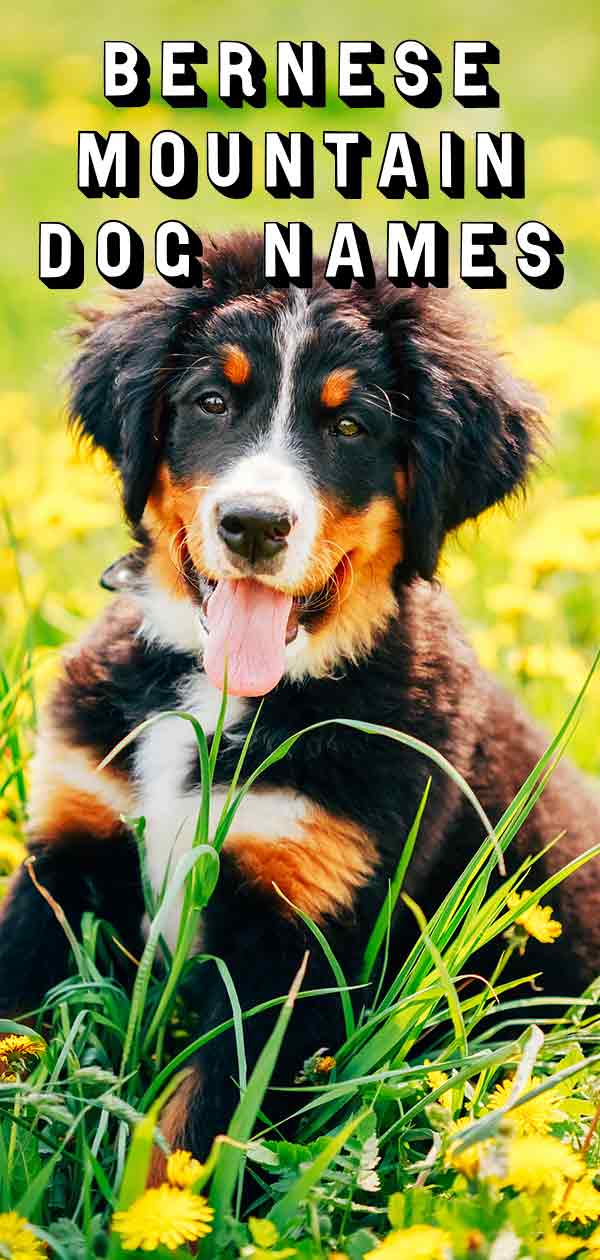 Female Bernese Mountain dog names
Find a name fit for a princess for your sweet lady on this list!
Azalea.
Blaze.
Zinnia.
Sunday.
April.
Blessing.
Belize.
Fawn.
Delilah.
Zoe.
Jenny.
Geneva.
Alma.
Verena.
Elena.
Ingrid.
Lea.
Salome.
Amina.
Salina.
Yasmin.
Lucie.
Lina.
Celine.
Mona.
Chelle.
Vela.
Celeste.
Xena.
Lyrae.
This list has even more great ideas for female dog names.
Male Bernese Mountain dog names
Celebrate your prince of a Bernese Mountain dog with one of these names!
Monarch.
Bruce.
Comet.
Rooster.
Mars.
Beowulf.
Jupiter.
Jet.
Forest.
Noble.
Roman.
Emile.
Nicholas.
Ernest.
Bernard.
Otto.
Alpo.
Basil.
Maximus.
Johan.
Gabrielle.
Thaddeus.
Martin.
Olivier.
Orion.
Andre.
Hercules.
Solomon.
Boss.
Titan.
Discover more awesome male dog names on this list.
Cute Bernese Mountain dog names
Even though the Bernese Mountain dog was always prized for its abilities as a guard dog and a watch dog, ultimately these sizable pups were bred to be companion canines to farmers and their families. While their size and deep bark can be intimidating to strangers, behind the scenes tells a very different story!
These dogs tend to be slow to mature and often retain aspects of puppyhood throughout their lives. They are smart and sociable and definitely have a flair for comedy, all of which is just enhanced by overall "cuteness." We hope you love these cute Bernese Mountain dog names ideas as much as we do!
Swiss Miss.
Bernie Mac.
Mini Pearl ("Minnie Pearl").
Petit Four.
Champ.
La-Z Boy.
Chunk.
Everest.
Alpine.
Meru.
Rockefeller ("Rocky" for short).
Minka.
Tibi.
Major.
Rojan.
Kegger.
Stout.
Marly.
Barclay.
Hamburger.
Lancelot.
(Tastes Like) Chicken.
Crunchy.
Boomer.
Bertie.
Shaggy.
Sweetie.
Shake.
Petunia.
Pepe.
Surf on over to this list for even more cute dog names.
Unique Bernese Mountain dog names
For many dog owners today, there is no other dog for them than the Bernese Mountain dog. These playful, happy, gentle and loving dogs are truly a breed apart! Your Berner pup deserves a name that is truly unique – perhaps one of these unique traditional Swiss names will be a perfect fit!
Levin.
Lovelace.
Noah.
Mia.
Luca.
Sofia.
Liam.
Emma.
Leonardo.
Gabriel.
Hans.
Christian.
Ursula.
Anna.
Sven.
Fabio.
Jan.
Lukas.
Raphael ("Rafi" for short).
Dario.
Tobias ("Toby" for short).
Lars.
Silvan.
Loris.
Davide.
Matteo.
Kilian.
Marcel.
Noel.
Yann.
Check out this list of even more unique dog names.
Famous Bernese Mountain dog names
Plenty of Berners have found fame online, in films, in television, and now on Instagram! Perhaps one of these Insta-famous BMD celeb names will inspire your own pup's name.
Jules.
Darcy.
Rocko.
Boston.
Bob.
Guinness.
Olive.
Scrunchie.
Frankie.
Chewy.
Mimi.
Bonnie.
Bentley.
Charlie.
River.
Dorothy.
Otis.
Chance.
Mocha.
Buckley.
Turtle.
Bennie.
Hugo.
Carmelo.
Ronix.
Barney.
Billy.
Judah.
Piper.
Sammy.
Bernese Mountain dog puppy names
Size-wise, the Bernese Mountain dog doesn't remain a puppy for very long. But on the inside, as many happy Berner owners can attest, you will always be able to see glimpses of those brief puppy months! Capture your BMD's puppy-at-heart personality with one of these Bernese Mountain dog puppy names!
Timo.
Nick.
Leo.
Sascha.
Lexi.
Valentine ("Val" for short).
Silvie.
Patti.
Paisley.
Retro.
Cleo.
Bunny.
Brie.
Chex.
Happy.
Bloom.
Tripper.
Heart.
Harry ("Hairy").
Tiny.
Tigger.
Plato.
Dinah.
Penelope ("Penny" for short).
Mac.
Chewbacca ("Chewie" for short).
Maury.
Beauty.
Howard ("Howie" for short).
Chow Hound.
Find even more creative puppy dog names on this list.
Cool Bernese Mountain dog names
If there is one thing the Bernese Mountain dog loves, it's keeping things cool! Even while cavorting around, playing and enjoying life, your Berner still knows how to maximize the "cool" factor, as these names highlight.
Cecily.
Boris.
Amos.
Clive.
Owen.
Barcus.
Chive.
Cecilie.
Anastasia.
Cello.
Alfred.
Siri.
Beamer.
Mercedes.
Portia.
Atlea.
Xerxes.
Elwin.
Natasha.
Viola.
Morris.
Petra.
Gus.
Hugo.
Horace.
Dixie.
Clementine.
Trudie.
Evie.
Saint.
Find even more cool dog names on this list.