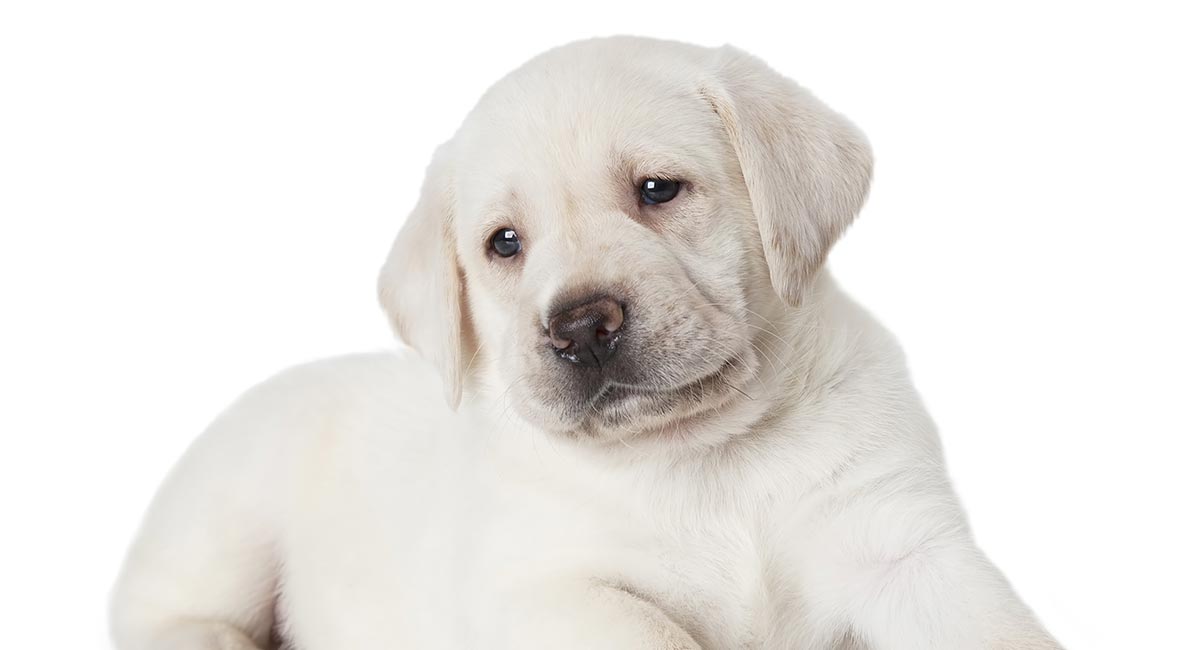 Your white
Labrador Retriever
dog is so special. It is not every day that you see a Labrador with a pure white coat. The
Labrador dog breed
is the number one
most popular pet dog in America.
They are also the second most popular companion canine in the U.K. These lovely pups seem born to win "most popular" and "most likely to succeed." They have such loving, affectionate personalities that it is no wonder everyone wants a Lab. If you are thinking about adding a white Labrador to your family, you probably want to know more about that unique white coat. So read on to learn all about white Labrador genes, temperament, grooming needs, health and more.
What Is a White Labrador?
The Labrador Retriever is such a well-known and beloved dog known for the three
most common coat colors
: yellow, black and chocolate (brown). But what many people don't realize is that there are even more possible coat colors, including the white Labrador. Another fact many Labrador fans don't know is that the basic coat colors of yellow, black and brown can occur along a vast spectrum of shades. For example, the black coat color can look like midnight black, basic black, brown-black or more like brown after a summer spent in the sun. The chocolate brown coat color can look more like a deep, dark chocolate bar or more like a cup of coffee with lots of cream. And the yellow coat color can look more like a fox red or more like a bright white. It really just depends on how the color genes express (show up) in one dog or another. This is what we will talk about in the next section on white Labrador genetics.
White Labrador Genetics
The first thing you need to know about the white Labrador is that there are two distinct Labrador Retriever genetic lines. They are the American or working Lab, and the English or show Lab. The
English and American Labradors
even look different. The English Lab typically is shorter, more heavyset, and stockier with a shorter muzzle and more classical lines. The American Lab is generally leaner, taller and more naturally athletic with a longer muzzle. But both are still considered Labrador Retrievers. Both share the three major coat colors of black, yellow and chocolate brown. Both can produce the full spectrum of the yellow coat color, including the white Labrador. So how precisely does a yellow Labrador come out looking white? Let's find out.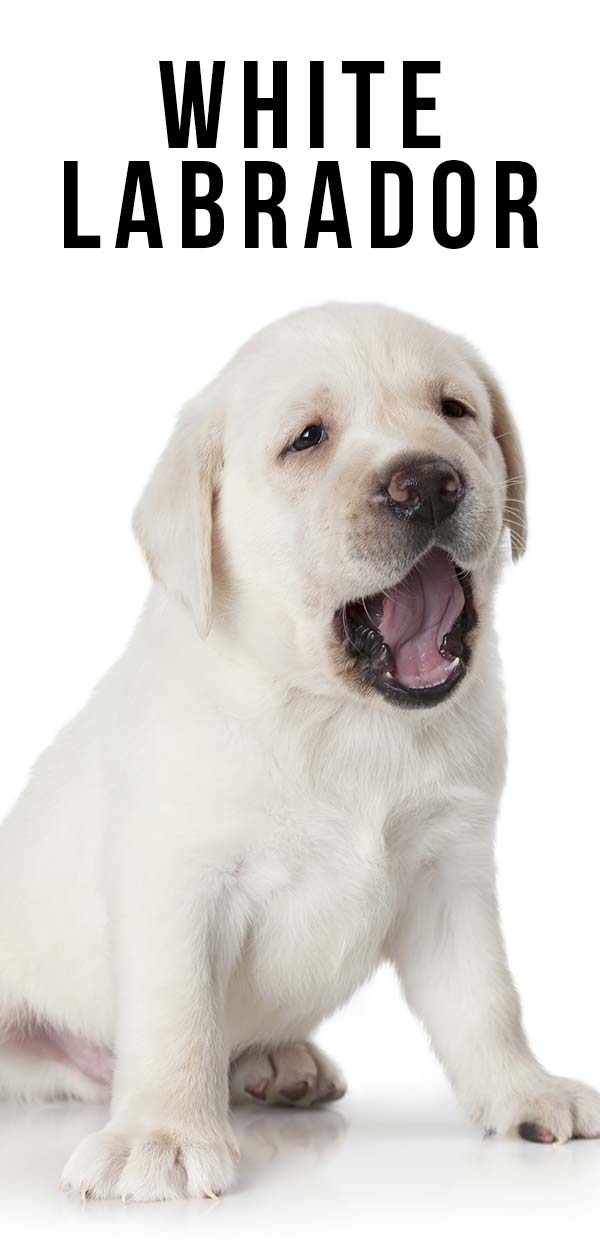 Phenotype and Genotype
When you look at your white Labrador, describing his appearance seems pretty simple. Your dog has a white coat, brown (or another color) eyes, a dark (or another color) nose, and so forth. But the behind-the-scenes of how your puppy came out looking the way he does can get a lot more complicated. The way your Labrador looks is called his "phenotype"—his appearance. The genes your dog inherited that worked together to create his appearance are called his "genotype."
Eumelanin and Phaeomelanin
There are only two basic color pigments present in the canine gene pool. Eumelanin produces a black/brown pigment. Phaeomelanin produces a yellow/red pigment. From here, a variety of genes—or the absence of pigment—can influence how black and red show up in any Labrador's coat.
Albino White Labrador
When animals are albino, they have pigment-producing cells but lack the genes to tell those cells to make pigment. One very common question is whether a white Labrador is really an albino Labrador. Albinos of any species are incredibly rare. Albino Labradors can be pure (full) or partial. If there is no pigment production at all (pure albino), this affects the color of the skin, nose, eyes and ears. Often an albino white Labrador has pink skin and nose because the pinkish shade of the blood vessels shows through the skin. Similarly, albino white Labradors typically have pink or sometimes blue eyes (blue because of how light passes through the iris).
Leucistic White Labrador
The word "leucistic" basically translates to mean "low pigment." Two genes have been identified in the expression of leucism: the c-KIT gene and the MITF gene. While in an albino white Labrador, the cells that normally produce pigment are not able to make any pigment. In a leucistic white Labrador, the cells are blocked from migrating to areas where pigment would normally appear. This is why some leucistic animals are all white, and others are partially white (such as with the piebald coat color pattern). Leucistic dogs have pinkish skin in the area(s) affected by leucism. While it can initially be tough to tell albino and leucistic white dogs apart, there is one tell-tale sign you can look for. Leucistic animals have normal eye colors.
Eye Color
This is because eye color develops independently of the cellular migration that produces pigment in the coat. Leucism is also a recessive trait. This means both parent dogs must contribute the responsible genes in order for your white Labrador's coat to arise from partial or full leucism. A "normal" white Labrador is simply a Lab that has a very light coat color. It arises naturally from the expression of genes along the yellow color spectrum (light cream to fox red). If this describes your white Labrador, it is also likely your white Lab has brown eyes and black eye rims with a black nose. However, a lighter nose color is also possible and not considered to be a fault in the show ring.
Fur Color
These
helpful puppy color charts
explain more about what genes combine to create yellow-spectrum white Labrador coats. When your Labrador's white coat is a result of a dilution or lightening of the yellow pigment color spectrum, you may observe a few unique things. Her coat usually shows touches of yellow, cream, or even red here and there throughout the dog's fur. This may get more pronounced after your pup spends time in the sun. Sometimes a white Labrador puppy changes coat color as she sheds out her puppy coat and the adult coat grows in. Here, if you have your heart set on a white Labrador, being aware that this sometimes happens can help alleviate future disappointment.
White Versus Silver Labrador
Another area where people sometimes get confused is with terms like "white Labrador" and "silver Labrador." For genetic purposes, a white Labrador is not the same as a silver Labrador. The silver color in Labs is produced by a dilution of the pigment on the black/brown color spectrum that is lightened to a very pale silver or champagne color.
White Labrador Temperament
To date, there is no research linking a white coat in Labrador Retrievers to any differences in temperament. However, there is plenty of evidence linking health and temperament in Labradors and all dogs. Choosing your white Labrador breeder with care gives you the best possible chances of making a lifelong commitment to a healthy puppy. Health-focused Labrador breeders pre-test their parent dogs for any genetic or health issues that can indicate breeding a dog is not a good idea. This pre-testing can protect your puppy from inheriting genetic health issues. This includes coat color patterns, such as double merle or extreme white piebald, which can introduce additional lifelong health problems. Whether you work with a breeder or rescue a white Labrador, be sure to have your veterinarian do a thorough wellness exam before you make a final commitment. A blind or deaf white Labrador dog can still make a great companion canine, provided you invest extra time in training to teach your dog alternative training cues.
White Labrador Health
In a wild setting, having a white coat is only considered advantageous under certain conditions. For example, a wild animal that lives in a predominantly cold, snowy climate can take advantage of the extra camouflage that comes from having a white coat. But in most other cases, having a pure white coat in the wild is considered an evolutionary disadvantage because the animal has trouble blending in to hunt or be hunted. This disadvantage worsens if the white coat arises due to albinism or leucism. These conditions come with increased sun sensitivity that can lead to sunburn, skin irritation and skin cancer. But in a domestic setting, your white Labrador won't have to worry about most of these health concerns, thank goodness.
Skin Sensitivity
Albino or leucistic white Labradors can have more sensitive skin, even underneath that thick, double-layer, protective, all-weather coat. You may want to use a dog sunscreen or ultraviolet-blocking dog attire to protect your pup during the strongest sunlight hours of the day.
Eye Conditions
The same holds true for eye care if your pup has light eyes or is albino. Dog goggles can provide sun protection by blocking ultraviolet light that could harm your pup's eyes. If your white Labrador is all white or predominantly white due to influence from the piebald or merle genes, be aware this can sometimes create eye abnormalities. This is especially apparent with double merle or extreme white piebald. Eyes may be missing or smaller than usual. Eyes can also be malformed or may be present but non-functioning, producing blindness.
Deafness
The white coat color and blue eyes combination has long been associated with deafness in animals. In fact, this association dates all the way back to Charles Darwin, who wrote about it in 1858. But as with all things genetic, the reasons a white-coated dog may be deaf are often more complex. Interestingly, there is no recognized connection between albino white-coated dogs and deafness. The piebald gene and the merle gene have both been linked to deafness in dogs. The more white is present in these coat color patterns, the higher the likelihood of deafness. Results may be the same for skin sensitivity, eye disorders and other health issues.
White Labrador Grooming
The white Labrador, like all Labrador Retrievers, has a thick, water-repellent, double-layer coat. The top layer is coated with oils that allow water to sheet right off it. The bottom layer is thick and insulating to keep your dog warm. This coat evolved to protect the Labrador from freezing cold weather and water while she was working as a retrieving dog alongside human hunters.
Shedding Season
Because the integrity of the coat is so vital to your Labrador's health, her coat is continually shedding to some degree, moving old hairs out and growing new hairs in. Seasonally, the coat will do something epic called a "coat blow" when great sections of the coat begin to shed out. If you are caring for a white Labrador for the first time, this may be alarming when you first see it. But it is normal and just part of how the Labrador maintains her coat. There is no special grooming required for your white Labrador beyond the usual brushing, detangling and grooming for a healthy coat. Because your dog's coat is double thick, your dog doesn't risk sunburn as much as most white-coated dogs do. But still, just to be on the safe side, choose a grooming brush with round-tip ends. Brush with care to avoid causing any skin abrasion or irritation, especially after your pup has been out in the sun.
Your White Labrador
We hope you have enjoyed learning more about the white Labrador dog and what contributes to such a unique and eye-catching coat color. Remember, when you are searching for a white Labrador puppy or rescue dog, work with a reputable breeder or shelter. That gives you the best chance of choosing the healthiest possible canine companion. Be sure your breeder has thoroughly tested and pre-screened parent dogs for all known heritable health issues, including those related to a white coat. Does your family include a white Labrador? Please drop us a comment to share your story of how you found your white Lab pup. We love to hear from our readers. If you want to learn more about Labs, check out our
guide to their lifespan!
Related Articles
References and Further Reading:
Boatman, L., 2012, "
Why White's Not So White After All: The Story of Leucism
," Berkeley Science Review Buzhardt, L., "
Genetic Basics – Coat Color Genetics in Dogs
," VCA Animal Hospital "
Coat Color: Summary & Discussion
," Eromit Labrador Retrievers Davol, P.A., "
Coat Color Inheritance in the Labrador Retriever
," Wing-N-Wave Labradors Frost Dahl, A., 1998, "
The Genetics of Colors in Labradors
," Oak Hill Kennel "
Labrador Breed Standard
," The Labrador Retriever Club of America Lofgren, S.E., et al., 2014, "
Management and Personality in Labrador Retriever Dogs
," ScienceDirect/Elsevier Strain, G.M., 2003, "
Hereditary Deafness in Dogs and Cats: Causes, Prevalence, and Current Research
," Tufts' Canine and Feline Breeding and Genetics Conference "Traits and Inheritance," The Kennel Club UK