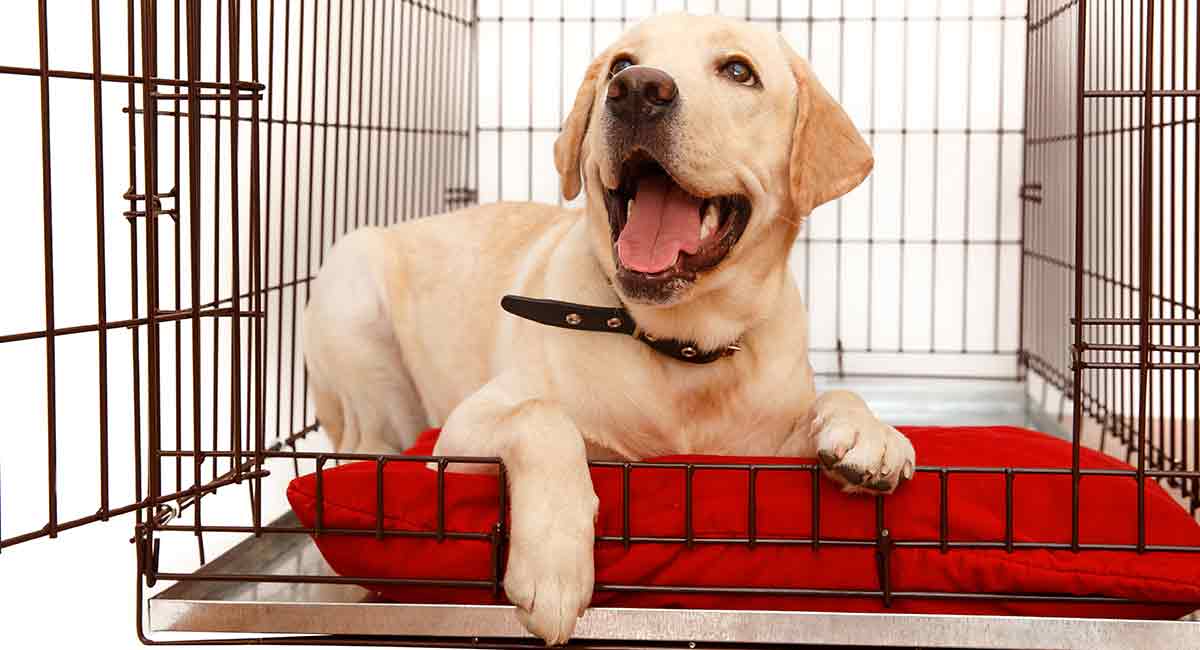 Lots of people looking forward to welcoming home their first puppy want to know what size crate for a Lab is most suitable. Growing puppies don't need as much room as adult Labs. But, you don't need to waste money on multiple crates.
Most adult Labs require a 36 inch or 42 inch size crate. An especially large Labrador might even need a 48 inch crate.
For a growing Labrador puppy, most people prefer to choose a crate for their final size, with a divider for their early days.
Products included in this article were carefully and independently selected by the Happy Puppy Site team. If you decide to make a purchase from one of the links marked by an asterisk, we may earn a small commission on that sale. This is at no extra cost to you.
Choosing to Crate Your Lab
Crates are one of the best toilet training tools you can use throughout your puppy's training.
Dogs love having a small den to sleep in, and once trained, will find comfort in tucking themselves away in a crate.
Labs come in many different shapes and sizes and grow quickly as a pup.
This can make it difficult and you may be left wondering 'what size crate for a Lab?'.
Take a look at our handy crate guide below to ensure you purchase the perfect size for your Lab.
First, let's take a look at the benefits and possible issues with crating.
Benefits of Crating a Dog
There are many benefits to using a crate for a new puppy or dog. We have summarized just a few for you.
1. Safe Sleep and Relaxation Space
A crate offers a safe space for your dog to relax and rest in.
This is the most important use of a crate and should be your first priority when crate training.
Although domesticated dogs are vastly different than their wild cousins, they still like a 'den' space to cozy up in and sleep.
House training your puppy will be significantly easier if they are confined to a small space.
Puppies innately know not to eliminate in their sleeping area.
Using this innate knowledge to your advantage can mean only a few days of accidents in the house.
2. Safe Space When You Can't Watch Them
A crate is a great way to ensure your Lab has a safe place to go when you can't watch them.
This avoids them chewing on furniture or getting into kitchen cupboards.
Labs are an intelligent breed who love to chew.
They will quickly work out how to open kitchen cupboards and help themselves to your food.
This is particularly important for puppies when you aren't able to watch their every move.
This space is only safe if you have correctly and fully trained your Lab to be relaxed and calm in the crate.
Ensure you read over our crate training guide before you attempt to secure your Lab inside the crate.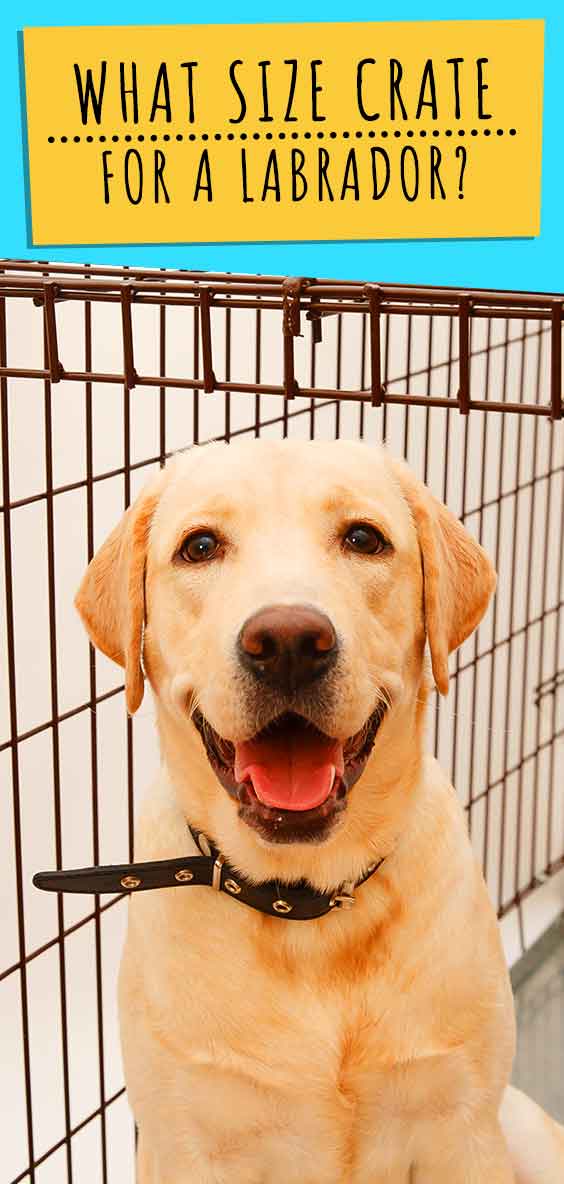 3. Preparing for Future Travel
If you plan on traveling with your dog in the future, then it is wise to crate train them while they are young.
This will minimize the stress they feel when they are inside a crate.
If they are familiar with sleeping in a crate, they will be able to relax.
Dogs will be put into crates at the vets if they ever need surgery or an overnight stay.
Again, you can minimize their stress by crate training from day 1.
Potential Issues with Crating a Dog
Crating doesn't suit all dogs. Some dogs, no matter how much you train them, won't enjoy the confinements of a crate.
Untrained or nervous dogs are a danger to themselves inside a crate.
After all, a crate is simply a cage!
Crating can cause a welfare issue if the dog is stressed inside the crate.
This 2007 article explains why crating may violate the Five Freedoms listed in the Animal Welfare Act.
Risks of Crating a Dog
Some of the risks of crating are:
Attempted escape causing injury
Limbs/nose caught in wires
Choking to death from attempted escape or collar stuck
Causing a fear/anxiety/claustrophobia problem (see this 2014 article)
Many of these problems can be avoided by correctly training your dog to use a crate and removing their collar.
If you notice your dog behaving strangely, trying to escape or seemingly nervous inside the crate, it's probably best to avoid crate use altogether.
Don't Use Your Crate as Punishment
Most puppies and dogs will get used to and even enjoy the crate once they are trained.
A crate should never be used as an isolation measure or form of punishment.
Using a crate in this way may cause irreversible negative associations with the crate.
Now, let's look at what size crate for a Lab and Lab puppy.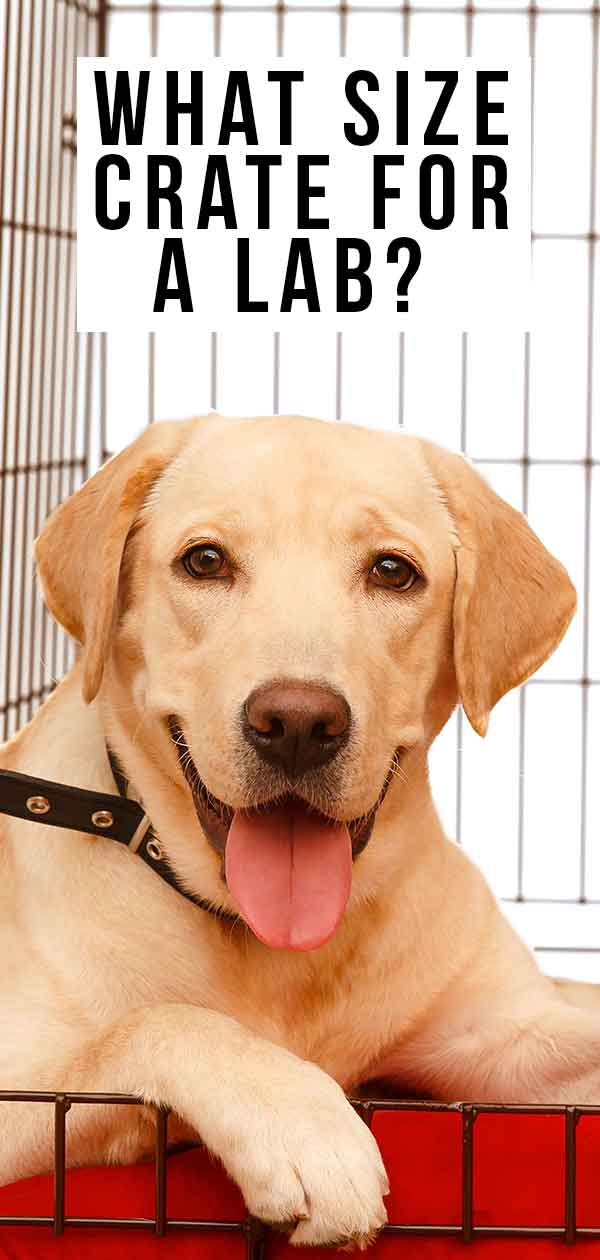 What Size Crate for a Lab?
As a general rule, your Lab should be able to stand up fully, turn around and lay outstretched in the crate, without too much spare room.
Depending upon the individual Lab, they can vary in height and weigh between 50-80 lbs.
Males will be on the larger side and dogs from the showing line will be bigger than working Labs.
If you have just purchased a puppy, take their parents size into account when purchasing a crate.
With this information in mind, the perfect size crate will vary depending on the individual dog.
Measuring the Right Size Crate for a Lab
Since your Lab needs enough room to move around, you can measure them to see exactly what size crate they need.
Measure from the tip of the nose to the base of the tail while they are standing. Add 4 inches to this measurement.
Also, measure from the floor to the top of their head while sitting. Add 2 inches to this measurement.
This will give them enough room to move around, but not too much room to do themselves any harm.
Let's take a look at some crates suitable for fully grown Labs.
MidWest Homes for Pets Dog Crate
The MidWest Homes for Pets dog crate* is a highly rated dog crate with over 23,000 reviews from happy customers.
Depending on the size of your Lab, purchase a 36-inch crate or 42-inch crate with the divider.
A divider is good for puppies, as you can make the crate space as big or as small as you need to.
It is easy to set up and comes with roller feet to protect your flooring. The plastic tub style base will contain any accidents and is easily washable.
Casual Home Wooden Pet Crate
The Casual Home wooden pet crate* doubles up as a side table.
If you are looking for a crate that will fit with your décor, then this wooden crate is a good solution.
We recommend the extra-large size to contain an adult Labrador. This would not be suited to young Labs that still chew.
What Size Crate for a Lab Puppy?
Labrador puppies grow quickly, especially after they are weaned from their mother. They will need different sized crates as they grow.
If the crate is too large, they may not see the whole crate as a sleeping space and decide to use part of it as a toilet instead.
It is important to get a crate just big enough for your pup to stand up and move around in.
Puppies should not be kept in a crate for longer than a few hours overnight and an hour or two during the day.
If you are looking for something to contain a puppy for longer periods, then it may be best to purchase a play-pen instead.
Newborns to 7 weeks old
The largest crate you can buy will be big enough to fit the mother and her litter in the crate for rest time.
A 48-inch crate should be big enough for this purpose. In the first weeks, the puppies will be inactive and spend a lot of their time in the crate.
The mother should be allowed to move in and out of the crate when she wants to.
2 months – 4 months old
Now that the Labrador puppies are weaned from mum and going to new homes, it's time to look at crates for individual Lab puppies.
Midwest Folding Crate
The MidWest Homes for Pets* crate is a great, high-quality crate that will last your pup throughout its life.
It comes with a divider which can be used to section off the crate while your pup is young. Just simply make the sections bigger as they grow.
Another option is to purchase a 24-inch crate, which will see most Lab puppies through until they are 16 weeks old.
4 months – 6 months old
Your Lab is a lot bigger and if you decided to purchase a large crate with a divider then you simply adjust the divider to make the crate bigger.
If you purchased a 24-inch crate, then you will need to make a second purchase of a 36-inch crate.
This size should see your Labrador through until they are 6 months or older, depending on how quickly they grow.
6 months – 1-year-old
From 6 months onwards, it is wise to purchase the size they will require as an adult. This will likely be a 42-inch crate.
Very tall Labs may need an even larger crate then this.
Always measure your dog before you purchase a new crate.
So, you know what size crate for a Lab, but have you considered car crates? Continue reading to find out more.
What Size Car Crate for a Labrador?
Your Lab will need the same sized car crate.
They should be able to move around in the crate comfortably, without extra space.
If you plan on having the crate in the trunk of your car, you will likely require an SUV or truck as crates take up a lot of space.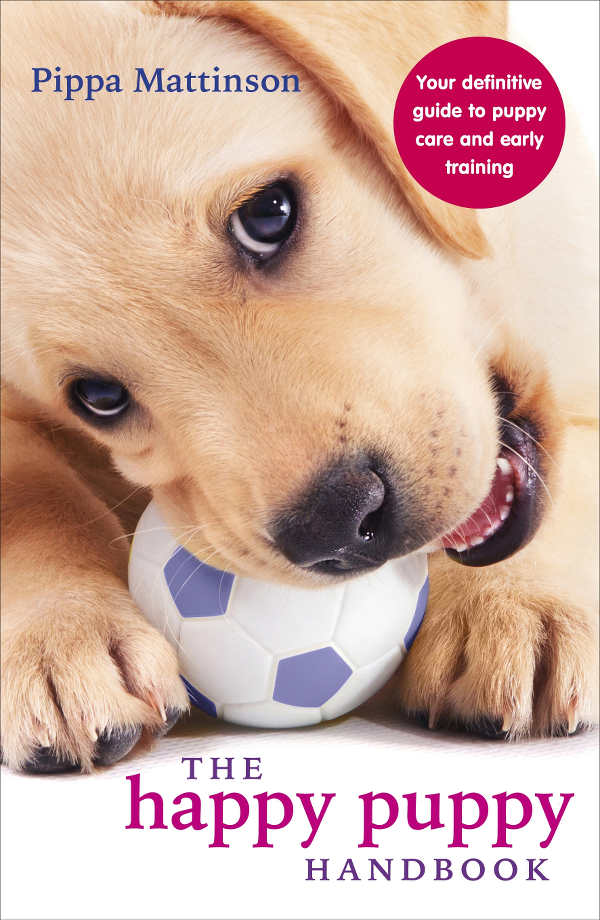 MIM Safe Variocage
The MIM Safe Variocage crash tested dog cage* is the only safety tested cage suitable for safely containing your dog in an accident.

For more travel restraint options for Labradors, check out this handy guide.
Playpens for Labradors
If you need to confine your puppy or dog to an area for extended periods of time, then it is best to use a playpen instead of a crate.
A crate should only be used for sleeping, traveling or for short periods of confinement where they don't need to drink or go to the toilet.
MidWest Playpen
This playpen from MidWest* is ideal for a bigger safe space for your Lab.
A Lab will require a 42-inch playpen to keep them contained. Playpens can be used indoors and outdoors to keep your dog contained.
If you want an even larger contained space, purchase 2 or 3 playpens of the same brand and size and join them together.
Other Labrador Restraint Equipment
If a crate doesn't suit you or your dog, then there are some other options out there.
Harness with Seatbelt
If you have trained your dog to be calm in the car, then a good quality harness and safety tested seatbelt is enough to restrain them in the back seat.
Rabitgoo Harness
We like this Rabbitgoo harness* because it is robustly made and designed to distribute pressure safely across dogs' bodies.
Vastar Adjustable Harness
And these seatbelts from Vastar*
Car Divider
If you have a very large Labrador that can't be contained in a crate in the car and can't sit quietly in the backseat then use a car divider. It is a metal grid that goes between the headrests of the backseat and the trunk area.
Jumble Pets Car Divider
This car divider* from Jumble Pets is heavy duty and fits into different types of SUV and cars.
You can also get dividers that go behind the front seats, so your dog is contained to the back-seat area only.
What Size Crate For a Labrador?
In summary, the best dog crate for a Lab is the one that fits their size and suits your needs. For most full grown Labs, this means either a 36″, 42″ or 48″ crate.
It should be made of high-quality materials so your dog can't chew its way out of the crate.
The gates should be sturdy and have a double locking mechanism to avoid any mishaps with attempted escape.
So now you know the answer to 'What size crate for a Lab?', take a look at our full Labrador Retriever Training Guide for advice and tips on using it happily.
Leave a comment below and let us know which size crate you picked for your Lab.
Affiliate link disclosure: Links in this article marked with an * are affiliate links, and we may receive a small commission if you purchase these products. However, we selected them for inclusion independently, and all of the views expressed in this article are our own.
References