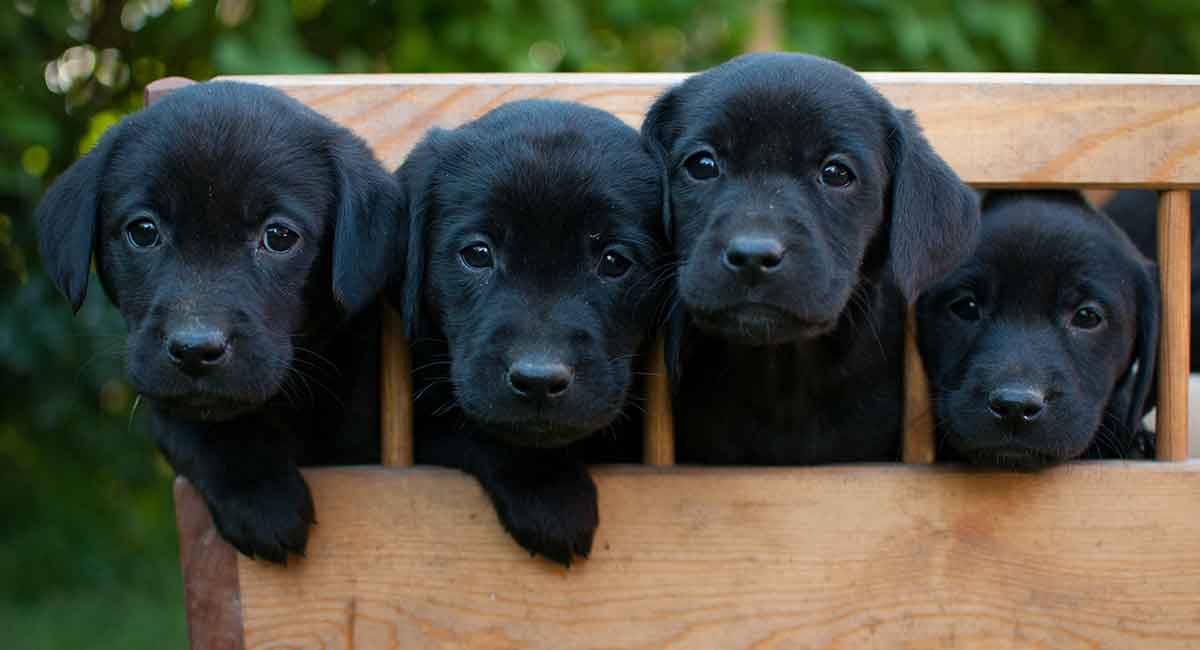 Black Lab dogs are active, energetic and friendly, and are one of the most popular pet dogs in the US. Today we'll look at the pros (lovely temperament, gorgeous appearance!) and cons (separation anxiety, destructive behavior!) of adopting, buying, raising and caring for a black Lab puppy. We'll help you to decide whether a black Lab is the right dog for you as a first time dog owner or experience puppy parent. And look at which lifestyle and family type suits the black Lab best.
We'll also help you to choose between an American and English black Lab. And to decide how much to feed and exercise your pet. We'll learn about what makes black Lab puppies and adults so special, and why you might one to share your home with.
What Is A Black Lab?
The Labrador Retriever is the number one breed in America. And the black Labrador in particular, is an old darling amongst dog lovers! The black Lab dog is a variation of the Labrador Retriever breed. They come in three color varieties: yellow, chocolate, and black.
With his family-friendly reputation, unique intelligence, and incredible loyalty, the black Lab has made a popular family companion pet for years. But where does the black Labrador come from, and why is he black at all?
Black Lab History
The history of the Labrador Retriever is a fascinating one that begins in Newfoundland, Canada during the 1500s. A waterdog renowned for his talented swimming abilities, fishing instincts, and duck hunting expertise, the Labrador made a name for himself as a fisherman's first mate!
The Lab was discovered by visiting English noblemen in the 1800s. It wasn't long until the Labrador breed became a popular sporting dog in England and America.
The Labrador breed was perfected during the 19th century. This led to the desired standards and traits of the modern-day Labrador Retriever we know and love today.
How Big Can A Black Labrador Get?
The black Lab size depends on if he is a male or a female. For example, a female black Lab will usually be around 21–23.5 inches tall.
A male black Labrador can grow to be 22.5–24.5 inches. The black Labrador can weigh anywhere from 55 to 70 pounds if female and upwards of 65–80 pounds if male.
Black Lab Appearance
The black Labrador Retriever is a handsome dog with a sleek, water-resistant black coat. By breed standard, black Labs should be entirely black, especially if they are for show. Although a small amount of white on the black Lab's chest is sometimes allowed, it is usually discouraged.
Black Labrador dogs have a long tail that is described as an "otter tail." It was very useful during his working days when he would use it to propel himself in the freezing waters to retrieve his fisherman master's catch.
A black Labrador also has a sweet, expressive face; floppy ears; wide, brown eyes; and webbed toes especially made for swimming!
Grooming and Shedding
For the most part, the black Lab dog is easy to care for when it comes to grooming. His double-layered coat is incredibly weather-resistant and ideal for all kinds of weather conditions.
Still, he is a shedder and will require occasional brushing to keep his loose hair under control. You will also want to give your black Labrador a bath every now and then. This is especially so if he has gotten himself messy, since he loves to swim and get dirty.
You will need to clean your black Labrador's ears consistently to keep them free of waxy build up and moisture that can cause ear infections. Your black Labrador will also need his nails trimmed regularly to keep them from cracking and splitting.
Black Lab Health
A black Labrador can be prone to a number of the same health concerns as other Labrador Retrievers, including:
hip and elbow dysplasia
cataracts
retinal dysplasia
progressive retinal atrophy
hereditary myopathy
epilepsy
circulatory system issues
pulmonic stenosis
tricuspid valve dysplasia
endocrine diseases
hypothyroidism
diabetes
bloat
Considering the number of health problems your purebred black Labrador may face, we recommend early health screening in your black Lab puppy.
Early health screening is an excellent way to get a head start on preparing your puppy for a healthy life. Of course, lifestyle and diet will also play a role in the longevity and vitality of your black Lab.
Black Lab Lifespan
The black Labrador is still a Lab, and subsequently his lifespan and health concerns are the same as his other Labrador counterparts. This means that, on average, a healthy black Lab will live around 10 to 12 years.
Dietary Needs of a Black Labrador
The black Labrador, like most medium to large dog breeds, is going to do best on a high-quality dog food with meat proteins listed in the first few ingredients.
Most experts agree that you should avoid dog foods with corn, soy, and wheat ingredients. And, of course, stay away from foods with a high sugar content.
Since the black Lab is a larger dog breed, he will need a dog food specified for his skeletal development. This means that you should look for foods made particularly for large breed dogs.
Experts also suggest feeding your dog based on his age, weight, and activity level. For example, black Lab puppies should eat puppy food and black Lab adults should eat adult dog food, while senior adult dogs will thrive on senior dog food.
Black Labrador Personality
While some insist that black, chocolate, and yellow Labs behave differently, this is a controversial claim that is based on little evidence. For the most part, the black Lab temperament is said to be incredibly family-friendly, energetic, athletic, and sociable, just like most Labrador Retrievers.
The black Labrador has an excellent reputation with kids of all ages and is said to get along well with other dogs and household pets.
However, black Labradors are notoriously high-energy dogs who can be slow to mature and are prone to chewing if they become bored. For this reason, your black Lab dog will need plenty of exercise, toys, and mental and physical stimulation to keep him happy and healthy.
Also, because of the black Lab's high level of energy, we suggest early socialization and obedience training to help ensure he grows up to be a well behaved dog in all kinds of situations.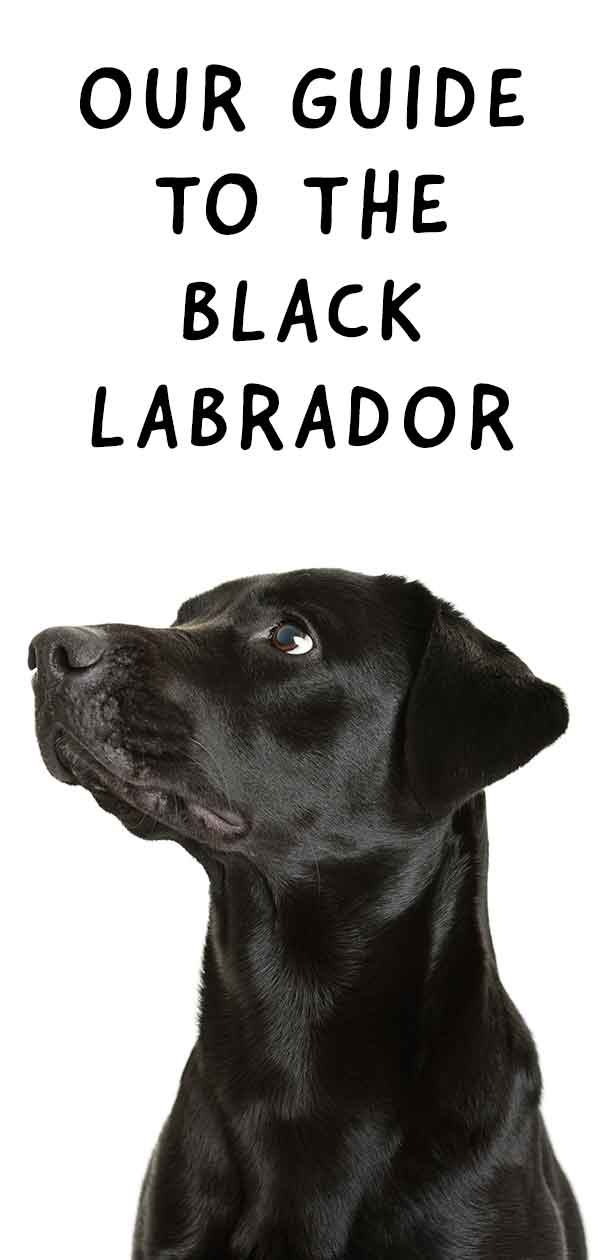 The Black Labrador – Working vs Show
As previously mentioned, the Labrador breed comes in three standard color varieties: yellow, chocolate, and black.
These varieties of Labrador are separated into two categories, including English Labradors and Field Labradors, also known as American Labradors, with the most notable variation being height.
American Black Lab
American Labs are given a height range of 21.5 to 24.5 inches, while an English Lab gives a range of height between 21.5 to 22.5 inches.
While these are not necessarily official categories, they are still recognized terms among Lab enthusiasts to better help differentiate between show Labs and hunting or pet Labs.
English Black Lab
The black English Lab is a dog built for show while the American Black Lab, or black Field Lab, is a dog created more for hunting or for being a general pet.
If you are interested in getting a black Labrador for show, the standards you will need to follow are typically a dog with
a black coat that has little to no color variation
a proportional build
males being 22.5 to 24.5 inches tall and 65 to 80 pounds
females between 21.5 to 23.5 inches and 55 to 70 pounds
A black Lab dog for show should also have a short, thick coat that is soft and not too wiry.
Again, the only acceptable colors for a show Lab are black, yellow, and chocolate.
Black Labrador Fitness
Labrador Retrievers are famous for their intelligence, but what many people overlook is their slowness to mature. The black Lab may be a quick learner, but if his energy is not harnessed correctly he could become overwhelming for the unprepared dog owner.
Training a Labrador
Black Labrador Retrievers will thrive on the praise and reward system during training.
They will do best with positive reinforcement, as opposed to scolding and punishment.
Since black Labradors are so intelligent and active, we recommend giving them doggy jobs and training that you can incorporate throughout their lifetime.
You can also utilize puzzle toys to keep their active minds busy.
Labrador Exercise
As far as exercise, the black Lab is highly energetic and will need a good amount of exercise every single day. Long walks, hikes, jogs, or swimming can be great exercise routines for you and your black Lab to share.
Keep in mind: the black Labrador is a social dog, and he will thoroughly enjoy trips to the dog park!
You will also want to let your black Lab have outdoor time, where you can play with him and incorporate games of fetch or Frisbee in his everyday exercise regime.
As previously mentioned, early socialization and obedience training are going to be key in developing your black Labrador from an active and energetic puppy into a well-behaved and adaptable adult dog.
Is A Black Labrador the Best Dog for Me?
Labrador Retrievers are certainly one of the world's most popular dog breeds, and the black Lab especially seems to be a historic favorite!
But how do you decide if the black Labrador is right for you and your lifestyle?
Room to Exercise
Considering the Labrador's high level of energy, the ideal home type for a black Labrador would be one with a large, securely fenced-in yard where the black Lab can run and play freely to burn off his energy.
Time for Care
Of course, the ideal owner for a black Lab will have plenty of time to train, groom, and exercise their dog, and will be willing and ready to offer their black Labrador the unique toys and lessons he will need to stay busy and healthy.
Remember, black Labrador dogs can be prone to chewing and jumping, and although they are smart, family-oriented canines, they can be a bit more hyper than some dog owners prefer.
However, they do very well with children, and if properly socialized, they are said to make excellent pets for the novice and veteran dog owner.
How to Find a Healthy Black Labrador Puppy
Black Lab puppies are some of the most popular puppies on the dog market, so finding one is not going to be all that difficult.
Still, just because there are many sources available to get a black Labrador puppy doesn't mean you should go buy one from any random seller.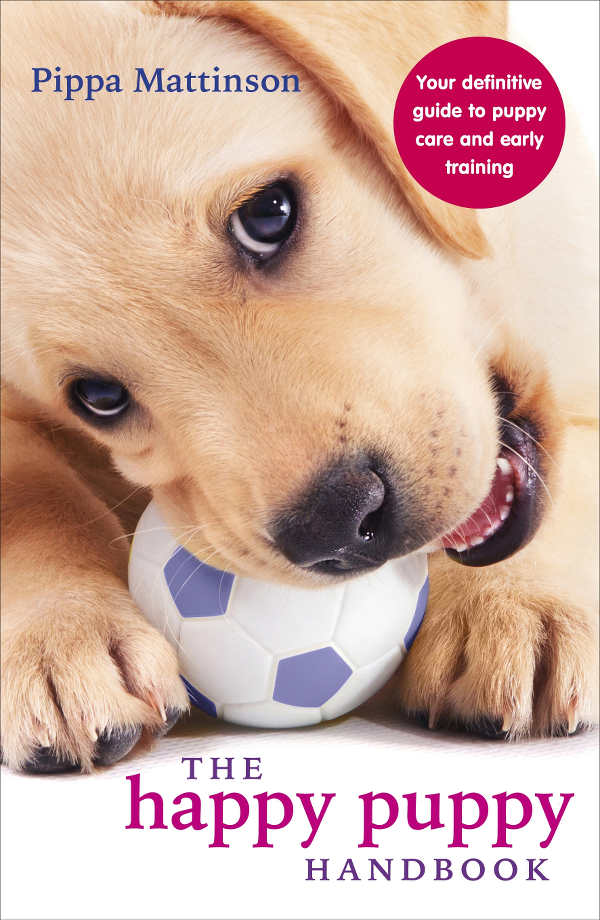 Be sure to do your research when getting any new puppy.
Responsible and reputable breeding is important, especially when it comes to your puppy's health and temperament.
Black Lab Breeders
When going through a reputable breeder, you can expect prices for a black Labrador puppy to be anywhere from $500 to $1000.
If you are looking for a black English Labrador puppy that is show quality, keep in mind the price will likely be a bit higher.
One of the best things about going through a reputable breeder is that you will have the opportunity to ask questions regarding the health and temperament of the parent dogs and previous litters.
Also, keep in mind that most reputable breeders will be able to offer health certificates proving their dogs have been health screened and are healthy.
Rescuing a Black Lab
However, if you plan on rescuing your black Labrador, there are a number of Labrador rescue groups available online.
When rescuing a black Lab, keep in mind that adoption fees are usually around $50 to $100.
The shelter will often cover the first-time vet trip.
Still, getting a black Lab puppy from a rescue could be hit or miss.
Regardless, it is a wonderful thing to rescue a dog in need!
Did we miss any black Lab facts?
Let us know in the comments!
References
J. A. Kerns, et al., Exclusion of Melanocortin-1 Receptor (Mc1r) and Agouti as Candidates for Dominant Black in Dogs, Journal of Heredity.
R E Everts, J Rothuizen, B A Van Oost, Identification of a Premature Stop Codon in the Melanocyte-Stimulating Hormone Receptor Gene (MC1R) in Labrador and Golden Retrievers with Yellow Coat Color, Animal Genetics
K Gortel, et al., Inherited Myopathy in a Litter of Labrador Retrievers, The Canadian Veterinary Journal.
J. M. Newton, et al., Melanocortin 1 Receptor Variation in the Domestic Dog, Mammalian Genome.
Lynn Buzhardt, DVM, Genetics Basics – Coat Color Genetics in Dogs, VCA Hospitals.
Tiffani J Howell, Tammie King, Pauleen C Bennett, Puppy Parties and Beyond: the role of early age socialization practices on adult dog behavior, Volume 6, pages 143-153.