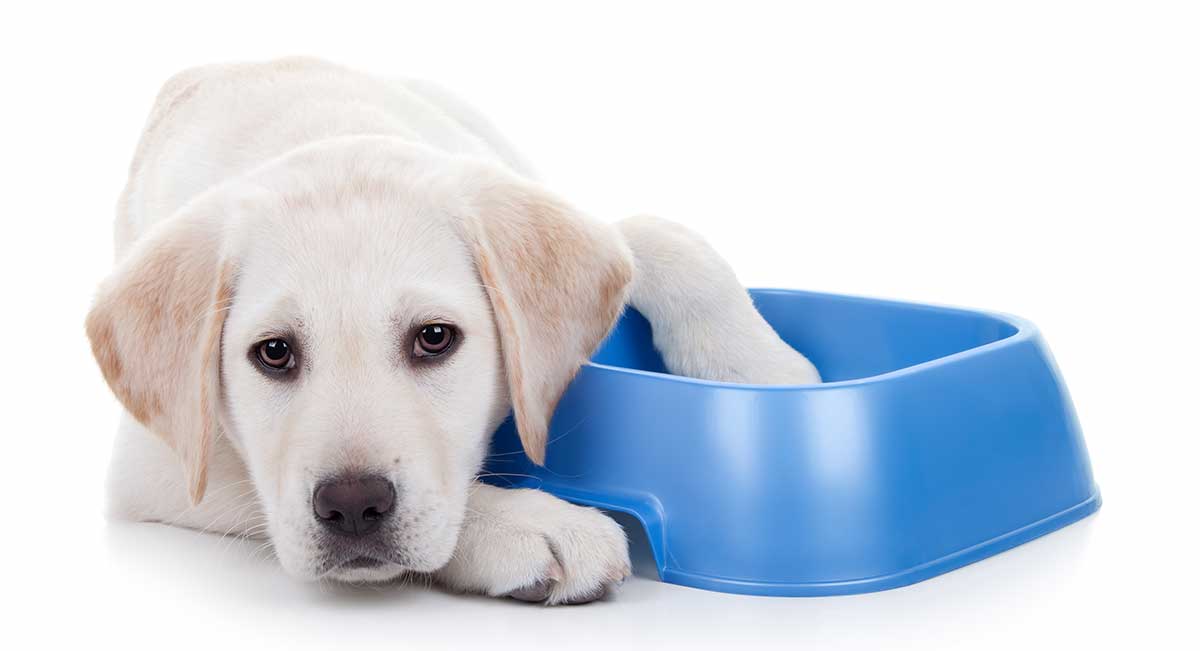 Are you looking for the best puppy for Labs?
Welcome to our complete guide to the best puppy food for Labs! We'll help you choose the right Labrador puppy food for your little bundle of fun!
The Labrador is one of the most popular dog breeds in the world—energetic, intelligent, loyal and loving, they make the perfect family pet.
And there is nothing more adorable than a Labrador puppy!
However, deciding on the right Labrador puppy food to feed your small pup is the most critical decision an owner can make to ensure your puppy grows into a healthy adult dog.
There are many brands of dog food on the market making it even harder for owners to choose the best puppy food for Labs.
In this Labrador puppy food guide, we'll look at your puppy's nutritional requirements and consider a number of potential feeding methods.
We'll also point you in the direction of the best brands out there for your new furry companion.
Let's find out what the best food for Lab puppies is!
Best Puppy Food for Labs
Since fully-grown Labradors can weigh up to 75 lbs, they are considered a large dog breed.
Large breed puppies grow and develop faster than smaller breeds and requiring different amounts of certain nutrients.
Therefore, it is important to feed your puppy food that is specifically designed for their breed to prevent dietary imbalances.
An important part of feeding your Lab puppy is to avoid feeding too much or too little calcium.
Excessive amounts of calcium can cause their bones to grow incorrectly leading to the risk of hip or elbow dysplasia.
However, a lack of calcium can also cause problems, so your Labrador puppy food should contain just the right amount your puppy needs.
The best puppy food for Labs will contain the correct amount of calories, protein, calcium, fat, minerals, and vitamins so your puppy can grow and develop properly.
Feeding Requirements of Labrador Puppies Compared to Adult Labradors
A Labrador puppy's nutritional needs are different than those of an adult dog.
Puppies grow fast and since their organs, muscles, and bones are developing they require extra nutrients, whereas fully-grown dogs are only fed to maintain their bodies.
Giving adult dog food for Lab puppies before they are a year old is not a good idea as it contains a different balance and mixture of nutrients
This could result in your young pup becoming malnourished.
Also, dry puppy food has smaller pieces to make digestion easier and prevent the possibility of choking.
Labrador Puppy Food Options
It's often difficult for owners to decide on the best puppy food for Labs because there is a lot of conflicting information regarding feeding methods.
Here are the most common types of food for Lab puppies.
Kibble for Lab Puppies
Most owners believe the best puppy food for Labs is commercial dry dog food, commonly known as kibble, and it's what many breeders use as well.
The advantages of feeding kibble to your Labrador puppy is that it provides the correct balance of nutrients required by your growing puppy.
Choosing the right brand means you can also be sure of high-quality ingredients.
Cheaper brands of dry dog food may lack essential nutrients and are often packed with low-quality fillers. Therefore, they're not really the best food for Lab puppies.
Poor quality food will pass through your puppy's system without being absorbed so they'll likely need to eat larger quantities.
As a result, your puppy will poop more making it harder to house train your puppy.
Feeding a higher quality brand of dog food for Lab puppies to your pup will ensure the ingredients are readily digested.
Although it may be more expensive to purchase initially, your puppy will eat less so it will be more cost-effective in the long-run.
Dry dog food is also good for teeth and once opened, will keep for a long time, This makes it the most convenient and best food for Lab puppies.
The disadvantages of kibble, however, is that it can be quite boring for puppies compared to eating actual meat.
Other options include wet food, which comes in pouches or cans, home-cooked food, or biologically appropriate raw food (BARF).
Let's look at these options next.
Biologically Appropriate Raw Food for Lab Puppies
Although most veterinarians prefer kibble since it provides more of a balanced diet, many vets suggest the BARF diet may be the best and only way to feed your dog.
There are two types of raw diet—home prepared and commercial.
Home-prepared diets include raw meat and bones along with additions like vegetables, fruit, raw eggs, and yogurt.
Commercial BARF diets can come either fresh or frozen and supply your dog's needs often in the form of a meat-based patty.
Raw food diets have become increasingly popular with dog owners and experts, particularly since there have been recalled on some commercial dog foods over the last few years.
But is raw meat the best puppy food for Labs?
A recent study of 35 commercial raw dog and cat foods reported that 86% contained bacteria potentially dangerous to both pets and humans.
In addition, many health benefit claims made by experts are anecdotal and not backed by evidence or case studies.
For puppies, there is the additional potential risk of choking on whole bones, broken teeth, or even an internal puncture.
Also, with both raw food and home cooked diets, it's unlikely your puppy will receive all the nutrients necessary to properly grow and develop.
Wet Food for Lab Puppies
Although wet food is more appetizing for a puppy, many canned food products are low in nutritional value and contain high quantities of water and by-products.
Plus, the quantity of food your Labrador puppy will require makes wet food an expensive choice. And once opened, the food doesn't last very long.
Only an owner can choose the right Labrador puppy food and feeding method.
If you're unsure what to feed your new pup, it's a best to consult your puppy's vet or a canine nutritionist who can design a diet specific to your puppy's requirements.
How Much Should You Feed Your Labrador puppy?
A Labrador puppy food chart can be found on the label of most puppy foods.
You should follow these feeding guidelines but remember every puppy is different and will grow at various rates.
Some puppies are more energetic than others, so if your dog looks thin or overweight, make sure to adjust their food accordingly.
It's best to split your puppy's food intake into several smaller meals throughout the day.
As a rough guide, a Labrador puppy under three months old should have four feeds per day, reduced to three between the ages of three to six months.
Then after six months, you can reduce this to two feeds per day.
Feed your puppy at precisely the same times each day and remove any food that isn't eaten.
Labrador puppies grow to full adult size between the ages of 12 and 18 months, at which point you can switch them from puppy food to adult food.
What is the Best Puppy Food for Labs?
When looking for the best puppy food for Labs, it's best to choose a puppy formula specifically designed for large breeds.
Consider the reputation of the feed manufacturer and thoroughly do your research.
Here are some of the best brands to provide your puppy with all the correct nutrients and high-quality ingredients.
Hills Science Large Breed Puppy formula offers a complete balanced diet in an array of flavors, providing all the nutrients necessary for a growing Labrador puppy.
Produced in the USA, it's made with imported ingredients including high-quality proteins.
The brand boasts that it contains 18% fewer calories than other options to prevent your puppy from becoming overweight.
The dry dog food also contains controlled levels of calcium for optimal bone growth and clinically-proven antioxidants blended with Vitamins C and E for a healthy immune system.
Hills Science kibble is reasonably priced and many reviews say their puppies thrive on this feed, making it an ideal choice for those on a budget.
Royal Canin has specially designed this formula as Labrador Retriever puppy food to ensure they meet this breed's unique nutritional requirements with a taste most dogs enjoy.
This dry food can be fed to Labrador puppies from eight weeks up until 15 months old.
It contains the correct amount of protein, calcium, and phosphorus for healthy growth for ensuring an ideal weight.
The donut-shaped kibble will encourage your puppy to chew properly and slow down ingestion—Labradors are renowned for being fast and gluttonous eaters!
Many owners have noticed improvements in their puppy's coat and skin after feeding their puppy this brand.
The only downside is price—this product is quite expensive.
The Blue Wilderness chicken recipe, inspired by the diet of wolves, is grain-free and high in protein with limited carbohydrates—perfect for growing Labrador puppies!
The formula contains quality protein from deboned chicken, chicken meal, and fish meal as the main ingredients.
Moreover, it has plenty of DHA to help your Lab puppy's cognitive development.
Sweet potatoes and potatoes provide healthy carbohydrates, along with cranberries, blueberries, and carrots for a strong immune system.
The kibble shape is designed to remove plaque from your puppy's teeth so they maintain excellent dental health.
Thus, making this one of the best dry food for Lab puppies on the market.
The Instinct Raw Boost Kibble is a unique grain-free formula made from the finest ingredients.
The formula will provide your Lab puppy with a nutrient-rich diet for healthy growth and development.
The high protein content comes from cage-free chicken the right balance of other meat and fish proteins from freeze-dried raw meats.
The food is packed with natural DHA from chicken eggs for healthy brain and eye development—so your Lab puppy will thrive!
The unique formula combines two feeding methods— kibble and raw meat—which your puppy will love!
However, this top-quality product is also a bit pricey.
The Wellness Large Breed Puppy Complete Health is a healthy and natural food that uses carefully selected ingredients for optimal growth and development of your Labrador puppy.
Wellness has specifically designed this food for the of the large breed puppies.
The recipe has 20% less fat than their regular puppy foods and precise calcium and phosphorous levels for healthy bone growth.
Mineral levels are also carefully controlled.
The formula contains large amounts of proteins consisting of deboned chicken, white fish, and chicken meal.
Along with DHA-rich salmon meal for healthy brain and eye development, antioxidant-rich fruits and vegetables are also on the ingredients list.
Some of the other high-quality ingredients include flaxseed to nourish your puppy's coat and skin, Yucca Schidigera extracts to reduce stool odor, and taurine for a healthy heart.
This high-quality product is considered one of the best puppy food for Labs around.
Some Final Remarks
Your Labrador puppy has unique nutritional requirements that can make them prone to dietary imbalances if not fed appropriately.
So it's essential to feed your puppy the best food option you can afford.
To give your new Lab pup the best start in life, it's vital to choose a food that is formulated specifically for large breed puppies and uses high-quality ingredients.
Most of the well-known brands provide all the nutritional requirements your Lab puppy will need, creating a well-balanced diet so they can grow into a healthy, adult dog.
Consult your puppy's veterinarian or a canine nutritionist if you need further advice on the best puppy food for Labs.
Which food have you chosen for your Lab puppy? Let us know in the comments.
References and Further Reading
van Bree FPJ. 2018. Zoonotic bacteria and parasites found in raw meat-based diets for cats and dogs. Veterinary Record.
Newman SJ et al. 2007. Aflatoxicosis in Nine Dogs after Exposure to Contaminated Commercial Dog Food. Journal of Veterinary Diagnostic Investigation.
Lust G et al. 1993. Joint laxity and its association with hip dysplasia in Labrador Retrievers. American Journal of Veterinary Research.
Sallander MH et al. 2006. Diet, Exercise, and Weight as Risk Factors in Hip Dysplasia and Elbow Arthrosis in Labrador Retrievers. The Journal of Nutrition.