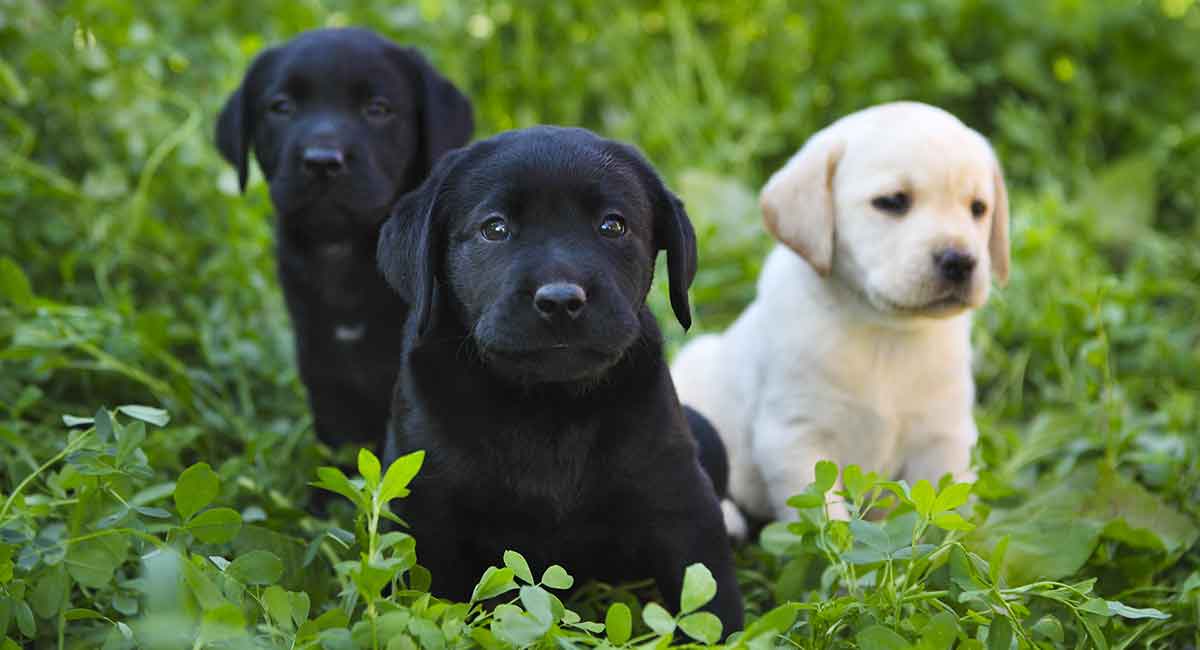 Baby Labrador Retrievers are born deaf, blind, and completely dependent on their mother for survival. They have a soft coat of baby fur in their adult color, but they cannot stay warm by themselves. Your newborn Labrador can wiggle around and find mom, but they spend most of their time sleeping. Baby Labradors grow at a rapid rate however, developing quickly in terms of physical strength, size and emergencing personalities. Baby Labs are ready to move out and into your home at eight weeks old, but there is so much that you missed in those early days with their littermates.
Contents
A Baby Labrador is born!
After being pregnant for around 9 weeks, your baby Labrador's mother will be ready to give birth. Labrador litter sizes can range from 6-10, but on average consist of seven puppies. Therefore, your baby Labrador will have around six siblings.
Newborn Labradors
Baby Labradors are born covered in fur that will be black, yellow or chocolate. Less frequent colors are charcoal, silver and champagne.
Their ears and eyes will be closed meaning they are unable to hear or see anything. They won't be able to walk and will not have any teeth.
Apart from snuggling up to its siblings and its mother, your baby Labrador will spend most of its time resting and nursing.
One week old baby Labrador
Your baby Labrador gains a healthy amount of weight during its first week of life and should now look a bit bigger.
Its front leg muscles will be slightly more developed allowing it to pull itself towards its mother for milk. It will still spend most of its time resting, snuggling and nursing. It may cry to attract its mother's attention.
Two week old Labrador
It is throughout its second week that your baby Labrador will begin to open its eyes, although it won't be able to see much yet. Rapid weight gain and growth should continue to take place and the muscles in the legs will become increasingly stronger.
Your two-week-old baby Labrador will still not be able to regulate its own body heat, so will spend most of the day close to its mother.
Not only do baby Labradors rely on their mothers for heat; they also rely on them to encourage bowel and bladder movements. The mother will do this by licking the puppy's behind.
Three week old baby Labrador
A lot of exciting changes will take place during your baby Labrador's third week. This is the time when its individuality will begin to stand out. Its ear canals and eyes will be completely open, allowing it to see and hear its surroundings.
By the end of the week, it should be able to sit up and stand. Its muscles and sense of balance will undergo a lot of development as it attempts to walk.
It will be able to regulate its own body heat more effectively so will spend less time with its mother and will instead want play with its siblings.
Teething begins during this time in preparation for weaning throughout the upcoming weeks.

Four week old Labrador
Your baby Labrador will be much larger now and will have clearer distinguishable features. Due to their lively temperaments, baby Labradors will be very active and will want to play with their siblings throughout the day.
Now that its bowel and bladder muscles are more developed, your baby Labrador will be more independent and will not need its mother to encourage it to 'go'. It will also be able to maintain its own body heat without aid.
Back teeth will begin to come through and weaning may start during this week.
Five week old baby Labrador
At this age, your baby Labrador will be able to play with toys as well as its siblings. It will be more receptive to interactions with humans, allowing it to be handled more frequently. This will decrease the likelihood of it becoming fearful of humans later in life.
Its mother and siblings will begin to teach it bite inhibition by vocalizing loudly when it bites too hard during playtime.
Weaning should be well underway with the baby Labrador eating solid foods multiple times a day. It will be able to bark now, and may be very loud!
Six week old Labrador
A six-week-old baby Labrador should be fully weaned and eating several small meals of solid food a day. Apart from for play and comfort, your baby Labrador will be fully independent from its mother. It may choose to occasionally nurse, but doesn't need to.
It will be fairly large now and should weigh around 10-15 lbs.
Even though your baby Labrador has changed a lot, its immune system is still maturing rapidly. This takes up a lot of energy so it will sleep for around 18 hours a day.
Seven week old baby Labrador
The seventh week is a critical time in a baby Labrador's behavioral development. Most of what it learns during this stage will stick. It should continue to experience new things to reduce the risk of it become fearful in adulthood. Exposure to new sounds, sights, smells and people will have a positive impact and set them up for later in life.
Your breeder may begin potty training throughout this time as the bowel and bladder muscles are mostly developed.
Eight week old Labrador
Your baby Labrador is ready to come to its new home! It will now weigh around 15-18 lbs. and will be fully weaned.
It will continue to rest for the majority of the day but will be extremely active and playful when awake.
As it wouldn't have had its final vaccination booster yet, it can't go for walks in public places as it is vulnerable to contracting diseases. Ensure you are at home for most of the day so you can give it playtime.
Baby Labrador Care
Potty training can begin now if it hasn't already. Baby Labradors need to 'go' quite frequently – sometimes as often as every 20 minutes – so it is recommended to cover up any carpeted areas or restrict access to rooms you wouldn't be happy for them to use.
To train your Labrador, you can use our potty training schedule to keep you on track.
Teething
Baby Labradors are likely to bite because they are teething at this stage. Even though they are only small, their bites can cause a lot of harm. Therefore, it is recommended you get some chew toys and carry out training to reduce the risk of potential injuries.
To get more tips on how to stop a puppy from biting, you can read our article on the topic here.
Diet
To support your baby Labrador's continuous growth, it is important you provide it with a balanced diet. Nutrients such as proteins, fatty acids, and vitamins are going to be essential for your new family member to grow healthily, especially with its active temperament.
There are lots of dog foods you can consider that are designed to meet the needs of your puppy, or you may wish to go the raw food route.
The portions you give your baby Labrador depends on the kind of food being provided, but generally, they will need 3-4 meals a day.
As they are a larger breed, they need a lot of food to support their development. However, it is important to stick to the recommended portion sizes as you do not want your baby Labrador to become obese.
More information can be found in our article about feeding a Labrador puppy.
Welcoming Your Baby Labrador Home
Your baby Labrador may slightly struggle to settle in at first. This is normal as it's a big change, but you should contact your breeder if you are concerned about its behavior or if it's still unsettled after a long period of time.
If you provide it with a good diet, exercise regime and lots of love, it should fit into its new family fairly quickly.