Looking for the best whippet coats? Then look no further!
Whippets make great pets, but they don't have the thickest fur.
So if you have a whippet, you'll probably need to buy him at least one whippet coat.
In this article, we'll look at what qualities the best whippet coats should have and share our top picks.
We've also provided a helpful overview of the range of whippet coats and jumpers that are currently out there on the marketplace.
All of these products were carefully and independently selected by the Happy Puppy Site team. If you decide to make a purchase from one of the links marked by an asterisk, we may earn a small commission on that sale. This is at no extra cost to you.
What Is a Whippet?
Whippets are dainty dogs that belong to a breed group called "sighthounds."
Whippets are the speedsters of the dog world.
Bred originally for racing or coursing, the whippet has a strong prey instinct and loves nothing more than to chase after a moving object.
Although whippets are quiet, mannerly and affectionate toward people, they do not mix well with cats and other small furry pets–for obvious reasons.
Whippets are long-faced or dolichocephalic dogs.
The breed is characterized by their slender built, long legs, and streamlined and deep-chested bodies.
Why Does a Whippet Need a Coat?
Another characteristic of the whippet breed is her fine, thin coat.
A thin skin combined with her naturally skinny build can leave the breed vulnerable to feeling the cold.
To keep your whippet nice and warm, you will need to buy him a whippet coat.
A cozy whippet coat is especially important for walks on cool days.
You may also need to provide your pet with a light layer for indoor wear if you live in a cold climate where the nights are especially frigid.
And don't forget your whippet in the summer months if you have a strong air conditioning system.
He may be feeling chilly while you're enjoying the cool air.
A lightweight whippet jacket for indoor wear will help to keep him comfortable.
Whippet Coats
So, let's now take a look at what's available for your pet in the world of whippet coats.
We've rounded up a selection of best whippet coats and other most popular whippet clothes.
Just click on the links within each section to check out full details.
Whippet Dog Coats for Winter
When the mercury drops and the nights draw in, your whippet will still want to get out and enjoy her walks.
But remember that you need to provide her with an extra layer to keep her nice and warm.
The Cosipet Whippet Coat* is a smart, quilted nylon coat that comes in navy blue.
The showerproof coat has a warm tartan lining.
The coat is finished with a fur-lined collar to keep your pet snug and to prevent water from trickling down her neck if you're caught out in a sudden downpour.
The coat is specially designed and cut to suit whippet and greyhound body shapes.
Whippet Waterproof Coats
The Greyhound Hunter Wax Coat* comes in smart country-style dark green.
The coat is built to last and is fashioned from tough, dark green waxed cotton.
The hunter coat is stylish, as well as practical, with a tartan lining and stand-up cord collar.
The coat has adjustable stud fastenings, which make fitting the coat quick and easy.
Another perfect whippet raincoat is the Ancol Muddy Paws Greyhound Coat*.
This waterproof whippet coat is designed to keep the elements out.
The coat is specially cut to fit the whippet shape.
The coat has a soft, fleecy lining and a wind and waterproof outer shell, so your dog will keep warm and dry, whatever the weather.
Fitting the coat is easy thanks to the extended neck area, Velcro belly strap and fixed chest piece. The coat comes in stylish, stealthy black.
The UsefulThingy Winter Coats for Dogs* is a handy waterproof raincoat that's ideal for walks on wet days.
The warm raincoat has a convenient harness hole, and features reflective stripes to keep you and your pet visible on dark evenings.
Whippet Jumpers
Even on bright, frosty winter days or during cooler weather in the fall and spring, your whippet will thank you for an extra layer.
The Chilly Dog Boyfriend Dog Sweater* is a gorgeous whippet jumper that your pet will love.
Every sweater is hand-knitted in 100 percent wool, making each one as individual as your dog.
Simply slip the sweater over your whippet's head–fitting couldn't be easier.
The Equafleece 100% Water Repellent Slim Dog Sweater* comes in a beautiful mulberry shade that's perfect for winter wear.
The lightweight polar fleece fabric is 100 percent water repellant when fitted close to your pet's body, and it also makes the ideal drying tool when your dog is already wet.
The fleece whippet jacket is specially cut with the breed's slim neck and chest in mind, and it has no straps or fastenings that might create pressure points on the skin.
The Stitch & Turn Greyhound Polo Fleece Coat* is a super polar fleece whippet/greyhound coat, tailored specially to fit deep-chested sighthounds.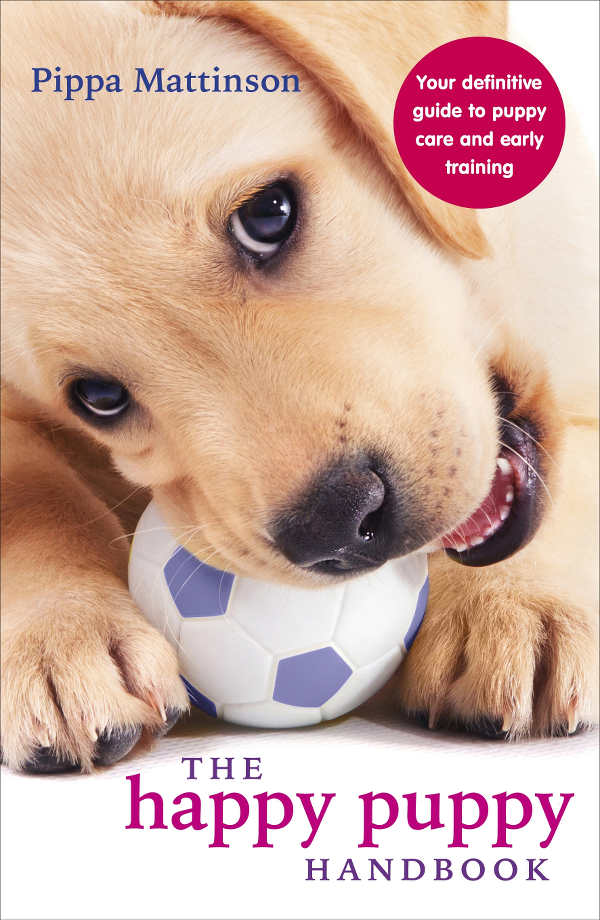 The double thickness, two-tone thermal fleece offers ultimate warmth to your pet in a wonderfully lightweight jacket style whippet coat.
To keep your whippet warm on the coldest of days, the coat also features a snood-style neck that you can fold back to create a deep turtleneck, or pull up over your whippet's head to keep him toasty warm from head to tail.
The fleece comes in stunning polar red and is fully machine washable.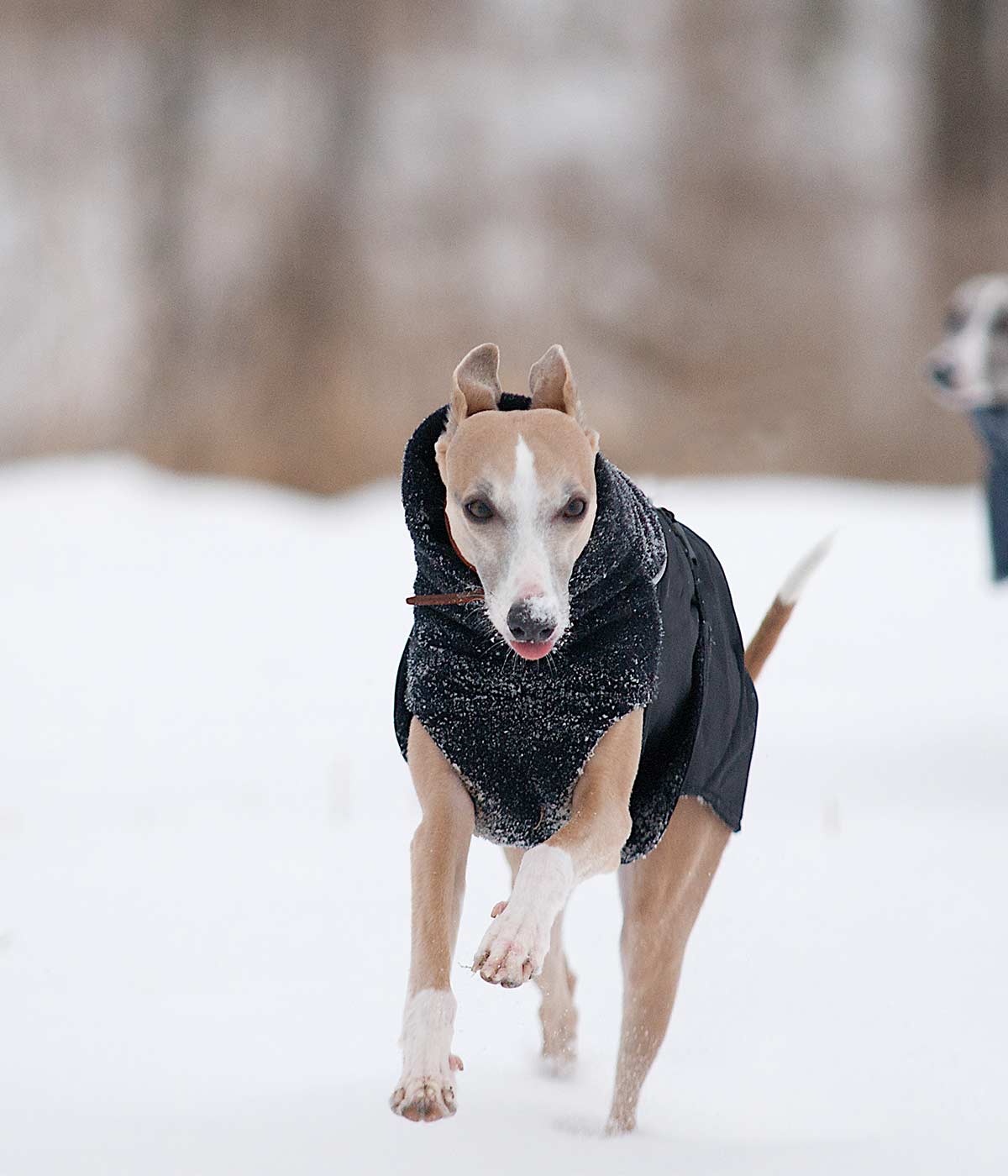 Whippet Coats: Wrapping It Up
Whippets are delightful dogs and make super family pets. However, they are thin-skinned, and they do feel the cold during the winter months.
Be sure to keep your whippet nice and cozy by kitting him out with a whippet coat.
Your whippet needs a winter outdoor coat (preferably waterproof or shower proof) and a cozy fleece to keep him snug on dry, frosty winter days.
A snugly jumper is also a good idea to keep your pet warm indoors on cold nights.
Why not tell us about your whippet's wardrobe?
We'd be especially interested to hear if you bought any of the coats or jumpers that we've featured in this article.
Tell us your whippet's story in the comments section below.
Affiliate link disclosure: Links in this article marked with an * are affiliate links, and we may receive a small commission if you purchase these products. However, we selected them for inclusion independently, and all of the views expressed in this article are our own.
References and Further Reading