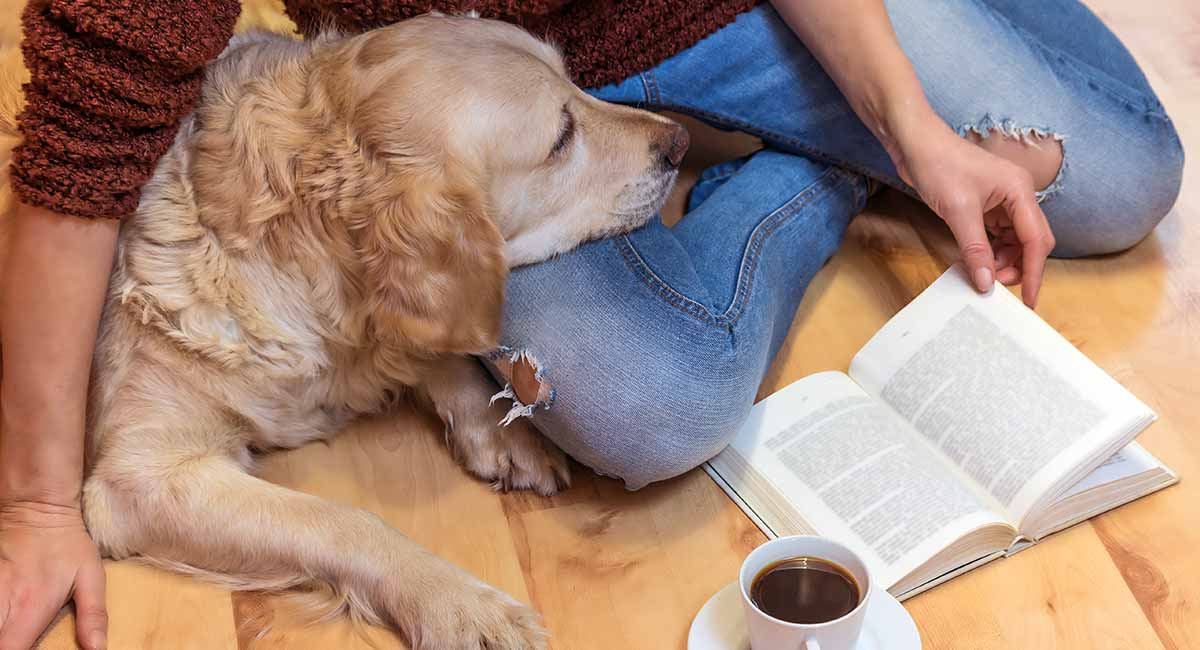 Welcome to your complete guide to calm dog breeds, giving you some insight into the world's most relaxed and chill doggies!
We'll talk about how good calm dog breeds became so unflappable, and which dog breeds are the calmest. This includes small dogs, calm large dog breeds, family-friendly dogs, and even dogs who are both calm AND quiet!
Are you looking for a canine companion who won't raise a ruckus every time the mailman drives by?
Or perhaps, you'd like to find the calmest dog breeds, the cool, and collected dogs who love to cuddle with you and not much else?
If you answered "yes" to either or both of the above prompts, then a calm dog breed may be just the pet for you! Read on to learn more about calm dog breeds and to see how you can find your very own "chillaxing" buddy.
Calm Dog Breeds
Relaxed dog breeds appeal to pet owners for a number of reasons.
They are typically less reactive than other dog breeds.
This doesn't necessarily mean that they're not energetic (although some calm dogs are also lazy dogs).
It does mean however, that they're less likely to exhibit emotional tendencies toward nervousness and irritability.
Calm dog breeds are all-in-all pleasant fellows to be around.
Some have the perfect lap-dog personality (if they're small enough, that is).
On the other hand, some are just happy to be lying near their owner once they've had their energizing fun for the day. You might find the perfect pooch amongst the calm large dog breeds.
Dogs which are on the more mild-mannered end of the spectrum are also more likely to have a "go with the flow" attitude. You might find these to be the more relaxed dog breeds.
They're happy as long as they are fed, watered, have a comfy place to sleep, and some time with their human.
Why Were Quiet Calm Dog Breeds Bred?
Today's calm dog breeds didn't get their docile natures by accident.
Many easy-going dogs, such as the Bernese Mountain Dog (we'll talk more about this beloved breed later in this article), were bred to work closely alongside their humans. They protected their owners and sometimes their livestock from predators.
So, it would make sense that these dogs would need to be courageous and calm so as to not shy away from the slightest noise or rustle in the bushes!
Other dogs of a gentler nature, such as the Maltese (more on this little white pooch later), were specifically bred to be lap dogs. These are dogs with amiable dispositions and somewhat decreased energy requirements.
Exercise is always important!
Again, we'd like to emphasize that not all calm puppy breeds are low-energy. Some just don't have to burn off as much steam as their livelier friends.
And with that said, just because you have a calm and lazy dog breed, doesn't mean that he doesn't need to be exercised!
While he might prefer dozing for most of his day, it's very important that he expends some energy and stretches his legs.
Otherwise, issues like obesity, diabetes, and hip or elbow dysplasia can rear their ugly heads later in his life.
A relaxed dog breed doesn't mean a relaxed owner when it comes to your dog's health!
Most Calm Dog Breeds
What are the calmest dog breeds?
Depending on who you ask, you may be met with a variety of answers to that question. This is especially true if the person you ask is a breeder or enthusiast of one particular dog breed.
What we can say, though, is that based on traits which have been habitually observed in some dog breeds, there are some breeds which exhibit calmer tendencies than others.
We'll give you some examples of calm dog breeds grouped by physical or other personality qualities in the following sections.
Calm Toy Dog Breeds
Many toy breeds are known to be energetic little squirts, but here are a few tiny tots who are more in touch with their Zen than other small dogs:
Chihuahua
The tiniest of all tiny dogs, the Chihuahua was most likely first bred in Mexico hundreds to thousands of years ago.
For years they have been beloved as companion dogs which can be easily carried from place to place. At one time they were staples of every fashion icon's tote bag!
Given their minute size, they do not require as much exercise as their larger brethren. Great care should be taken to ensure they are handled gently by children and anyone with strong hands.
In addition to their fragile frames, Chihuahuas are also prone to teeth overcrowding, joint problems, low blood sugar, vision problems, and tracheal collapse.
Maltese
The Maltese is famously long-haired and snow-white. This is another ancient European breed which was developed to be the ideal lap dog and companion.
They develop a very close bond to their family, so one may get some separation anxiety if left alone for long periods.
Similarly to the Chihuahua, the Maltese is also prone to small-dog health afflictions like heart problems, teeth overcrowding, joint problems, vision loss, and tracheal collapse.
In addition, as an all-white dog, the Maltese has an increased chance of being born partially or completely deaf.
Skye Terrier
The Skye Terrier is another long-haired breed. The Skye Terrier hails from Scotland circa 1600s, where the breed's descendants were used as hunters of foxes and badgers.
They eventually became prized possessions of noblemen and were staples of British court life. Today, they are still prized pets.
Don't let the terrier in them scare you, though. They are known to be much calmer than other terriers.
Skye Terriers are commonly afflicted by spinal disk injuries due to their long backs and low legged structure; hip dysplasia and other joint problems; skin allergies; and cancer.
Havanese
The Havanese is an energetic example of a calm dog breed.
The Havanese is a Bichon-type dog which comes from Cuba. It's thought that the tiny white dogs were brought over from Italian or Spanish shipmen who were sent to colonize the New World.
In Cuba, he was a popular pet for wealthy planters and nobility, possibly due to the reputation of being a charmer who thrives on attention.
The breed's naturally silky coat can be trained to lay in dreadlocks – how cool is that?
As a toy dog, the Havanese is prone to ailments which commonly afflict small dogs, such as joint problems, vision loss, heart murmurs, and hereditary deafness (due to their Bichon genes).
Calm, Small, Non-Shedding Dog Breeds
Not a fan of lots of dog hair? If you're in the market for a small, calm dog breed which doesn't shed much, then we recommend the following:
Chinese Crested
The Chinese Crested was bred in China as a rat-catcher in ancient times. This eye-catching breed is famous for its rather naked appearance when hairless, and its silkiness when furred ('powder puff').
They aren't hunters in today's world; rather, they are very friendly family pets who love to snuggle under a blanket with you.
Fortunately, even powder puff Chinese Cresteds are very low shedders, but both varieties need to be kept in warm environments due to their lack of natural insulation.
Other health problems include follicular cysts, greasy skin and acne, ear infections, gradual vision loss, patellar luxation, and dental problems.
Bolognese
The Bolognese is another beloved small white dog, the Bolognese has been the poster child for charming lap dogs since possibly the eleventh century! It could be one of the earliest of calmest dog breeds contending for the chilled out throne.
The breed gained traction during the Renaissance as a pet to Italian noblemen, but soon after, the Bolognese nearly went extinct.
It took several centuries to build their numbers back up, but now, these soft and fluffy pups are incredibly popular as household pets once again.
Since it is such an old and pure breed, the Bolognese is mostly predisposed to joint problems, patellar luxation, and eye problems like cataracts and progressive retinal atrophy (PRA).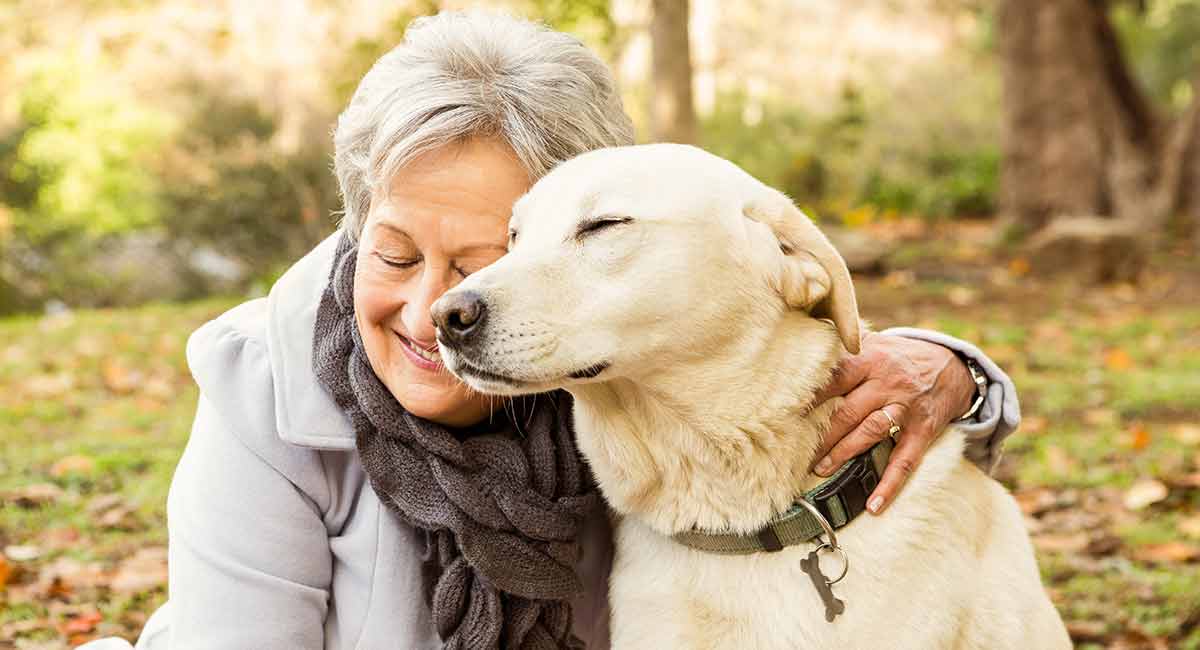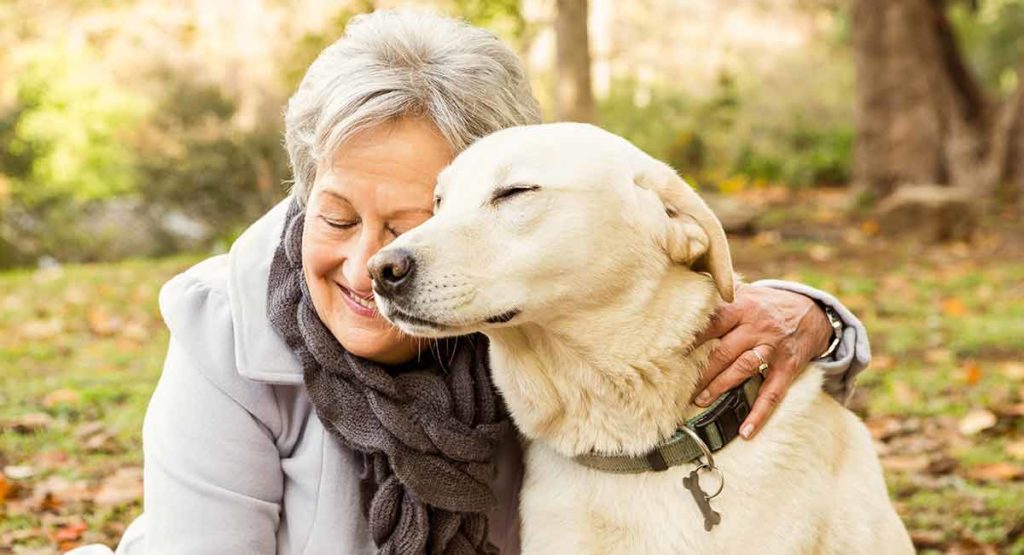 Calm Large Dog Breeds
So far, we've named some calm small dog breeds, but what about calm big dog breeds?
As luck would have it, many calm, docile dog breeds are, in fact, the gentle giants of the canine world. Here are some of the calmest big dogs around:
Bernese Mountain Dog
The Bernese Mountain Dog originated in the Swiss Alps, where he was a farmer's hardest worker.
These large dogs pulled carts and herded livestock as they accompanied their owners across the mountainous peaks.
Since these dogs are covered in a thick coat of fur because they were bred to withstand sub zero temperatures, they do best in cooler climates. And as large dogs, they are prone to hip and elbow dysplasia, bloat, and cancer.
Scottish Deerhound
The Scottish Deerhound is a pleasant fellow.
He is also one of the calm, cuddly dog breeds. He looks like a much larger and hairier version of a Greyhound and comes from Scotland before Scotland was inhabited by the Scots. That might give you an idea of how old this breed is.
As his name suggests, he was used to hunt deer, so his long legs and streamlined body were rather useful.
Nowadays, Deerhounds enjoy going for a nice run, but then spending the rest of their time parked on the couch or, preferably, cuddling in your bed with you!
Unfortunately, this breed has a high occurrence of bone cancer and heart problems.
Newfoundland
The Newfoundland is a large and very furry breed from Canada. His waterfowl-retrieving ancestors were crossed with other small retrievers to create today's Labrador Retriever!
Like the Lab, Newfoundlands are excellent swimmers and are commonly used in search and rescue missions, but they are especially beloved as family pets. Their agreeable temperament makes them a top candidate if you're looking at calm, gentle dog breeds.
After all, who could resist hugging a real-life teddy bear? This large breed, too, suffers from joint problems, heart problems, and cancer.
Saint Bernard
You might know the Saint Bernard if you've watched any of the "Beethoven" movies. If you have, then you know all about the majesty and intelligence of the St. Bernard.
As a mountain dog breed, St. Bernards are thought to have accompanied monks as they traversed through snow-covered terrain in pursuit of snowbound travelers.
St. Bernards are naturally gentle, kind-hearted souls who love having a family to call their own, but they need adequate space to stretch their long legs, preferably in a climate that isn't too hot.
This is yet another large breed which is susceptible to hip dysplasia, heart problems, and bloat.
Spinone Italiano
Here is a beautiful sporting dog who loves his work just as much as he loves time with his family! The Spinone Italiano comes from (you guessed it) Italy, where he was and is still used as a versatile hunting dog, retrieving both land and water game.
Unlike other hunting dog breeds, the wire-coated Spinone doesn't need a lot of activity to get the "zoomies" out. He does well enough with self-exercise and a daily walk or quick jog.
This is one large breed that has a somewhat long lifespan for his size. That's 12-14 years. He has relatively few health problems, including ataxia (loss of control of bodily movements) and hip dysplasia.
Calm Quiet Dog Breeds
So, what breed of dog is quiet and calm? We think these two breeds fit the bill:
Russian Borzoi
Have a look at the Russian Borzoi. This sighthound is as elegant and regal as royalty!
It is wonderfully soft and silky coat, coupled with their long-legged stature, makes this breed look like a furrier version of the Greyhound. True to their serious looks, the Borzoi is a rather quiet dog who prefers an equally quiet and undisturbed home environment.
Just be sure to keep them in an enclosed area when they're outside, or their prey drive may kick in full-force at the first sight of a squirrel or rabbit!
Like other large breeds, the Borzoi is affected by primarily joint and heart problems.
Great Dane
He might be king of the dog world, but don't let the Great Dane's massive stature mislead you. He is a quiet pooch who is also one of the best calm, family dog breeds out there!
While Great Danes were originally used as boar hunters in Denmark some 400+ years ago, they are now wonderful as pets and even therapy dogs.
Not much fazes this dog, and he is very patient with tiny tots (just make sure that he doesn't accidentally knock them over).
The towering Great Dane may have issues with hip and elbow dysplasia, heart problems, bloat, and bone cancer.
Toy and Small Calm Dog Breeds
Not looking for a large dog? In search of calm, quiet, small dog breeds?
Italian Greyhound
Toy and small dog breeds are notorious for being "barky" or generally noisy, but the Italian Greyhound makes a rare exception.
These miniature sighthounds are known for their quiet and docile nature, along with their excellence as lap dogs and general companions. In fact, Greyhounds in general are one of the more relaxed dog breeds.
However, watch them run if they see prey nearby! Due to their minute size, they are not recommended for families with children.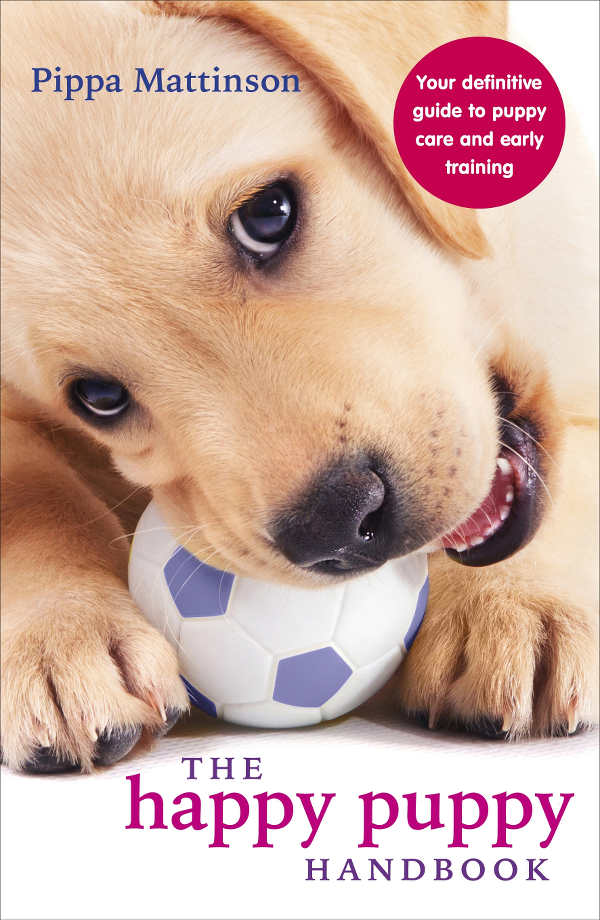 Italian Greyhounds are predisposed to a number of bone, joint, vision, skin, blood, and neurological disorders.
Calm Lazy Dog Breeds
Maybe some of the calmest dog breeds are just plain lazy!
Check out our article about Lazy Dog Breeds to learn more about why some dogs seem reluctant to even go out for a jog!
A Note on Health Issues
You may have noticed that in each description of each of the breed, we included some information about their health. It might not be obvious, but a dog's breed might have a lot to do with how calm or energetic, or even quiet they are.
For example, a Pug or a French Bulldog might have low energy because of their anatomic and genetic makeup.
Dog breeds like these have flat faces. This causes brachycephalic airway obstructive syndrome. In short, this means that they have a difficult time getting enough air into their lungs and therefore are quite unhealthy.
So, make sure you think about which breed you decide to go for. Ask yourself, is it worth having a calm, quiet breed when those characteristics are rooted in bad health and problematic breeding.
Calm Dog Breeds – A Summary
The best calm dog breeds are those which are naturally nonplussed, which is often thanks to their breeding.
Some of the calmest dog breeds of today were originally intended as protectors of humans or livestock, devoted travel companions, or simply pets for aristocrats and royalty. These tasks required them to be not easily flustered.
Calm dogs come in all shapes and sizes, and some are active, while others prefer a lazier lifestyle.
It's important to note that just because a dog has a reserved personality, doesn't mean that they don't need any exercise.
Please be sure that even the laziest, calmest of dogs gets at least one walk in every day.
Have Your Say
Is your dog calm and quiet? Is there a breed we've left out of our article? Please let us know in the comments below.
Tell us your favorite story about your serene and peaceful pooch.
This article has been extensively revised in 2019.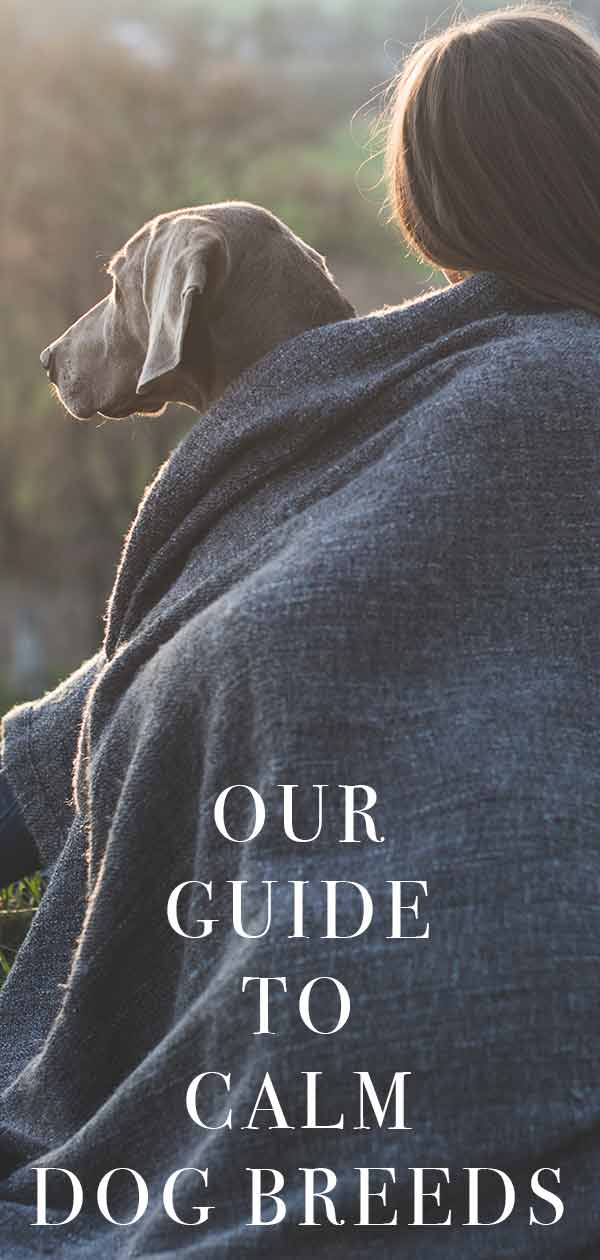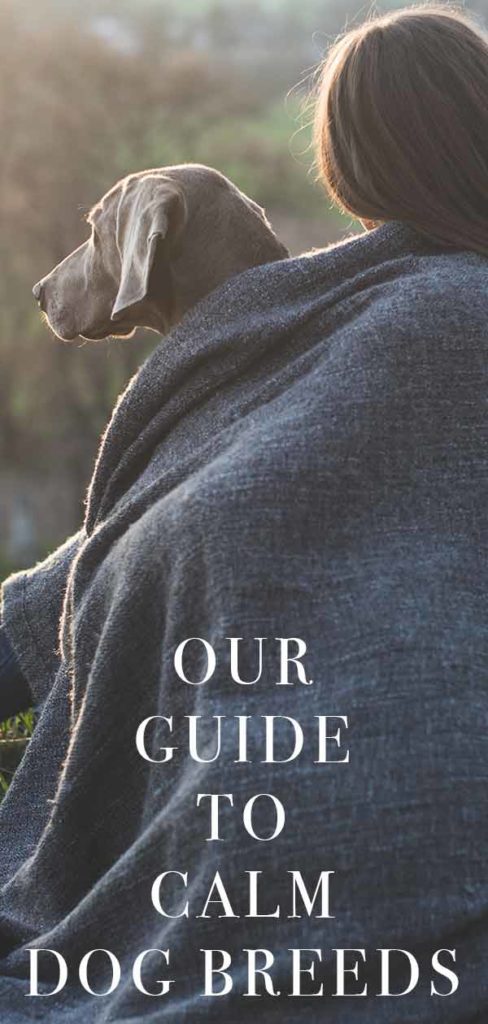 References & Resources
American Kennel Club, Skye Terrier Accessed, 2019
American Kennel Club, Havanese Accessed, 2019
Joan C. Hendrick 'Brachycephalic Airway Syndrome', Veterinary Clinics of North America: Small Animal Practice, 1992
Daniel F. Tortura, 'The Right Dog For You' 1986
Frauke S.Roedler, 'How does severe brachycephaly affect dog's lives? Results of a structured preoperative owner questionnaire', The Veterinary Journal, 2013