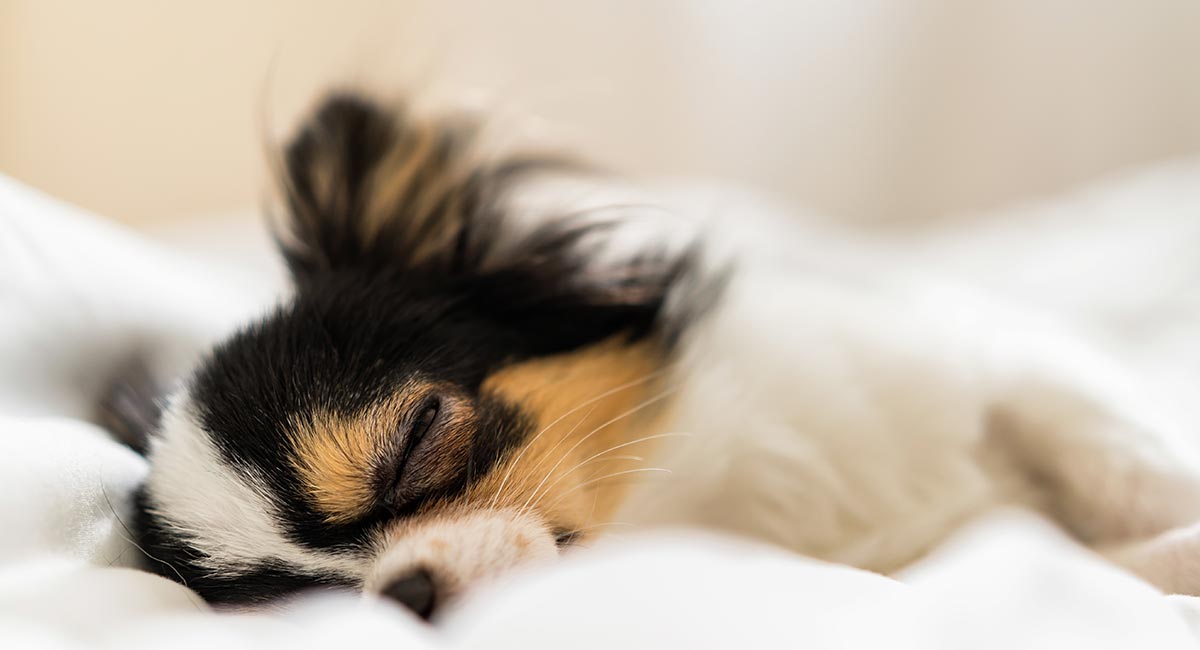 Welcome to our complete guide to lazy dog breeds!
What makes some breeds so chilled out? What are the best dog breeds for calm, laid-back pets?
If you're curious about the answers to those questions, you've come to the right place!
Are you keen on getting a dog for companionship, but not so sure about walking them in all weathers?
Do you prefer movie nights over going to the gym, and want a canine friend to share the sofa with?
Do you ever think, "Gee, if only they made dogs for lazy people!" (Not that I'm suggesting you're lazy, but you get my drift!)
In this article we find out if there truly are any lazy dog breeds, and what the top lazy dogs are.
Lazy Dog Breeds
It's easy to see the appeal of a lazy dog.
They have a kind of charm. We tease them about their lack of vigor and pretend to complain about it, but really we love it and indulge them.
After all, we juggle our jobs, our families, our homes, and countless other demands. Sometimes it's hard to contemplate adding something else to our schedule.
Dogs enrich our lives, but they can also be time-consuming.
Carving out extra hours for walks can put us off owning a dog. Especially if it's in the cold, the dark, or the rain.
But a lazy dog sounds easy to accommodate. Luckily if we search online, countless websites seem to have the answer.
You can find list upon list of big lazy dog breeds, small lazy dog breeds, the most lazy dog breeds…
However, before we get carried away, are "lazy dog breeds" for real?
Or are they just too good to be true?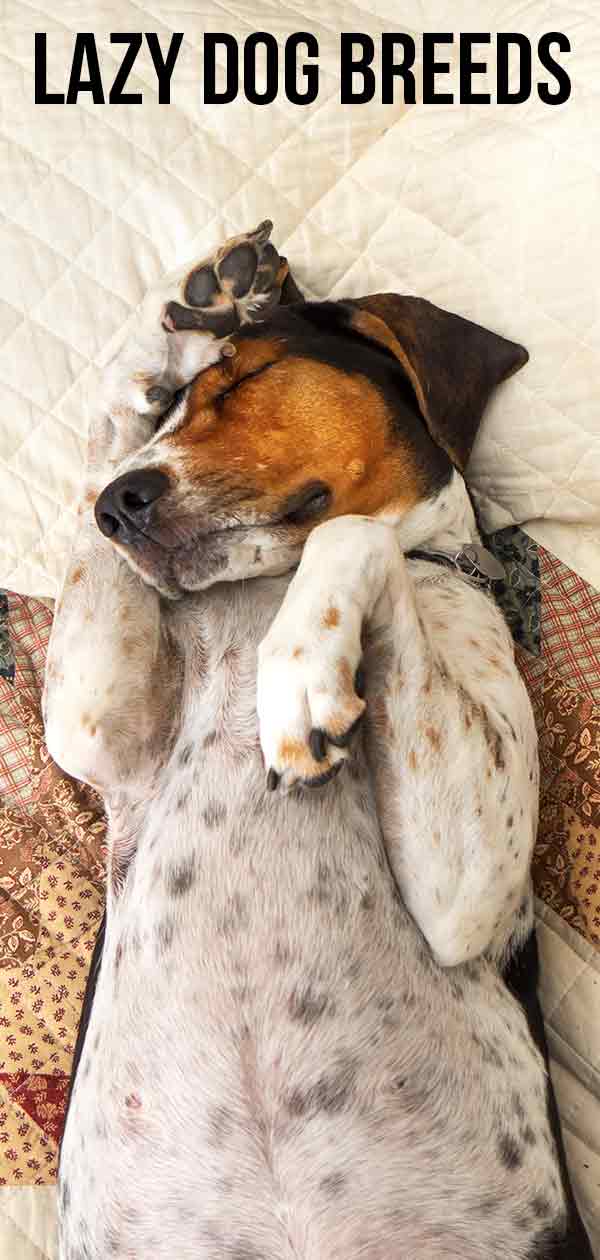 Looking For A Lazy Puppy?
First of all, let's see what the top lazy dog breed recommendations tend to be.
First, the most frequently recommended small lazy dogs:
Italian Greyhound
Japanese Chin
Pug
The most frequently recommended medium sized lazy dogs:
And finally, the most frequently recommended big lazy dogs:
Bullmastiff
Great Dane
Greyhound
Irish Wolfhound
Dogs For Lazy Owners
Well, those lists look like they include something for everyone, right?
Different shapes, sizes, coats and temperaments.
Some on the list, due to their size or reputation, might have taken you by surprise.
How can the fastest dogs, like Greyhounds, also be among the laziest?
And what about those big breeds? Are they really happy to stretch out and sleep all day?
Let's look closer at some of the reasons behind what breeds made the list.
Lazy Breeds Of Dogs – Flat-Faced Dogs
Many of the so-called lazy dog breeds are brachycephalic.
That is to say, they've been bred for short muzzles, which give their faces the appearance of being squashed in.
You can find out all about brachycephaly here.
The Bulldog, French Bulldog and Pug are the most exaggerated examples on our lists.
But other brachycephalic breeds on the list include:
Boston Terrier
Cavalier King Charles Spaniel
Chihuahua
Japanese Chin
Pekingese
Shih Tzu
Bulldog
Bull Mastiff
Great Dane
So that would be nearly all of them except the sight hounds.
And there's a big problem here.
Are Flat-Faced Dogs Truly Lazy?
Unfortunately, there's a very sad reason why many brachycephalic dogs have low energy reserves.
Dog with flat faces often have severe structural problems in their airways as a result of their exaggerated appearance.
Quite simply, life is one long struggle to breathe.
Dogs also rely on the movement of air over the inside surfaces of their mouths to cool down.
In flat-faced dogs, the interior of their mouth has been shrunk in proportion to the rest of their body.
This means that their best mechanism for keeping cool is no longer up to the job.
So, all those brachycephalic breeds on our lazy dog breeds list aren't idle by choice.
In many cases, the shape they have been bred for simply cannot sustain prolonged exercise. It is just too physically uncomfortable.
This means they miss out on all the other physical and psychological benefits of being able to exercise too.
Of course not every individual from each breed has been bred with such extreme facial features.
But you can expect those with a more natural shape to have correspondingly more energy for exercise too.
Lazy Breeds Of Dogs – Toy Dogs
Did you notice that the list of lazy small dogs was twice as long as the lists for lazy medium sized dogs and large lazy dog breeds?
Unsurprisingly, just about every toy breed is included on a lazy dog list somewhere.
The ones I've included here are just the ones which crop up most often.
It makes sense that the exercise needs of smaller dogs will be less than the exercise needs of larger dogs: a one mile walk is proportionately longer for them.
However, low exercise is not the always the same as low energy.
And it's definitely not the same as low maintenance!
Toy dogs may not have the stamina for long walks, but they still need lots of one-on-one attention and play time at home in order to prevent them from becoming destructive.
Many of the small breeds listed above are also noted for being highly strung, and often wary of strangers and unfamiliar dogs.
They require a lot of time and effort on our part to become chilled out, confident little pals.
A lazy owner simply will not cut it.
There's More: Even The Most Lazy Dogs Still Need Exercise!
Don't lose hope yet if you came here hoping to find your perfect lazy dog match. I'm getting there!
But first let's be clear: there is no such thing as a dog with no exercise requirement.
Dogs need exercise for so many reasons:
Keeps their bodies healthy and agile
Prevents unhealthy weight gain
Aids their digestion
Helps them sleep at night
Burning off energy through exercise also reduces unwanted behaviors such as scratching, barking and hyperactivity, which are often fueled by boredom and mis-directed energy.
Exercise is good for our dogs' mental health too – it's a chance to hang out with their favorite people (us!) and build confidence around strangers and other dogs.
But it's true that different dogs have different exercise requirements, and some can be worn out quicker than others.
There are also some "outside the box" ways to exercise a dog, which don't require what might seem like miles of jogging.
Interactive Toys To Exercise a Lazy Dog
Before we move on, here are a few suggestions, gathered from pet sites and owners, as to ways to help dogs burn off a little energy — while potentially saving the limited energy of the pet parent.
Puzzle toys and treat dispensing toys both keep dogs motivated to make use of them. This keeps them occupied and able to entertain themselves.
If they need a little extra exercise apart from their daily walk, these toys might be the answer!
Kong treat dispensing toys
Interactive dog toys
The Best Dogs For Lazy People
Okay, one more caveat: dogs are a big commitment, and exercise is just one part of looking after a dog.
You must also be prepared to feed them, groom them, take them to the vet, teach them good behavior all through their lives, and the list goes on.
We've already covered some of the vital health benefits that exercise brings to a dog. It's the same for your pup's owner! Exercise should be a part of life for everyone, both human and animal.
For now, let's focus on dogs with a lower exercise requirement, but not at the expense of their health.
Low Energy Dogs – The Sight Hounds
I hope you haven't forgotten the sight hounds on our lists above.
Whippets, Greyhounds and Irish Wolfhounds are sprinters, bred to work in short, very intense bursts.
They still need to fulfill that urge every day, but once it's done, they are famously idle housemates.
In fact, they are often affectionately described as the world's fastest couch potato!
For dogs which really require some fast-paced activity each day, even if only for a short while, a fenced-in yard in which they can safely run is a good idea.
If their size puts you off, consider Italian Greyhounds, the toy variety of the Whippet and Greyhound.
If a fenced yard isn't available, make sure to take him on brief, brisk walks using a leash. Though they may not go very far, Italian Greyhounds do have something of a tendency to bolt!
Low Energy Dogs – Older Dogs
In 2009, researchers at Eötvös University in Hungary surveyed 14,000 dog owners, and found that the least calm dogs were under 2.5 years old, and the calmest were over 6.9 years old.
Dogs go through life stages just like we do. As puppies and adolescents, their energy and attitude is endless, and as they get older, they start to slow down.
If you're looking for a chill, relaxed, slow-paced pet, have you considered adopting an adult dog rather than a puppy?
It might not be quite what you had in mind, but a relaxing home and a gentle pace of life is a wonderful gift to give a mature dog.
The other advantage of adopting an older dog is you'll know much more about their individual personality before you bring them home.
When you bring home a puppy, you take a gamble on them having the same temperament and energy reserves as the rest of their breed.
But individuals vary. By adopting an older dog, you'll already know how they're going to turn out.
Low Energy Dogs – Labrador Retrievers And Golden Retrievers
Hear me out on this one.
Labradors and Golden Retrievers are energetic and athletic dogs, yes. In fact, they're famous for it!
But once they are provided with a couple of half hour bursts of activity, many Retrievers have wonderfully docile, chilled out temperaments.
And the great thing is, they are hardwired to love fetching games, often preferring them over a long walk.
So you at least can stand relatively still while they do their thing!
Last Words On Lazy Dogs
A lazy dog sounds like a neat way to fit a canine family member into our lives if we also prefer the great indoors to the great outdoors.
However, many of the most lazy dogs have ended up that way at the expense of their health and quality of life.
A healthy dog is built by nature for work and exercise. As dog owners, it's our responsibility to make sure they get the opportunity for that every day.
Luckily though, just like healthy humans like to exercise in different ways, different dog breeds like to get their exercise in different ways too.
So as long as you can promise them some time for exercise every day, there is a dog out there who will happily spend the rest of the time at home, lounging like a king.
And I can't end this article without mentioning a study from University of Southern Mississippi, which found that people attributed traits associated with dog breeds to their owners.
So only look for a lazy dog if you want people to think you are lazy too!
Do you have a lazy dog?
What are your favorite ways to chill out together? Are they from a "lazy" breed, or have they surprised you with their leisurely ways?
We love to hear about your dogs, so share your stories in the comments section below!
This article has been extensively revised and updated for 2019.
References
Kubinyi, E, et al. 2009. "Dog and owner demographic characteristics and dog personality trait associations." Behavioral Processes.
Mae, L, et al. 2015. "Spontaneous trait transference from dogs to owners." Athrozoos.
Williams, K, DVM, et al., 2018. "Brachycephalic Airway Syndrome In Dogs"
Science Daily, 2009. "Owners Should Exercise With Their Dogs Based On Specific Needs."
Temple Stowe Vet, 2018. "Exercising Your Dog."