The rocking Rottweiler temperament is confident, bold, calm and protective. They might look like brutes, but this large, powerful, guarding and watchdog breed will have a happily wagging tail for anyone they know well.
Rottweiler temperament makes the breed fiercely loyal and affectionate towards their families, but wary of strangers. Rottweilers can be aggressive when treated poorly or not well socialized, but they still make fantastic trainable companions for active homes. Today we share tips for life with a Rottweiler and how to make their breed traits work for your family. We'll share how to teach them to be a friendly pet, and reduce the risk of aggression. Rottweilers can be good with kids and dogs they know, and socialization can help them to react well to strangers too.
The Rottweiler is a handsome, large and muscular breed that is very popular and well loved within families across the globe. With their potential to be incredibly loyal and loving dogs, the Rottweiler can serve both as a gentle member of the family and a serious protector of the home. However, there are concerns about certain aspects of Rottweiler temperament and how their natural behavior traits may impact on the humans that live alongside them.
Many may have heard the Rottweiler temperament described as aggressive, but is this true? In this article, we will be taking a detailed look into everything you will need to know about the potential temperament and behavior a Rottie may exhibit. So let's get started.
Rottweiler Temperament Characteristics
While Rottweilers can vary in temperament from one another, there are some traits that are common within the breed that you should expect. The Rottweiler bonds strongly to their family, exhibiting unshakeable loyalty towards them.
Rottweilers are generally confident dogs. And willing to act on their own initiative. The breed also has herding, guarding and protection instincts. And may be wary of, and even aggressive towards, strangers. Canine confidence is a good thing, as aggression in dogs is very often associated with fear.
These behavior traits have both benefits are drawbacks, we'll take a look at those as we go.
Dominance in the Rottweiler Temperament
The Rottweiler is sometimes considered to be a 'dominant' dog breed, but dog experts now rarely use the term dominance in relation to such dogs. Studies don't support the traditional view of heirarchies within dog families, and much of the problem behavior we see in more assertive dogs is related to resource guarding. Rather than to a desire to be in charge.
The guarding, herding, and protection instincts of the Rottweiler, can cause problem for inexperienced owners. And the Rottweiler requires an experienced trainer.
Apart from these guarding traits, it's important to realize that there can be quite a lot of variation in the personality of Rottweilers. Some tend to be natural entertainers who love to play, while others may be much more reserved and calm.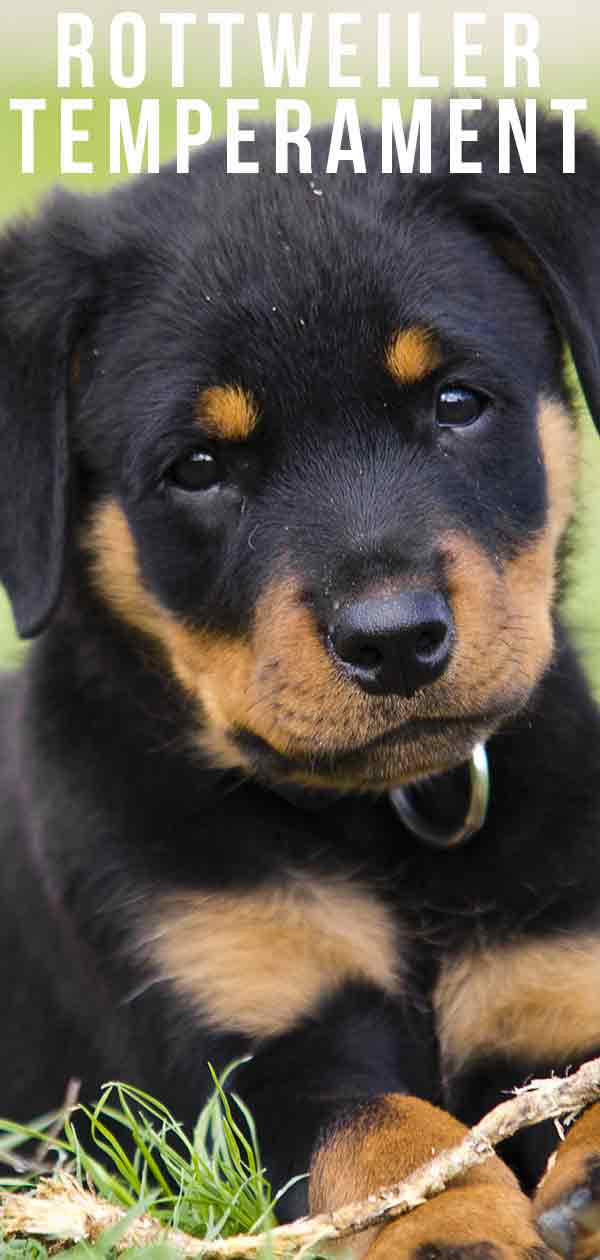 Rottweiler Temperament Trainability
The combination of guarding instincts, and wariness of strangers together with their power and imposing looks have made Rottweilers sought after as guard and protection dogs. But they are intelligent dogs and with the right kind of training, and socialization, many can fit well into family life.
In fact thorough, and breed appropriate training and socialization is vital to ensure a Rottweiler puppy matures into a well-mannered adult.
Rottweiler Training Methods
While Rotties are very intelligent, meaning that they can certainly soak up anything you teach them, they're an independent breed and need to be trained with highly motivating training methods.
Because the breed is independent and confident, the biggest hurdle you need to overcome is building a bond that keeps your Rottweiler's attention firmly fixed on you. So that they are working with you, rather than separately.
They respond well to positive reinforcement training techniques which teach them how to figure out what you want, in order to get what they want.
Remember that if you're struggling to train a Rottweiler, do not just give up. If you feel you aren't up to the task, hire some professional help. Leaving a Rottweiler untrained is not good for your family or your dog.
Are Rottweilers Friendly?
Rottweilers are naturally wary and aloof towards strangers. Most Rotties will not be the type to run around the park seeking affection from every person they see.
To prevent this developing into a problem, you must socialize your dog from an early age. Slowly exposing the Rottie to new people, dogs, and situations can help let your Rottweiler get used to meeting strangers and learn the behavior expected of them in such situations.
If not socialized, a Rottweiler may become fearful of the unknown, and this can cause the development of aggression towards strangers, along with excessive guarding behaviors. It is very important that your Rottweiler receives this training in full.
Provided that they have been socialized correctly, many Rotties are not unfriendly with strangers as long they are respectful of the dog and calm. Tell any interested strangers to let your Rottie give them a sniff and become a bit more used to them before they try to give any pats.
Are Rottweilers Good With Kids?
There are a few issues with Rottweilers and kids. Although they can be very loyal and loving to those in their families, this isn't guaranteed. And if you have kids, they will bring friends over, who the dog won't know and will be wary of.
Rottweilers have been involved in serious dog attacks on children. Within the Children's Hospital of Philadelphia in 1989, Rottweilers accounted for 5.4% of all serious dog bites within that year. This is a proportionately much higher risk than with several other breeds.
Herding Instincts In Rottweilers
Herding is an inherited part of the Rottweiler temperament. Due to their background as a herder, many Rottweilers have a base instinctual urge to round up people and animals. When they are a family companion animal, the dog sees the family as their flock that they must protect.
The main issue with this instinct within the context of the family home is that they may try to herd children and guide them. This can lead to them leaning on the children, or bumping them to go a certain direction. In severe cases, they may even nip at the children.
For this reason, we would not recommend housing this breed with particularly young children. As this breed is so large and heavyset, even a simple bump could knock a toddler over and cause injury.
Chasing Traits in the Rottweiler Temperament
Some Rottweilers may also exhibit chasing behaviors. This is where the Rottweiler is stimulated by fast movement and has a strong urge to chase it down. This could refer to anything moving with speed, such as cars, kids, and joggers.
Noises, such as a child squealing, or unusual behavior such as rolling on the floor, can sometimes trigger predatory behavior. So it's vital that children are never left unsupervised around a Rottweiler, no matter how well they know the dog
Due to this, obedience training is vital to ensure that you can control your Rottie's natural urge to chase. We would also recommend not letting this breed off the leash unless you know you are in a secure area.
Again, training and socialization from a young age is key to quelling these instincts and behaviors before they become a major problem. Always ensure that your Rottie is receiving the best training possible either from you or a professional.
Does Rottweiler Temperament Include Aggression?
As you most likely have heard, Rottweilers have a reputation when it comes to aggression. Along with other breeds, Rottweilers have been represented as a potentially dangerous dog due to reported cases of aggression. But is the entire breed aggressive?
Looking at scientific research into the matter, it is certain that aggression can be present within the breed. Here are some facts and statistics from various studies on the matter:
Rottweilers Have a Strong Bite
Rottweilers have an incredibly strong bite. One that can reach up to 450 pounds of pressure. They have been found to be potentially aggressive toward both humans and other animals.
The breed is banned by some insurance companies, due to concerns about its aggression. In Ireland, the breed is restricted, and they require that the dog is muzzled in public places.
Fatal Rottweiler Attacks
Attacks from Rottweilers have led to fatalities. In a study performed by the AVMA, 50% of all dog attack fatalities in the United States between 1979 and 1998 were attributed to either Pitbulls or Rottweilers. Most victims were children.
With this information, it is easy to see that there at least exists a predisposition towards aggression within the Rottweiler breed. And of course, due to their immense power and strong bite, aggression in this breed is a very serious matter.
Are All Rottweilers Aggressive?
It is not true that every dog of this breed is aggressive. There are plenty of families out there with who have never had a problem with aggression in their Rottie.
There are a lot of factors that go into what may cause a dog to be aggressive. While breed predispositions can be one of them, it can also come down to their upbringing, level of training/socialization, and the circumstances of any given situation.
The single biggest factor involved in aggression in dogs is fear. This is why socialization and raising a confident puppy, is so important
Finding A Friendlier Rottweiler Puppy
It's also worth noting that aggression, along with other aspects of Rottweiler temperament and personality, may be passed down through lines of dogs. For example, if the Rottweiler puppy's parents are aggressive, there is a higher risk the puppy may also develop aggression.
To ensure aggression doesn't become a problem in a Rottweiler puppy there are a few things you can do. First, be sure to purchase the puppy from a trusted and responsible breeder.
If they are recognized by reputable and well-established breeding societies, this can be a good sign. Ask to see the parents and gauge their temperament. Any aggressive or overly guarded nature within them can be a red flag.
Raising a Friendly Rottweiler Puppy
Another thing you should do to help lessen the chances of aggression is to train and socialize the dog effectively. Lastly, avoid rough play with the puppy while it grows.
While it may be fun for both you and the dog, it may encourage aggressive behavior later in life.
Due to the concerns with aggression, we would advise against housing a Rottweiler with young children or other pets. We would also heavily recommend that potential owners of this breed have experience handling independent and powerful dogs. This is not a breed for first-time owners.
Do Rottweilers Like Other Dogs?
While the Rottweiler is naturally wary of strange dogs, with good training they can learn to be calm and accepting of other dogs in their presence. Socialization is again the key to ensuring that the Rottweiler does not engage in aggressive behavior with other dogs.
Same Sex Dogs
There may be issues with the Rottweiler and dogs of the same sex. Some Rottweilers can be aggressive towards dogs of the same sex. For this reason, even if your Rottweiler seems calm, always keep them on the lead if you are in a public area.
If socialized together from a young age, many well-trained Rotties can get along well with other pets in the family, although they may still have issues with dogs of the same sex.
Are Rottweilers Good With Small Pets?
Some Rottweilers may be predatory towards smaller pets such as cats. If you do have a cat within the home, early socialization is key to ensure this behavior does not surface.
Rottweiler Temperament: Guarding Instincts
The Rottweiler breed has worked as a herder and guard dog for millennia, and due to this, Rotties of today still harbor some strong instincts from their past. These instincts can significantly affect a dog's behavior if they are not controlled or expressed in a positive way.
Guarding vs Herding
The herding behaviors seen in Rottweilers can also lead into the guarding and territorial behaviors that are a natural part of the Rottweiler temperament. The Rottie is simply following its instincts and protecting what they see as their flock. However, if these are instincts are not controlled effectively, they may lead to negative behavior.
A Rottweiler with uncontrolled guarding and territorial behaviors may be overly suspicious of strangers, leading to aggressive behaviors towards them. Seeing their home as their territory, any animal or person that enters it may be subject to aggression. It's also possible for a Rottweiler to feel a need to guard other things, such as their food bowl or toys, for example.
Are Rottweilers Good Family Pets?
Rottweilers can potentially be loving and fulfilling family pets, but only if you are able to raise them correctly. This is a breed best suited to a more experienced owner, or one with plenty of support from an experienced mentor. Rottweilers require extensive training and socialization that they become considerate family members and good canine citizens.
Training and proper socialization are critical for this breed to mature into a well-behaved dog. Without proper training, negative traits will appear. If you are looking at Rottweilers as a potential family pet, consider your family situation and your experience handling guarding dogs.
This is not a decision to be taken lightly. You must consider whether they would be a good fit within the family and whether you will be able to raise them properly.
What do you think of the Rottweiler breed? What personality does your Rottweiler have? Let us know in the comments below!
References and Resources