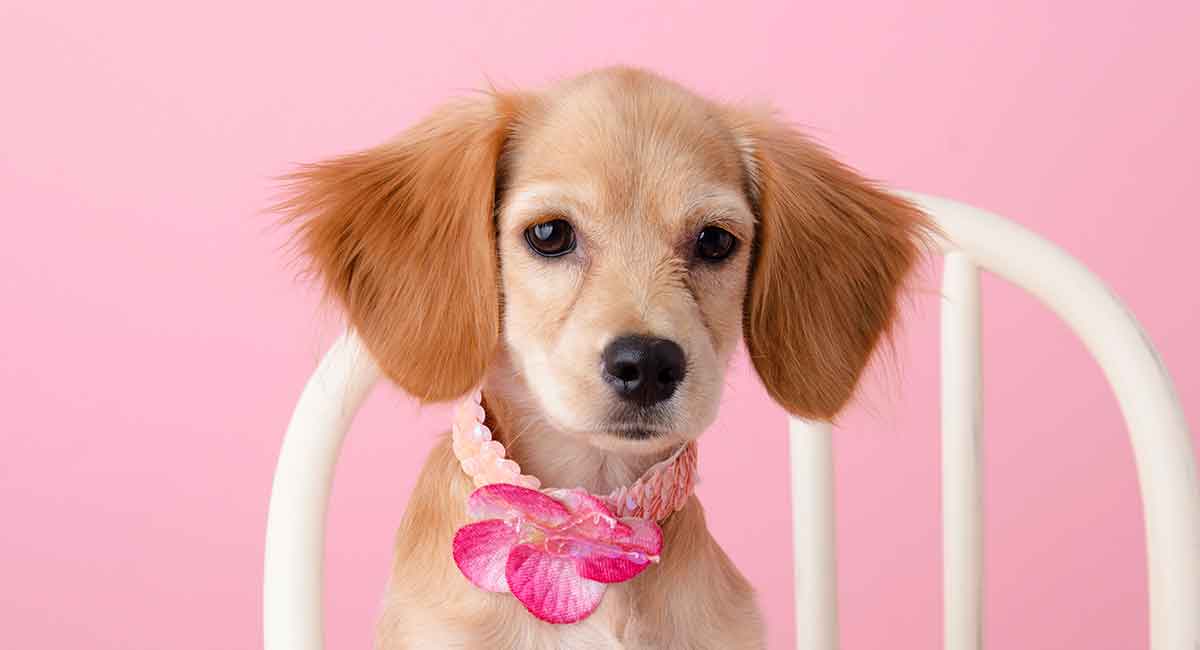 The miniature Cocker Spaniel is an easy dog to fall in love with. They are small, fluffy, friendly and full of love. Bred to be even smaller than the average little Spaniel, it's easy to see why a micro Cocker Spaniel has a big appeal.
But while it is easy to fall in love with these cute little dogs, there are some critical points to consider regarding their tiny size and care. These small breeds often have big problems. We discover the pros and cons of miniature dog breeds, how micro Cocker Spaniel puppies are bred, along with the controversy surrounding these smaller than average canines.
What is a Miniature Cocker Spaniel?
A mini Cocker is a scaled down miniature version of the Cocker Spaniel, bred as small as possible and weighing significantly less than the breed standard.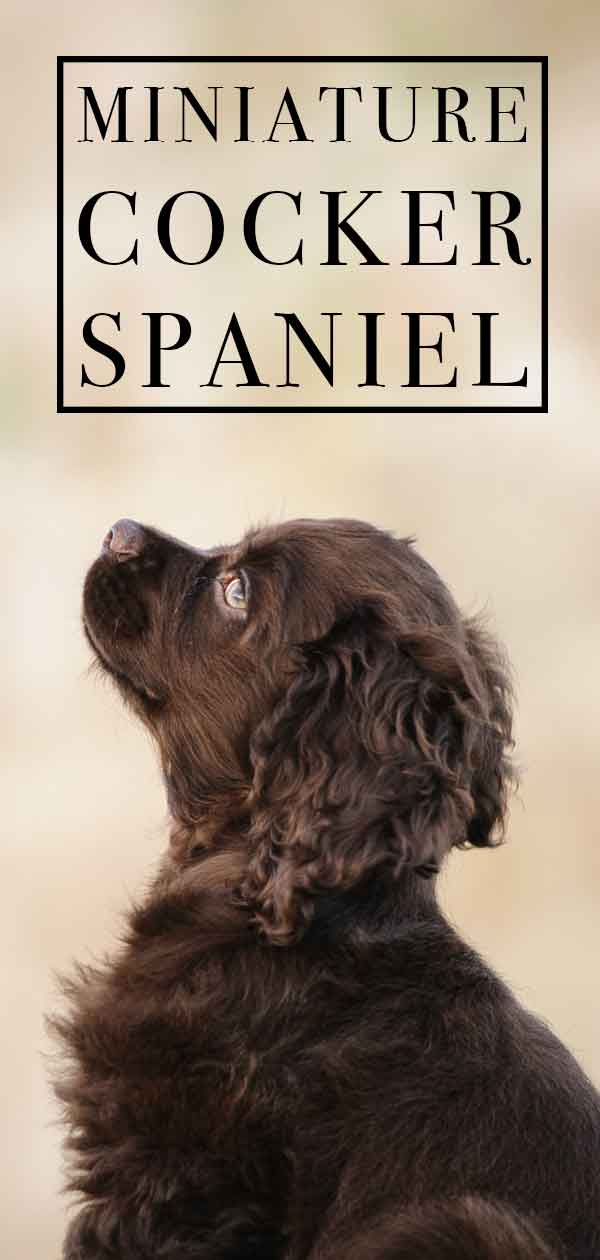 These tiny breeds are also referred to as teacup dogs or micro dogs, emphasizing their extremely petite sizes.
Check out these other mini breeds
However, the Miniature Cocker Spaniel is not an official breed, so is not recognized or endorsed by the AKC or any other major dog associations.
Before we look at the controversy of miniature dogs, let's consider why they are so appealing.
Miniature Cocker Spaniel – The Appeal of Miniature Dogs
Why are tiny dogs so appealing?
If you look at pictures of miniature Cocker Spaniels, no doubt you will gush at their cuteness and wish you could cuddle one!
It is human nature to want to nurture a puppy.
An adult miniature dog breed retains baby-like features, and is why people have a natural tendency to love and protect them.
It's easy to think of some more advantages to permanently tiny dogs too.
They do not require much room, are easy to take anywhere, don't cost much in food, and have minimal exercise requirements.
Before before committing to a mini Cocker Spaniel it is essential to look at the full-sized version, so you have a better understanding of its physical appearance and behavioral traits.
There are two types – the English Cocker Spaniel and the American Cocker Spaniel.
The Standard Cocker Spaniel
The Cocker Spaniel is one of the smallest members of the Gundog group and originates from Spain, tracing back to the 14th century.
The word "spaniel" translates as Spanish dog.
The Cocker Spaniel was bred to flush woodcock from dense bush and is how it earned its name.
This breed is popular now as a companion dog, favored worldwide.
During the late 1800s, the Cocker Spaniel arrived in the USA.
By the 1930s there were two separate breeds – the English and American Cocker Spaniels.
Although they look similar, they are both different in size, appearance, and personality.
Differences between the English Cocker Spaniel and the American Cocker Spaniel
Size
The English Cocker Spaniel is the larger of the two breeds standing at 15 to 17 inches high, weighing between 26 to 34 pounds.
The American Cocker Spaniel stands at 12 to 13 inches high and weighs between 24 to 28 pounds.
So, what is a mini Cocker Spaniel size?
A miniature English Cocker Spaniel and a mini American Cocker Spaniel will both be smaller and weigh less than the two standard breeds.
Appearance
The English Cocker has a medium length coat that is either flat or slightly wavy whereas the American Cocker's is longer and more lustrous.
Both come in all colors including particolored.
The skull of the American is dome-shaped but the English is flatter with both having long, floppy ears.
Grooming
Both types are shedders, although the American sheds more, and require regular grooming to remove loose hair, being clipped every 6 to 8 weeks.
They require their teeth brushed regularly and their ears cleaned once a week, with their nails trimmed every month.
Exercise
The English Cocker is still regarded as a sporting breed and loves to chase game.
It is more active than the American.
The Amercian Cocker Spaniel has lost its hunting instincts but requires vigorous exercise.
Long walks and a run in an enclosed area are perfect.
Temperament
The English Cocker and American Cocker have similar temperaments as affectionate and sweet-natured who love to please.
However, both dogs dislike being left alone for extended periods, which can cause destructive behavior.
Lifespan and Health Issues
Both the English and American Cocker Spaniel live on average between 10 and 15 years.
They have similar health issues that include
ear infections
deafness
eye and skin problems
luxating patella
dilated cardiomyopathy
and certain types of cancer.
For even more detail on the differences between English and American Cocker Spaniels, visit us here.
Creating a Miniature Cocker Spaniel
There is a huge fascination and trend for breeding miniaturized versions of traditional dog breeds.
But, how is it possible to create a mini Cocker with the same characteristics and looks as the standard Cocker Spaniel?
There are questionable breeding practices when it comes to creating miniature dog breeds and the way it occurs.
Miniature Cocker Spaniel – How Miniaturization is Achieved
There are different ways to create a miniature dog, with each method having potential drawbacks.
Therefore, care must be taken when looking for miniature Cocker Spaniel breeders.
Breeding from undersized dogs
Probably the most usual method is by continually breeding from two undersized dogs, usually the runts of a litter, creating puppies that are abnormally small.
Inbreeding practices often occur, too.
As the mother is so small herself, she can often only produce a couple of puppies at one time, and there is the possibility of birth complications.
Mix breeding with a smaller breed
Another way is to mix with a smaller breed, creating a hybrid "designer" dog.
This method is risky as there is no guaranteed outcome.
A puppy can inherit more traits from one parent, and the best or worst characteristics from both breeds.
It's also possible that a mixed breed will only be fractionally smaller than a the averageCocker Spaniel.
Dwarfism
Finally, breeders can selectively breed from two sets of parents who carry genes for dwarfism.
Achondroplasia is an abnormality of the growth and development of the bone and cartilage causing bone deformities and shorter legs than other dogs of the same breed and age.
Pituitary dwarfism is a problem with the growth hormone which is produced by the pituitary gland.
The Cocker Spaniel is predisposed to both causes of dwarfism which can lead to growth abnormalities and severe health issues.
Unethical breeding practices
Some unethical breeders create a miniature dog by purposely not providing the nourishment that puppies require, thus stunting their growth.
Or they mislead potential buyers claiming that a runt is a miniature dog or lie about a puppy's exact age.
Miniature Cocker Spaniel – Controversy of Miniature Dog Breeds
As many celebrities appear with miniature breeds, there has been an increased interest and demand for these tiny dogs.
Micro dogs have become extremely marketable commanding high prices, treated as products rather than living creatures with needs.
A mini Cocker Spaniel price can start at around $2000, sometimes even more.
As reputable breeders refuse to breed teacup pups, this has left the door wide open for irresponsible breeders using unacceptable methods in their quest to create smaller and smaller dogs for money.
Animal welfare organizations are now warning people against buying miniature dogs as they are prone to many health issues and genetic defects, often suffering from intolerable pain.
Many of the puppies sold are sick and sometimes die after a few weeks of buying them so it is possible you may not see your miniature Cocker Spaniel full grown.
Miniature Cocker Spaniel – Health Issues of Miniature Dogs
Your miniature Cocker is prone to the same diseases and disorders as the standard Cocker Spaniel.
However, as a micro dog, they are more susceptible to numerous other health issues as well, with a possibility of going blind, and are unlikely to live very long.
Their organs are not adequately developed, with many having breathing problems, digestive issues, and fragile bones.
Hypoglycemia (low blood levels) is extremely common in miniature breeds, especially if they miss just one meal, causing seizures and possible death. It is therefore wise to feed minis several small meals throughout the day.
Other risks include liver shunt which affects the liver's ability to flush out toxins, water on the brain, and heart defects.
Your vet bills for a mini Cocker can be very high.
Miniature Cocker Spaniel – Psychological Issues
A micro dog can also suffer from psychological issues.
A miniature Cocker Spaniel does not handle stress well as they have weak hearts and should never be left alone for long.
Their small bladders can often cause incontinence and create learning difficulties.
Early socialization is vital for miniature breeds especially when around bigger dogs.
Miniature Cocker Spaniel – Other Dangers
Owners of a miniature Cocker need to stay vigilant as it is easy to tread on one of these dogs or drop them, making sure they don't jump from furniture.
Small children could accidentally hurt them.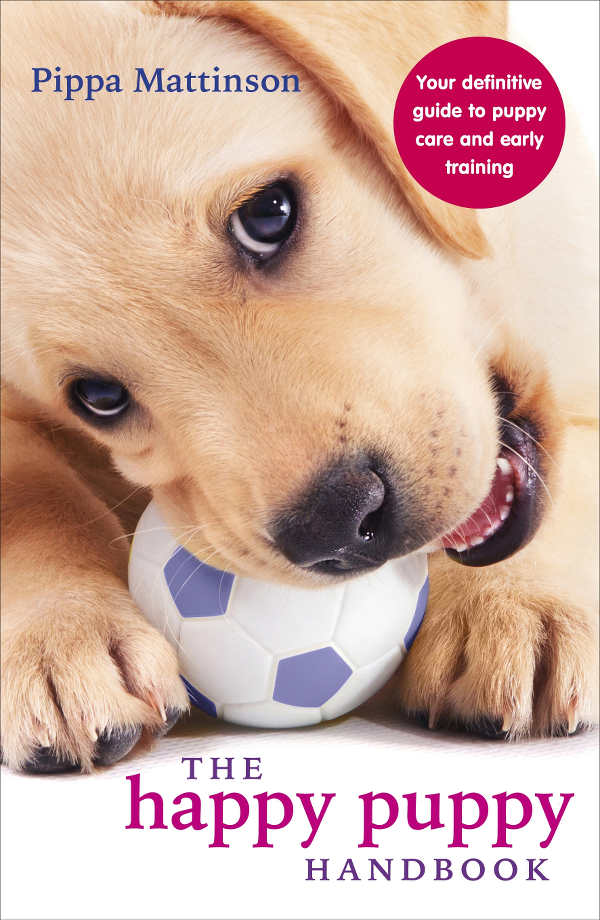 A mini has trouble keeping warm so may need a sweater in the winter.
Due to their low body temperature and sugar levels, operating on a miniature dog is extremely difficult and risky.
Miniature Cocker Spaniel Puppies
If you do want to buy a miniature Cocker Spaniel, be careful when looking for breeders.
Never buy over the internet but always visit the breeder, asking to see both parents, making sure they have been health tested for various issues.
Health testing doesn't mean your miniature Cocker won't have health problems, but it does lessen the odds slightly.
A good breeder will allow you to have a puppy checked by a vet before finalizing the purchase.
Is a Miniature Cocker Spaniel the Right Dog for Me?
We have provided the facts to help you decide if a miniature Cocker Spaniel is the right type of dog for you.
Many mini breeds are created by unethical breeding practices, producing dogs that are weak and prone to numerous health issues.
You may find that your mini Cocker is unable to do what a normal-sized Cocker Spaniel can do, which is one of the reasons many end up in dog shelters (or because they are sick).
These miniature dogs are treated like fashion accessories or toys and are suffering as a result.
We cannot recommend a miniature Cocker Spaniel.
If you want a small dog, it is better to buy a toy dog breed that is recognized by the AKC and has minimal health issues, like the Yorkshire Terrier.
Have you owned a miniature Cocker Spaniel or other miniature breed? Share your story.
References and Further Reading
Pituitary dwarfism in German shepherd dogs: additional evidence of simple, autosomal recessive inheritance.
Short-limbed dwarfism and ocular defects in the Samoyed dog.
Role of Brain in Counterregulation of Insulin-Induced Hypoglycemia in Dogs
Genetic diversity, inbreeding and breeding practices in dogs: Results from pedigree analyses
What Makes Little Dogs Small? Researchers Identify Gene Involved In Dog Size
Neoteny in American perceptions of animals.