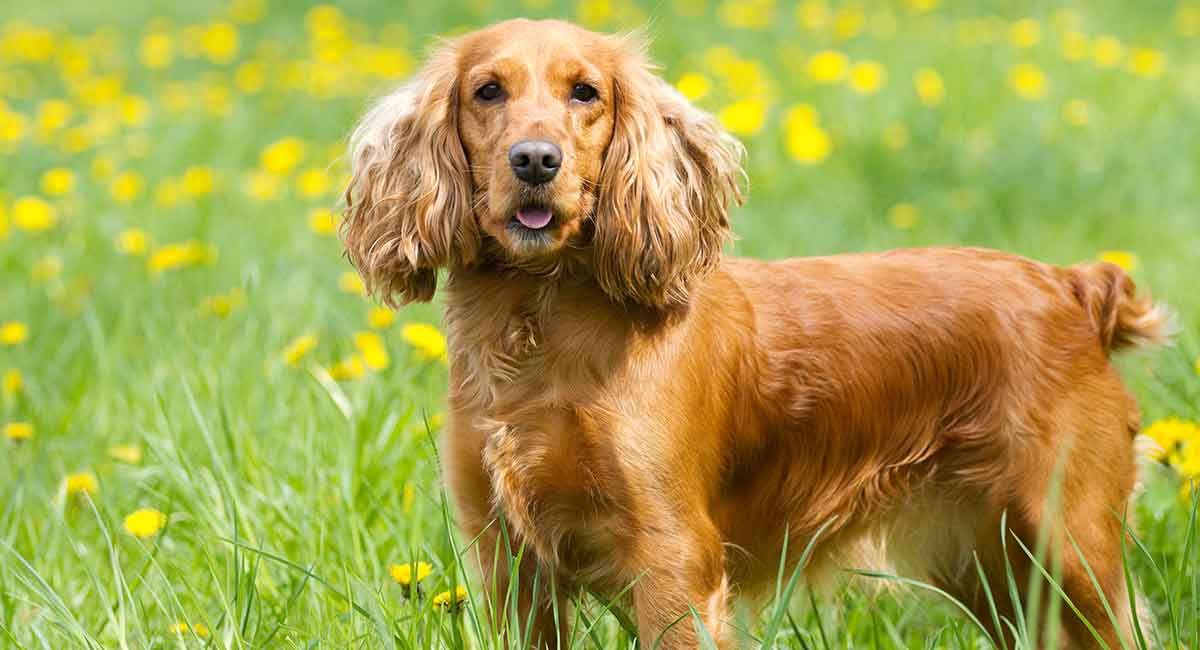 Referred to in the UK simply as the Cocker Spaniel or 'Cocker', in the USA this charming breed is known as the English Cocker Spaniel.
This is to differentiate between him and his cousin the American Cocker Spaniel, who is a very different dog.
The English Cocker Spaniel is friendly, active, and intelligent.
What's In This Guide
English Cocker Spaniel FAQs
Our readers' most popular and frequently asked questions about the English Cocker Spaniel:
A complete guide to the English Cocker Spaniel breed. In this article we will be giving an honest review of this adorable, lively little dog.
Breed At A Glance
Popularity: 56 out of 193 on AKC
Purpose: Sporting
Weight: 26 – 34 pounds
Temperament: Friendly, active, intelligent
If you are thinking of bringing a Cocker Spaniel puppy into your family, this information will help you to decide whether this breed is the right type of dog for you and your family.
English Cocker Spaniel Breed Review: Contents
The English Cocker Spaniel is a small but personality-packed pup. It has gained wide popularity around the world.

Let's start by looking at its history.
History and Original Purpose of the English Cocker Spaniel
Cockers are one of the smallest members of the Gundog group of dogs. They were originally classed as the same dog as the English Springer Spaniel. But they were separately categorised in the 1870's as their own breed.
This original purpose even gave him his name.
'Cocker' comes from 'Woodcock'. This was one of the game birds that the English Cocker Spaniels were bred to hunt for in the undergrowth.
Changes in Purpose
After the second world war, the popularity of cockers as working gundogs waned considerably. They were all but replaced by the all-purpose Springer Spaniel.
But in the 1990s these extraordinary working dogs had a huge surge in popularity. The working cocker is now seen on shoots up and down the country and competes regularly and successfully at field trials throughout the UK.
The cocker is still used frequently as a fabulous hunting companion. But he is now also welcomed into family homes as pets, shown in the ring and used for other activities like agility training and flyball.

The main difference of the breed from his origins actually lies in the divergence of type.
Fun Facts about English Cocker Spaniels
The main dog, Lady, from Disney's popular 'Lady and the Tramp' is actually an English Cocker Spaniel!
Lady shows off the elegant and regal appearance of these pups.
And so can their owners! Prince William and the Duchess of Cambridge, Kate Middleton, were given a cocker spaniel called Lupo as a wedding present by Kate's brother!
Cocker Spaniels have also been a popular pet with presidents!

John F. Kennedy had a cocker called Shannon. Harry S. Truman had a cocker called Feller. And
Rutherford B. Hayes had a cocker called Dot!
English Cocker Spaniel Appearance
The cocker spaniel is a small to medium sized dog. It weighs on average around 30lb (14kg) and being 15 to 16 inches tall (40cm).
You can find out about the development stages he will experience as a puppy here!
He has a square, balanced body, with even proportions to his legs and torso. He also has distinctly floppy ears and a silky coat.
Cockers come in a wide range of colours, including various solid shades, roans, and patches.
But Not All Cockers are the Same…
However, although these factors are in common with all cockers, they seperate at this point into two distinctive stains. Those bred for working (or field) lines, and those bred for show (or bench) lines.
And they are as different as chalk and cheese.
Several gundog breeds have become divided in this way. But the Cocker is arguably more deeply divided than any other. The two strains being virtually unrecognisable as the same breed.
Working Cocker Appearance
The working strain of the cocker spaniel resembles their spaniel ancestors. They are strong, compact little working dogs with huge hunting drive and good retrieving instincts.
For their size, they are probably the most powerful of our gundogs. These pups are capable of leaping fences and walls, and of carrying game weighing up to third of their own bodyweight.
The working cocker has tight, bright eyes, and a medium coat with moderate feathering on the legs, chest, and ears. His coat may be slightly wavy or curly, but not excessively long.
Likewise, although the working cocker has long ears, they are of medium length ears which he can lift up high when alert and listening.
There is arguably more variation in appearance between working bred cockers than there is between their show bred cousins. As this is not the main consideration that breeders will look to when choosing parents for a litter.
Show Cocker Appearance
The show cocker is often larger and less nimble than his working cousins.
He has a high domed forehead and his ears are long, and set very low on the side of his head. So low in fact that when they drink they often dip into their water bowls and get wet!
Many show cockers have very profuse long coats, with soft and silky fur. Their forelegs, hind legs and body will all be well feathered.
Some show cockers suffer from loose eyelids, due to excess skin on the face. They may also be subject to ectropion, an outward drooping of the lower eyelid which can be painful and makes the eye prone to injury or infection.

With their long ears and droop to the eyes, they can often be mistaken for being sad, which is rarely the case. Both show and working cockers are actually generally very cheerful little souls.
English Cocker Spaniel Temperament
Just like with their appearance, there is a difference between working and show cockers when it comes to temperament.
Knowing this difference can help you decide which one will best suit your home.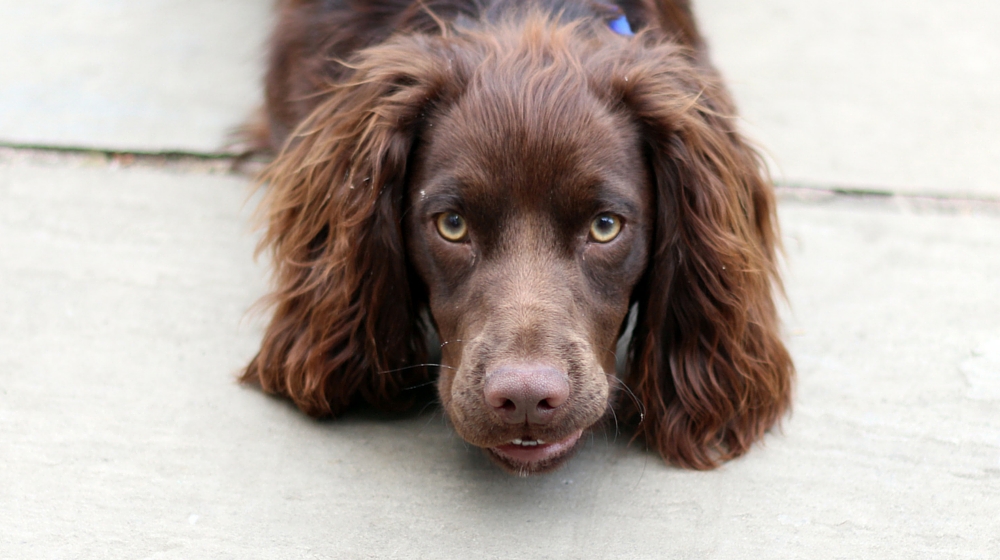 These differences in temperaments will mean different things to each family. If you are active and busy, always on the go, then you will probably find the working cocker spaniel temperament more appealing.
If you have less time to dedicate to training and stimulation at the moment, then a show cocker spaniel will probably hold greater attraction.
But both working and show bred cockers are usually devoted dogs, loyal to their family and keen for human attention. They are loving little dogs across the board, who will show affection liberally.
Working Cocker Temperament
All cocker spaniels are lively little dogs. However, the working bred cocker is normally more enthusiastic than his show bred cousin. He has an enormous stamina for staying up and at 'em all day long.
Working bred cockers do tend to stay alert even after a fairly busy morning.
They require more stimulation, and are better suited to a more active home.
Show Cocker Temperament
Some (but not all) show cockers have lost much of their hunting 'drive', which can make them easier to train with the basic commands, as they are not being constantly distracted by the potential for adventure in the undergrowth.
In general for this reason show Cocker Spaniels do tend to be more placid and less energetic little dogs.
A show bred cocker spaniel will probably be happier to lie down next to you after a good long walk an relax.
Separation Anxiety
English Cocker Spaniels are lively dogs, and as a result can get themselves into accidental mischief if left unsupervised at home.
They are strongly bonded to their family, and can display behaviours associated with separation anxiety if left alone for long periods of time.
Chewing, barking and destruction of your property could be a result of inadequate company at home.
Outside Supervision
But it is outdoors that you need to be vigilent, especially with working bred cocker spaniels.
From day one of walking with your working bred Cocker Spaniel, he will need supervision and management outdoors. This will help you to ensure that he does not develop a habit of hunting further and further away from their owners, and getting himself into trouble.
Show cockers tend to be less inclined to this behaviour. So if you are looking for a calmer friend, one happy to trot along at your heels on a walk, rather than find every rabbit in the county and chase him from his bramble bush, then a show bred cocker may be more to your taste.
But he will still require training and a watchful eye, as the instincts are still there, albeit buried deeper!
Natural Instincts
One thing to be aware of with the English Cocker Spaniel is their natural instincts. Although this is more likely to be an issue with working Cockers than show Cockers.
Almost all Cocker Spaniels are affectionate dogs, without guarding instincts or suspicion.
But both breeds show strong prey drives. When they see smaller animals, they may tend to chase after them.
This can mean they aren't the best dogs for families with other small animals. Especially when it comes to the working Cocker.

Outdoors, the working cocker is transformed into a hunting machine. He craves scent, and follows it wherever it takes him, nose glued to the ground.
Barking
Whilst barking is a learned behaviour to some extent, it does seem to have a genetic component. If your pup's mother is very vocal, then there is a likelihood that your puppy will be the same.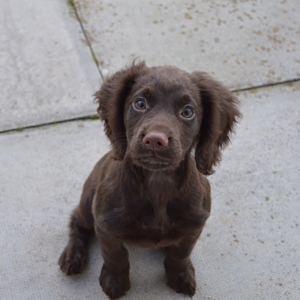 Barking is not a desired trait in Cocker Spaniels, but some working strains will be more likely to yap when excited than others.

If you are concerned about noise, then choosing a quiet pup from a quiet parent will increase your chances of having a less noisy home!
Training your English Cocker Spaniel
Because of the slightly stronger natural instincts in the working Cocker, he will require more training.
Prey drive exists in both types, but especially owners of the working strain will need to concentrate their efforts on getting an excellent recall command established.
Even though the show Cocker doesn't express these natural instincts to the same extent, they still need training.
Both dogs are clever, so will take to training well. But training should be started as young as possible, and should remain consistent.
Differences Between the Two
Show cockers are intelligent little dogs and can be trained, but they may be vulnerable to injury when romping through the undergrowth, due to the full tail and loose skin around the eye. (It is illegal to dock the tail of a spaniel not bred to be a working gundog.)
The working cocker is a tiny powerhouse of activity. He is always busy, both outdoors and in. These are intensely happy, affectionate little dogs but they are rarely still. Show cockers will slow down more than working cockers, but they will still be lively little dogs.
Socialization
As well as training, socialization should be started as early as possible.

Socialization can help your English Cocker Spaniel be as happy as the breed are known for being, in every new situation.
Exercising your English Cocker Spaniel
Both working and show cocker spaniels require daily exercise. Whether it is in the form of exuberant fetching games in the garden or a good long walk in the countryside, they have plenty of energy to burn.
This, combined with the extreme agility of these action packed little dogs means that they make great sporting companions.
It can also make them stressful walking companions if you are looking for a dog to accompany you along with an elderly relative or small child, who find it hard to keep up or require a fair amount of your attention.

However if you are keen on getting involved in a sporting activity with your dog, working cockers excel at agility, flyable, tracking and gundog work.
English Cocker Spaniel Health and Care
In general English Cocker Spaniels are a healthy breed of dog. However they do have some tendencies towards health problems, which you will need to be aware of before you choose your new puppy.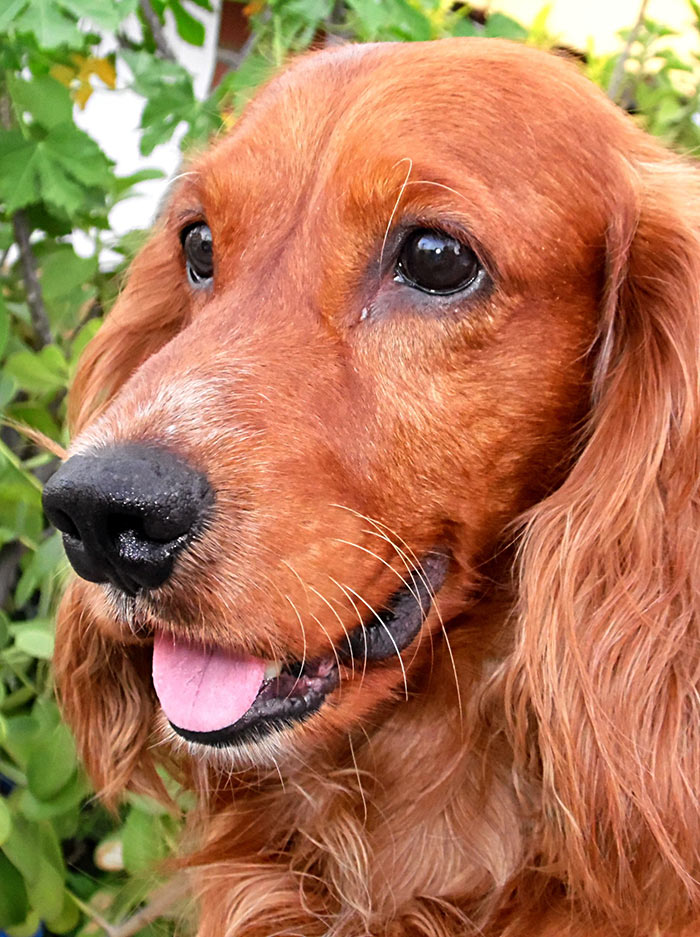 Cocker Spaniels are more susceptible to mammary cancer and pyometra than most other breeds. Pyometra is a scary condition whereby the uterus or womb of the bitch becomes infected, inflamed and filled with pus!
It is not easy to detect, potentially hazardous to treat and can result in death.
For this reason you may need to spay your female cocker to protect her long term health. Whereas we don't usually advocate routine spaying of bitches without cause, we do feel that the risks are so high in this breed as to probably swing the decision more firmly in this direction.
Ear Problems
Cockers are prone to ear problems, in common with all floppy eared dogs. This will be more likely in show bred cockers who have very long ears, but is still a risk in the working strains.
You will need to keep an eye on your puppy's ear health by regularly checking them and cleaning his ears if necessary.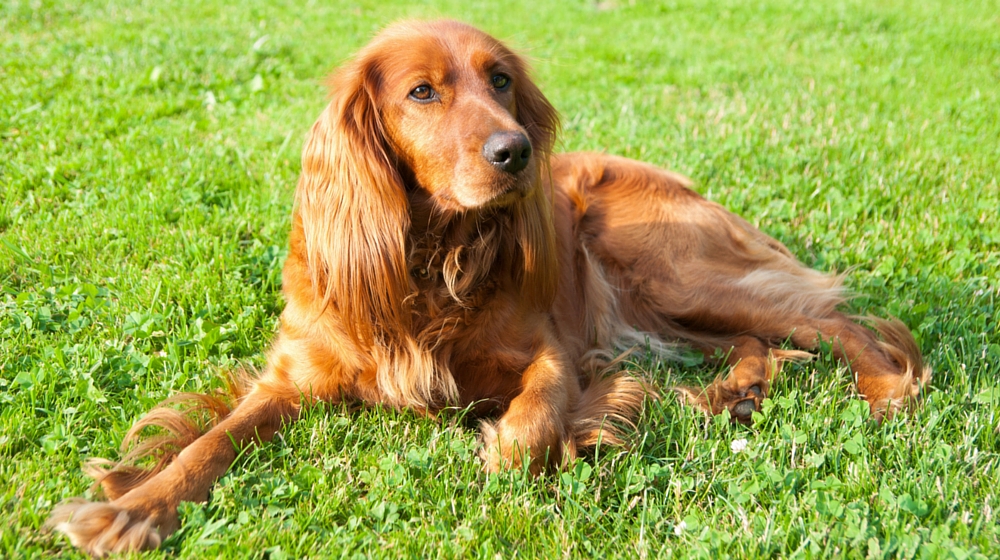 Fortunately, there are usually clear signs if your dog is troubled by an ear condition. He will shake his head, paw at it or rub it along the ground.
If your pup displays any of these symptoms, then you can pop him down the vet who will be able to give you appropriate ear cleaner or medication to help.
Eye Problems
Show bred Cockers may suffer from ectropion. A condition where the eyelid droops and exposes the eye.
This can be treated medicinally or in extreme cases with surgery.
When you pick your show cocker puppy, take a look at the mother and father's eyes and ask the breeder whether they have had to treat them for the condition.
If either of the parents has required correctional surgery then the chances of your puppy having the same are increased. It would be sensible to find a breeder whose dogs have the best eye health, to give your pup the greatest chance of good eye health of his own.
Progressive Retinal Atrophy
All types of Cocker Spaniel may suffer from Progressive Retinal Atrophy, a genetic disease that affects numerous breeds of dog.
PRA leads to blindness, so it is important to only pick a puppy from a litter with parents that have been tested as clear from the disease. This will hugely reduce the chances of your puppy developing this condition.
There are several other genetic diseases you will need to be aware of when choosing your new English Cocker Spaniel puppy.
Genetic Diseases
There are a number of inherited diseases that can affect cocker spaniels and there are tests available for some of them.
These include hip dysplasia, where a malformation of the hip joint can cause pain and problems walking. Depending upon the severity of this condition your puppy will either need pain medication, surgery or in extreme cases euthanasia.
Buying your pup from hip scored parents with good hip scores will reduce the chances of your puppy suffering – however, at present not many breeders are scoring their parents so you will need to choose careful and decide whether you are happy to run the risks.
Other tests your puppy's parents should have been shown to be clear for include Familial Nephropathy, a kidney disease, and Gonioscopy, a test for a type of glaucoma
Health Testing
Health testing is only just becoming popular in breeders of working strain cockers and you will still find it hard to buy a working cocker puppy whose parents have been put through all the relevant tests.
There is a lot of misinformation within the working gundog community as to the prevalence of some cocker health conditions and a misconception that working cockers are somehow unaffected.
This is not true, but old beliefs die hard, and you will still find very well bred cocker pups out of champion stock, that have not been tested at all.
If a puppy has not been health tested, the sensible thing to do is to walk away and find one which has. Cockers are a popular breed and many litters are responsibly bred each year.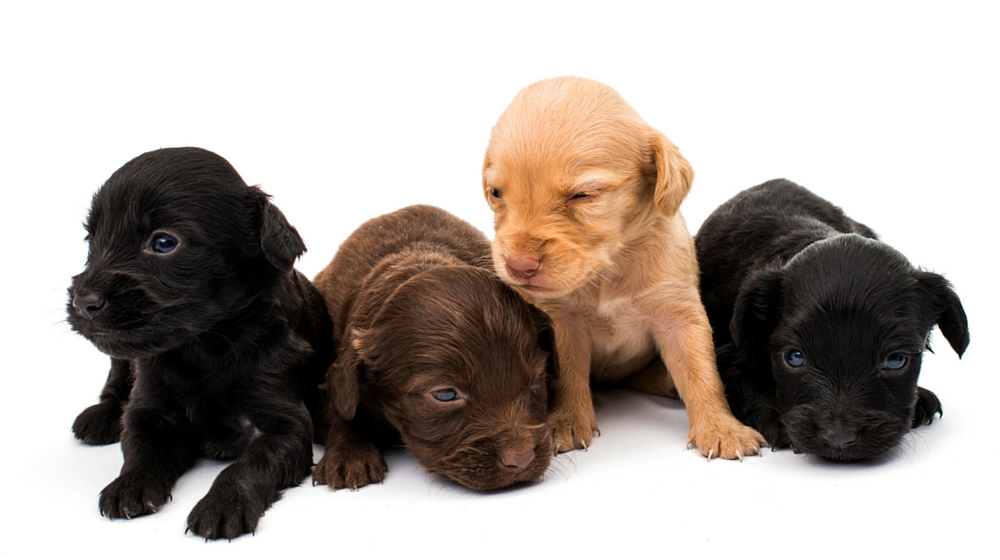 Only you can make the decision on which puppy to choose, but in my opinion it is better to wait for a healthy puppy, than run the risk of bringing home one who will suffer, and cause your bank balance to suffer along with it, for years to come.
Lifespan
Despite the potential issues with health testing, it has to be said that English Cocker Spaniels are generally healthy little dogs.
They have a good average lifespan of twelve to fourteen years, and have been known to live a few years longer than this if unaffected by genetic diseases.
Picking a puppy from a breeder who has carried out all of the relevant health tests, and has lines of dogs who are known for their longevity will all help your puppy have the best chance of living a long and happy life with you.
Grooming and General Care
Whether you decide to bring home a working bred or show bred English Cocker Spaniel, you will need to commit to staying on top of their grooming needs.
Grooming twice a week with a wide brush will keep them free of tangles, but you will need to clip their coats two or three times a year to prevent them becoming unruly or getting in their way.
The long ears and profuse coat of the show strain requires more grooming and care than that of their working cousins.
Don't be tempted to try and use a tight brush like the Furminator on soft cocker spaniel fur. Do use your fingers where possible to tease out knots and burs that get caught in their coat.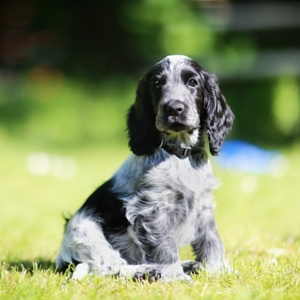 When you bring your new Cocker Spaniel puppy home, get him used to being brushed regularly from that first week. Even though he won't need grooming straight away before his coat has grown in properly, grooming will help him to become familiar with the process.

Keep the grooming process fun and positive with lots of affection and treats. You will then find grooming easier and more enjoyable as your dog grows up.
Do English Cocker Spaniels Make Good Family Pets
In the right homes, both working bred and show bred English Cocker Spaniels make great pets.
To be the right home for any Cocker Spaniel you will need to be fairly active and committed to training them when they are young.
You will also need to be prepared to groom him regularly. Make sure you're prepared for a dog who may be quite vocal, and will want to follow you everywhere.
You should consider another breed if you are unable or unwilling to exercise or groom a dog regularly. You will also need to take into account the English Cocker Spaniels' need for supervision.
Both working and show Cockers are really friendly dogs, so will do well with big families that can give them lots of attention.
However, because of their stronger prey drives, working Cockers may not do as well in homes with smaller pets.
Choosing the Right One
For an active family that has the time and energy to devote to training and who are committed to supervising and engaging with their dog outdoors, the wonderful Cocker Spaniel is a great choice.
If you want to try out activities like flyable, gundog training or agility then a working cocker might be your preference. If you want a slightly calmer companion, or to try your hand at ring craft, then a show bred cocker will probably be your preference.

This very divided breed has however produced two very lovely dogs, so it's up to you and your family to decide which one would make the perfect pet for your situation.
Rescuing an English Cocker Spaniel
Choosing a rescue dog is a good way to give an English Cocker Spaniel a second chance at a loving home.
Adopting a dog from a rescue is a good way to know a little more about your pup before you bring it home. You should be able to find out more about its temperament, and health history.
Rescue centers will often interview you before you can take your chosen dog home.

Finding an English Cocker Spaniel Puppy
When you visit your potential puppy, make sure you meet his mother. She should be clearly happy to see you, with a wagging tail and no signs of seeming shy or suspicious towards you.
They might well be bouncy and racy around, and will possibly bark a little.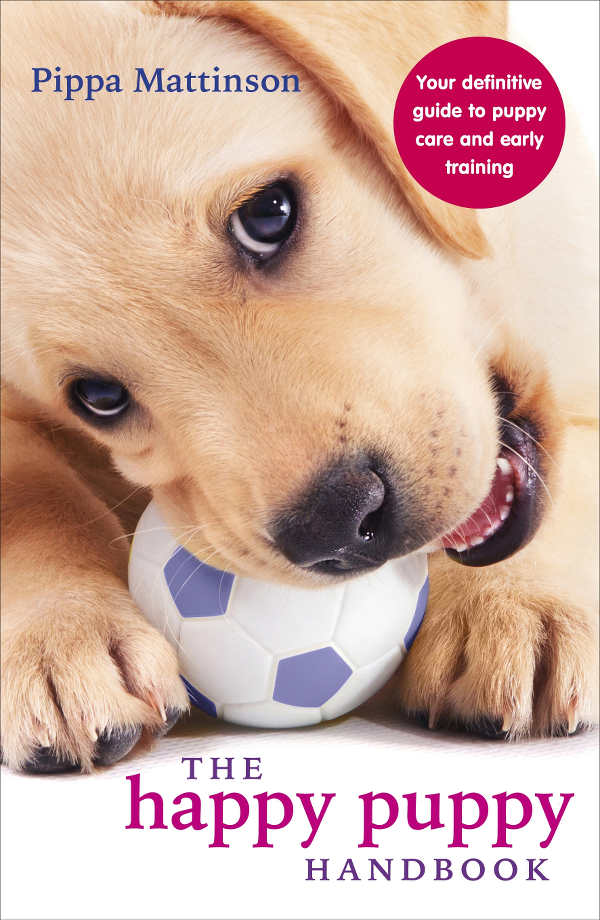 But as we looked at earlier, choosing a pup with quieter parents can help curb barking in adult dogs.
Ask to see the medical history of your pup. If your breeder doesn't have this, you should try to find a pup that does.
Where to Avoid
Make sure to avoid puppy mills. These usually produce puppies without concern for the quality of their health.
Puppies and their parents in puppy mills often aren't kept in good conditions, and aren't socialized or cared for as well as they should be.
Pet stores often buy their puppies from puppy mills, so both of these places should be avoided.

If you want any more help with choosing a puppy, check out our Puppy Search Guide.
Puppy Price
Your cocker puppy will cost you around £400 – £600 to buy, but the actual costs of having a dog are in raising and caring for him.
Factoring in insurance, feeding, routine medicines like wormers and a whole lot of your own time.
If you are happy that you have the money and time for a dog, and that your family are also keen for a new furry member of the family, then a cocker Spaniel could be an excellent choice.
Raising an English Cocker Spaniel Puppy
Caring for a vulnerable Cocker puppy is a big responsibility.

There are some great guides to help you with all aspects of puppy care and training. You'll find them listed on our Puppy Care page.
Popular English Cocker Spaniel Breed Mixes
If you're not sure this breed is the one for you, you could also try looking at English Cocker Spaniel breed mixes.
These can be a great way to get the best qualities of two dogs in one!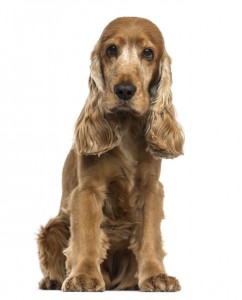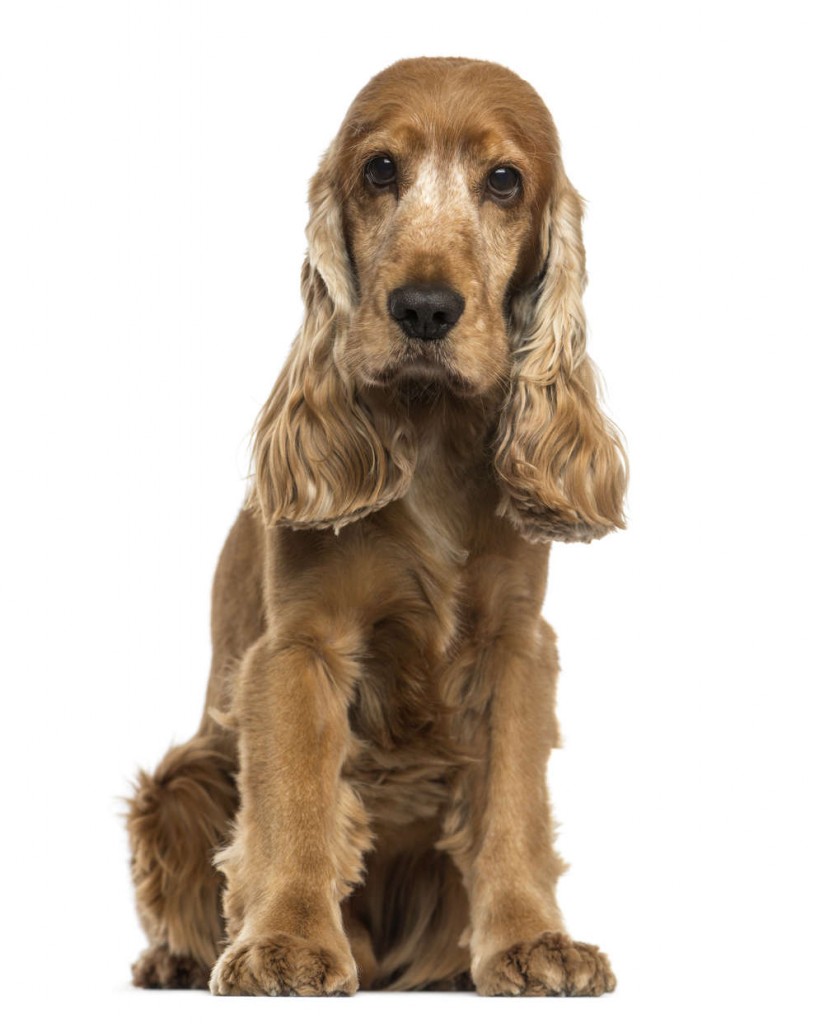 Take a look at some of our English Cocker Spaniel mixed-breed guides:

Comparing the English Cocker Spaniel with Other Breeds
If you're looking for direct comparisons between the Cocker and some other breeds, take a look at our breed comparison guides.
Similar Breeds
If you're not sure you'll be able to provide the best home for an English Cocker Spaniel, you might want to check out some similar breeds.
Here are some breeds with some similar lovable qualities.

Pros And Cons of Getting An English Cocker Spaniel
There's a lot of information to take in when reading about the English Cocker Spaniel.
So let's quickly recap everything we've learned.
Cons of Cockers
They require a lot of exercise and active time.
Cockers need a lot of supervision to avoid destructive behaviors and naughty habits outside.
These pups need quite a lot of grooming – especially if they spend a lot of time getting dirty outside.
Cockers can be prone to a few serious health problems.
They can also be quite vocal dogs.
Pros of Cockers
They're really friendly dogs when socialized well.
Cockers are intelligent and can take really well to training.
These pups love spending time with their family.

They are generally quite healthy dogs when looked after properly.
English Cocker Spaniel Breed Rescues
Here are some Cocker rescues near you.
USA
UK
Canada
Australia
If you know any other great English Cocker Spaniel Rescues, let us know their names in the comments below, so we can add them to this list!
References And Resources
Gough A, Thomas A, O'Neill D. 2018 Breed Predispositions to Disease In Dogs and Cats. Wiley Blackwell
O'Neill et al. 2013. Longevity and Mortality of Dogs Owned In England. The Veterinary Journal
Schalamon et al. 2006. Analysis of Dog Bites In Children Who Are Younger Than 17 Years. Pediatrics
Duffy D et al. Breed differences in canine aggression. Applied Animal Behaviour Science 2008
Adams VJ, et al. 2010. Results of a Survey of UK Purebred Dogs. Journal of Small Animal Practice.