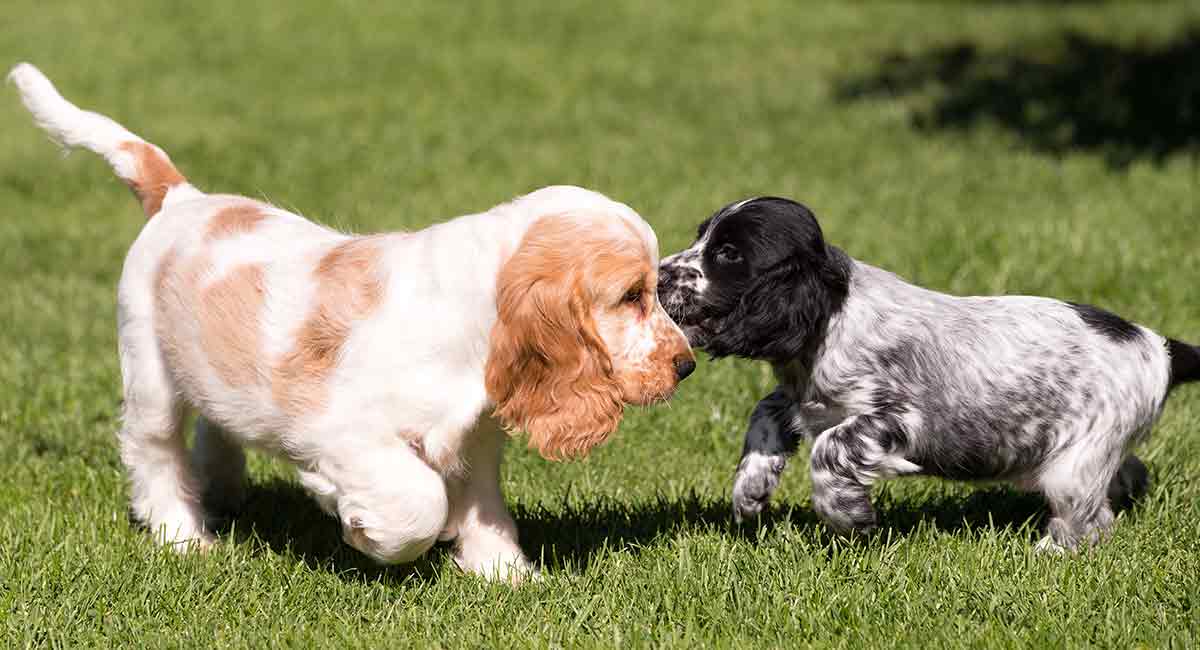 There are 23 different English Cocker Spaniel colors.
And there may be more to an English Cocker Spaniel's coat color than meets the eye.
Are English Cocker Spaniels with certain coat colors are more dominant and aggressive than others?
Can their shades or patterns tell anything about a dog's health?
Let's look at the research, and separate the facts from the myths.
English Cocker Spaniel Colors
The range of gorgeous English Cocker Spaniel colors include:
Black
Tan and black
Black and white
Black, white, and tan
Blue roan
Blue roan and tan
Golden
Lemon roan
Liver
Liver and tan
White and liver
Liver roan
Tan and liver roan
Liver, white, and tan
Orange and white
Orange and roan
Red
Red roan
Lemon and white
Red and white
Sable
Sable and tan
White and sable
But not all of these are 'official' colors.
The lemon and white, red and white, sable, sable and tan, and sable and white are not considered standard.
Blue roan is the most popular color choice.
Solid vs Patterned
Golden, black, red, liver, liver and tan, and black and tan are considered solid colors.
English Cocker Spaniels can also have different markings, including tan markings, white markings, or ticking.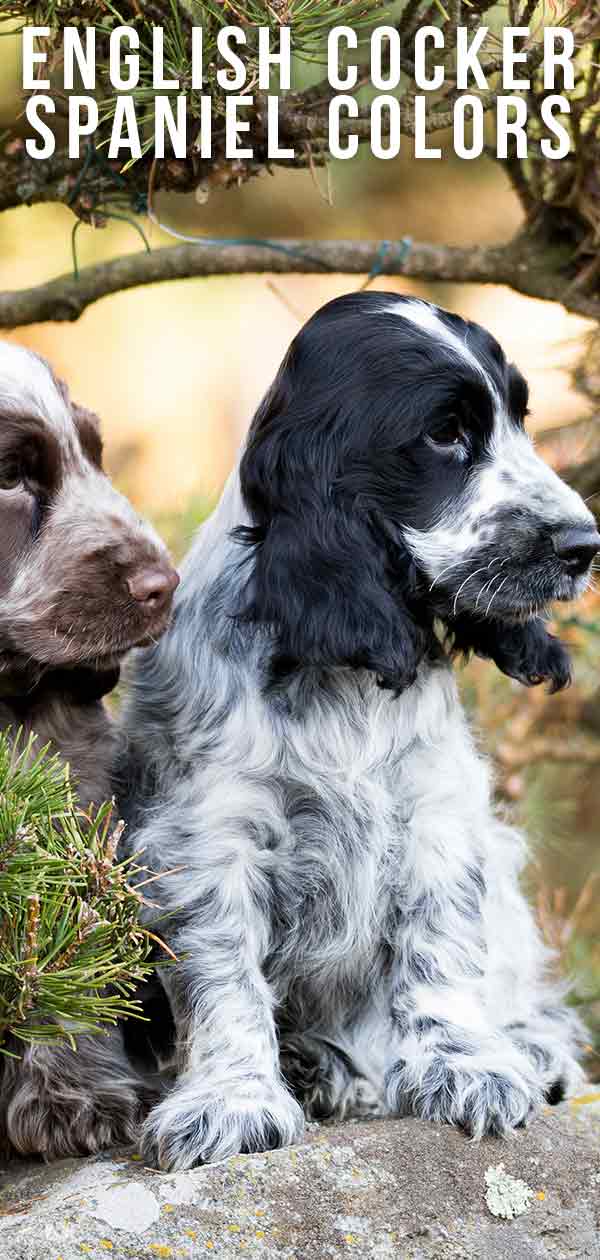 Because there are so many different English Cocker Spaniel colors, we don't have room to talk about all of them.
Instead, we will discuss some colors that have been the subject of studies.
Golden English Cocker Spaniels
Lemon, golden, orange and red Cocker Spaniel coat colors are all somewhat related on the genetic level.
They have the same location on a chromosome and are produced by recessive genes.
However, the way they are paired with other color genes (and thus the way we see them) is quite different.
As you can imagine, the golden shade is sort of in the middle of the four colors.
It is not as light as lemon, but not as dark as red.
A golden English Cocker Spaniel usually has a black nose.
Red English Cocker Spaniels
This is a much deeper shade of golden, and in some cases, it can be as deep as the red of an Irish Setter.
Red English Cocker Spaniels have black or liver colored noses.
Black English Cocker Spaniels
A black English Cocker Spaniel is completely black.
Sometimes they have a little white on their throat, and this is still acceptable for show purposes.
The nose and rims of black Cocker Spaniels' eyes are black in color.
The eyes will be very dark brown, if not black.
Particolor English Cocker Spaniels
Particolor English Cocker Spaniels are those made up of two or more colors or have markings.
All but six of the 23 English Cocker Spaniel colors are particolors.
Which makes the English Cocker a truly kaleidoscopic dog breed!
But did you know that some studies have found evidence of a link between coat color and temperament in English Cocker Spaniels?
Let's find out more!
English Cocker Spaniel Personality
Before we get into the research, let's talk about the general personality of an English Cocker Spaniel.
English Cocker Spaniels were bred for two main reasons: for show and for sport.
Because of this, there may be some slight differences in personality between the two types.
An English Cocker bred for hunting is often more energetic and needs more stimulation before he calms downat the end of the day.
English Cocker Spaniels bred for show, on the other hand, are typically more placid and relaxed around the home.
Still, neither are couch potatoes.
Both types will need exercise before they're willing to lay around the house.
The English Cocker Spaniel as a breed is a devoted, loyal, and loving companion that enjoys human interaction.
Unfortunately, not all individual English Cocker Spaniels are this way.
The breed is among those with greatest problem of aggression toward humans.
It is for this reason that researchers decided to study the relationship between aggression and English Cocker Spaniel coat colors.
We'll look at their findings in the next section.
Coat Color and Dominance/Aggression
In 2005, a study called "Heritability of dominant–aggressive behavior in English Cocker Spaniels" was published.
In this study, researchers used the Campbell test to evaluate aggressive behavior in English Cocker Spaniel puppies.
The Campbell test has five parts, each of which observe a puppy's reaction to the behaviors of the test leader.
For instance, one part of the Campbell test involves gently holding a puppy on its back so that it cannot get up.
Potential reactions to this include:
struggling that involves biting or growling
the same, with no biting or growling
struggling and then calming
no struggling at all
Overall, the study found that males are more dominant than females regardless of their coat color.
Secondly, coat color does have an effect on dominance, with golden being the most dominant.
Followed by black, and particolor being the least dominant.
The study also found that dominant behavior is a heritable trait which is more likely to be passed on by the dam than the sire.
Agreeing Studies
The results of this study coincide with an earlier study performed in 1997, which also found that solid colored English Cocker Spaniels were more aggressive than particolored ECSs.
There were 13 total types of aggression surveyed, which included:
Aggression toward strange dogs
Toward strangers approaching the dog
At people approaching/visiting the home
Towards people approaching the owner away from home
At children in the household
Towards other dogs in the household
When the owner gives attention to another person or animal
Toward the owner or a member of the owner's family
When disciplined
At times reached for or handled
When in restricted spaces
At meal times/defending food
Suddenly and without apparent reason
The study found that solid colored English Cocker Spaniels were more aggressive than particolors in 12 out of the 13 contexts.
That is, all except for number aggression towards strange dogs.
Furthermore, golden/red English Cocker Spaniels were recorded as more aggressive than black colored Cockers in a number of situations, including scenarios 1, 4, 5, 7, 8, 9, 10, 11, 12, and 13 as indicated above.
Neither of the two studies mentioned liver, black and tan, or liver and tan colored English Cocker Spaniels, which are considered solid colors by the English Cocker Spaniel Club of America.
And they may not have studied all of the 23 possible color patterns.
The 1997 study also appears to consider red and gold as the same color, or at the very least groups them together as the most aggressive.
However, the ECSCA and the AKC identify them as separate colors.
English Cocker Spaniel Colors and Health
In general, there aren't many health issues in dogs that correspond with coat color.
The white pigmentation in Dalmatians has been associated with deafness and blindness in the breed.
But this shade of white is actually considered to be caused by genes for "extreme whiteness," which do not exist in English Cocker Spaniels regardless of any white coloring in their coats.
Merle has also been considered a problematic shade when crossed with other dogs that carry merle or harlequin genes.
Luckily, English Cocker Spaniels are not bred to be merle or harlequin in color.
Overall, there is no significant research or evidence to suggest that English Cocker Spaniel colors are indicative of the dog's current or future health.
English Cocker Spaniel Colors
So to sum up, English Cocker Spaniel colors vary greatly, with 23 possible shades and three different types of markings.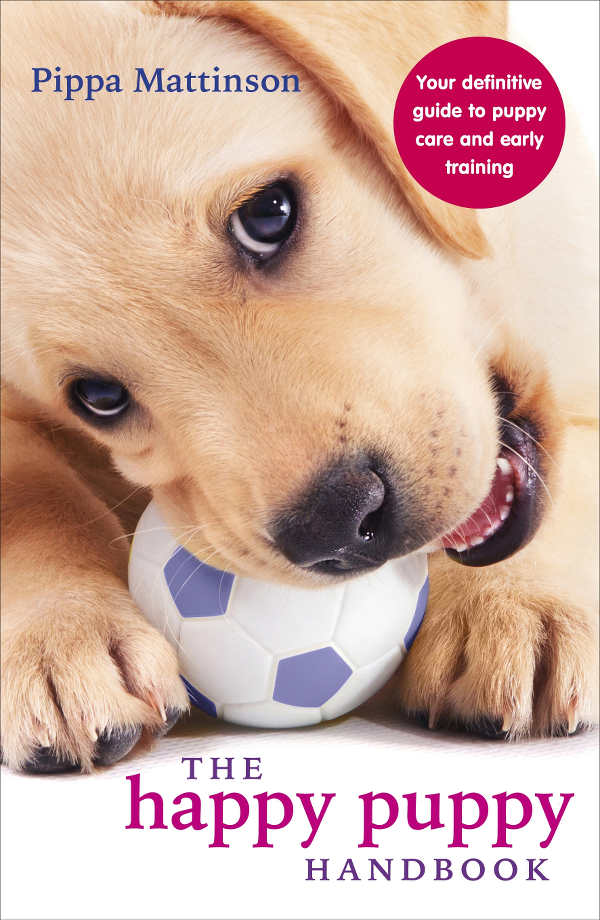 English Cocker Spaniels tend to be loyal, affectionate companions.
However, there have been enough cases of aggression for researchers to choose this breed as their test subjects when studying the effects of coat color on behavior.
Researchers found that some colors do exhibit aggressive or dominant behaviors more often than others.
A golden or red English Cocker Spaniel coat is most linked to unwanted behaviors. Particolor English Cocker Spaniels recorded the least unwanted behavior.
What do you think?
Have these studies changed your opinion about English Cocker Spaniel colors?
Are you more likely to choose a particolor if you adopt an English Cocker Spaniel?
We'd love to know your thoughts in the comments below!
Works Cited / Further Reading
Amat, et al. "Aggressive behavior in the English cocker spaniel." Journal of Veterinary Behavior. 2009.
Beaver, B.V. "Clinical classification of canine aggression." Applied Animal Ethology. 1983.
Clark, et al. "A Missense Mutation in the 20S Proteasome Β2 Subunit of Great Danes Having Harlequin Coat Patterning." Genomics. 2011.
English Cocker Spaniel Club of America
Lund, et al. "Reported behavior problems in pet dogs in Denmark: age distribution and influence of breed and gender." Preventative Veterinary Medicine, 1996.
Pérez-Guisado, et al. "Heritability of Dominant–aggressive Behavior in English Cocker Spaniels." Applied Animal Behavior Science, 2006.
Podberscek & Serpell. "Aggressive Behavior in English Cocker Spaniels and the Personality of Their Owners." The Veterinary Record, 1997.
"The English Cocker Spaniel: preliminary findings on aggressive behavior." Applied Animal Behavior Science, 1996.
Stritzel, S., et al. "A Role of the Microphthalmia-Associated Transcription Factor in Congenital Sensorineural Deafness and Eye Pigmentation in Dalmatian Dogs." Journal Of Animal Breeding And Genetics, 2009.