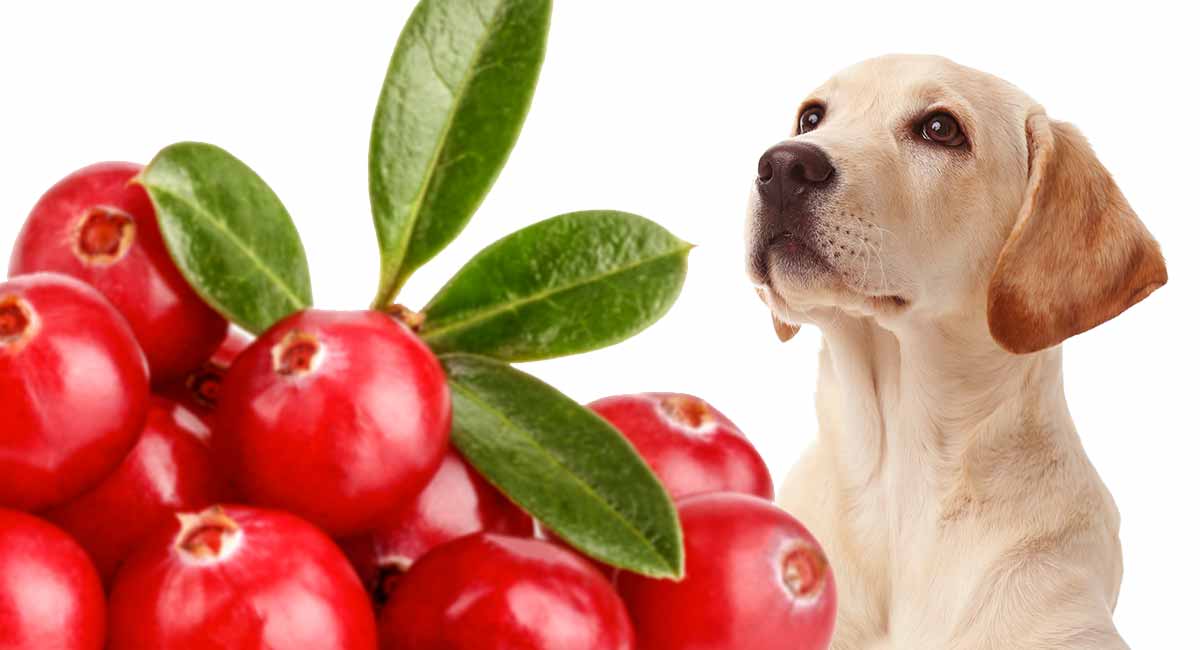 Can dogs have cranberries? Do you want to share your fruity snack with your dog? Are you wondering whether cranberries have the natural benefits for our pets that they can for us? In "Can Dogs Eat Cranberries?" we answer that important question and many more!
Yes, in short, dogs can safely eat cranberries. They contain essential vitamin and minerals. And they have a group of compounds called proanthocyanidins, which can help prevent urinary tract infections.
However, not all forms of cranberry products are safe for dogs. And too much cranberry can lead to health issues like bladder stones. Let's look at cranberry for dogs more in-depth and find out when they can be beneficial to your pet and when they can be harmful.
Some Fun Facts About Cranberries
It is believed that humans have been consuming cranberries for up to 12,000 years. Documents show that cranberries have been cultivated since 1816. However, they have been growing wild in bogs for thousands of years.
The Wampanoag people, that lived in the region we now call Southeastern Massachusetts, used both fresh and dried cranberries to preserve food and for medicinal purposes. Early settlers to North America also used cranberries to prevent scurvy.
Today, cranberries are associated with Thanksgiving Day feasts and turkey dinners. They are appreciated for their unique flavor and health benefits. The humble cranberry has been transformed into sauce, juice, dried snacks, pills, and powders.
Make sure you also take a look at what to do if your dog eats plastic.
The Taste Of Cranberries
Dogs have a similar sense of taste as their human counterparts with taste buds that identify sweet, sour, salty, and bitter food items.,
However, as shocking as it may seem, dogs do not have nearly as many individual taste buds as their owners. Humans have 9,000 lip-smacking buds while canines have only around 1,700.
While it may seem that your dog might be less likely to be bothered by a few tart cranberries, due to a reduced sense of taste, this is simply not the case. Your dog is likely to be much more put off by the sharp aroma of a cranberry instead.
The Smell Of Cranberries
Your dog's taste buds do not measure up to your own, but his sense of smell is by far superior. Your canine can smell up to 100,000 times better than you can, thanks to a total of 300 million olfactory receptors.
Not only are their noses more sensitive, but their brains are 40 times more powerful when it comes to analyzing smells. That is a lot of nose and brainpower working together.
Some research can even help us to understand how that amazing sense of smell may lead to a less than stellar desire for some cranberries.
According to a study published in the Journal of Food Science, cranberries have 14 aromatic compounds, including benzoate ester, which helps give cranberries their fruity, but tart, aroma.
This is likely what makes your canine turn his nose up at the berries.
We know that humans can derive benefits from cranberry, but what about our four-legged furry friends? Can dogs have cranberries too?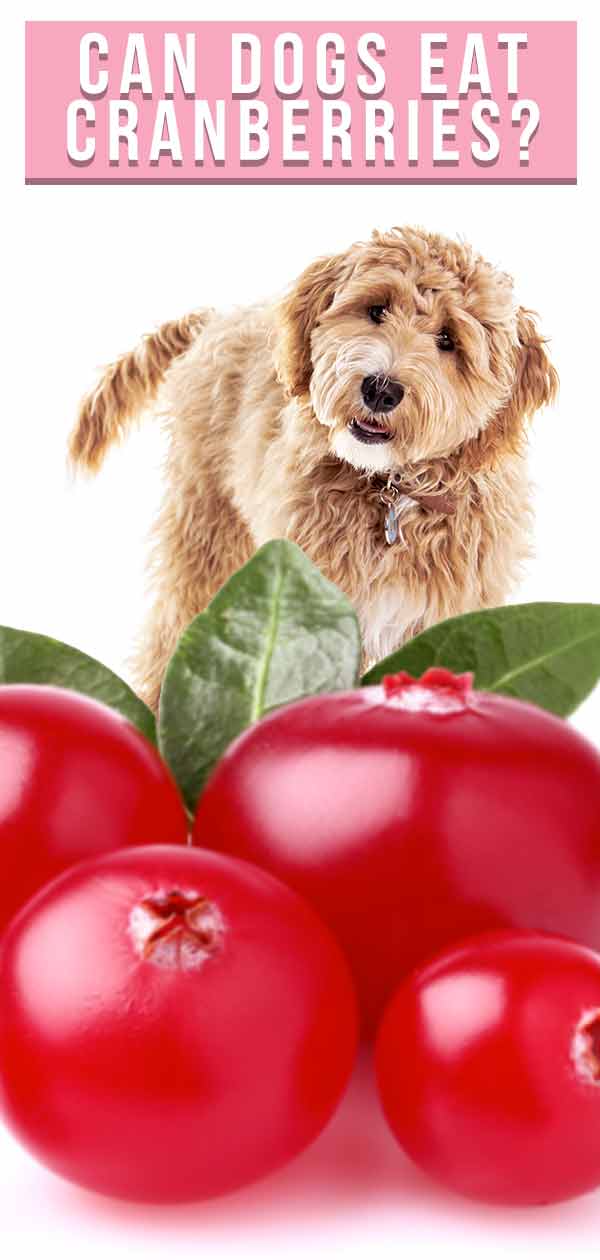 Can Dogs Have Cranberries?
So, to answer the questions, "Can dogs eat cranberries?" Yes, they can.
And are cranberries safe for dogs?"  Yes they are. In moderate amounts, cranberries are safe for dogs.
Cranberries contain vitamins and minerals like calcium, magnesium, potassium, phosphorus, and vitamins A, C, E, and K. They have about 4 grams of fiber per cup and are also considered a good source of antioxidants.
In addition to essential nutrients, cranberries also have a group of compounds called proanthocyanidins. These compounds are very useful in preventing urinary tract and bladder infections in both humans and canines.
However, it might be better to ask whether or not your dog will want to eat cranberries in their natural state. The answer to this is probably a resounding no.
Think of your own puckered lips and wide eyes when popping a handful of fresh cranberries in your mouth. Cranberries are undoubtedly tart!
That said, if your dog has a panache for this tart treat, a few berries now and then aren't going to hurt them.
Are Cranberries Bad For Dogs?
So we've answered the question, "Can dogs eat cranberries?" But are there any scenarios where cranberry for dogs is a bad idea? Can it be harmful to them in any way?
Yes, in the case of cranberries, you can have too much of a good thing. Too much cranberry for your pooch can lead to some serious and painful health problems.
Cranberries contain oxalates, which is a contributor to bladder and kidney stones. An abundance of oxalates, especially for dogs with a history or predisposition to stones, can be bad news.
Your dog should be fine If you keep the cranberry consumption moderate. They will reap the benefits without much risk of complications.
If your pooch is prone to bladder or kidney stones, you need to be mindful to keep this an infrequent addition to their diet.
Are Cranberries Good For Dogs?
Now that you understand that your dog can safely eat small quantities of cranberries, even if they don't want to, you may want to know if they are good for your pet.
Well, cranberries do have vitamins and minerals that dogs need in their diet. Vitamin A helps keep their coat and skin healthy and also contributes to proper nerve and muscle function.
Potassium also plays an important role in nerve, brain, heart, and muscle functions.
Vitamin E provides antioxidants that can help protect the cells of the body from damage. It is also necessary for the proper functioning of the circulatory system and aids the body in healing from injuries.
Vitamin K is needed for effective blood clotting, while phosphorus and calcium work together to strengthen your pup's teeth and bones.
It does appear that the nutrients in cranberries could be beneficial to dogs. However, keep in mind that your dog is getting all the essential nutrients they need from their dog food.
Unless prescribed by your vet, dogs do not need the addition of any human food to their diet to meet their nutritional needs. Too many extra treats can lead to unhealthy weight gain and several other related health issues.
It is recommended that treats make up no more than 10% of your dog's diet, and this includes any human foods like cranberries.
So, while cranberries might seem like a healthy addition to your dog's diet, keep it in moderation. Cranberries in any form should not be fed to your furry friend daily.
Can dogs have cranberries? Simply put, yes. However, cranberry comes in different forms and preparations. Are they all safe for dogs to eat? Let's find out!
Can Dogs Eat Dried Cranberries?
Dried cranberries do not have the same tang and mouth-puckering effect as the ripe berries. This is due to the large amounts of sugar that are added during the dehydration process.
A single serving of dried cranberries contains more than 20 grams of sugar. That is as much sugar as a small glass of soda!
A little bit of sugar cannot hurt, right? Unfortunately, this is far from true.
Studies show that dogs have more consistent blood sugar levels when they are placed on a diet that is low on the glycemic index scale. The glycemic index helps to explain how blood glucose levels are affected by certain types of foods.
Foods that are high on the glycemic index raise blood sugar, while low glycemic index foods help to maintain consistent and healthy blood sugar.
Dogs are just like you and me; they can develop diabetes if they are allowed to eat tons of sugar regularly.
Therefore, you should get rid of the pre-packaged dried cranberries and throw out the cranberry juice while you are at it. Cranberry juice typically has just as much, or more sugar than a serving of dried cranberries.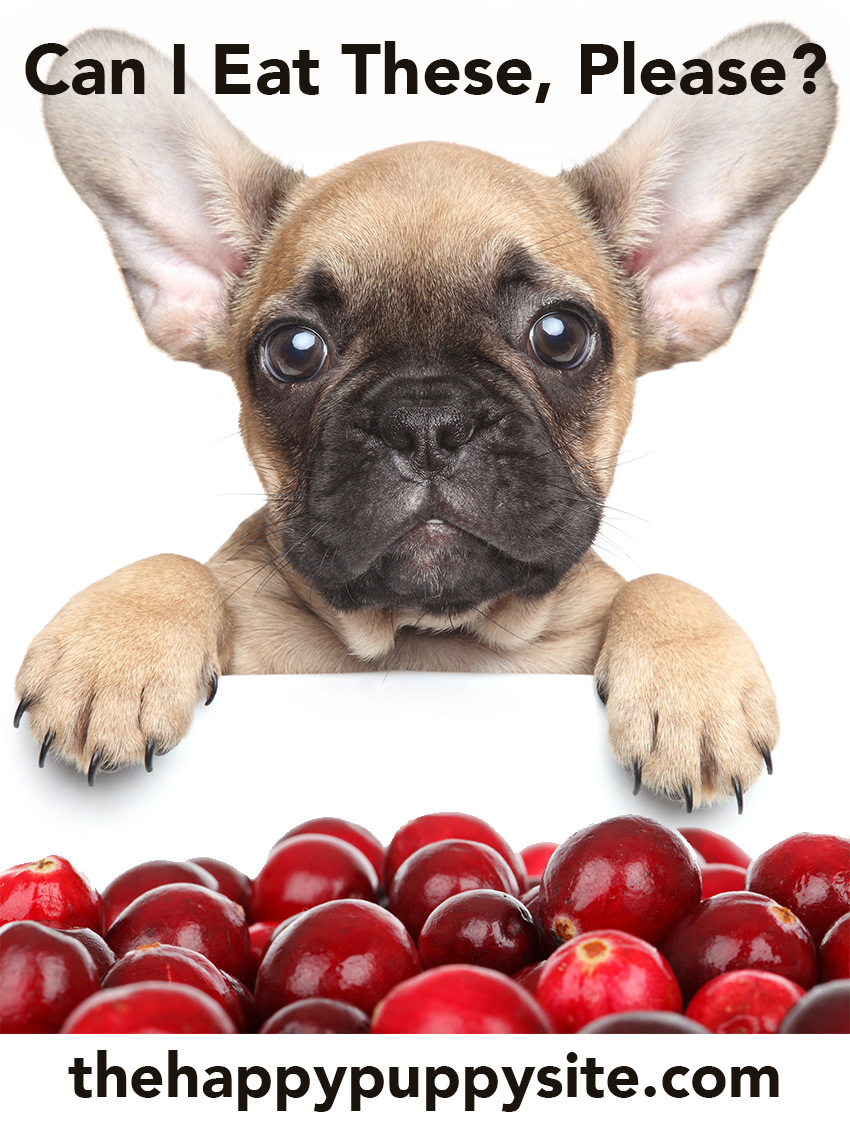 Can Dogs Eat Cranberry Sauce?
While a handful of sugar-laden dried cranberries probably will not hurt your pup, some of the cranberry sauce that you put out for your Thanksgiving feast just might.
Not only does cranberry sauce also contain sugar that your dog certainly doesn't need, but it can also contain other additives that can be toxic to dogs.
Cranberry sauce, other mixed berry concoctions, and even some cranberry juice cocktails contain grape juice or raisins. Raisins, grapes, and grape juice are all toxic to dogs.
The source of the exact toxicity has long been studied, and researchers believe there is a toxic compound within the flesh of the grape itself. It is a mystery as to what the compound exactly is, but we know that it is a definite no-no to feed your pup any sort of grape product.
Between the high sugar content and the possibility of other dangerous ingredients, feeding your dog cranberry sauce is just not worth the risk.
Can Dogs Eat Cranberry Extract?
In a study published by the American Journal of Veterinary Research, dogs with chronic UTI issue were given a small amount of cranberry extract for 60 days.
All the dogs treated with the cranberry did not develop urinary tract infections during the study. Also, urinalysis concluded that harmful bacteria in the urinary tract reduced significantly in number.
Keep in mind, the cranberry worked as a preventative, not a cure. But, this is good news for you if your dog has frequent UTIs.
Be sure to check with your veterinarian before adding any extracts or supplements to your dog's diet.
Can Dogs Drink Cranberry Juice?
As previously mentioned, cranberry juice is laden with sugar, which is not good for your furry friend. Weight gain, heart disease, and diabetes are just a few of the concerns with feeding a high sugar diet to dogs.
Cranberry juice is often mixed with grape juice, and any form of grape is highly toxic to dogs. Never allow your pup to have food that may be mixed with grapes, raisins, or grape juice.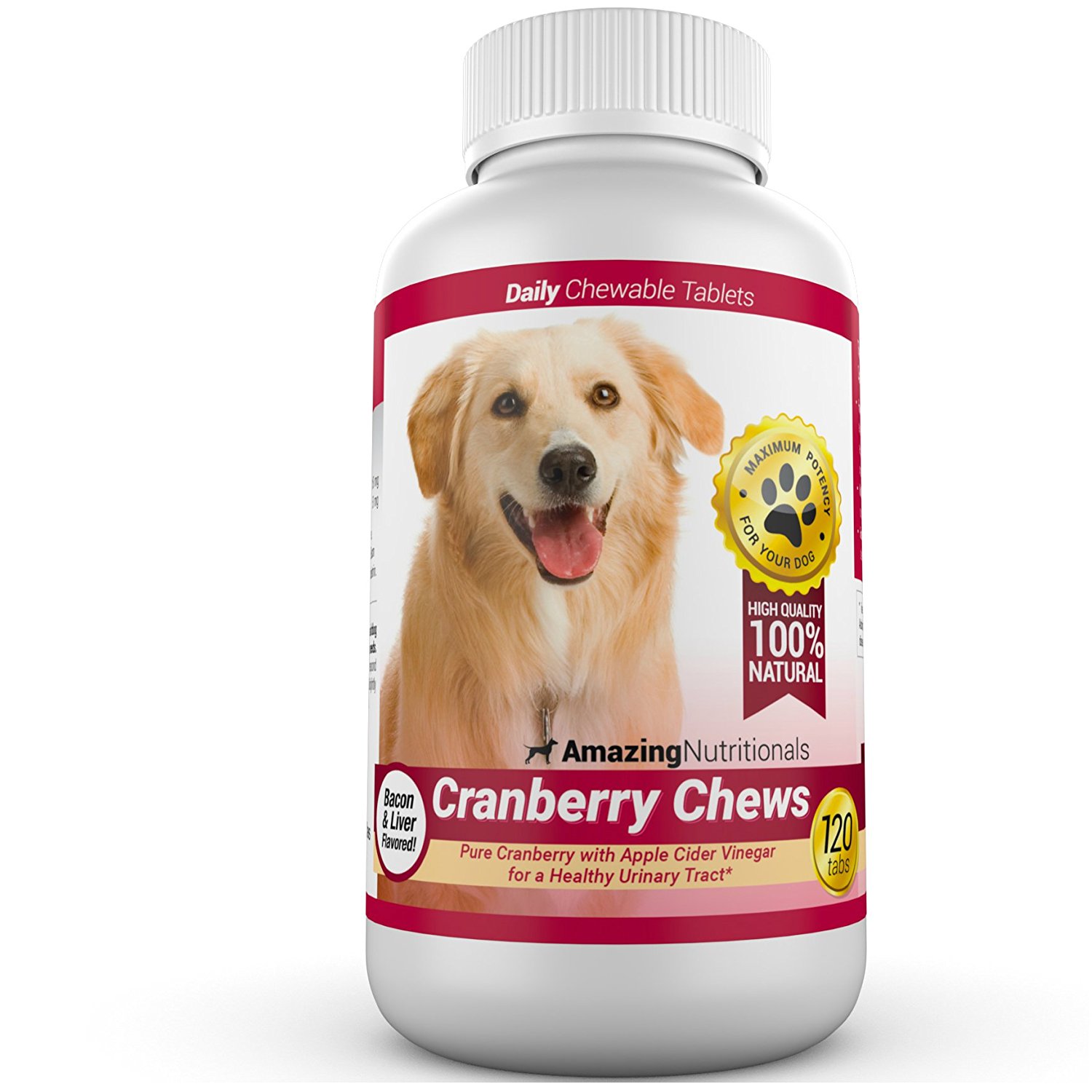 Can Cranberries Treat UTI Problems In Dogs?
As mentioned before, studies have shown that cranberries can help prevent urinary tract infections in dogs. It cannot treat them, but it can be a pro-active measure.
The nasty bacteria strains targeted by the immune system and that cause the infections include E. coli, Proteus, and Staphylococcus species.
Cranberries help stop bacteria from clinging to the wall of the bladder. This is extremely important when it comes to preventing a UTI. If bacteria cannot hold onto the lining, they cannot multiply, thrive, and build into a nasty infection.
A flavonoid or antioxidant called proanthocyanidin is responsible for this.
Do not let the fancy name fool you, proanthocyanidins work very simply by making the bladder wall slippery and forcing the microorganisms to flush their way out of the body with the rest of your dog's urine.
If you want to give your dog with recurrent UTI issues cranberries, then speak with your veterinarian first. Make a quick appointment so a urinalysis can be completed.
Also, alert the professional on what you intend on doing. Remember, too much cranberry can have negative effects on your pet so discuss appropriate doses and frequency with your veterinarian.
How To Give A Dog Cranberries
Realistically, cranberry for dogs is probably going to come in the form of a vet-approved extract or supplement in the form of capsules and pills. It is unlikely your dog wants to snack on fresh cranberries, although they safely could.
A range of cranberry products can be found at your local pet health store, but discuss the best option for your dog with your vet first. Also, consider the other ingredients and sugar content of any supplement you give your dog.
Do not feed your dog cranberries in sauce, juice, or dried form due to the high sugar content and the potential for dangerous additives.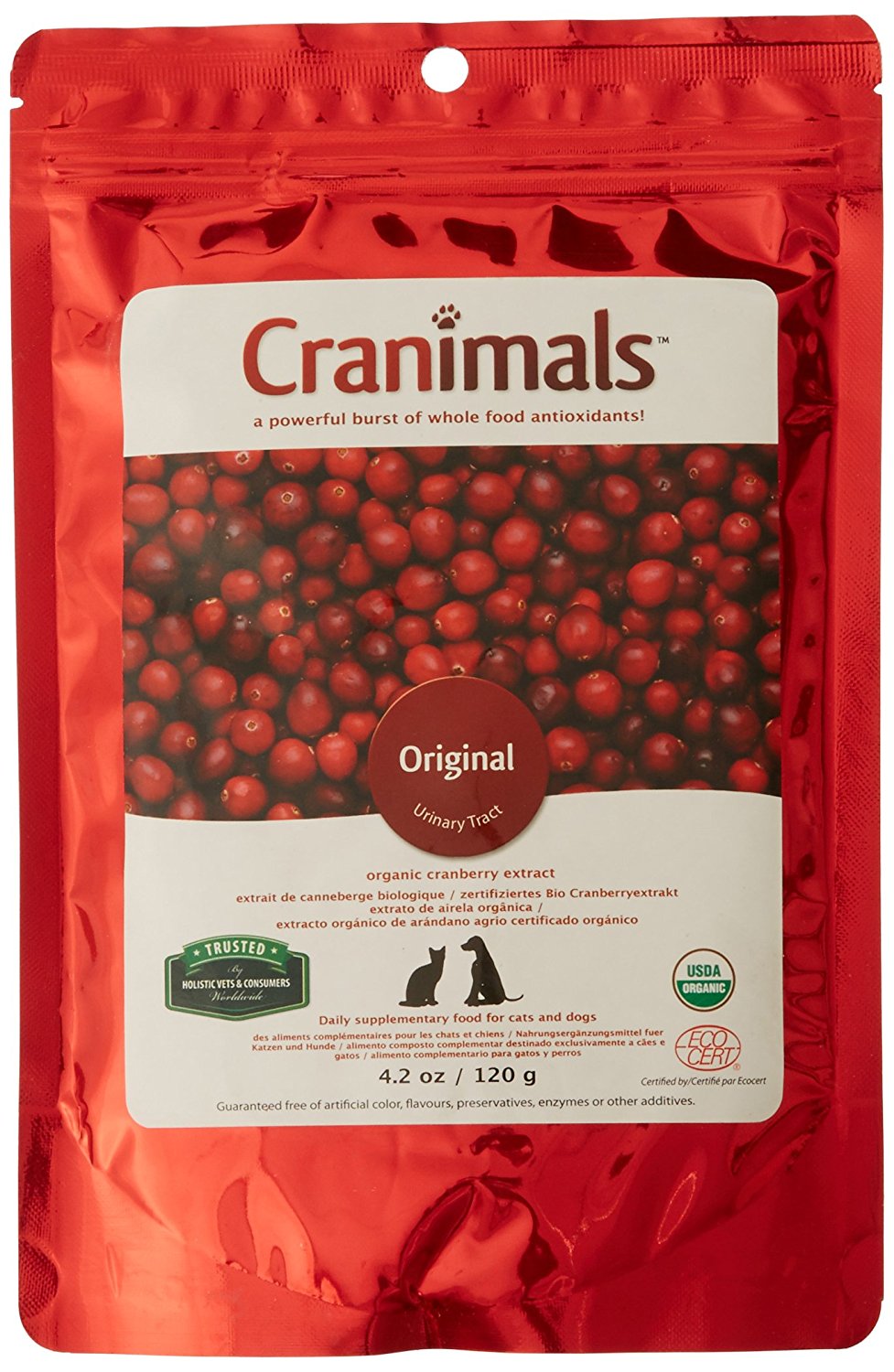 How Many Cranberries Can Dogs Eat?
In your quest to find the best supplement, you may wonder, how much cranberry should I give my dog? This is a very important question.
There is, "too much of a good thing" when it comes to cranberries and your dog's urinary health. Too much cranberry can lead to a very bad thing.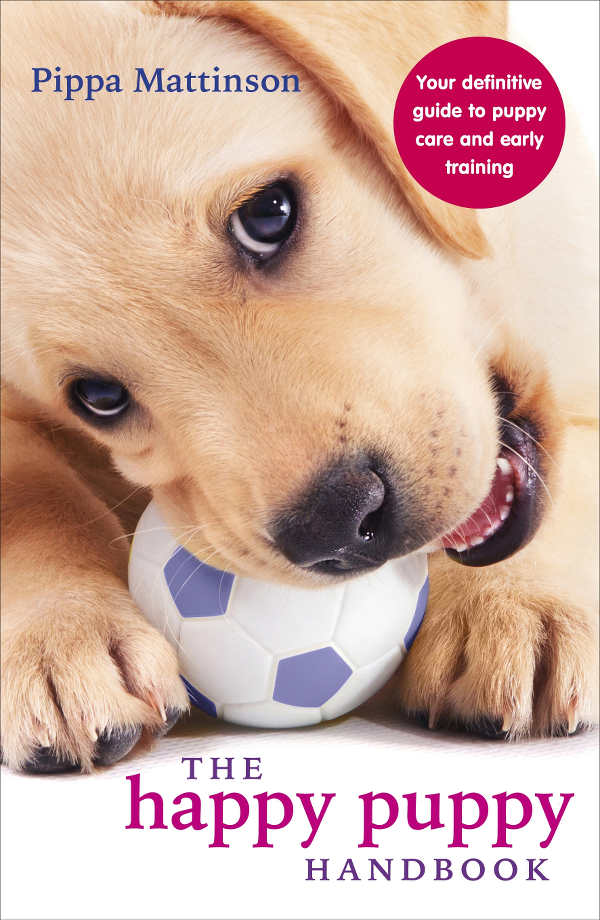 Cranberry Dosage For Dogs
Cranberry for dogs can be beneficial if properly administered. However, a high dosage of cranberry can have adverse consequences for your pup.
You likely understand that cranberries are highly acidic. If your dog consumes too many acids, the pH of his urine starts to change.
A typical, healthy dog will usually have pH neutral urine with a value between about 6.5 and 7. When the urine becomes acidic, urinary calculi can grow. This scientific-sounding name just refers to the formation of bladder or kidney stones.
In dogs, calcium oxalate is the substance that develops into stones. Small grains, like pieces of sand, collect and build rock hard formations. If your canine tries to urinate and the stones start to move out of the bladder, the urethra can become obstructed.
An obstructed urethra is an emergency and requires immediate veterinary attention. Your poor pup many even need surgery!
You can avoid serious swings in urine pH with a conservative administration of cranberry. Small doses can do a world of good, so stick with the recommendations on the extract bottle.
Your veterinarian can be a great resource when trying to decide on the perfect dose for your canine companion, so do not hesitate to ask.
Alternatives to Cranberries for Dogs
Here are some other fruity treats that your dog might enjoy, in moderation of course!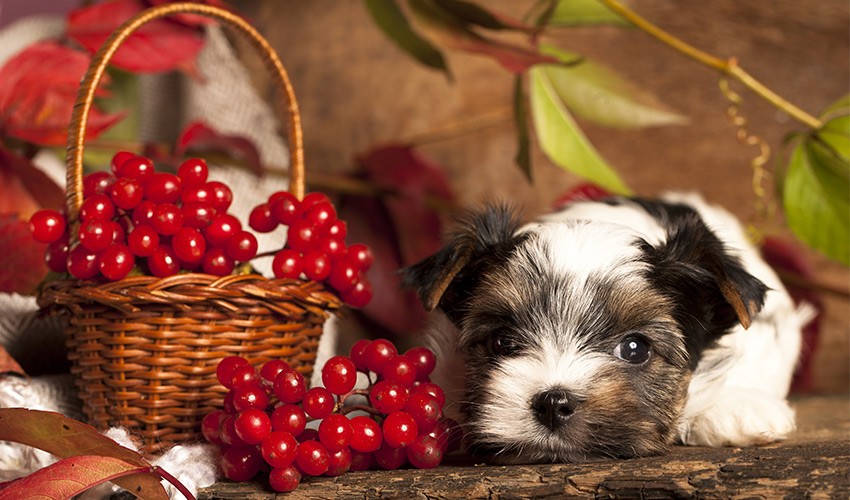 Can Dogs Eat Cranberries? Summary:
So, "Can dogs have cranberries?" Yes, dogs can benefit from cranberry extract as well as supplements, powders, chewable pills, and other types of dog-friendly products.
They can even eat the fresh berries safely, though they probably won't want to.
However, you need to make sure that you are not giving your dog a whole lot of the tart berries every day or some serious complications can arise. An excess of cranberries can lead to bladder stones.
If you have any questions about your dog and the prevention of UTIs or the dosage recommendations for your dog, then a quick trip to the vet is a good idea.
While cranberry for dogs is fine, cranberry juices, sauces, and dried varieties are not. They all contain high amounts of sugar and when it comes to sauce or juice, they could be blended with grapes, which are toxic for dogs.
If you choose to add a form of cranberry to your dog's diet, make sure it is in moderation and that the product is free from any other harmful ingredients.
Have you tried cranberry supplements for your dog? What are your thoughts on using natural treatments to help keep UTIs and other infections at bay?
Let us know in the comments below. We would love to hear if you have anything to add to, "Can Dogs Eat Cranberries?"
References And Further Reading
We have extensively revised and updated this article for 2019.