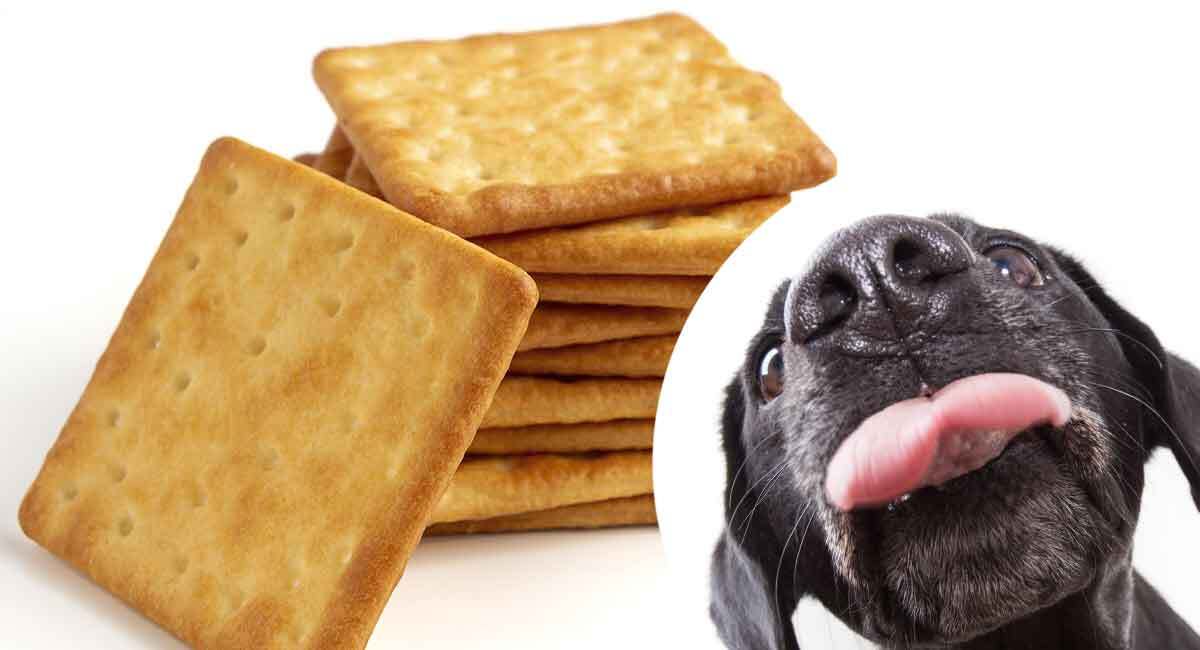 Can dogs eat graham crackers? Yes, dogs can eat Graham crackers safely in small amounts.
Graham crackers contain trace vitamins and minerals which are good for dogs.
But, honey and cinnamon Graham crackers contain sugars which can cause obesity and tooth decay.
Some Fun Facts About Graham Crackers
Graham crackers were made famous (but not invented) by a popular minister in the temperance movement called Sylvester Graham.
It's unlikely he'd recognize the Graham crackers we eat today – he preferred them to be very frugal and bland. He certainly wouldn't have approved of adding lashings of cinnamon or honey!
The world's largest s'more was made at the Winter S'morestice in Middlesex, Vermont in 2019. It weighed a staggering 343lbs!
Can Dogs Have Graham Crackers?
Yes, dogs can have Graham crackers.
Graham crackers are made with coarsely ground wholemeal flour, oil, sugar, and salt.
Originally they would have included yeast as a leavening agent too. But mass produced Graham crackers today usually rely on baking soda instead.
Store-bought Graham crackers might also include added vitamins, flavors, preservatives, sweeteners, and of course honey or cinnamon.
Are Graham Cracker Safe For Dogs?
None of the ingredients in store-bought Graham crackers are toxic to dogs.
This is true of the plain, honey, and cinnamon varieties.
So, your dog won't be at risk of any immediate harm by sharing one.
But, there are some important things to bear in mind before letting him overindulge!
Are Graham Crackers Bad For Dogs?
To properly understand what effect feeding Graham crackers to dogs will have on them, it helps to think about what dogs are supposed to eat first.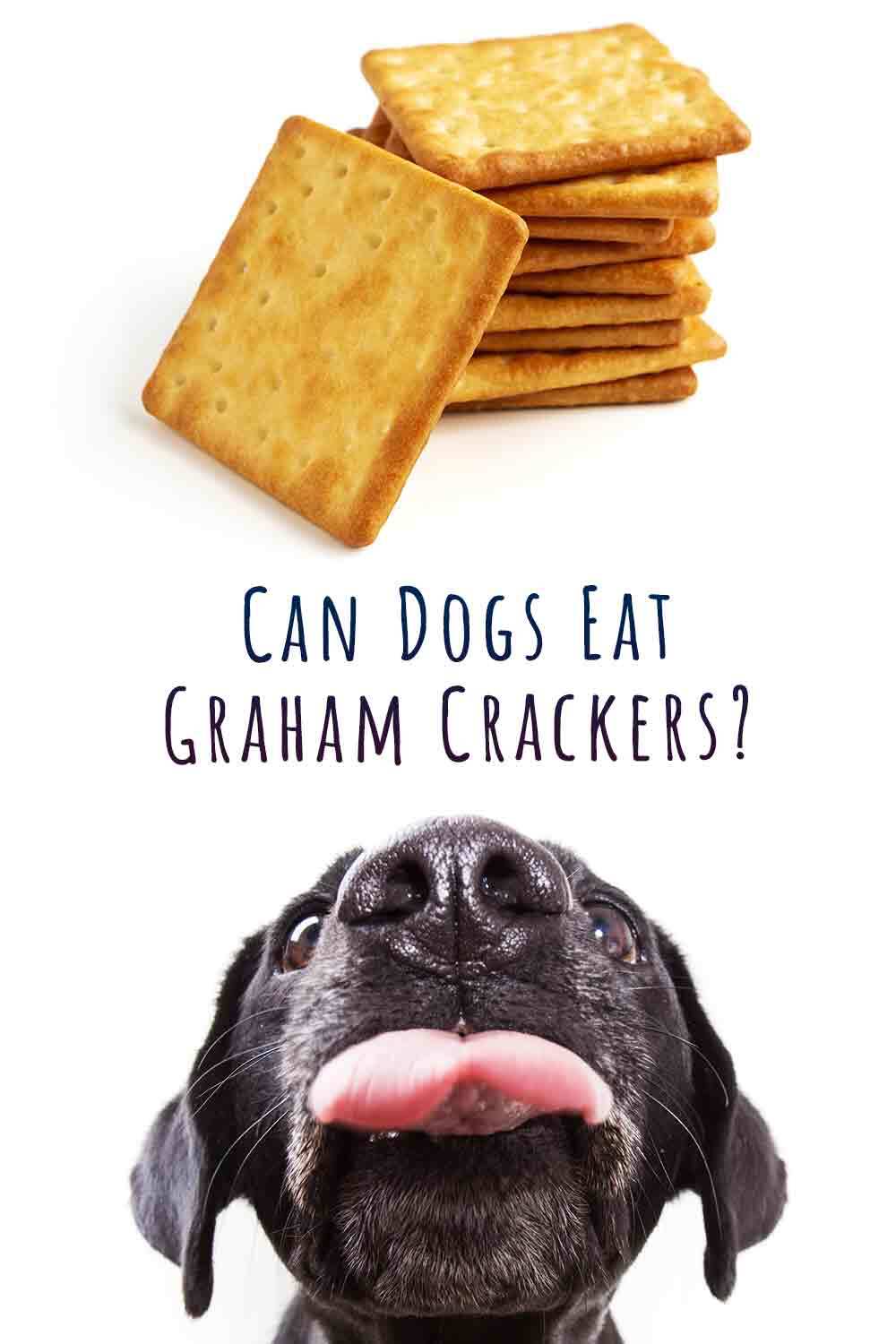 Dogs' wild ancestors were almost exclusively carnivores. But tens of thousands of years of domestication has changed pet dogs' digestive systems.
Physically, their teeth, digestive tract, and liver have all adapted to consume and digest plant matter too. So, they're officially known as omnivores now.
To reflect this, most commercial kibble diets rely on carbohydrates like grains and potatoes for bulk. A daily ration of meat with all the moisture removed for storage would look very meagre indeed, and leave dogs still feeling quite empty!
In fact scientific research into dog's nutritional needs has revealed that they can thrive on a diet which is up to 50% carbohydrates.
These carbohydrates usually come from
grains like barley, oats and rice
vegetables like potatoes and sweet potatoes
and legumes such as peas, lentils and chickpeas.
But they can also include wheat, like the whole wheat flour which comprises the main ingredient in Graham crackers.
Sugar In Dogs' Diets
One source of carbohydrates dogs don't need a lot of is refined sugar, or sweet ingredients like honey or molasses.
Obesity is a growing (ahem) problem in our pet dogs. Sugary foods like honey and cinnamon graham crackers are particularly calorie dense.
Over indulging on high calorie snacks can lead to weight gain. In turn, this increases the risk of joint problems like hip dysplasia, heart disease, and diabetes.
A sugary diet is also a common culprit for tooth decay, resulting in expensive and uncomfortable veterinary treatment.
So, the main ingredient in Graham crackers is sometimes a safe part of a dog's normal diet. But, the sweet extras which make the honey and cinnamons versions so tasty for us, can be bad for dogs in excess.
Just like they can for us in fact!
Wheat Allergies In Dogs
Another occasion when you should refrain from giving Graham crackers to dogs is if they are allergic to any of the ingredients in them.
In particular, wheat (the main ingredient in a Graham cracker!) is a common trigger of food sensitivity in dogs.
If a dog who's sensitive to wheat eats Graham crackers, they might experience symptoms including:
fatigue
vomiting
diarrhea
stomach ache
and itchiness.
Are Graham Crackers Good For Dogs?
Can dogs eat graham crackers with any benefits? Is there anything in Graham crackers which is especially good for dogs?
Well, yes!
Most commercially mass produced Graham crackers are made with enriched flour. Which means it has iron, folic acid, and vitamins B1, B2, B3 added to it.
Like us, dogs need trace amounts of all these, and without them they are prone to poor growth or weight loss, anemia, weakness, and problems with their heart and nervous system.
So whilst dogs shouldn't rely on Graham crackers as their main source of vital vitamins and minerals, a Graham cracker will give them a little boost of these five.
Can Dogs Eat Cinnamon Graham Crackers?
As well as the base ingredients in a plain Graham cracker, cinnamon Graham crackers contain additional sweeteners (molasses, honey, and dextrose), and cinnamon.
We've looked at the perils of letting dogs eat too much sugar, but what about cinnamon?
Cinnamon won't harm dogs in small amounts. But, too much in one sitting can causing irritation to the inside of their mouth.
My Dog Ate Graham Crackers: What Should I Do?
If your cheeky dog has snaffled a Graham cracker without being offered, don't worry. It won't do him any harm.
If your dog is allergic to any of the ingredients in Graham crackers, follow the advice from your vet when they were diagnosed.
How To Give A Dog Graham Crackers
If you're going to share a Graham cracker with your dog, try to stick to the plain variety whenever possible.
Bear in mind that offering snacks in addition to their usual food is a significant risk factor for obesity.
So when you're eating Graham crackers and your dog fixes you with a longing look, ask yourself if they really need to share them with you.
Whatever you do, never share your s'mores with your pup! Chocolate is toxic to dogs. And some vets regard marshmallow as a serious choking hazard too.
Alternatives To Graham Crackers For Dogs
Small quantities of Graham cracker are unlikely to do your dog much harm.
But before you make a habit of offering them, think about all the healthier snacks you can choose, which your dog will go even more wild for.
Such as:
chicken
egg
cheese
or apple.
Can Dogs Eat Graham Crackers – Summary
Most dogs can share a piece of Graham cracker without any ill effects.
Some of the vitamins and minerals used to fortify the flour in Graham crackers are also beneficial to dogs' well being.
But enjoying too many Graham crackers – especially the honey and cinnamon varieties – increase the risk of obesity and tooth decay.
Does Your Dog Like Graham Crackers?
Tell us how they like to have this snack in the comments box down below.
Have you had to get strict because they started asking for too many?
Readers Also Liked
References And Further Reading