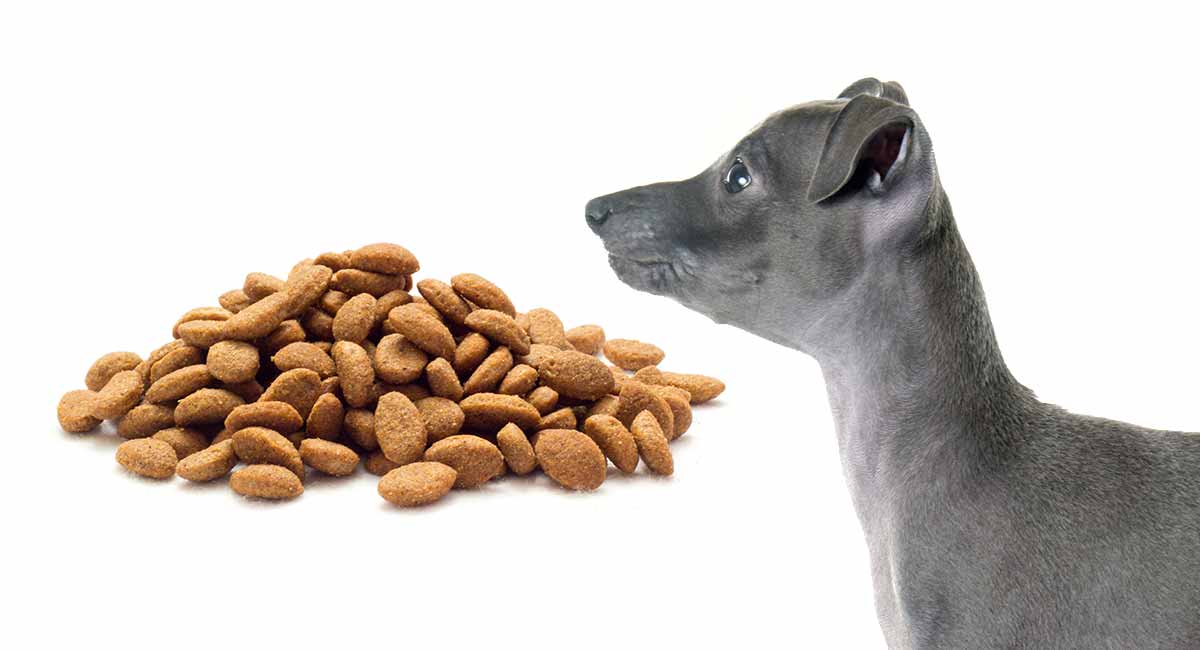 Feeding a Whippet puppy the best ingredients and an appropriate number of calories sets them up for healthy growth all the way to adulthood. Whippets are naturally very slim athletic dogs, who reach their full adult size by about 8 months old. There are several suitable diets for feeding a Whippet puppy, each with their own pros and cons.
Contents
Sleek, streamlined, and very sweet, the Whippet is a sighthound who looks like a smaller version of the Greyhound. These lean, agile dogs have the toned physique of an athlete, and their lovable, laid back nature makes the Whippet a wonderful pet. In this article, we'll cover everything you need to know about feeding a Whippet puppy, including the pros and cons of kibble, wet food, homemade, and raw diets. We'll also look at how much to feed, when to feed, and more.
Swapping Puppy Food Brands
It's a good idea to keep your puppy on the breeder's choice of food for a few weeks after they arrive home. There are several reasons behind this. Your young pup is already disoriented. They've just been separated from their mom and siblings and are trying to adapt to an entirely new environment. Whippets are already prone to fear and anxiety, so establishing a secure attachment early on is important. Giving them the same food as they're accustomed to is one way to reduce their stress.
Another reason not to change your puppy's diet immediately has to do with how canines digest food. While dog's saliva is able to kill off bacteria, it lacks the enzymes to break down food the way that human saliva does. This means they don't really begin to digest food until after they've swallowed.
Food Swapping Schedule
After a few weeks, and once your Whippet puppy has acclimated to his new home and family, you can start to change his food. This should always be done gradually, over a period of about one week. Never give them the new food at once, even down the road when you switch from puppy to adult dog food, and eventually from adult to senior food.
Best Whippet Puppy Food
Luckily, Whippets are a generally healthy breed and should do well on a number of different diets. Puppies should always be fed a high-quality food that's formulated specifically for them. This is because puppies require more protein and calories than adult dogs. Approximately half of their caloric intake is used for proper growth and development.
The following puppy foods are recommended:

How Feeding Changes as a Whippet Puppy Gets Older
Whippet puppies should be fed three or four meals a day. By the time they're a year old they should be fed twice daily. The larger the breed, the longer the growth period and the rate of growth is not always constant.
Continue to serve a puppy formulated food until they reach about 90% of their adult size.
Switch to an adult dog food using the same gradual method that was used to swap their food the first time.
Although packaging on commercial foods will give you some idea, each puppy has its own unique requirements due to activity level and other factors. As general guidelines, an adult Whippet usually needs one ounce of food for every two pounds they weigh.
Whippet Puppy Food Types
Whippets are an active breed that tends to be quite healthy with a lifespan of 12 to 15 years. They should do just fine on any puppy formulated diet as long as it's balanced and nutritional. Whether you decide to feed your Whippet puppy dry food, wet food, homemade food, or raw really comes down to personal preference.
Feeding a Whippet Puppy Kibble
Dry kibble is hands down the most popular choice for puppy food. It's convenient, reasonably priced, and keeps well. You only have to walk into any pet store to see the vast array of dry food options available.
On the downside, kibble is the least palatable option and dogs are sometimes hungry almost immediately afterward.
If you do choose to feed your dog dry food, make sure to read the ingredients. A named animal protein should be at the top of the list. Avoid brands that contain meat by-products and other fillers that can upset a dog's digestion.
Feeding a Whippet Puppy Wet Food
Although typically more expensive, wet or canned food often has more nutritional value and higher levels of animal protein than dry dog food does. This can decrease the risk of dehydration. But as long as your Whippet puppy always has access to fresh water, this shouldn't be a concern.
Wet food also tends to be tastier. There is some evidence that soft, wet food can cause dental problems in dogs, but regularly brushing your dog's teeth should reduce the risk.
Feeding a Whippet Puppy Raw (BARF)
Raw food diets for dogs are becoming increasingly popular. Advocates believe this is a healthier way to feed your dog because it's closer to their natural diet. They'll cite benefits like improved digestion, cleaner teeth, and a healthier skin and coat.
However, some current scientific evidence suggests that the risks of a raw diet are greater than the rewards. Raw chicken in particular poses a threat. This study found that 80% of BARF diet samples tested positive for salmonella.
Feeding a Whippet Puppy a Homemade Diet
As with a raw diet, feeding a Whippet puppy a homemade diet gives you complete control over what your dog consumes. The difference is that this diet could include cooked meats and vegetables.
A homemade diet can also be more natural and tastier than serving them commercially bought foods. However, you need to ensure that your puppy is getting the right nutrients in the right amounts.
Nutrient deficiencies, especially in young, growing dogs can lead to growth and developmental problems.
How Much Should I Feed My Whippet Puppy?
A growing puppy needs more calories per pound of body weight than an adult dog of the same breed.
An active adult Whippet weighing 30 pounds requires 894 calories a day. A puppy who weighs 10 pounds and will grow to be 33 pounds at maturity, requires 990 calories daily.
Purina recommends that a dog that will weigh in the 21 to 50-pound range as an adult should get 2/3 to 1¼ cups of food per day when they're between one and a half to three months old.
From four to five months of age, they should get 1 ¾ to 2 ⅓ cups.
At six to eight months they should be fed 1⅓ to 2 cups.
From nine to eleven months it's from 2⅓ to 2½ cups.
Between the ages of one and two years old, they will get 2⅓ to 3½ cups each day.
These are merely guidelines and amounts will vary between different puppies and dog food brands. Whippets are natural runners and excel at organized sports such as agility and lure-coursing. But these dogs also love to stretch out and lounge around the house.
Your dog's activity level can play a big role in the amount of calories they should be eating.