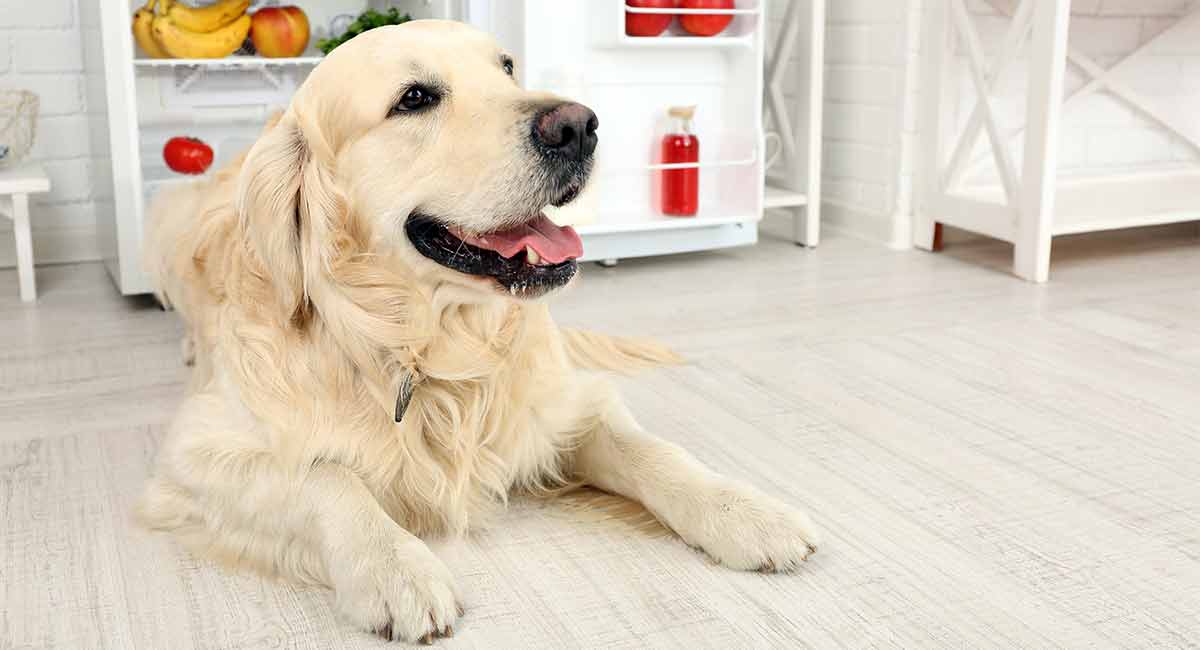 Best Food For Golden Retrievers – Help Finding The Best Brands!
The Golden Retriever is amongst the top three most adored dog breeds in the United States, according to the American Kennel Club's list of most popular dog breeds.
These gorgeous dogs are famous for their intelligence and loyalty, making excellent family pets and therapy dogs, and proving themselves to be incredibly successful hunters.
With the Golden Retriever's muscular build, stunning golden coat, and sweetly expressive face, it's no wonder we doggy-lovers have fallen so hard for them!
If you've acquired yourself one of these golden treasures, then you know how quickly you can come to care for them like family. You want to keep them as healthy as you can to ensure they live a long, happy, wholesome life.
Since Golden Retrievers are so intelligent, so active, and can be more predisposed to certain health conditions than other breeds, their diet is especially important.
That's why we have devoted an entire article to the nutritional needs of one of America's favorite dog breeds. Here is our guide to the best dog food for Golden Retrievers.
What are the Main Nutritional Needs of the Golden Retriever?
Golden retrievers have three specific nutritional needs that cannot be ignored.
They will need foods high in protein, foods with healthy fats, and foods with complex carbohydrates. Some feel that most wet dog foods contain more proteins and fewer carbs, but the choice to feed your dog wet food versus dry food is really a personal preference.
The most important thing is to know what your Golden Retriever needs and to make sure you are paying attention to the food you are buying him.
High Protein
Foods that are high in protein are an essential staple for most dogs, not just the Golden Retriever. The best dog food for Golden Retrievers will have meat proteins as its first three ingredients.
Beware of dog foods that list carbohydrates in their ingredients right off the bat. If you see carbohydrates listed within the first three ingredients in your dog's food, then it is likely a low-quality dog food and we don't recommend it.
Chicken, fish, lamb, and beef are all suitable meat proteins in high-quality dog food.
Healthy Fats
Not all fats are bad fats. Foods with healthy fats are important to your Golden Retriever's diet, providing fatty acids to help give him plenty of energy and the brain power he needs to flourish throughout the day.
Fish oils with Omega 3 and Omega 6 are a great source of healthy fatty acids in dog food.
Fatty acids also help to ensure your Golden Retriever's coat is in ship-shape, and fatty acids are especially helpful for Golden Retrievers with skin allergies.
Complex Carbohydrates
As long as complex carbohydrates are the fourth or fifth ingredient in your Golden Retriever's dog food, you're A-Okay!
If you're feeding your Golden Retriever a high-quality dog food with the right percentages of proteins and fats then the number of carbohydrates should be low enough for you not to worry about too much.
The most important thing is to be sure your dog's food doesn't contain fillers such as soy, wheat, corn, or high amounts of sugar.
How Will A Proper Diet Help to Keep My Golden Retriever Healthy?
Golden Retrievers are prone to several inheritable health conditions, such as skin diseases, allergies, Luxating patella, osteochondritis, Panosteitis, seizures, cruciate ligament rupture, diabetes, Cushing's disease, ear infections, hip and elbow dysplasia, arthritis, eye diseases, obesity, cancer, cardiovascular disease, hypothyroidism, and bloat.
While hip and elbow dysplasia often have genetic factors and are very common in larger breeds, a healthy diet specifically geared towards larger dogs starting in puppyhood could help reduce the chances of these issues cropping up.
A high-quality, healthy dog food can also help to keep your Golden Retriever free of other diseases such as cancer and cardiovascular disease.
Allergies and Obesity
Diet and nutritional substances can also play a part in skin allergies for your Golden Retriever.
In fact, many allergies can be linked to lower-quality dog foods as a result of filler additives like corn, soy, and wheat.
Obesity, which can be devastating and a bridge condition for other more serious diseases, can often be avoided with a healthy diet and plenty of exercise.
However, if your Golden Retriever gains weight suddenly, he may have hypothyroidism.
Unfortunately, hypothyroidism is a common ailment in the Golden Retriever and even a proper diet and plenty of exercise won't be enough to cure this disease.
If you are feeding your Golden Retriever a healthy diet and he is exercising regularly but is still gaining weight, we recommend a trip to the vet as soon as possible.
What Are the Nutritional Needs of My Golden Retriever Puppy?
As previously mentioned, since Golden Retrievers are a larger dog breed, they are more predisposed to hip and elbow dysplasia.
Starting your puppy off right with a high-quality puppy food geared towards larger breeds will help ensure he grows up to be a healthy adult.
Furthermore, foods that have less calcium and phosphorus will assist with a gradual bone growth in your puppy as he heads towards adulthood.
This should also help to reduce the chances of sudden growth spurts that could cause hip and elbow dysplasia in your Golden Retriever as he ages.
Best dog food for Golden Retrievers as puppies
When looking for a high-quality dog food, keep in mind that your growing Golden Retriever puppy needs foods with at least 22% protein and 8% fat.
Your Golden Retriever puppy will also need to be fed at least three times a day and should not transition to adult dog food until he is one-year-old.
To learn more about the nutritional needs of your Golden Retriever puppy, visit us here.
What Are the Nutritional Needs of My Adult Golden Retriever?
Your adult Golden Retriever will require a diet that consists of about 18% protein and
5% fatty acids.
Since most Golden Retrievers have pretty insatiable appetites, it can sometimes be difficult to determine if they have eaten enough or not.
For this reason, it is best to have your adult Golden Retriever on a feeding schedule in which you measure his food based on his activity level, his weight, his age, and his overall health.
Doing this will help you to avoid obesity and the potentially deadly health risk of bloat.
Because bloat is typically caused when a Golden Retriever eats too big a meal at once, we recommend splitting your Golden Retriever's meals up into smaller portions and feeding him several times throughout the day instead of just one large meal.
How much food to give your dog
A healthy Golden Retriever should weigh around 55-75 pounds and will require 989-1,740 calories per day depending on how active the dog is.
As a general rule, if your Golden Retriever is less active, lower his calorie intake. If he is more active, raise it.
For the most part, a healthy amount of food for your Golden Retriever will be anywhere from 2 to 2.5 cups of dry dog food per day.
Therefore, a basic Golden Retriever food guide would be:
1 cup of dog food at breakfast time.
1 cup of dog food at dinner time.
If you are still concerned about bloat, you can order specialized food bowls that will help your dog to eat slower.
You can also eliminate exercise directly after meal time and limit excessive drinking of water during meals or right after exercise.
What is the Best Dog Food for Golden Retrievers with Skin Allergies?
Golden Retrievers are especially prone to allergies and it isn't uncommon for many Golden Retrievers to be sensitive to certain dog foods.
Studies show that grain-free foods are best for Golden Retrievers who suffer from skin allergies. Low-quality dog foods that contain a lot of soy, corn, or wheat also contain more pesticides and herbicides that can irritate and worsen allergies in your dog.
On the flip side, foods high in healthy fats and Omega 3 oils will help to keep your Golden Retriever's coat looking its best and allergies that cause skin irritation at bay.
Here are our recommendations for the best dog food for Golden Retrievers with allergies:
Diamond Naturals Adult Large Breed Real Meat Recipe Natural Dry Dog Food with Real Cage Free Chicken. This dry dog food is packed with high quality protein.
It also contains vitamins and minerals, including omega 3, so your dog gets the nutrition they need.
Diamond Naturals Large Breed Puppy Lamb, Rice & Vegetable Formula. This food is perfect for younger golden retrievers.
This puppy food contains plenty of fatty acids, to help maintain your pooch's sensitive skin.
Sportmix Wholesomes, Fish Meal, and Rice Formula. This dog food is fish based!
Fish are rich in the fatty acids dogs need to maintain their coats.
Wellness CORE Natural Grain Free Dry Dog Food, Wild Game Duck, Turkey Boar & Rabbit. This Grainfree formula is all natural.
All the protein sources in this food are premium. No by-products!

Are Specialty Dog Foods Right for My Golden Retriever?
Specialty dog foods are typically geared towards dogs who are more predisposed to certain health issues than others.
Your dog may do well with a specialty dog food if he suffers from dental or oral health issues, has food allergies, suffers from joint health, or has chronic urinary tract infections.
Since many Golden Retrievers are prone to hip and elbow dysplasia and suffer from allergies, a specialty dog food geared towards these issues may be the right choice for your dog.
Here are five of our favorite choices for best dog food for Golden Retrievers:
Blue Wilderness High Protein Grain Free Adult Dry Dog food. This grain free dog food has a duck based recipe.
The reviews are great so try it out!
Blue Wilderness High Protein Grain Free Puppy Dry Dog Food. This is another great choice from blue wilderness, this time for puppies.
The main ingredient in this one is high quality chicken.
Merrick Grain Free Real Chicken & Sweet Potato Dry Dog Food. The main ingredient of this food is real chicken too.
It's a complete diet, so should meet all the needs of your adult golden retriever.
Fromm Adult Gold Large Breed Formula Dry Dog Food. If your golden retriever likes cheese, he'll love this food.
In contains real, high quality wisconsin cheese!
Rachael Ray Nutrish Zero Grain Natural Dry Dog Food. This food by Rachel Ray has turkey as the #1 ingredient.
The reviews are great for this one, well worth a try!
Remember, no Golden Retriever is exactly the same and what works for one may not work for the next.
Still, we hope this article and the list of our favorite healthy dog foods helps you to keep your Golden Retriever happy and healthy for the rest of his days!
References and Further Reading