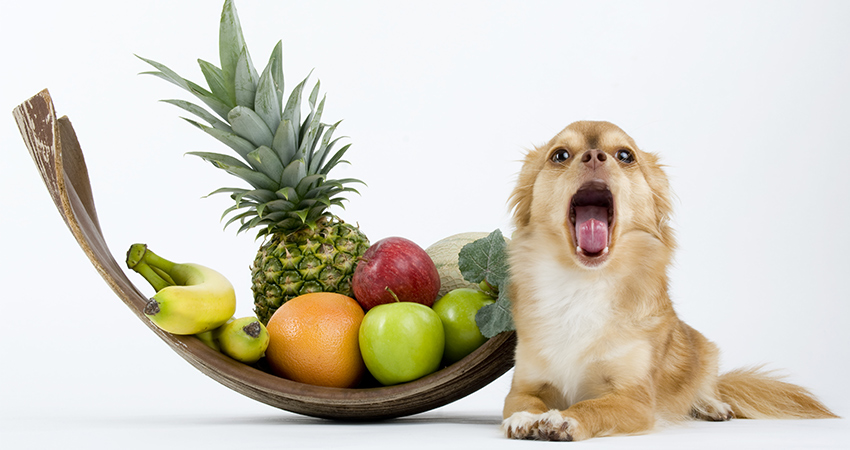 Can dogs eat pineapple safely? The Happy Puppy Site Investigates!
Fruits and vegetables are an important part of a healthy diet for humans and dogs. And, as you are slicing up pineapple for yourself, it is tempting to slip your dog a nibble or two.
After all, many fruits are good for dogs, which leads us to wonder "can dogs have pineapple safely?"
Lucky for Fido, the answer is yes. But when it comes to pineapple for dogs, how much is okay?
Fresh, raw pineapple is safe for dogs to eat as long as you follow a few, common sense guidelines.
Some fun facts about pineapples
The pineapples you see in the grocery store were once a status symbol by the lords and ladies of the 18th Century.
Charles II went as far as to commission a painting of his gardener gifting him one!
Believe it or not, there was even a pineapple rental market! Those who weren't affluent enough to source their own fruity Caribbean treasure could rent one.
Then, they'd display it front and center at dinner parties. They didn't even eat it! Could you imagine what they would think about feeding pineapple to dogs!
Can Dogs Have Pineapple
So, is pineapple safe for dogs? Dogs and pineapple might not be the most natural pairing.
However, dogs can eat pineapple, and in small quantities, pineapple can even be a healthy treat.
Just remember to feed your dog bite sized pieces in appropriate proportion to her body weight.
Pineapple is rich in sugar and fiber. So, always talk to your veterinarian about feeding extra treats to dogs with health conditions like diabetes.

Is Pineapple Bad for Dogs?
The high natural sugar and fiber content in pineapple can cause digestive upset if your dog eats too much pineapple.
Sugar, even natural sugar, can lead to obesity over time. So as with any treat, give pineapple in moderation. Obesity in dogs has been linked with increased rates of cancer and tumor growth.
If your dog has diarrhea after eating pineapple or shows other symptoms of an upset stomach, then pineapple is probably not the best snack for them.
Is Pineapple Toxic for Dogs
Pineapple is not toxic for dogs. Though, any food that causes your dog to have an upset stomach or diarrhea should probably be avoided.
Click here if your dog has eaten pineapple and you aren't sure what to do
Is Pineapple Good for Dogs?
Of course, just because something isn't going to hurt your dog doesn't necessarily mean it is good for him. Pineapple in small quantities is safe for most dogs, but are there any benefits?
Pineapple is full of vitamin C, vitamin A and fiber, along with other important vitamins and minerals.
Your dog doesn't necessarily need these supplements.
If he is being fed a dog food labeled "complete and balanced," as he is already getting all of the vitamins and minerals he needs.
But, as an occasional snack pineapple can be a vitamin C boost.
Some research suggests that bromelain, a component found in pineapple, can help to break down protein and aid digestion. This is in addition to the anti-inflammatory properties of bromelain.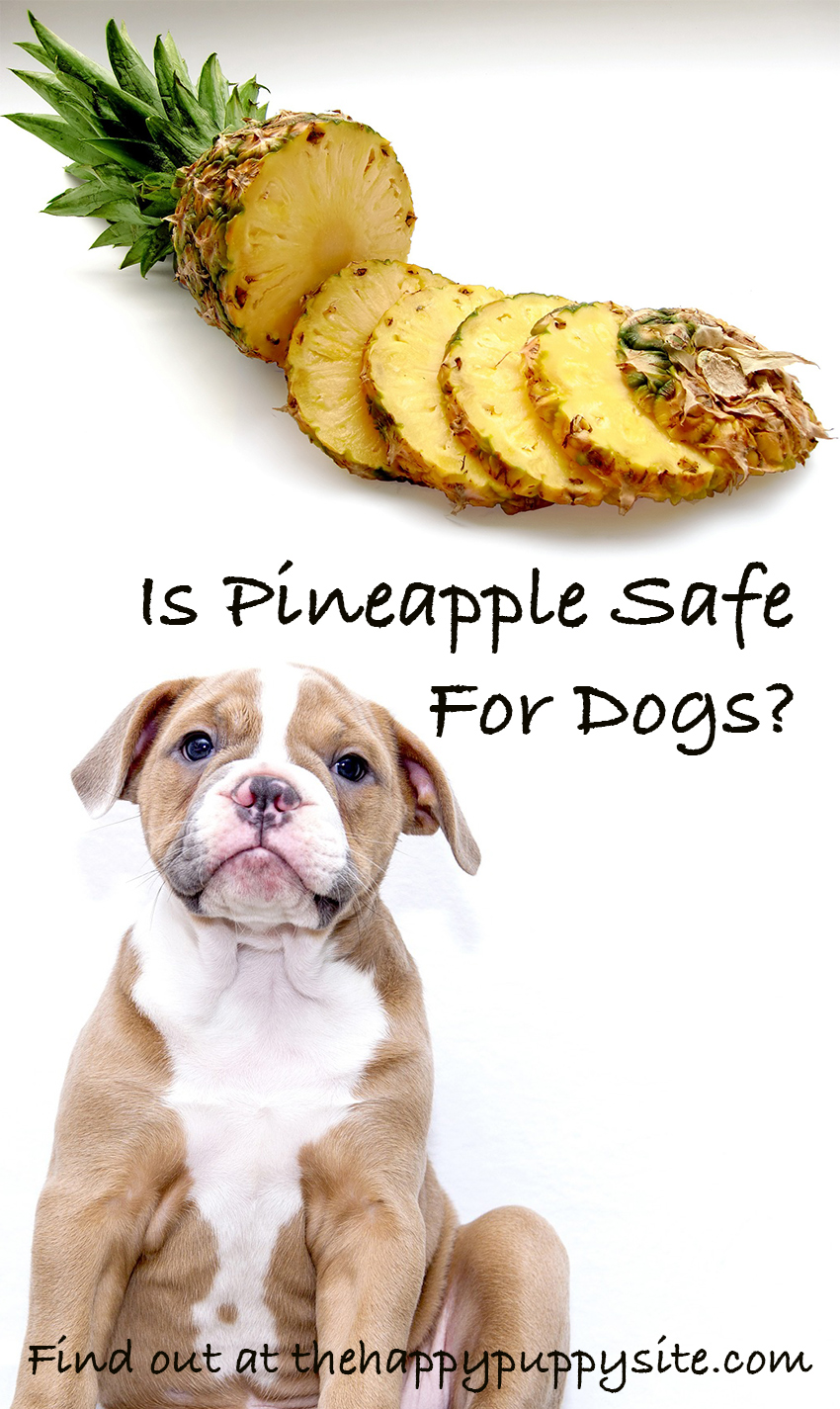 Can Dogs Eat Canned Pineapple?
Canned pineapple is delicious and can be fed safely to dogs, as long as you read the label.
Some canned pineapple contains added sugars that can be harmful to dogs.
Pineapple packed in 100% fruit juice or light syrup is better than pineapple packed in heavy syrup.
If you can find it, pineapple packed with no sugar added is the safest choice of all.
Can Dogs Eat Pineapple Leaves
While the juicy fruit of pineapple is safe for dogs, the leaves and skin may not be.
Although they may not be toxic, they are coarse and harsh and may cause irritation to your dog's mouth and stomach.

Your best bet is to stick to the ripe fleshy parts of the fruit.
My Dog Ate Pineapple: What Should I Do
There is no immediate risk in most cases if your dog eats pineapple. If he is suffering with diarrhea after eating pineapple this may be cause for concern.
First of all, make sure there is no more pineapple in reach of your pooch.
If you are worried by any symptoms you see, contact your vet.
Can Pineapple Treat Coprophagia in Dogs?
You might hear dogs and pineapple in the same sentence thanks to this rather unfortunate behavioral problem.
Coprophagia, or dogs eating their own poop, is an unpleasant behavior that bothers many dog owners. You may have heard or read that feeding dogs pineapple stops them from eating poop.
This is sadly not entirely accurate.
Coprophagia is a common behavioral problem that can stem from dietary or behavioral issues.
In some cases, adding enzyme supplements or fiber can reduce your dog's chances of eating poop, but these measures are not always effective.
If your dog eats their own poop, the only way to prevent it 100% is to pick up immediately after your dog and dispose of it somewhere where your dog cannot access it. If you have questions about the best way to deal with your dog's unpleasant eating habits, consult your veterinarian.
You can also find out more about dealing with poop eating in dogs here.
How to Give a Dog Pineapple
If you want to give your dog pineapple, there are a few things to keep in mind, beginning with what parts of the pineapple are safe to give to dogs.
Pineapple skins are tough, as are the cores.
These can present choking hazards for dogs, especially over eager eaters who might be tempted to wolf it down without chewing.
Always slice up pineapple into bite sized pieces before feeding it to your dog, and do not give them cores or skin to chew on.
Portion control is important for your dog's weight and digestive health.
Veterinarians say that treats, including fresh fruit, should only make up about ten percent of your dog's diet.
For large dogs like Labradors, this means your dog could have several slices, but smaller dogs like Yorkshire Terriers should only have a very small bite of pineapple on a regular basis.
Alternatives to Pineapple for Dogs
If your dogs and pineapple don't mix, these articles should help you find some other tasty treats. These are suggestions for occasional treats, not for the main part of a dog's diet. Please use these treats sparingly.
For some organic treats that will suit your pooch much better, check out our article
Can dogs eat pineapple – Summary
So, can dogs have pineapple? What we have learned is that pineapple is not toxic to dogs. That's a good start!
Pineapple can be a tasty occasional addition to your doggy's delicatessen. However, if he already has a complete diet, there's not much of a benefit that pineapple will provide.
Every now and then, pineapple for dogs is okay, but be wary of anything with a high or added sugar content.
References and Further Reading