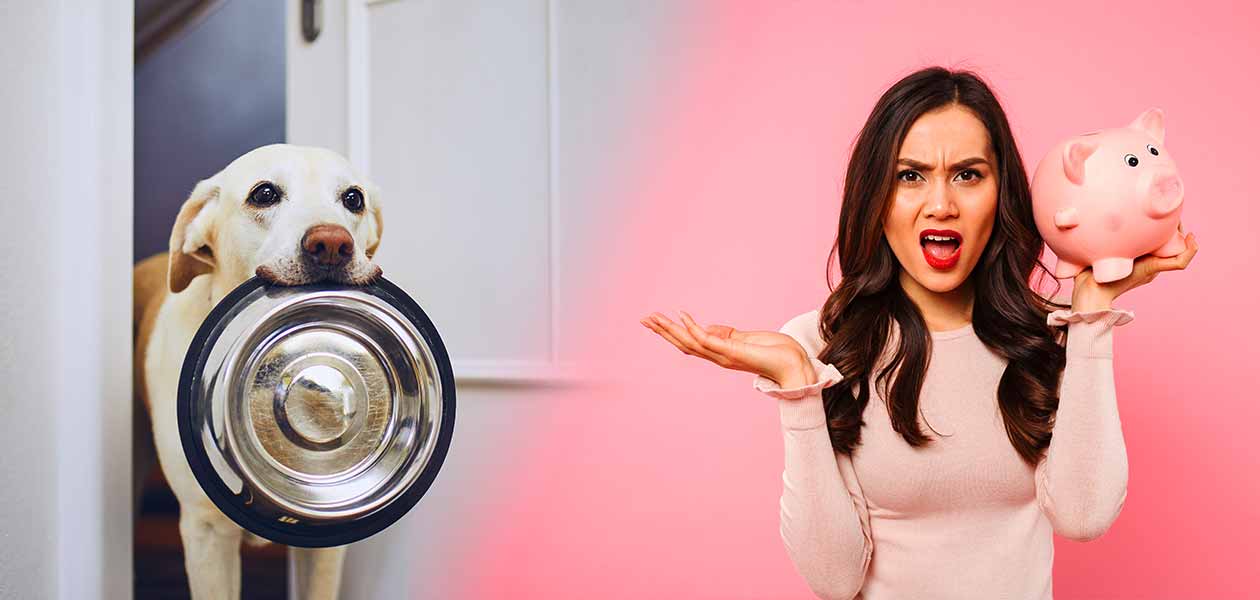 No one commits to a dog ever expecting that there'll come a day when they can't afford dog food.
But it's a scary fact of life that a great many of us are no more than a couple of paychecks away from real financial hardship.
If you've always enjoyed steady, long term employment, it can be hard to imagine that this problem would ever materialize.
Then perhaps you get sick. Or your partner gets sick and you need to stop work to care for them.
Or, once in a generation, something comes along that affects everyone and causes mass unemployment.
The Moment You Realise You Can't Afford Dog Food
When money suddenly becomes very tight, life becomes about more than just giving up on luxuries.
Ordinary everyday outgoings can become a huge source of anxiety.
Realising that you can't afford dog food and human food is often accompanied by feelings of guilt, shame and panic.
And of course, fear of having to give up your best friend, if you can't find a way to provide for them.
The rest of this article is a list of practical steps for bridging the gap between that moment, and returning to financial security.
What To Do If You Can't Afford Pet Food
First of all, don't panic, punish yourself, or be afraid to ask for help.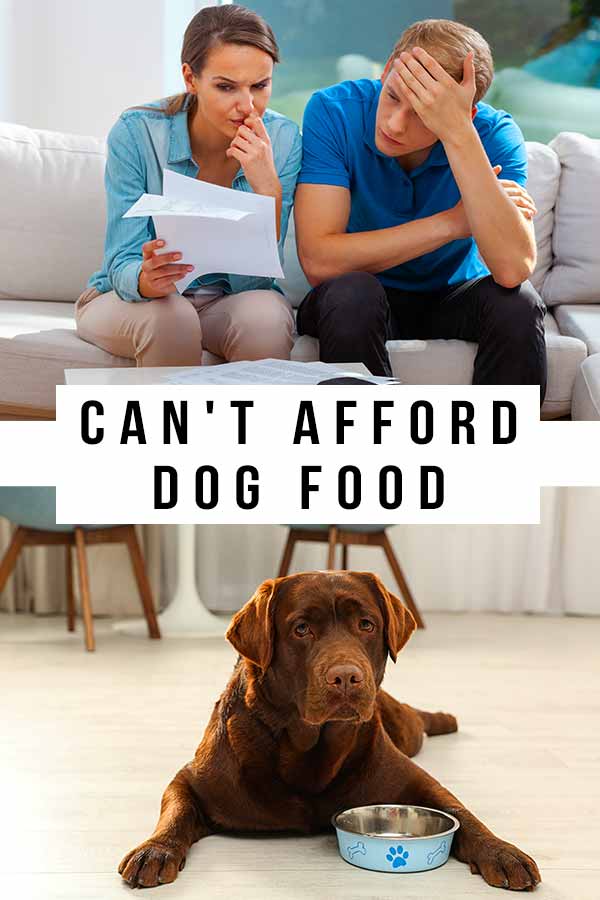 There are lots of things you can do to make feeding your pet more affordable in the short term, and long term.
Here are some ideas.
1. Stretch Their Rations
Obviously this must be done cautiously and only within reason.
We do not advocate putting your dog on a crash diet without consulting their vet first, and we recognize that this isn't possible if you can't afford the vet either.
However, canine obesity is a growing problem. Recent studies into the number of overweight dogs found that between 18% and 44% of participating dogs were affected.
It appears many dog owners are losing sight of what a healthy dog's shape is.
So take a good honest look at your dog's body condition.
They should have a clearly defined waist, and you should be able to feel (but not see) their ribs under the skin.
You can also take another look at the portion size information on your dog's food packaging.
Grab your kitchen scales and weigh out exactly what they should be receiving every day – it's amazing how easily portion sizes start to creep once you've begun eyeballing them!
Usually, vets recommend reducing an overweight dog's correct daily ration by one third until they reach a healthy weight.
But by making a smaller decrease – say 10% or 20% less food per day – a bag of food which would have lasted them a month before will last 5 or 6 weeks instead.
Keep an eye on their body condition as you do this, since obviously there will come a point when they reach a healthy weight again.
2. Choose Cheaper Dog Food
We all want to feed our dog the best diet possible, but a disappointing or slightly less nutritious meal is better than no meal at all.
Look for cheaper brands, and if your dog is on wet food, look into kibble options instead (you can always soften them with a little water).
Shop around online and in different stores, to find the best deals, if possible.
It helps if you can changes in diet a little in advance, and transition from your usual food to their temporary substitute over a few days by gradually increasing the proportion of new food in their bowl.
They might turn their nose up at the new food at first, and they might hold out as long as possible for the return of their usual food.
But they won't starve themselves.
3. Look On Local Selling Sites
A surprising source of cheap dog food are local selling sites like Craigslist, Gumtree, and Facebook Marketplace.
There are often pet owners selling opened, partly used bags of kibble and unopened cans of wet food.
They were usually bought in bulk, only for the seller to discover their dog won't eat it anymore, or it has stopped being suitable for them.
Sellers are usually willing to part with their leftover stash for a very small price, or even for free if you can collect it, just to have the space back in their cupboards again!
4. Club Together
Dog kibble is usually sold in several bag sizes, and inevitably, the larger you buy, the less you pay per kilo.
The same applies to wet food – a tray of 24 cans costs less per can than one on its own.
You take advantage of these economies of scale by shopping online, in larger stores, or at wholesale retailers.
The upfront cost is still greater, but if you can club together with a friend, this is an effective way of making a saving on the cost of pet food.
It might not be enough in an acute financial crisis, but as part of a long term budgeting strategy it could help you keep your pet.
5. Food Banks
We tend to think of food banks and soup kitchens as being for people, but some receive and distribute donations of pet food as well.
In the UK, where it is more usual for food banks to give groceries directly to hungry people, it's not unusual for pet food to be stocked alongside human food and household essentials.
In the US, where food banks typically supply produce to soup kitchens, there are a larger number of pet food aid agencies which work alongside them.
Examples include Pet Buddies Food Pantry in Georgia and the St Augustine Humane Society in Florida.
If you can recommend a pet food aid agency in your region, please tell us about them in the comments box down below.
6. Ask Shelters For Help
Rescue shelters tend to find that being unable to afford their dog is the last thing owners want to admit to when they surrender their animal.
However shelters are also great sources of information about where to find pet food aid, and how to feed your dog on a budget in your area.
Rest assured, they aren't going to try and coerce you into parting with a pet, if they can help you keep it at home instead!
Looking To The Future
If you've sought out this article because you can't afford dog food, we're sorry that you're struggling at the moment.
We hope that some of the ideas in this article will help you feed your dog in the short term, and be able to keep them with you in your home in the long term.
Have You Ever Been Unable To Afford Dog Food?
What practical advice would you offer to pet parents in the same boat today?
Let us know in the comments box down below.