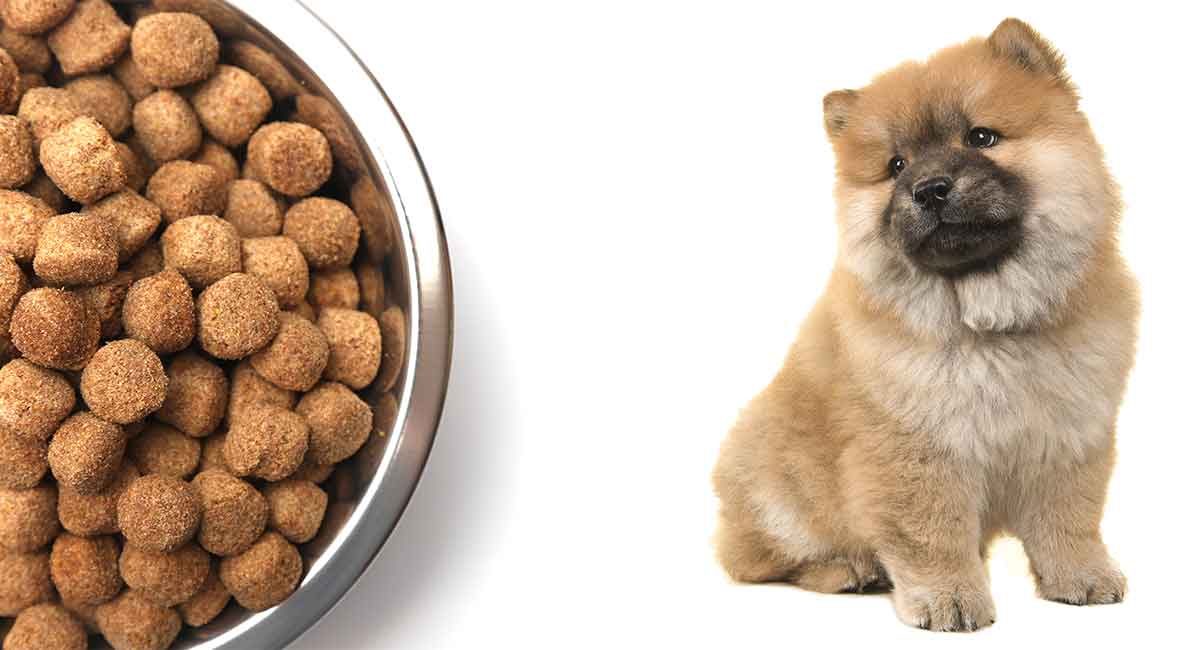 Like lots of people, I'm fascinated by Chow Chows. From their black tongue to their odd, stiff-legged walk, and their strangely feline outlook on life. Looking after these ancient and singular canines demands special attention to their unique needs, and part of that is getting their diet right from day one. Feeding a Chow Chow puppy the right food in the right amount at each stage of his life will set him up for a lifetime of healthy growth. This article is all about how your Chow Chow puppy's nutritional needs change as they grow up, and the best way to meet them at every stage.
Contents
Chow Chow Nutrition
Under their thick coat, the Chow Chow is a sturdy, heavy set dog weighing 45-70lbs. Historically, this meant they were regarded as a medium sized dog. But more recently, scientists studying puppy development have reported that the rate they grow more closely resembles that of large dog breeds, and that it would be more accurate to classify them as such. This is relevant to feeding a Chow Chow puppy, because large puppy breeds need special consideration when it comes to choosing their food.
Choosing The Best Food For Your Chow Chow Puppy
The chow you choose for your Chow (I know… I promise I'll only do it that once) needs to be:
Nutritious
Age appropriate
Breed appropriate
Puppies are going through a rapid period of growth and development, so their food must contain all the energy and nutrients their body needs to meet the demands of that process. This is known as being 'nutritionally complete'. At least 90% of what they eat every day should be nutritionally complete, whilst treats and snacks should be limited to no more than 10% of their daily calorie intake.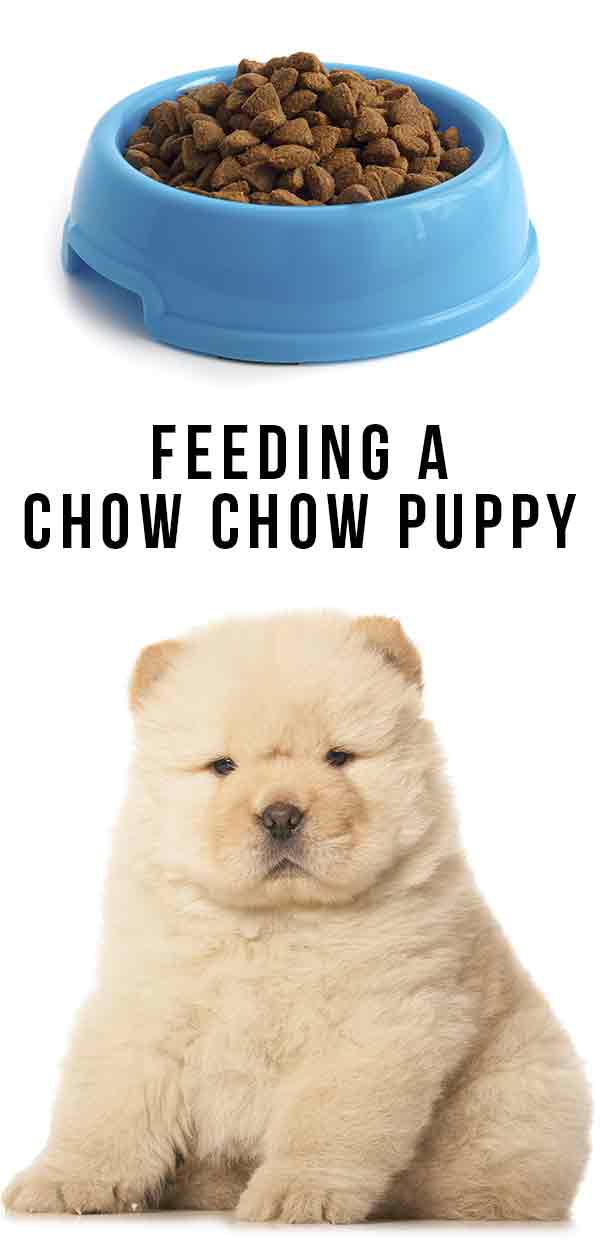 Until they finish growing, their diet also needs to be age appropriate. That is, it needs to have enough calories to fuel their growth, and enough of important ingredients like calcium, for building strong bones. And for dogs like Chow Chows, it also needs to be suitable for large breeds specifically. Large dog breeds grow more quickly than small breeds – it's how they end up large! But if their diet is too calorie-dense, or contains the wrong proportions of protein and minerals, they can end up growing too quickly. This results in a skeleton which is relatively weak, supporting more body mass than it is able to, and may lead to problems such as abn(paid link)ormally shaped bones, especially in the joints.
Feeding a Chow Chow Puppy Home Prepared Vs Store Bought Food
The options for feeding a Chow Chow puppy boil down to:
Raw or cooked homemade meals.
Or buying ready made raw, wet, or dry food from a store.
Choosing between one or the other is an intensely personal choice, and people tend to have strong feelings about the reasons why their own choice is the right one. Puppy parents who prepare their own food usually do so because
They want as much control as possible over what their dog eats.
They perceive raw or home prepared meals as more natural or wholesome.
It feels like an act of love.
They believe it brings benefits such as mental enrichment, better oral hygiene or a healthier coat.
However the disadvantages of preparing raw or cooked diets at home are:
The risk of dangerous bacteria like Salmonella or E. coli present in raw food being spread to other surfaces in the home, and infecting human residents.
A greater likelihood of serving a diet that is unbalanced, or missing vital nutrients.
It is more time consuming in terms of planning, preparation, and maintaining safe hygiene.
And it tends to be more expensive.
How Do Store Bought Foods Compare?
Commercial diets bought in stores are usually formulated to be compatible with the Association of American Feed Control Officials' (AAFCO's) regulations about what a nutritionally complete animal diet must contain. So, if the food you choose is marked as 'complete', then you know it has everything your puppy needs in order to grow healthily.
Dry kibbles are the most affordable choice. They store easily, and they can readily be used as training treats. The mechanical action of breaking up kibble is somewhat effective at keeping puppies' teeth clean and free from plaque too. However, of all the options for feeding a Chow Chow puppy, this is generally the one they regard as being least appetizing!
Wet foods elicit a bit more enthusiasm, but they are most expensive per meal. Some owners use wet food in reward-based training by serving it from the can with a long handled baby spoon, but a lot of people regard this as too inconvenient. And finally, wet food won't help keep their teeth clean.
Store bought nutritionally complete raw foods are a good way of gaining some of the perceived benefits of raw feeding, without the risk of nutritional imbalances. However, you'll still need to practice very careful hygiene.
Getting It Right
Whatever approach you take:
Make sure the diet you make or buy is described as suitable for puppies.
Make sure it is suitable for large breed dogs.
On store bought diets, look for the AAFCO label describing it as nutritionally complete.
Discuss your choice with your veterinarian at your puppy's first check up.
What If The Food You Choose Isn't What Their Breeder Used?
It's a good idea to keep feeding an 8 week old puppy the same diet they were weaned onto for at least a couple of weeks after they come home with you. Lots of pups experience digestive upsets, loss of appetite and diarrhea for a few days, brought on by the stress of leaving their mom and moving to a new environment. It's not a good time to change their diet too!
After that, you can change their diet, but it's a good idea to do so gradually:
1 part new food to 3 parts original food at each meal for 3 or 4 days
Equal parts of both at each meal for 3 or 4 days
3 parts new food to 1 part original food for 3 or 4 days
And then all new food thereafter.
If they show signs of an upset stomach that don't resolve within 24 hours, ask your vet for advice before you go any further.
How Many Meals Does A Chow Chow Puppy Need?
Until they are 16 weeks old, your puppy needs 4 meals a day, at roughly regular intervals. The meals should be equal-sized, so weigh out their total daily ration according to the instructions on the packaging in the morning, and divide it between four bowls to use at each meal. From 16 weeks old until they are 6 months old, your puppy will need 3 meals a day – usually breakfast, lunch and dinner. And from 6 months onwards, they can have their daily ration split into just two meals.
Some owners take this even further, and eventually feed their Chow just once a day. However, you shouldn't attempt this until they are fully grown, at around 18 months old. Feeding dogs a single large meal each day is also a risk factor for the lethal condition gastric dilatation volvulus, or 'bloat'. Bloat occurs when the stomach flips around inside the abdomen so the entrance and exit have a twist in them – essentially turning the stomach into a sealed chamber. Chows are also at increased risk of bloat because they are large dogs with deep chests. So feeding them once a day is generally not wise.
Timing your Chow Chow's Meals
Feed your Chow pup at roughly regular intervals to keep their blood sugar levels even. They are likely to wake up early, but don't serve breakfast until after the time that you would eventually like them to sleep until. Between 8 and 16 weeks, this could mean meals at:
And from 16 weeks until 6 months it could mean breakfast, lunch and dinner at:
From 6 months onwards it could mean breakfast at 7am and dinner 5pm. Or 8am and 6pm – you get the idea. Avoid feeding your Chow less than an hour before you take them out for exercise, as this is another risk factor for bloat. And don't forget that they need a toilet break right after every meal!
While your puppy is growing up, it's a great idea to use their food as training treats between meals as well. Try keeping the next bowl of food within easy reach, and rewarding your puppy for good habits like settling on their bed or keeping their paws off the kitchen counter. At the next meal time, put what's left in the bowl down for them to finish. Don't worry if you use up all the food as training treats though, that's great!
Is My Puppy Eating Enough?
The best starting point for working out your puppy's correct portion size is to follow the instructions on the packaging, or the servings agreed with your veterinarian if you're making a home prepared diet. Either way, your veterinarian will weigh your puppy regularly throughout their early life, and examine their overall body condition to make sure that it is correct. If you're worried that your pup isn't eating enough between vet check ups, call the clinic and ask for advice before changing their calorie intake.
Bear in mind that a healthy body shape for a puppy might be skinnier than you expect. We used to think that puppies needed rolls of puppy fat, but that school of thought has become outdated. Veterinarians now recommend that a puppy in good condition should have a defined waist beneath their coat, and their ribs should be detectable under a thin layer of fat if you press gently against their sides with flat hands.
Chow Chows are reported to be among the dog breeds most likely to experience obesity, which has knock-on effects for their health, quality of life, and life expectancy. So feeding them a healthy amount and keeping them in lean condition from the beginning sets them up for a longer, healthier life.
When Will Your Chow Be Ready For Adult Food?
Your puppy will be ready to start eating adult food from about 1 year old. Ideally they should remain on a puppy-specific diet until they are fully grown, and some Chows reach this landmark later – around 18 months old or as late as two years old. Ask your vet's advice if you're not sure whether your pet has finished growing yet.
Feeding A Chow Chow Puppy – Summary
Chow Chow puppies need a diet specifically formulated for large breed puppies. Feeding them a diet intended for adult dogs or a food marketed for puppies of smaller breeds could result in permanent growth abnormalities. The easiest and most reliable way to make sure they're getting all the energy and nourishment they need is to choose a good quality AAFCO certified complete diet from a store. If you want to prepare their meals yourself, discuss your plans with your vet first. Don't forget that feeding a Chow Chow puppy can be a fun part of the training and bonding process too, so don't overlook its potential, or dismiss it as a trivial detail!
If you think I've missed anything, let us know in the comments box down below. We'd love to hear what your puppy eats, and what food you'd recommend to other owners too!