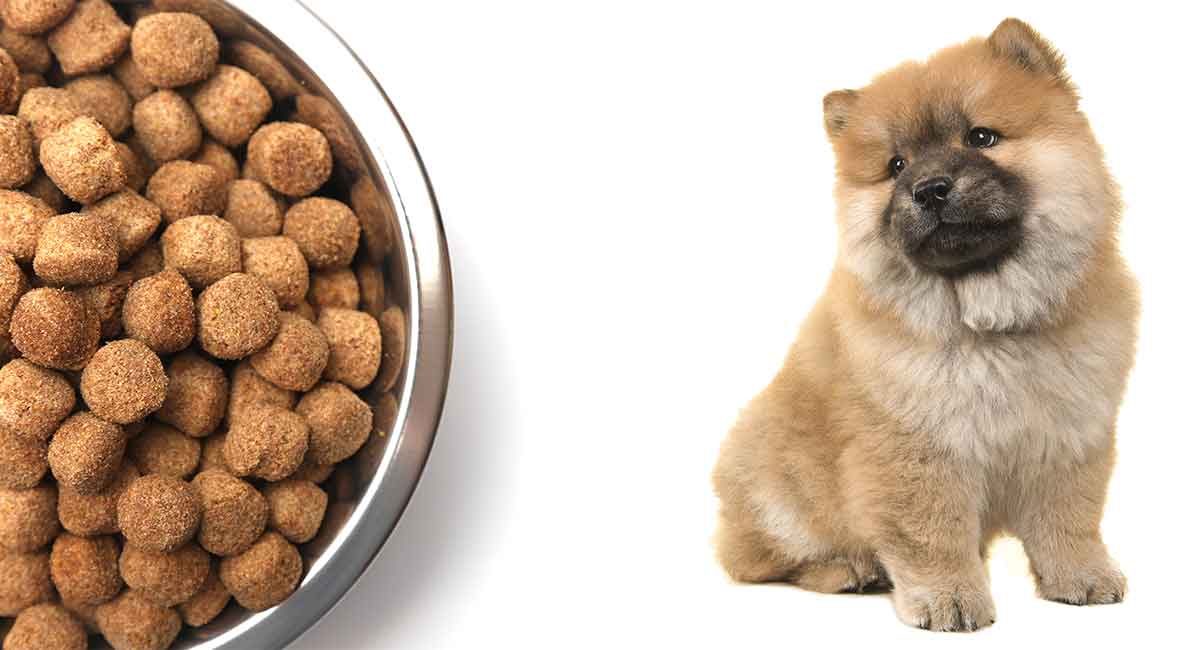 Feeding a Chow Chow puppy the right food in the right amount at each stage of his life will set him up for a lifetime of healthy growth.
This article is all about how your Chow Chow puppy's nutritional needs change as they grow up, and the best way to meet them at every stage.
Chow Chow Nutrition
The Chow Chow is a sturdy dog which has a thick coat. Feeding a Chow Chow puppy should account for their build.
They are normally considered to be a medium-sized dog, but recent studies of growth rates and weights show that they should be considered a large breed (just not a very tall one).
Chow Chows were one of the earliest breeds to be domesticated. They were developed from the indigenous dog of China. Like other ancient breeds, they are very loyal but can be stubborn and suspicious of strangers.
Chow Chow dogs differ genetically from other breeds and this affects how they digest food.
These dogs were traditionally fed only small amounts of meat and have adapted to eat dairy, beans and peas, and vegetables. Eating too much meat, especially beef, may cause problems with your Chow Chow's skin and coat.
An adult Chow Chow will eat around 1000-1300 calories a day which is roughly equivalent to three cups of dry dog food.
Remember that each dog will have different needs based on size, diet, and activity levels.
You should keep track of your dog's weight and body condition, and adjust what you feed them as needed.
But where should you get started with a Cow Chow puppy?
Swapping Puppy Food Brands
Make sure you find out what your puppy has been eating previously and get enough of this diet to last at least two to three weeks.
If you choose to change diets, do so gradually by mixing increasing amounts of the new diet into the old one at each meal time.
Similar diets may be substituted over the course of a week, diets that differ in nutrition or appearance may take as long as three weeks.
Watch for signs of an upset stomach and slow or stop the transition if this occurs.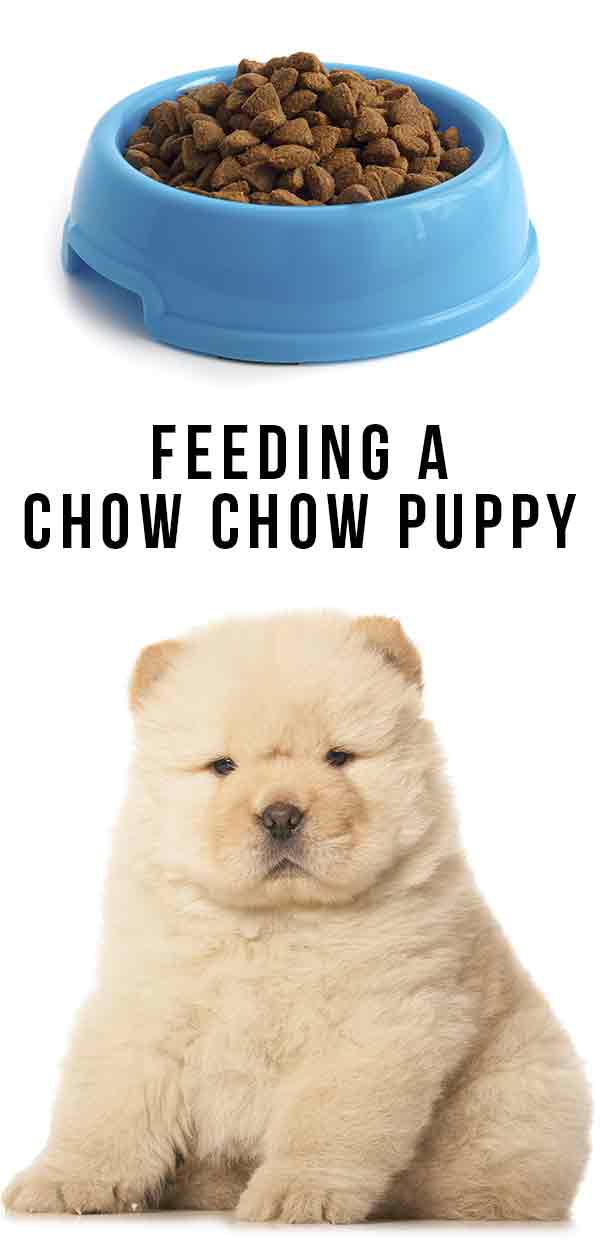 Chow Chow Puppy Diets
Chow Chows are a large, stocky breed that needs a lower protein and higher calcium diet.
Suitable dog food is easy to find if you look for "large breed" puppy food.
Examples include:
Holistic Select Natural Dry Dog Food Large & Giant Breed Puppy Lamb
Wellness Complete Health Natural Dry Large Breed Puppy Food, Chicken, Salmon & Rice
Solid Gold – Wolf Cub
Puppies of all breeds need a diet that is at least 22% crude protein.
Many canned foods or grain-free kibbles have protein levels as high as 50% which is too much for a Chow Chow's more omnivorous gut, which thrives on a diet rich in grains and vegetables.
Very densely nutritious foods may also cause a Chow Chow puppy to grow too rapidly, which can cause defects in their bones and growing pains.
For this reason, you should choose a dog food designed for large breed puppies, with a protein level of around 25-30%.
How Feeding Changes As A Chow Chow Puppy Gets Older
Chow Chow's have a deep chest and short muzzle. They may benefit from having a raised food and water dish as they grow older.
Chow Chows are known to be more likely to suffer from bloat and twisting of the gut ("gastric dilatation‐volvulus").
If your dog is quickly "gulping" down food this can increase their risk. Give your dog smaller and more frequent meals or use a bowl designed to slow down feeding if you see this happening.
As adults, Chow Chows have a tendency to become overweight. Monitor the amount of food and adjust if they begin to gain excess weight. Use "Healthy weight" dog food formulas if this becomes a concern.
Popular foods for adult Chow Chows include:
Solid Gold "Hund-en-Flocken" and "Wolf King"
Purina Pro Plan, Salmon and Rice
What To Feed A Chow Chow Puppy
It is popular these days to give dogs grain-free foods, but your pup needs the opposite. Seek out foods that have:
grains such as rice, and vegetables, as major ingredients
dry weight crude protein around 25-30%
some of the protein from non-meat sources
avoid beef-based formulations.
Feeding a Chow Chow Puppy Kibble
Dried kibble is naturally lower in the meat proteins that can be a problem for the Chow Chow.
You can soak dry food in warm water if your dog prefers a softer food, or mix the kibble with mashed potatoes or scrambled eggs.
Feeding a Puppy Wet Food
Some puppies are more enthusiastic about eating wet food.
However, canned foods have much more than 30% protein (as a percentage of "dry matter").
You calculate dry matter protein by finding the percentage of the food that is protein, dividing it by the percentage of the food that is "dry matter", and multiplying this number by 100.
This information should be provided on the food label or on the manufacturer's website.
Wet food can form a part a Chow Chow puppy's meal, as long as you keep an eye on the overall protein content of their diet.
Feeding a Puppy Raw
Raw puppy diets are typically predominantly meat, often red meat.
Use of this diet with a Chow Chow will require modification.
Whole poultry birds are more suitable than red meat.
Feeding a Puppy a Homemade Diet
Feeding a puppy a homemade diet appeals to many owners, because it allows them to take control of exactly what ingredients their pup ingests.
To make sure a homemade diet meets all of your growing Chow Chow puppy's needs at each stage of their life, it must be planned with input from their vet, and reviewed regularly.
Any diet type may be used with Chow Chows as long as it is modified to meet their breed-specific needs.
Many owners mix diet types, for example, providing a homemade meal and a commercial diet meal each day.
Mixing foods with different ingredients may allow you to include some higher protein foods (such as canned food) in limited amounts.
Ask your vet for help getting started on a homemade meal plan for your puppy.
How Much Should I Feed My Chow Chow Puppy?
When it comes to portion sizes, always follow the recommendations of the food manufacturer, and especially from your veterinarian who knows more about your puppy's specific needs.
A puppy under the age of 14 weeks of age is unlikely to over-eat and can usually be fed freely.
As a rough guide, an older puppy may eat between 2 and 4 cups of dry food per day over the course of 3-5 meals.
As your puppy grows keep track of how much you are feeding, your dog's weight, and body condition.
If their condition becomes too thin or fat make small adjustments to their daily food intake to correct it.
Is My Puppy The Right Weight?
Your Chow Chow breeder and your vet will be able to help you predict a healthy growth trajectory for your Chow Chow puppy.
Between weigh-ins you can also monitor their progress by checking their overall body condition.
Body condition can be harder to evaluate in dogs that have a long, full coat of hair, since it relies on judging the visibility of their ribs.
When you visit the veterinarian, ask for information about your puppy's body condition to ensure it is within the healthy range.
A little fat coverage over the ribs and presence of a "waist" are good indications of overall condition that can be felt through the coat.
As you get to know your puppy through the months, you'll also gain confidence judging whether they're carrying the right amount of body fat!
My Puppy Is Still Hungry
Puppies need to be provided with smaller and more frequent meals than adult dogs.
Three meals a day is typically the minimum, but more is also okay so long as you do not over-feed.
You can also use suitable food treats during socialization sessions and training.
Chow Chows tend to enjoy vegetables, so consider using carrot sticks or green beans.
Make sure that you count treats and snacks when tracking your pup's total daily food intake.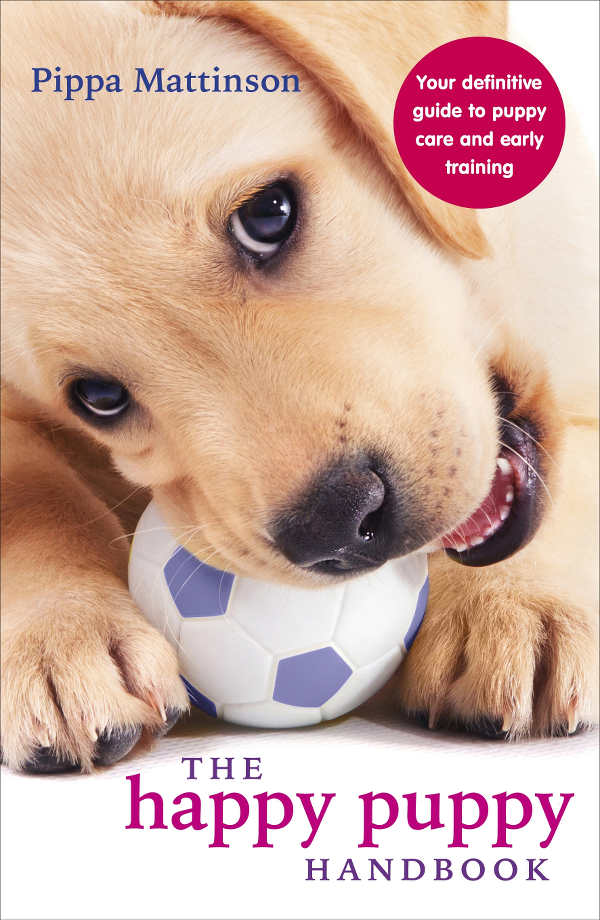 My Puppy Won't Eat
Your puppy may briefly stop eating when adjusting to a change. Appetite and routine are often affected by a new home, for example.
Young puppies cannot tolerate being without food or water for long.
Your puppy needs to be taken to the veterinarian if food refusal lasts for more than a day to see if there is a medical cause.
How Long Is A Chow Chow Considered A Puppy?
Chow Chows are typically considered adult at the age of one year, but they may continue to eat puppy food up until the age of two years.
You may also move your puppy to adult food earlier if they are eating the recommended amount for their diet and becoming overweight.
If in doubt, consult your veterinarian.
Feeding a Chow Chow Puppy
We hope you've enjoyed this guide to feeding your Chow Chow puppy!
Let us know how meal times go with your new friend in the comments box below.
References and Resources
Evans, K. M., & Adams, V. J. (2010). Mortality and morbidity due to gastric dilatation‐volvulus syndrome in pedigree dogs in the UK. Journal of Small Animal Practice.
The Kennel Club. Pedigree Breed Health Survey. Accessed 2 Feb 2019
Larsen, J. (2010). Feeding large-breed puppies. Compend Cont Educ Vet.
Mao, J. et al (2013). Prevalence and risk factors for canine obesity surveyed in veterinary practices in Beijing, China. Preventive veterinary medicine
Parker, H. G. et. al. (2004). Genetic structure of the purebred domestic dog. Science.
Salt, C. et al (2017). Growth standard charts for monitoring bodyweight in dogs of different sizes. PloS one, 12(9), e0182064.
Yang, H. et al (2017). The origin of Chow Chows in the light of the East Asian breeds. BMC genomics.