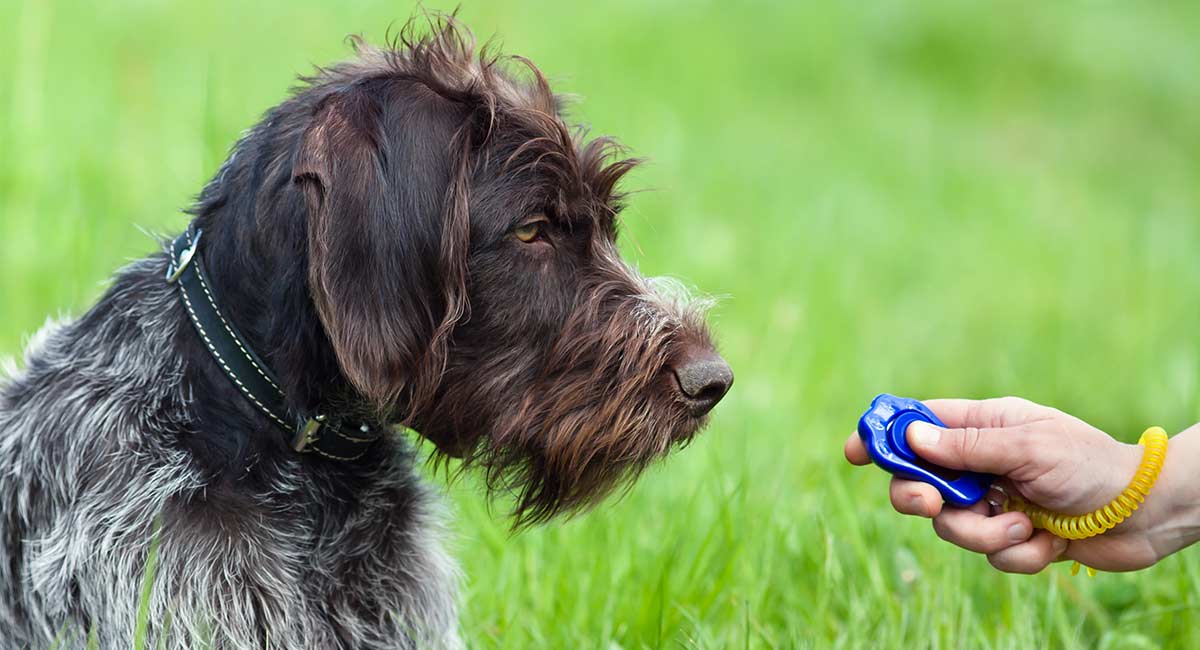 It's true, the best dog training treats don't have to come in the form of food to be effective.
But it's equally true that food is a great motivator during training sessions!
However, choosing good training treats for dogs isn't quite so simple as it may appear.
The calories in even the healthiest of dog training treats can add up quickly. Even meats like turkey bacon are high in sodium and fat.  In this article, we take a closer look at the best training treats for both puppies and adults, and even senior dogs.
These are some of the best dog training treats to keep your dog highly motivated to learn yet still slim, trim, and healthy!
Why Use Dog Training Treats?
What a great question! Dogs are supposed to be our best friends, so they should already be eager to do whatever we want them to do, right?
As so many dog owners can attest to, it usually doesn't quite work that way.
If you're embarking on your first puppy or dog training experience, you'll quickly learn that dog training treats can be your real best friend during the training process.
That's why choosing the best dog training treats is so important.
Why Your dog Training Method Matters
Interestingly, as we learn more about canine psychology and what truly works best long-term for successful dog training, dog training treats have become more important.
For example, we now know that old school punishment-based or negative reinforcement training may deliver immediate results.
But these types of methods can also often leave behind both emotional and physical scars on both your pup and you.
Thankfully, today we know there are better ways that can achieve even better results with zero scars!
Current canine science tells us that in fact, the lasting results come from positive reinforcement training.
Positive dog training methods, as the name implies, use praise, play time, edible treats, and other affirming rewards to reinforce desired behaviors.
As the old saying goes, "you attract more flies with honey than with vinegar."
So you attract a more eager, trainable dog when you offer plenty of love, pats, frisbee sessions, and tasty dog training treats in exchange for lessons well learned!
How Many Treats are Too Many?
There's actually a pretty simple formula that can help you ration out the best dog training treats in a healthy way.
In general, you'll want to make sure that the daily total calories coming from dog training treats are no more than 10 percent of your dog's total daily calorie intake.
For instance, if your dog needs 300 calories per day to stay healthy, you can break this up into 270 calories of meal food and 30 calories of treats.
Be sure to ask your dog's veterinarian about both how many daily calories will keep your pup in top condition health-wise.
And which are the best dog training treats to provide optimal nutrition for your pup.
Choosing the Best Dog Training Treats
The right dog training treats should l meet the following criteria:
Small and quick to consume so as not to interrupt the flow of training;
Easy to eat, especially important for senior dogs and puppies
High-value, i.e. tasty without being too high in calories;
Portable and not too messy to handle;
Fairly non-perishable so they won't spoil too easily or too quickly.
It's also helpful to keep in mind that the more quickly you can offer your dog a treat after they have performed the desired action, the more effective it will be.
For example, if you are using clicker training to train your pup, you'll want to give them a treat immediately after you hit the clicker.
So the treat must be accessible and ready to deploy!
Now, let's take a look at some of the best dog training treats. These are most popular and highly rated for every situation and canine stage of life!
Best Puppy Training Treats
If you've ever trained a new puppy from scratch, you likely already know how training a new puppy can completely take over your life!
Experts say that all major problem behaviors begin before a puppy turns six months old.
These healthy puppy training treats will ensure your puppy is highly motivated to learn good habits!
Wellness Natural Grain Free Puppy Training Treats
Wellness Natural Treats(paid link)* are tasty, healthy, soft puppy training treats made in the US.
(paid link)

They come in four different flavors to keep training interesting and enjoyable.
BLUE Mini Bars Puppy Banana & Yogurt Biscuits
BLUE Mini Bars(paid link)*  are small biscuits that are easily broken into smaller pieces for training.
The reviews are great for these ones!
These perfectly sized treats feature tasty, healthy ingredients plus added DHA, vitamins, and nutrients for your puppy's still-developing digestive system.
Natural Balance Limited Ingredient Dog Treats
The limited ingredient Natural Balance Treats(paid link)* can also be broken into smaller bits for training.
They're easy-to-digest with super tasty ingredients your puppy will enjoy.
High-Value Dog Treats for Training
In the world of dog training, " high-value dog treats" are defined as anything your pup really loves to eat—your dog's favorite food.
For example, many dogs adore peanut butter, cheese, cooked chicken, pumpkin, and eggs (plus pretty much anything else you probably don't want them to eat).
So these could definitely be some of the best dog training treats for your pup.
Bandit's Biscuits Natural Healthy Grain-Free Peanut Butter Dog Treats
Bandit's Biscuits(paid link)* are popular and highly rated dog biscuits featuring peanut butter, cheese-bacon, and blueberry flavors.
The biscuits are grain/gluten-free and these soft dog treats for training are also easy to break into smaller bits as needed.
PureBites Freeze-Dried Treats
The UDSA-sourced PureBites Freeze-Dried Treats(paid link)* a are favorite with pups and their owners.
The treats are just 3 calories each—perfect for training sessions!
Buckley RuffPuffs Dog Training Treats
The 3.3-calorie tiny and tasty Buckley RuffPuffs(paid link)* are light and airy puffs that are easy to throw and retrieve.
They come in cheese, rotisserie chicken, smoked sausage, and sweet potato/apple flavors.
Raw Dog Training Treats
Even if you don't feed your dog a raw diet, there is no doubt that pure freeze-dried raw meaty treats like these will be enthusiastically received.
Natural Rapport Beef Bites Dog Training Treats
Natural Rapport Beef Bites(paid link)* are USDA-inspected, beefy, meaty freeze-dried raw dog training. The treats are grain-free and free from hormones or fillers.
Five different types of Natural Rapport treats are sure to keep the training interesting.
IMK9 Freeze Dried Salmon Dog Training Treats
Try these salmon treats(paid link)* which are packed with vitamins and minerals and best of all,human-grade salmon.
Salmon can make for a great training treat because it is tasty and loaded with essential fatty acids to keep your dog's skin and coat healthy.
Stella & Chewy's Carnivore Crunch Freeze-Dried Raw Training Treats
The popular USDA-made Chewy's Carnivore Crunch(paid link)* come in chicken, duck, beef, and turkey and are naturally grain-free.
Low-Calorie Dog Training Treats
Unless your dog loves ice cubes (and some dogs do!), you're probably going to need to find at least one type of dog training treat that is low calorie.
These are some of the best dog training treats that will come in handy for more challenging training days when some extra encouragement is needed!
Pet Botanics Dog Training Rewards
The 1.5-calorie Training Rewards(paid link)* are small and compact and great for packing into a treat pouch or even just your pocket.
Choose from five flavors and three bag sizes–the 10-ounce bag is perfect if you are looking for dog training treats bulk, since there are 500 treats in the bag!
Zuke's Tiny Naturals Dog Treats
The teeny-weeny Zuke's Tiny Naturals Dog Treats(paid link)* are grain-free and gluten-free.
They contain 1.5 calories each, which makes them an excellent choice for small dogs.
Senior Dog Training Treats
Here are some of the best dog training treats for training senior dogs.
These treats are healthy, easy to chew, highly palatable, and sure to be a hit as you teach your older dog some new tricks!
Wellness Core® Marrow Roasts Natural Grain Free Dog Treats
Wellness Core Marrow Roasts(paid link)* are savory, soft and healthy grain-free training treats.
They are perfect as an additional source of nutrition during training sessions with your senior dog.
Hill's Science Diet Dog Treats
These are soft and savory Diet Dog Treats(paid link)* from veterinarian-trusted Hill's Science Diet.
They are offered in nine flavors and several different shapes and sizes.
Milo's Kitchen Beef Sausage Slices with Rice Dog Treats
Finally, the popular Milo's Kitchen Sausage Treats(paid link)* are highly rated and USDA-approved.
These dog training treats that come in eight tasty flavors.
Best Dog Training Treats
We hope you've enjoyed learning about some of the healthiest and best dog training treats for puppies, adult dogs, and senior dogs!
Does your pup have a favorite that we didn't mention here? Please drop us a comment so we can add your dog's preferred treats to our list of the best dog training treats!
Affiliate link disclosure: Links in this article marked with an * are affiliate links, and we may receive a small commission if you purchase these products. However, we selected them for inclusion independently, and all of the views expressed in this article are our own.
References and Further Reading
Florida Veterinary Behavior Service
The Humane Society of the United States
The Ohio State University Veterinary Medical Center