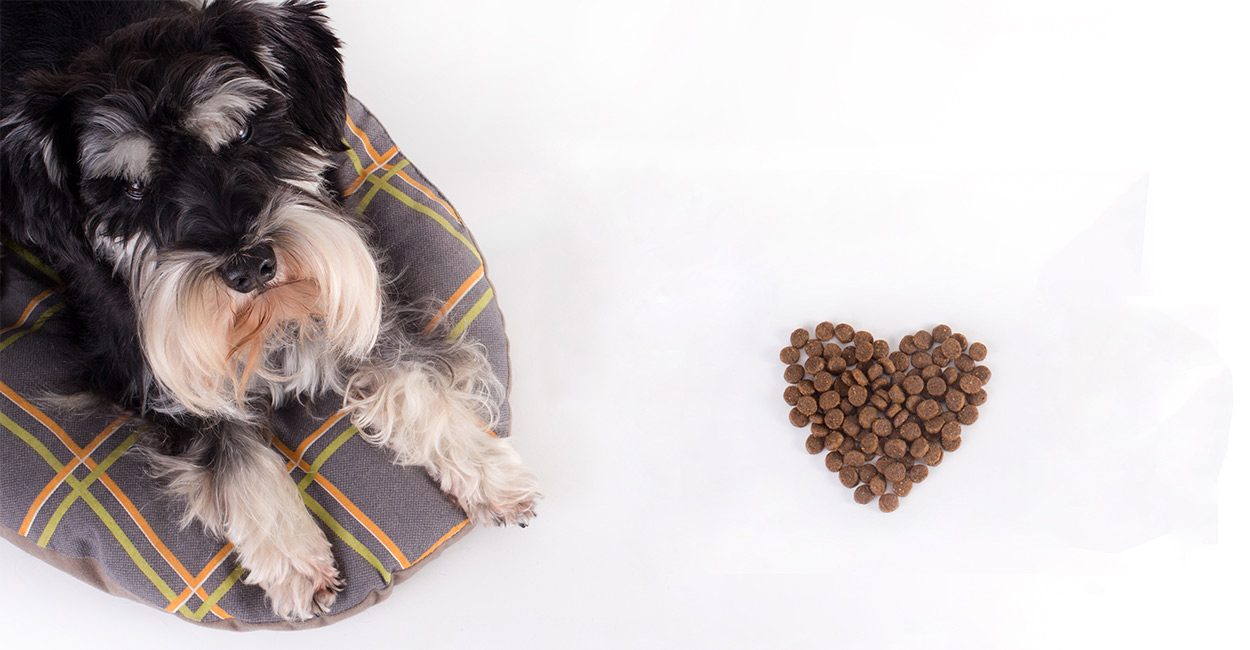 Welcome to our complete guide to the best food for a Miniature Schnauzer dog.
These charming little dogs are full of attitude and character and make great companion pets.
They are also lively creatures who just love to play with other canines or enjoy a game of ball in the park with their owners.
These stocky little livewires thrive on a diet that includes plenty of protein for muscle development and carbohydrate to provide all the energy they need.
Check out our article to the Miniature Schnauzer lifespan if you're a fan of this breed!
Products included in this article were carefully and independently selected by the Happy Puppy Site team. If you decide to make a purchase from one of the links marked by an asterisk, we may earn a small commission on that sale. This is at no extra cost to you.
Finding the best dog food for Miniature Schnauzers
However, it can be tricky to find the right diet to suit your Miniature Schnauzer, as these dogs can be prone to pancreatitis.
Triggers for this condition include high levels of triglycerides (fats) and cholesterol in the dogs' systems.
Some Miniature Schnauzers can also develop food allergies, which may make it a challenge to find a food that suits them.
Some Miniature Schnauzers are also fussy feeders.
Like other small breeds, Miniature Schnauzers can be prone to developing canine periodontal disease, because their teeth are often overcrowded.
Dental overcrowding predisposes small breeds to accumulating pockets of bacteria and plaque between their teeth, ultimately leading to periodontal disease.
Choosing the right diet for your Miniature Schnauzer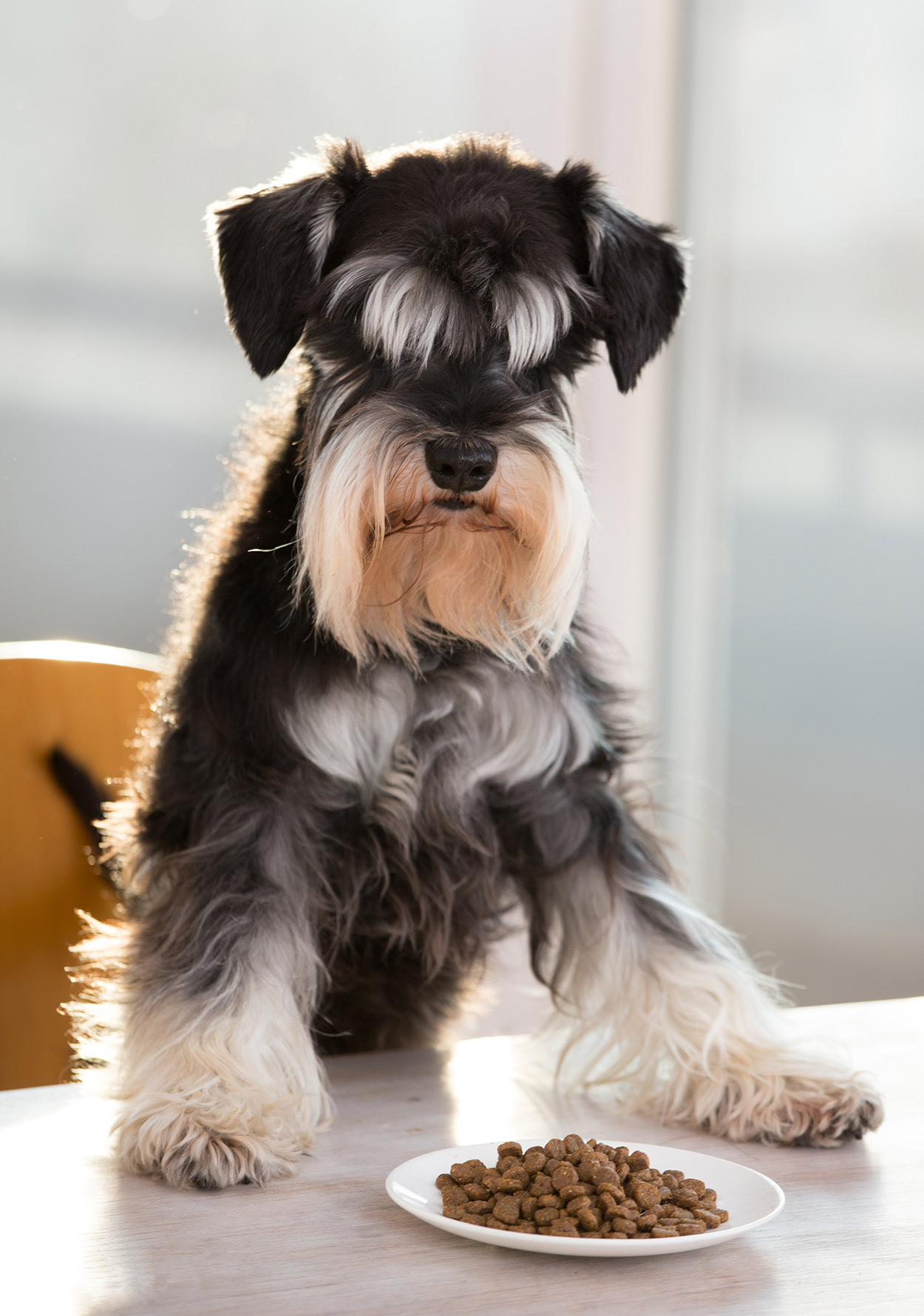 You may never have a problem with your Miniature Schnauzer's diet, but it's still advisable to select a diet that suits their sensitive digestion.
If you have specific concerns about your Miniature Schnauzer's nutritional needs, ask your vet for advice tailored perfectly to them.
If you're looking for feeding ideas for an otherwise healthy dog, we hope this overview of the best dog foods for Miniature Schnauzers and their puppies will be helpful.
What is the best food for a Miniature Schnauzer?
Because Miniature Schnauzers can be prone to pancreatitis, it's important that you feed a low-fat diet.
In addition, this breed can develop diabetes if they become overweight so it's important not to overfeed your pint-sized pooch!
If your pup will eat it, dry food is a good choice, as this helps to scrape away plaque.
Add a low-fat dental chew to your dog's daily diet to make sure his teeth stay plaque-free and keep periodontal disease at bay.
Avoid feeding your Miniature Schnauzer too many treats, no matter how appealing those eyes are!
This breed is inclined to become overweight, potentially risking health conditions such as diabetes and joint problems as they get older.
So, what's the best food for Miniature Schnauzer?
Best dry food for Miniature Schnauzer
If you're looking for a dry food for your Miniature Schnauzer, we don't think you can go far wrong with one of these tasty choices.
Royal Canin Breed Health Nutrition Miniature Schnauzer Adult dry dog food
Royal Canin make one of the most popular dry dog foods for Miniature Schnauzers* that's on the pet food market today.
This breed-specific diet contains extra-small kibble, specially formulated to tackle plaque and tartar, and it's also low in fat.
This food is designed for Miniature Schnauzer dogs of 10 months and older.
It comes in a convenient 2.5-pound bag or a 10-pound bag for owners who have multiple Schnauzers in their household!
Purina Pro Plan Focus Small Breed Formula Dry Dog Food
Another of the best dry dog foods for the Miniature Schnauzer* is made by pet food giant, Purina.
Your Miniature Schnauzer has dental, kibble size and nutritional needs. Purina's small breed formula dry dog food meets them all!
You can choose from 6-pound, 18-pound, and 34-pound bags.
Wellness CORE Natural Grain Free Dry Dog Food
If you prefer to feed your Miniature Schnauzer a grain-free diet that's also low in fat, you might want to try Wellness CORE Natural Grain Free Dry Dog Food*.
This wildly popular reduced fat formula is also rich in protein and made from all natural ingredients.
Best wet food for a Miniature Schnauzer
As Miniature Schnauzers can be fussy feeders, you may find that your pup prefers a combination of dry and wet food.
Begin by feeding a combination diet of 25% wet food to 75% dry food.
Ask your veterinarian's advice on portion size and for guidance on adjusting the amount of food your dog should have as he matures.
CESAR Adult Wet Dog Food
Cesar's variety pack* contains 40 3.5 ounce trays of wet dog food in a variety of different flavors, including poultry and steak.
This wet food brand is extremely popular. Its special balance and formula is a favorite for small dogs and fussy eaters.
Vitamins and minerals are added to the recipe, potentially saving you money on separate food supplements.
Hill's Science Diet Adult Small & Toy Ground Entrees Wet Dog Food
Hills Science make a wide range of special-diet dog foods, including one for small breeds*.
The recipe is formulated to help maintain lean muscle and an ideal body weight.
The food is also easy for small breeds to digest, making it suitable for Miniature Schnauzers with sensitive stomachs.
The 8-ounce cans come in a 24 pack.
Best food for Miniature Schnauzer puppy
If you are lucky enough to have a cute little furbaby to feed, it's important that you start off on the best foot.
This means feeding the right diet that addresses the special nutritional needs of Miniature Schnauzer puppies.
The following Miniature Schnauzer food for puppies has your baby covered!
Wellness Complete Health Natural Dry Small Breed Puppy Food
This dry food is specially formulated with small breed puppies* in mind.
It offers a balanced, complete diet in a small kibble size and has added salmon, containing DHA (an omega-3 fatty acid) for healthy brain and eye development.
Made in the USA, Wellness foods contain only best quality, natural ingredients with no grain, meat by-products, colors, preservatives, or artificial flavors.
IAMS Proactive Health Smart Puppy Small & Toy Breed Dry Dog Food
IAMS puppy and toy breed dry food* is perfectly designed with small kibble pieces specially for little mouths.
Tasty chicken is the main ingredient, and the food also contains added omega-3 DHA to support healthy brain development.
Antioxidants help your Miniature Schnauzer puppy develop a strong, healthy immune system.
IAMS puppy food contains no grains, no fillers, no preservatives, and no food colors.
The product comes in 3.3-pound, 6-pound, 7-pound, 12.5-pound, 15-pound, and 30.6-pound bags.
Best dog food for Miniature Schnauzers with allergies
Miniature Schnauzers can have sensitive stomachs.
The best Miniature Schnauzer food for dogs with food sensitivities or wheat allergies is one that is specially formulated to avoid causing stomach upsets.
Dogs with sensitivity and food allergy issues will benefit from products containing only natural ingredients, and the following two diets fit the bill.
Solid Gold Mighty Mini Holistic Dog Food for Small & Toy Breeds, Dry and Wet with Superfoods
Solid Gold Holistic foods come in dry and wet form*; perfect for fussy eaters!
This food is also suitable for all life stages, from a Miniature Schnauzer puppy right through to senior dogs.
The recipe is gluten-free and contains 20 nutrient-dense superfoods to provide your pet with a powerful source of natural nutrients and vitamins.
Complete with easy-to-digest chicken and fiber-rich pumpkin, this food is perfect for pets with sensitive stomachs.
Levels of fat, fiber, and protein are carefully measured to cater for the unique nutritional needs of small dogs.
The food does not contain fillers, grains, or artificial preservatives.
Solid Gold is made in the USA.
Hill's Science Diet Sensitive Stomach & Skin Small & Toy Breed Dry Dog Food
Hill's Diet Sensitive Stomach and Skin* is formulated for small breeds of dogs that have sensitive stomachs or skin allergies.
The diet includes prebiotic fiber made from beet pulp, helping to keep the digestive system moving and prevent diarrhea.
Hills gives your Miniature Schnauzer easily digestible, high quality food that contains no artificial flavors, colors, or preservatives.
The recipe includes Omega-6 fatty acids and vitamin E. These ingredients promote a shiny coat and healthy skin. In addition, a blend of antioxidants with vitamins E and C help to support your dog's immune system.
Grain-free Miniature Schnauzer dog food
Many dogs demonstrate a sensitivity to the gluten that many standard diets contain. For Miniature Schnauzers of all ages, a grain-free diet could therefore be a good choice.
There are plenty of excellent grain-free products available for your pet, some of which we've already mentioned. Here are a couple more that you might like to try.
Purina Beyond Natural Grain Free White Meat Chicken & Egg Recipe Dry Dog Food
Purina are a very popular manufacturer of high-quality dog food.
Their grain-free range of dry products* is made with natural ingredients, plus added minerals and vitamins.
High chicken content ensures that your Miniature Schnauzer will get all the protein and amino acids he needs.
Purina's nutritionists keep a close eye on the food making process. They carry out over 680 safety and quality checks on their food!
Purina's grain-free food contains no soy, corn, or wheat.
The food is available in 3-pound, 13-pound, and 23-pound bags.
Nature's Recipe Grain Free Small Breed Dry Dog Food
Nature's Recipe are a lesser known but still very popular maker of high-quality pet foods, including a grain-free small breed dry diet* that would be a suitable Miniature Schnauzer food.
The recipes come in a variety of appetizing flavors, including chicken, lamb, and salmon so there's something to suit every taste.
The food contains high-quality protein to help maintain muscle health, and also contains pumpkin and sweet potatoes to provide tasty grain-free sources of carbohydrate for energy and vitality.
This all natural formulation contains no grains, but does have plenty of added minerals, vitamins, and nutrients.
This food is also available in a puppy-specific recipe.
Miniature Schnauzer dog food for senior "pups"
Just as Miniature Schnauzer puppies have special dietary requirements, the same applies to seniors.
Miniature Schnauzer food amount measurement is especially important in seniors to make sure that they don't become overweight whilst still receiving the nutrition that they need.
Osteoarthritis can affect older dogs, causing pain in their joints. As a result, your faithful friend may become less active.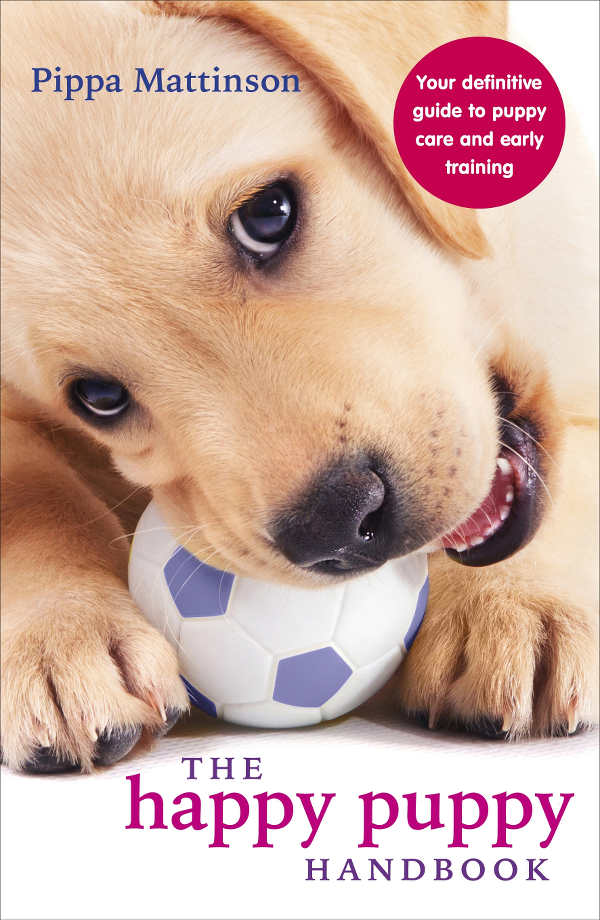 In addition, older dogs are sometimes more susceptible to illness and they do benefit from increased immune system support.
We've picked out these two foods that your senior Miniature Schnauzer might like to try.
Wellness Complete Health Natural Dry Small Breed Dog Food for Senior Dogs
Wellness make a dry food* that is specially designed to meet the needs of small breeds as they reach their golden years.
Complete Health offers a balanced, complete everyday diet for the senior small breed dog.
The smaller kibble size pieces full of delicious deboned turkey might tempt your fussy feeder. The added chondroitin and glucosamine will help to keep your senior Miniature Schnauzer's joints supple and healthy.
Wellness manufacture this food with all natural ingredients in the USA. It contains no grains, meat by-products, artificial preservatives, flavors, or colors.
Nutro Ultra Small Breed Senior Dry Dog Food
Nutro Ultra offer a small breed senior dry dog food*, ideal for Miniature Schnauzer pensioners.
This food can help to support your dog's teeth and immune system.
The recipe contains high quality protein, healthy whole grains, as well as a unique blend of superfoods and other nutrients.
Salmon, lamb, and chicken are the sources of this food's protein.
This food contains no wheat, corn or say. Also there are no added preservatives or artificial flavors.
Nutro have designed this formula to support a host of health concerns. These include: healthy coat and skin, a strong immune system, heart and digestive system health. All of this while maintaining vitality and energy!
Best food for a Miniature Schnauzer
Every owner wants to provide the best possible health and lifestyle for their Miniature Schnauzer friend. This all starts with the right diet.
Just like people, every dog is different, and you may find that you have to try a few different foods before you find the one that best suits your pet.
Remember that your Miniature Schnauzer puppy's needs will change as he grows up and that his nutritional requirements will alter too.
What Miniature Schnauzer food can't your pup get enough of?
Tell us which meals are a hit, and find out what's in the dinner bowl for our other readers' dogs over in the forum!
Affiliate link disclosure: Links in this article marked with an * are affiliate links, and we may receive a small commission if you purchase these products. However, we selected them for inclusion independently, and all of the views expressed in this article are our own.
References and further reading
The Kennel Club: Miniature Schnauzer
Jennifer L. Garcia, DVM, DACVIM, "What's the relationship between hypertriglyceridemia and pancreatitis in miniature schnauzers?" DVM 306, 2011.
R. B. Ford, "Idiopathic hyperchylomicronemia in miniature schnauzers" Journal of Small Animal Practice, 1993.
American Royal Veterinary College, "Canine Periodontal Disease"