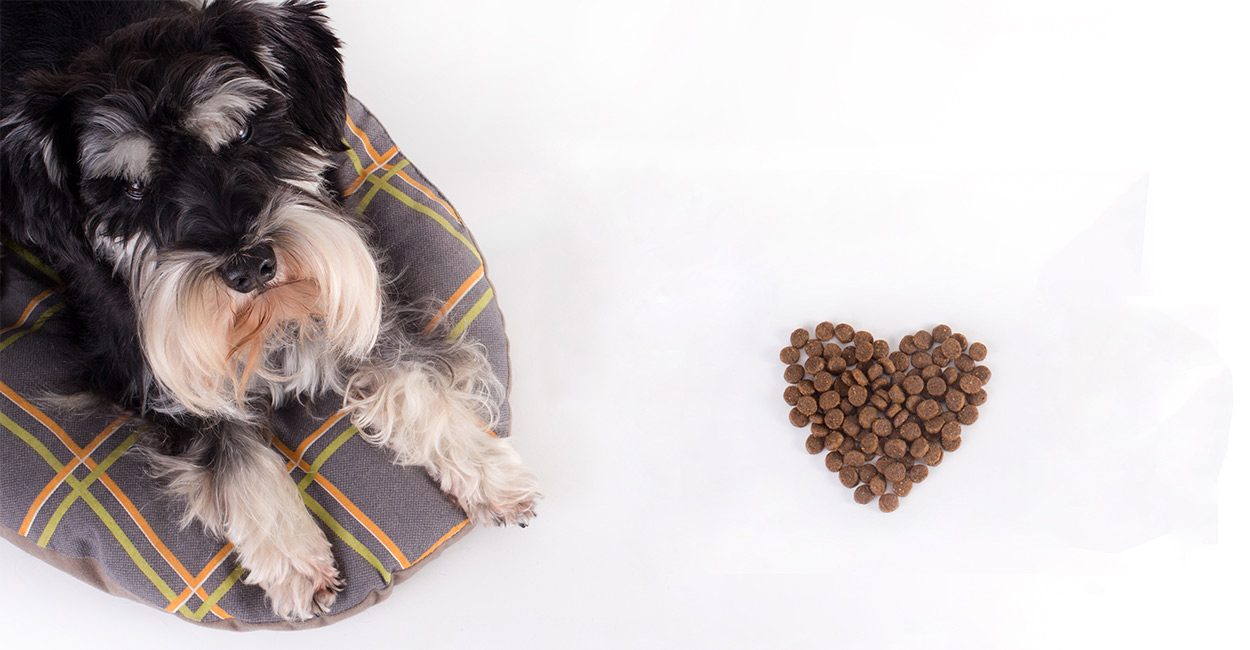 The best food for a Miniature Schnauzer is high in protein and doesn't contain too many filler ingredients. These stocky little live wires thrive on a diet that promotes muscle development and provides plenty of energy. However, they are prone to a few health conditions that can be exacerbated by too much fat, and are pretty prone to weight gain too. Today I'll share my top picks for keeping your dog in the best possible condition.
Contents
Diet and Nutrition
Because Miniature Schnauzers can be prone to pancreatitis, it's important that you feed a low-fat diet. In addition, this breed can develop diabetes if they become overweight so it's important not to overfeed your pint-sized pooch!
If your pup will eat it, dry food is a good choice, as this helps to scrape away plaque. Add a low-fat dental chew to your dog's daily diet to make sure his teeth stay plaque-free and keep periodontal disease at bay.
Avoid feeding your Miniature Schnauzer too many treats, no matter how appealing those eyes are! This breed is inclined to become overweight, potentially risking health conditions such as diabetes and joint problems as they get older.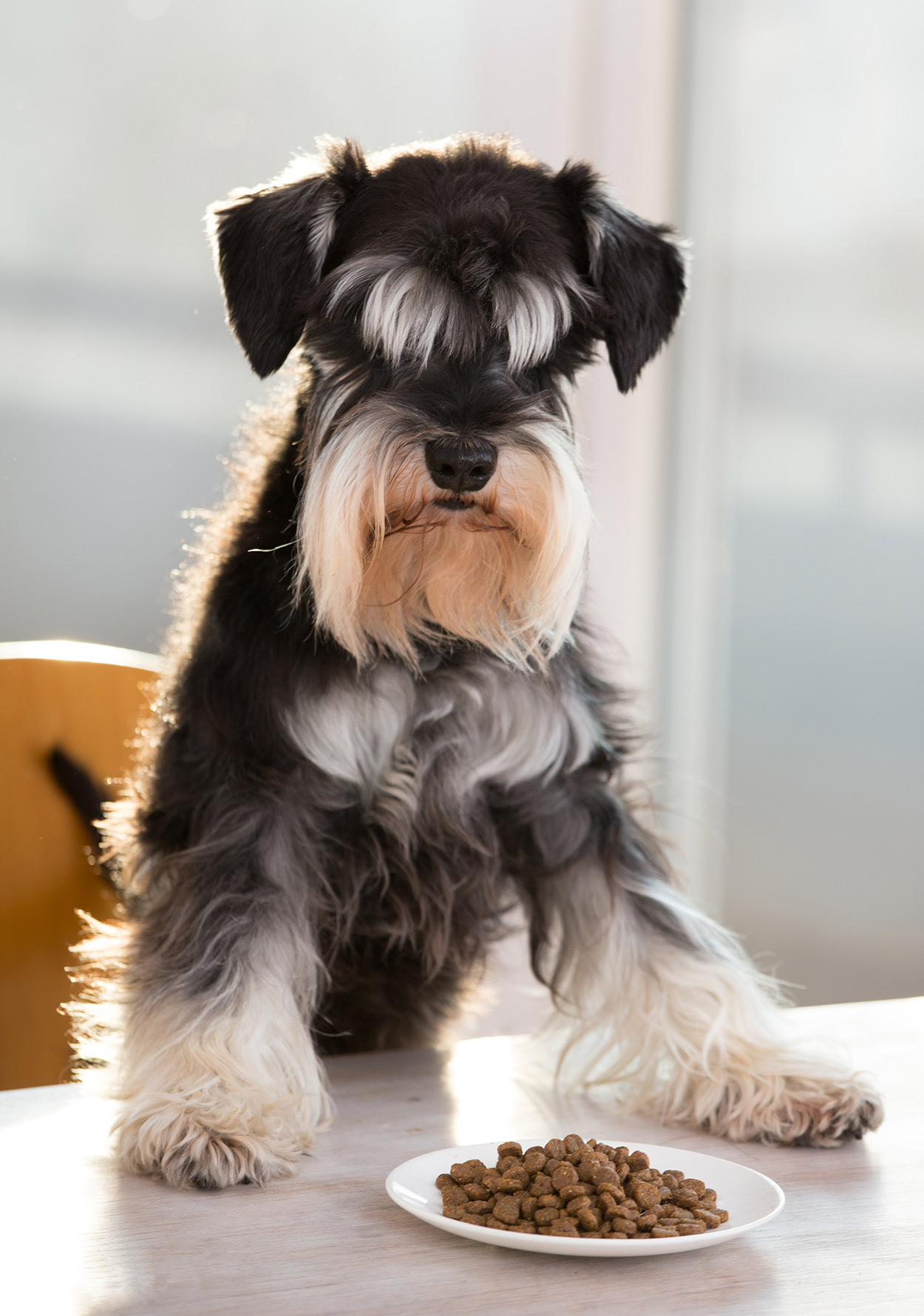 Best Dry Food for a Miniature Schnauzer
If you're looking for a dry food for your Miniature Schnauzer, we don't think you can go far wrong with one of these tasty choices.
Royal Canin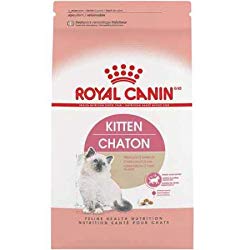 Royal Canin make one of the most popular dry dog foods for Miniature Schnauzers* that's on the pet food market today. This breed-specific diet contains extra-small kibble, specially formulated to tackle plaque and tartar, and it's also low in fat.
Purina Pro Plan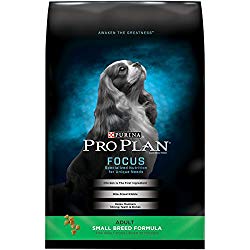 Another of the best dry dog foods for the Miniature Schnauzer* is made by pet food giant, Purina. Your Miniature Schnauzer has dental, kibble size and nutritional needs. Purina's small breed formula dry dog food meets them all!
Wellness CORE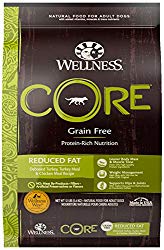 If you prefer to feed your Miniature Schnauzer a grain-free diet that's also low in fat, you might want to try Wellness CORE Natural Grain Free Dry Dog Food*. This wildly popular reduced fat formula is also rich in protein and made from all natural ingredients.
Best Wet Food for a Miniature Schnauzer
As Miniature Schnauzers can be fussy feeders, you may find that your pup prefers a combination of dry and wet food. Begin by feeding a combination diet of 25% wet food to 75% dry food.
Cesar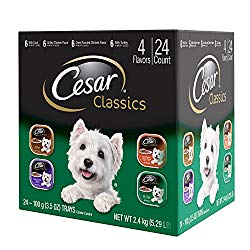 Cesar's variety pack* contains 40 3.5 ounce trays of wet dog food in a variety of different flavors, including poultry and steak. This wet food brand is extremely popular. Its special balance and formula is a favorite for small dogs and fussy eaters. Vitamins and minerals are added to the recipe, potentially saving you money on separate food supplements.
Hill's Science Diet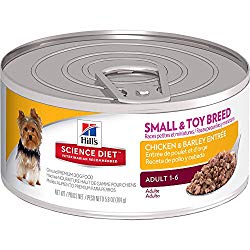 Hills Science make a wide range of special-diet dog foods, including one for small breeds*. The recipe is formulated to help maintain lean muscle and an ideal body weight. The food is also easy for small breeds to digest, making it suitable for Miniature Schnauzers with sensitive stomachs.
Best Food for a Miniature Schnauzer Puppy
If you are lucky enough to have a cute little furbaby to feed, it's important that you start off on the best foot. This means feeding the right diet that addresses the special nutritional needs of Miniature Schnauzer puppies.
Wellness Complete
This dry food is specially formulated with small breed puppies* in mind. It offers a balanced, complete diet in a small kibble size and has added salmon, containing DHA (an omega-3 fatty acid) for healthy brain and eye development.
Made in the USA, Wellness foods contain only best quality, natural ingredients with no grain, meat by-products, colors, preservatives, or artificial flavors.
IAMS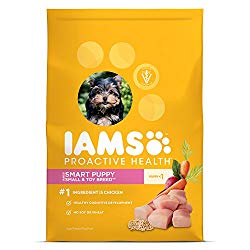 IAMS puppy and toy breed dry food* is perfectly designed with small kibble pieces specially for little mouths. Tasty chicken is the main ingredient, and the food also contains added omega-3 DHA to support healthy brain development.
Antioxidants help your Miniature Schnauzer puppy develop a strong, healthy immune system. IAMS puppy food contains no grains, no fillers, no preservatives, and no food colors.
Best Food for a Miniature Schnauzer with Allergies
Miniature Schnauzers can have sensitive stomachs. The best food for dogs with food sensitivities or wheat allergies is one that is specially formulated to avoid causing stomach upsets. Dogs with sensitivity and food allergy issues will benefit from products containing only natural ingredients, and the following two diets fit the bill.
Solid Gold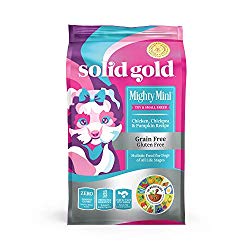 Solid Gold Holistic foods come in dry and wet form*; perfect for fussy eaters! This food is also suitable for all life stages, from a Miniature Schnauzer puppy right through to senior dogs.
Hill's Science Diet Sensitive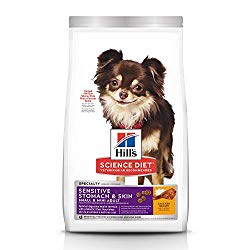 Hill's Diet Sensitive Stomach and Skin* is formulated for small breeds of dogs that have sensitive stomachs or skin allergies. The diet includes prebiotic fiber made from beet pulp, helping to keep the digestive system moving and prevent diarrhea.
The recipe includes Omega-6 fatty acids and vitamin E. These ingredients promote a shiny coat and healthy skin. In addition, a blend of antioxidants with vitamins E and C help to support your dog's immune system.
Grain Free Miniature Schnauzer Food
Many dogs demonstrate a sensitivity to the gluten that many standard diets contain. For Miniature Schnauzers of all ages, a grain-free diet could therefore be a good choice.
There are plenty of excellent grain-free products available for your pet, some of which we've already mentioned. Here are a couple more that you might like to try.
Purina Beyond Natural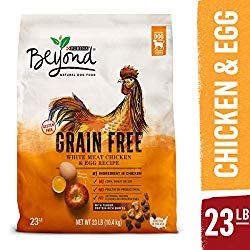 Purina are a very popular manufacturer of high-quality dog food. Their grain-free range of dry products* is made with natural ingredients, plus added minerals and vitamins.
Nature's Recipe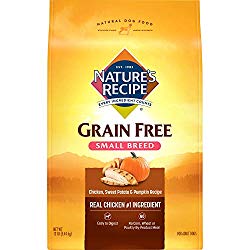 Nature's Recipe are a lesser known but still very popular maker of high-quality pet foods, including a grain-free small breed dry diet* that would be a suitable Miniature Schnauzer food.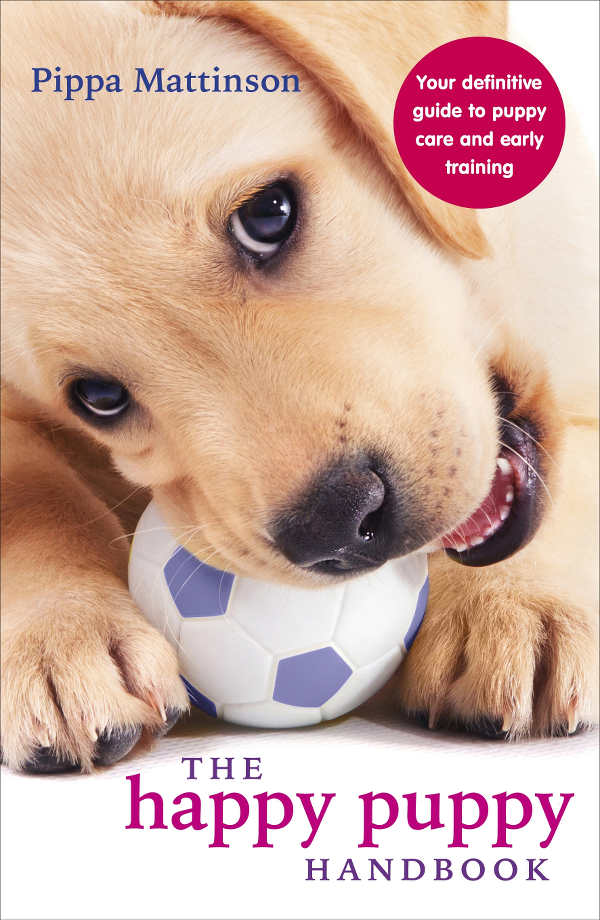 The recipes come in a variety of appetizing flavors, including chicken, lamb, and salmon so there's something to suit every taste.
The food contains high-quality protein to help maintain muscle health, and also contains pumpkin and sweet potatoes to provide tasty grain-free sources of carbohydrate for energy and vitality.
Senior Miniature Schnauzer Food
Osteoarthritis can affect older dogs, causing pain in their joints. As a result, your faithful friend may become less active. In addition, older dogs are sometimes more susceptible to illness and they do benefit from increased immune system support.
Wellness Complete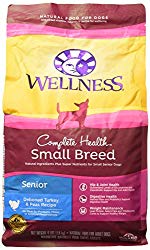 Wellness make a dry food* that is specially designed to meet the needs of small breeds as they reach their golden years. The smaller kibble size pieces full of delicious deboned turkey might tempt your fussy feeder. The added chondroitin and glucosamine will help to keep your senior Miniature Schnauzer's joints supple and healthy.
Nutro Ultra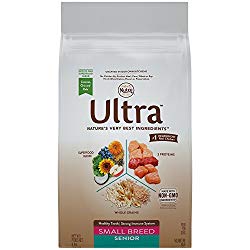 Nutro Ultra offer a small breed senior dry dog food*, ideal for Miniature Schnauzer pensioners. This food can help to support your dog's teeth and immune system.
Affiliate link disclosure: Links in this article marked with an * are affiliate links, and we may receive a small commission if you purchase these products. However, we selected them for inclusion independently, and all of the views expressed in this article are our own.