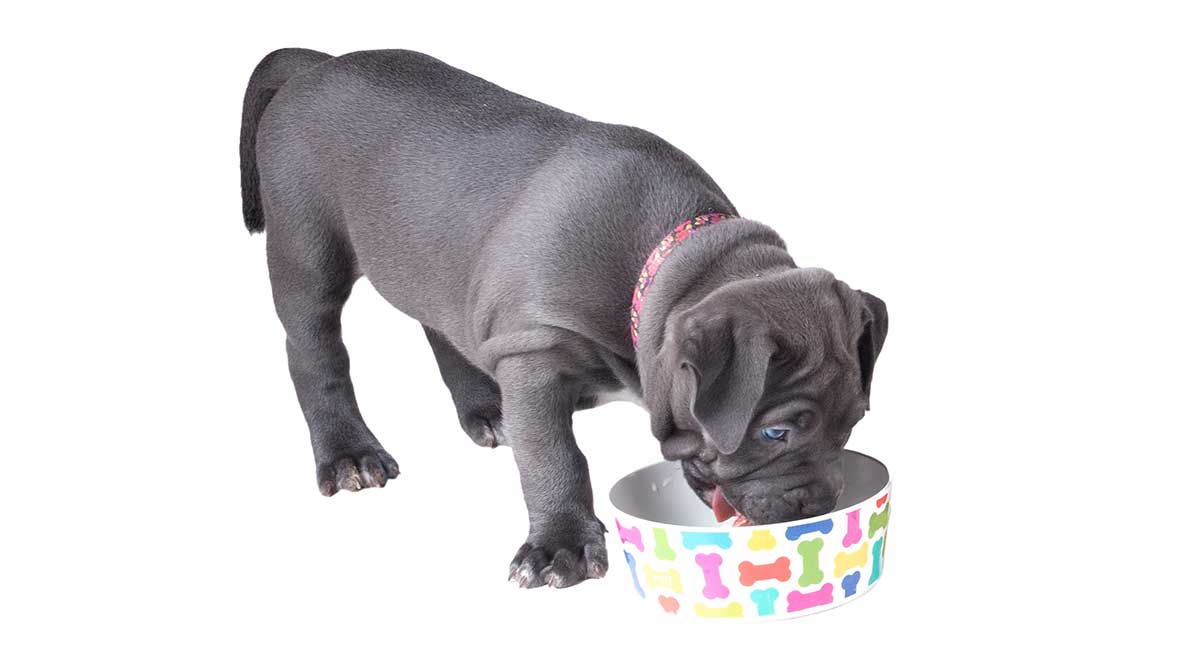 Feeding a Pitbull puppy starts with finding a commercial or homemade diet that contains all the right nutrition for their life stages. Changes need to be made gradually, and the number of meals each day needs to reflect their age. The result is a diet that supports healthy growth, and avoids those dreaded allergies and sensitive tummy. Today I'll share the best puppy foods for Pitbulls, the ideal amount of daily feedings, how much to feed and more.
Contents
Swapping Puppy Food Brands
First things first. When you bring your Pitbull puppy home, make sure that you know exactly what the breeder (or shelter) was feeding her. Keep on feeding your pup that very same thing for at least two weeks. This will give your puppy time to get settled into her new home. Then, when you want to transition to your new chosen puppy food, start slowly.
Mix in 10 percent of the new food with 90 percent of the "old" food on day one. Then increase the "new" food slowly over the course of at least a week. The slow food change will prevent your pup's stomach from getting upset.
Another good thing you can do for your Pitbull puppy's digestion is adding probiotics to the food once daily.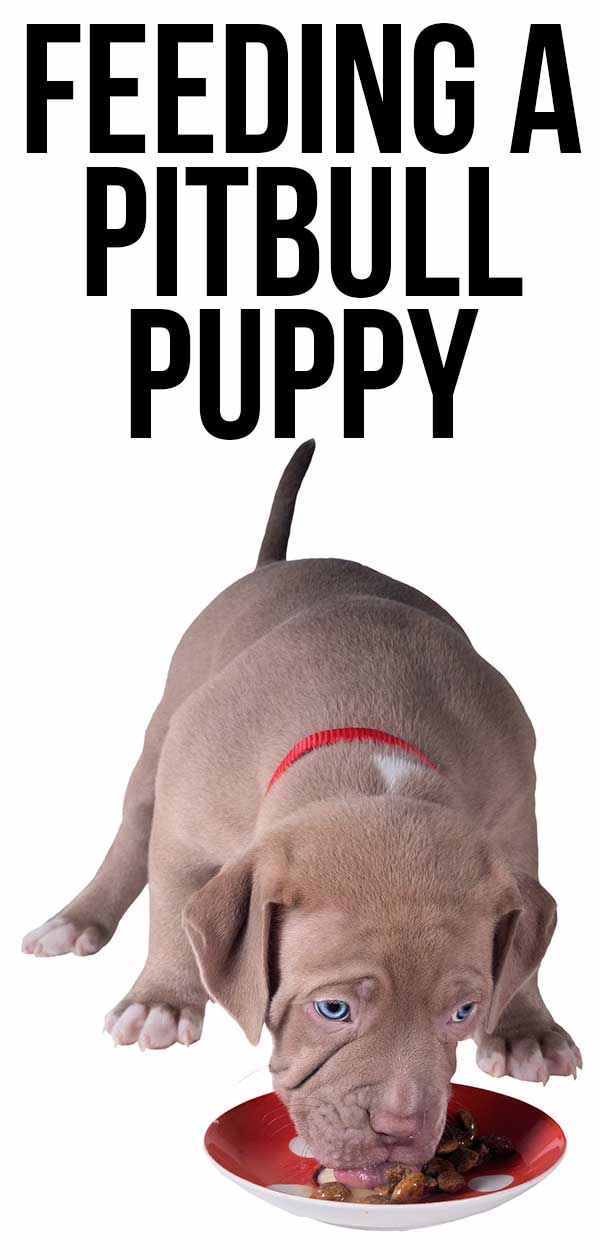 Pitbull Puppy Diets
Growing puppies need food with at least 22.5 percent of high-quality protein (based on dry matter). The amino acid profile (how the proteins are put together) matters too, as do other nutrients such as calcium, phosphorus or magnesium.
Even the ratios can play a role—for example, aim for a calcium to phosphorus ratio between 1:1 and 2:1.
More is not always better, though.
Too much protein and too many "bone building blocks" can cause your puppy to grow too quickly and develop joint problems later in life.
Avoid overfeeding your pooch, and you'll be just fine.
How Often To Feed Your Puppy
Baby Pitbulls have a fast metabolism, which then slows down as they grow up. The older your puppy gets, the fewer calories she requires per pound of body weight. As your puppy grows, she can also go longer without food, so you can get by with fewer feedings. Here's a general rule of thumb for the amount of daily feedings required:
Younger than four months: Four meals daily
Between four and six months: Three meals daily
Over six months: Two to three meals daily
What to Feed a Pitbull Puppy
You can choose a commercial dog food (kibble, wet food, or both) or you can prepare your puppy's meals yourself (either cooked or raw). If you go with the latter, it will be your own responsibility to put together a complete and well-balanced meal plan.
Pitbull puppies might sometimes have a sensitive stomach and have a high incidence of food-related allergies that manifest as skin problems. They might react to certain ingredients, so searching for the food your Pitbull puppy thrives on can require a bit of experimentation.
Feeding a Pitbull Puppy Kibble
Kibble is the most convenient dog food. It's easy to store, can be used as treats or fed on the go, and it comes in all sorts of different flavors.
It's worth spending a bit more for an all-natural brand with premium ingredients. Studies have shown that more expensive kibble is often more easily digestible.
Try to avoid ingredients like corn, soy, wheat, and fructose or glucose syrups. And let's not forget the most important thing. To make sure your puppy has all the nutrients it needs to grow up healthy, choose a kibble designed specifically for medium-sized puppies to large breeds.
Feeding a Puppy Wet Food
Wet food is also a commercial type of dog food. The difference from kibble is that wet food contains about 75 percent water. The moisture unfolds all the aromas in the food, making wet food extremely palatable for most dogs. The downside of the moisture is that wet food spoils more easily.
Additionally, there is no mechanical abrasion of your puppy's teeth, so there is no "teeth-cleaning effect" as there is when feeding kibble. Many dogs have loose stools when fed wet food in large amounts.
Feeding a Puppy Raw
The biologically appropriate raw foods (BARF) takes a different approach: It tries to mimic what your dog's wild ancestors eat. These diets contain mostly raw meats, bones, and some vegetables and fruits.
Supporters of raw feeding claim that it makes their dogs healthier and the coat shiny. The veterinary community is still rather divided on this subject. Studies haven't been able to conclusively prove that raw feeding is better than commercial diets. They haven't been able to refute it either, though.
Planning a BARF Diet
We suggest working closely with an experienced vet or canine nutritionist to put together a complete and well-balanced meal plan.
There's a stubborn myth out there that raw feeding makes dogs more likely to bite, as it's said to "bring out their wild side."
In a breed like the Pitbull—that already has an unwarranted bad reputation, and certainly a dangerous bite—this is often used as a key argument against raw feeding. We can put your mind at easy, though. This theory has absolutely no scientific truth to it. Your dog will not become "blood-thirsty" because of a BARF diet.
Anecdotally, though, some dogs are more defensive of their food bowl on a raw diet. It's certainly a good idea to keep children away from your puppy's food bowl at meal times, anyway.
One last important thing to pay attention to when feeding a raw diet is hygiene. We can't stress this enough, as raw meat is frequently contaminated with harmful bacteria and parasites.
Feeding a Puppy a Homemade Diet
What about feeding your dog home-cooked meals? If raw feeding isn't for you, cooking for your pup can be an option. Also consider this if there are immuno-compromised individuals or small children in your household that are in danger of meat-borne pathogen infections.
Just as with raw diets, ensure your puppy is getting all the necessary nutrients in the right ratios and amounts.
Is My Puppy the Right Weight?
Weighing your Pitbull pup regularly—at least once a week—is very important.
Additionally, it's a good idea to keep an eye on your puppy's body condition score.
The body condition score is a hands-on way to determine how much "fluff" is on your puppy.
Watching the weight development and the body condition score, you can react early if your puppy's growth comes to a halt.
What happens if your puppy is too skinny?
Being underweight can interfere with your pup's healthy growth.
Also, there might be an underlying reason why your pooch is not gaining weight like she should.
If your puppy is too skinny despite eating a hearty appetite, have your veterinarian check for parasites.
You might think being a bit too "fluffy" won't harm your Pitbull puppy.
But being overweight during the growth period can put a lot of stress on the bones and joints of your Pitbull.
It's never too early for good weight control.
My Puppy Is Still Hungry
What if your puppy is always begging for food?
First off, make sure your pup is not underweight and is getting the right amount of calories.
When that's settled, and your pooch is still hungry, try distributing the total daily food portion onto more feedings throughout the day.
If that still doesn't help, you could try some treats in between meals. But make your puppy work for them.
Kibble is very handy to use for puppy training. It can also be filled into food balls or dog puzzles to exercise your puppy's developing brain.
It's not advisable to just give your puppy treats whenever she is begging.
This teaches your pup really quickly that the begging eyes work, and you won't get another quiet minute.
My Puppy Won't Eat
It's normal to get worried if your puppy refuses a meal.
However, this can happen occasionally.
Maybe your pup is just too overwhelmed from learning, playing and all the new experiences to get hungry.
If it's just one meal that your pup skips, no need to fret.
Should your Pitbull pup miss more than two meals—or go without food for more than 12 hours—it might be a cause for concern.
Check if your puppy has any other symptoms, such as:
Vomiting
Diarrhea
Unusual tiredness
Salivation
Then, give your vet a call to discuss whether an emergency visit is warranted.
How Long Is a Pitbull Considered a Puppy?
Your Pitbull puppy is expected to reach her adult weight at around 13 or 14 months of age. At this stage, it's time to switch to a food for adult dogs. Your pooch no longer needs the higher protein amount provided in puppy foods.
If you're feeding your dog a homemade or raw diet, recalculate nutrients and portion sizes accordingly. If your Pitbull is getting a commercial diet, all you'll have to do is switch to an "adult" type of dog food. Ideally, stick with the same brand.
Mix the "new" and "old" food together, slowly increasing the amount of the adult dog food over the course of one week.