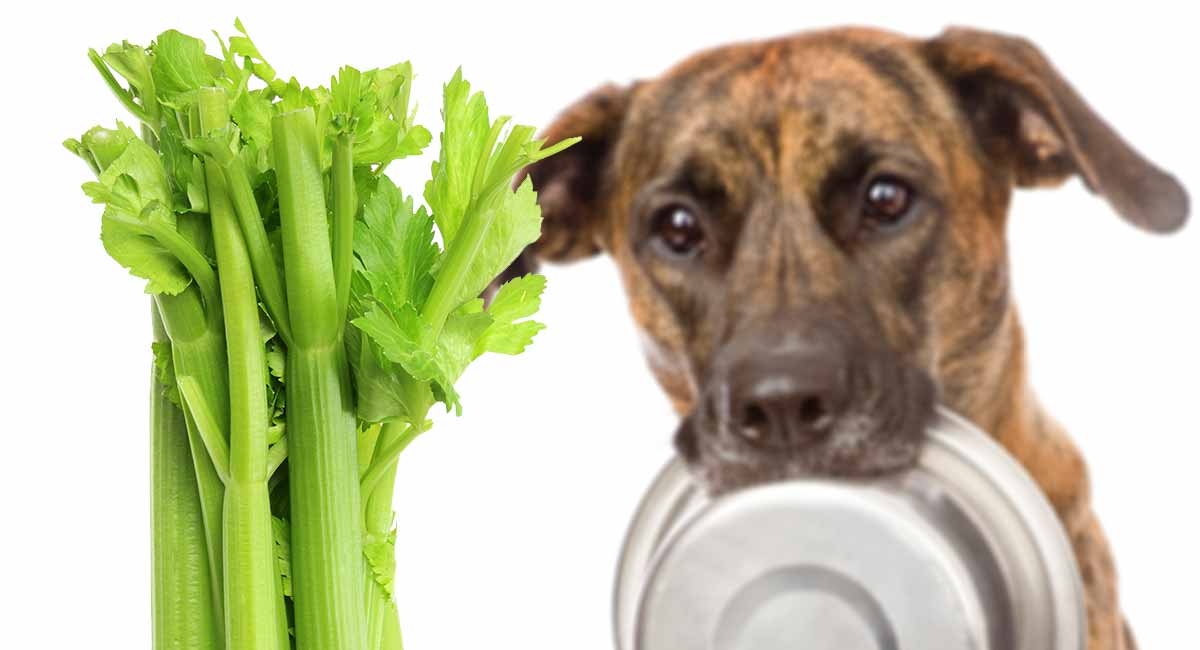 Can dogs eat celery? It's a common question. Vegetables and fruits are popular treats, but some of them are less healthy, and less safe, than others.
But the simple, quick answer to this question is yes.
Yes, dogs can eat celery. But it shouldn't be a major part of their diet, mostly for nutritional reasons.
Let's take a more in depth look at this vegetable and how it might interact with your dog.
Some Fun Facts About Celery
According to nutrition specialists, celery is a fantastic source of antioxidants<. It also is reported to help with a range of health issues, from high blood pressure to weight loss and even to cancer.
Celery and animals have a long history! The vegetable was even mentioned in Homer's epic poems The Iliad and The Odyssey, and horses were said to graze on wild celery in ancient Troy.
Animals have even been used to explore the benefits of celery, such as the trial diet done on rats in 1995. The trial showed that, even in animals, celery in the diet helped to lower high cholesterol.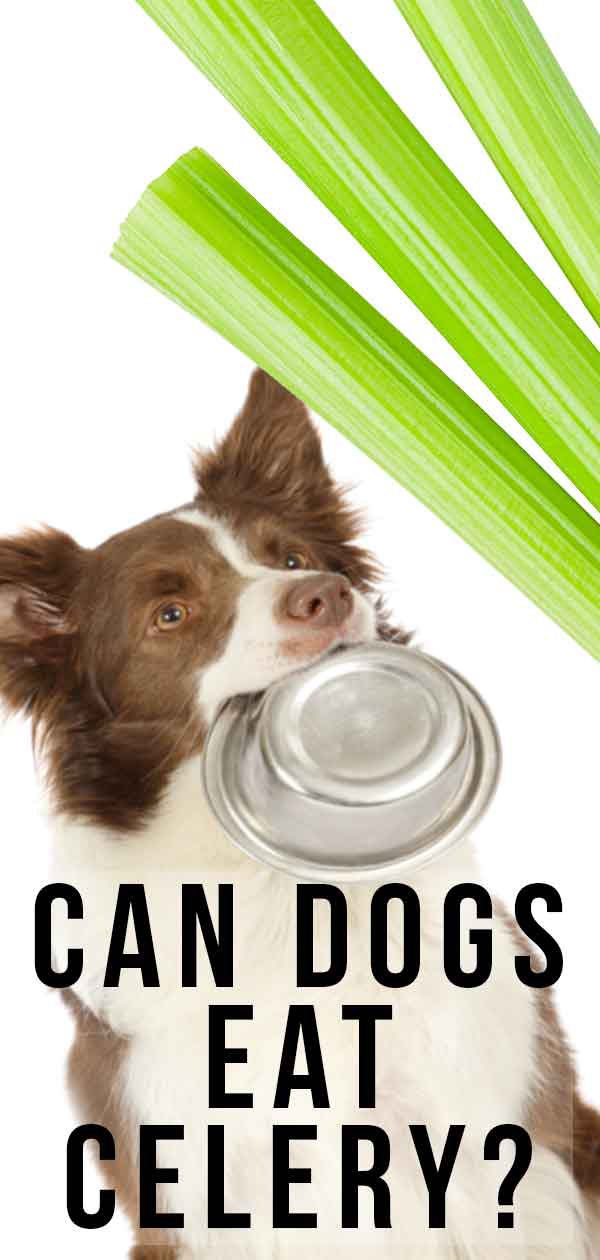 Can Dogs Have Celery?
So is celery safe for dogs?
Again, put simply: yes.
Sunrise Veterinary Clinic states that celery is perfectly fine for dogs to eat, though not in huge doses.
Celery contains a staggering number of healthy ingredients, including vitamins K, C, and B6. It also contains calcium, magnesium, and potassium, among others.
The main portion of a dog's diet is protein. So a lot of what is contained in celery isn't necessarily necessary for them to have in their diet.
Celery and other safe veggies can be a great treat for dogs who are struggling with weight issues. But treats shouldn't make up more than 10% of your dog's diet.
Dogs are omnivores, and they need nutrients other than those contained in celery to thrive. Still, it won't hurt them to get have celery as a treat now and then.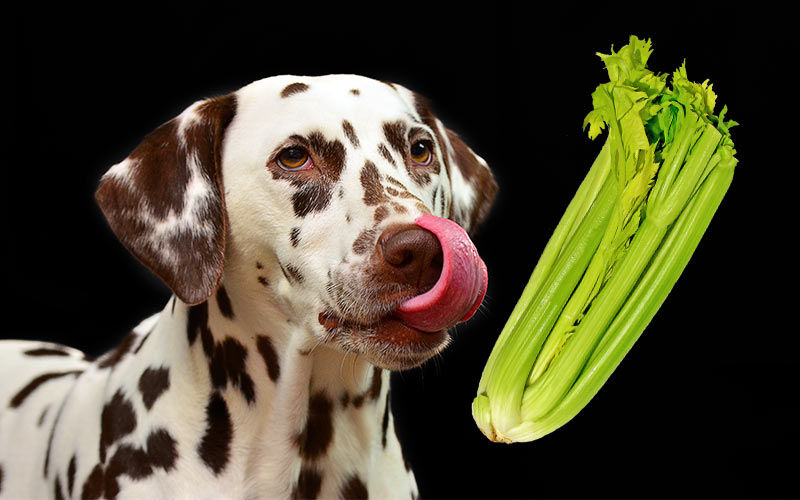 Is Celery Bad For Dogs?
Celery is normally safe for dogs in small quantities in terms of toxicity. However, it does come with some risks. For example, it can be a choking hazard.
The hard, stringy nature of celery can be especially problematic for small dogs. They may have a hard time swallowing the celery. They may also have a hard time passing it once swallowed.
For this reason alone, you might want to think twice before offering your dog a taste of a celery stick.
There are some other concerns as well. Being a mass-produced plant, much of the celery sold in grocery stores may have been treated with a pesticide.
While they have been approved by the U.S. Food and Drug Administration, feeding your dog treated produce may not be the best idea. What's on My Food, a web site run by the Pesticide Action Network, lists 64 pesticides present on celery as reported by the USDA.
Some of these pesticides, such as Chlorothalonil, have been listed as likely human carcinogens by the U.S. Environmental Protection Agency.
If you are worried about your dog being exposed to pesticides that may cause canine cancer as well, it is wise to thoroughly wash every piece of produce you feed your dog. And only offer the treats in moderation.
Is Celery Good For Dogs?
Celery can potentially have moderate health benefits for dogs.
It contains vitamins A, C, and K, as well as manganese and folate. It's also a good source of potassium. However, your pup should already get all of these things from his complete dog food or raw diet.
As mentioned above, celery can assist with weight loss, blood pressure, and cholesterol issues.
But the health benefits of celery are not so great that it's a good idea to feed your dog too much celery.
Celery should never replace other foods. Dogs need a healthy, balanced diet that includes plenty of protein. Their nutritional needs should be met by their regular dog food, and not by treats alone.
Any balanced food made for dogs will have the nutrients they need without supplementing the diet with celery and other vegetables.
Can Dogs Eat Raw Celery?
Can dogs have celery raw?
Many owners feed their dogs raw celery with no ill effects.
As long as the celery is properly prepared, your dog should have no problem eating it raw.
To make sure it's safe for your dog, chop the celery into small pieces. It may also be helpful to remove the stringy parts, which can make it difficult for dogs to swallow.
These steps are important to prevent choking and to avoid stomach troubles or blockages.
Can Dogs Eat Cooked Celery?
Is celery good for dogs even after it's been cooked?
Just like raw celery, dogs can eat cooked celery as well.
Some owners do this to make the celery a little easier for their dog to chew, especially if they have a small breed.
However, it is still advisable to cut the celery into small pieces to aid in digestion.
Another important point to remember when giving cooked celery to your dog is to be mindful of how it was cooked.
Some herbs and spices may be harmful to dogs. For example, garlic contains thiosulfate, which can be lethal to dogs in small doses.
Before you offer your dog leftovers from the table – even something like celery, which is usually fine for dogs to eat – make sure they weren't cooked with something they can't eat.
Can Celery Treat Bad Breath In Dogs?
Many dog owners swear by celery to give their dog fresh breath!
But does this actually work?
As a matter of fact, the very makeup of celery is what might contribute to fresher breath for your pup. Celery contains a lot of water, and also stimulates saliva production.
Both of these things can help to keep teeth clean and control the build-up of food particles and plaque. This is so for humans, and can also be true for dogs!
So while celery isn't a guarantee of good breath for dogs, it can be a natural way to freshen their breath.
How To Give A Dog Celery
As mentioned above, celery is okay for dogs to eat, but it really should only be given in moderation.
It isn't something that dogs need to have, and so really it takes on the role of a treat rather than an important part of diet.
And treats should be limited.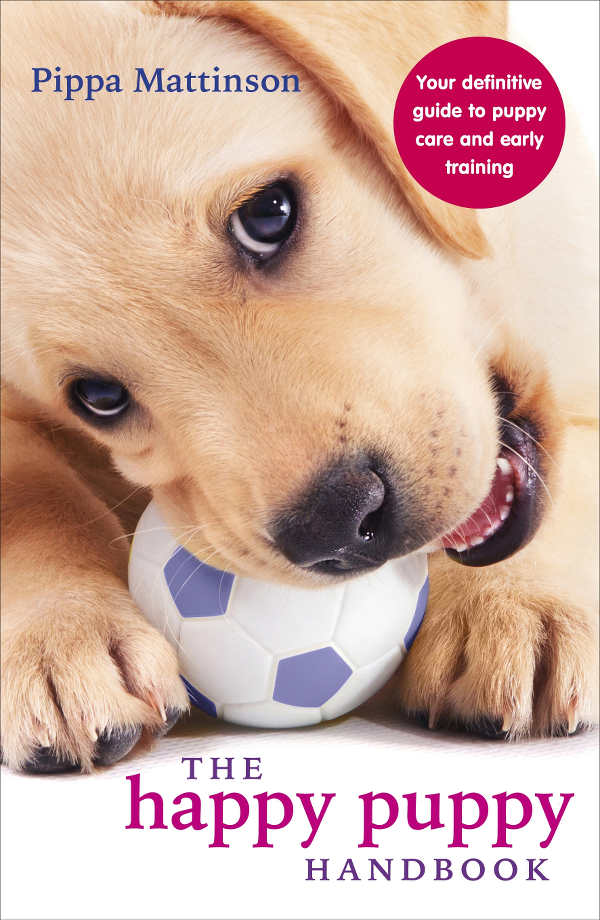 They should definitely never take the place of the nutrients that your dog actually needs.
A few pieces of celery, properly washed and chopped, can be a treat that helps your dog to control its weight and get some of the health benefits from the vegetable.
Alternatives To Celery For Dogs
Not sure about using celery for dogs? Or just interested in some other alternatives that can also be healthy snacks and treats?
Take a look at these options. But keep in mind, they are intended as occasional snacks, and must be prepared in a healthy way!
Can Dogs Eat Celery Summary
So, the question is: Can dogs have celery?
And the answer: Yes, they can.
However, while dogs can technically eat celery, it is not the ideal treat.
If your dog adores celery then make sure that you only give him a small amount once a week.
Ensure that it is chopped into small enough pieces that it can't present a choking or blockage hazard.
Does your dog love celery and other vegetables? How often do you give them these treats? Tell us about it in the comments!
References and Further Reading
Levy, J, CHHC, 2019, 10 Surprising Health Benefits of Celery, Dr. Axe
Tsi, D, et al., 1995, Effects of aqueous celery extract on liquid parameters of rats fed a high fat diet, Planta Med
2017, Fruits And Vegetables Dogs Can And Can't Eat, Sunrise Veterinary Clinic
What's On My Food?
This article has been extensively revised and updated for 2019.