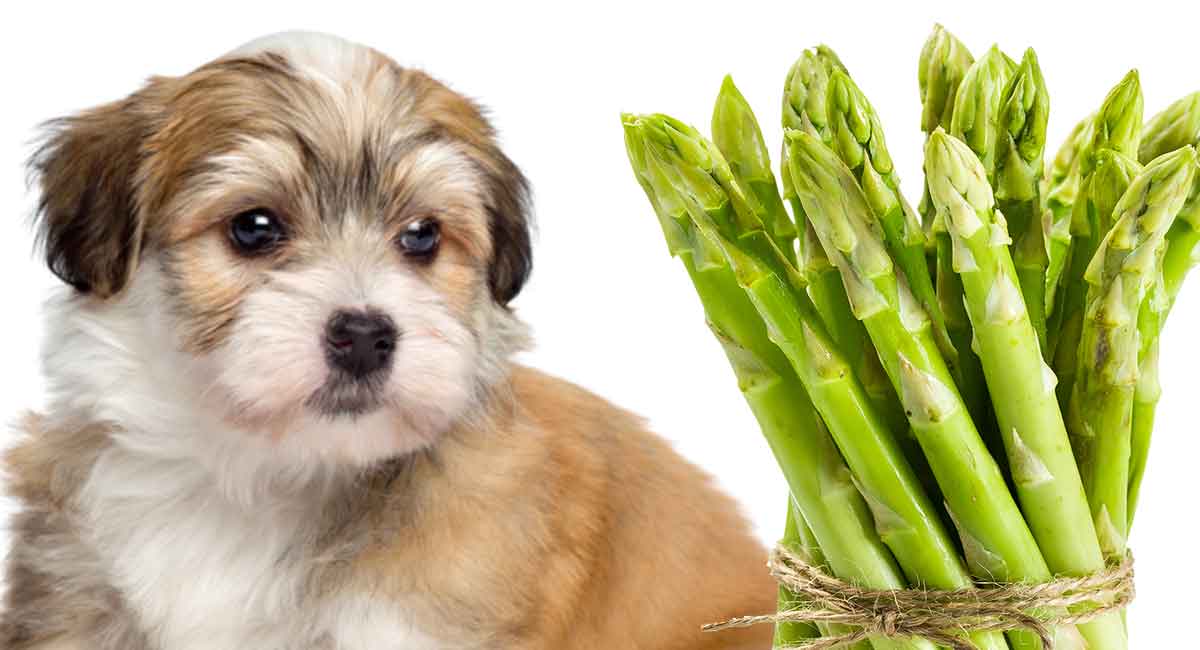 Can dogs eat asparagus?
Asparagus is a healthy food for humans. So you might think that it's great for dogs, too.
But it's a little more complicated than that.
The simple answer to, "Can dogs have asparagus?" is yes, as long as you are giving your pup an asparagus spear.
But care should be taken when it comes to asparagus leaves.
This may raise even more questions in your mind, so let's take a closer look at this issue.
Some Fun Facts About Asparagus
According to Modern Farmer, there are some things that you may not know about asparagus.
For one thing, from seed to harvest takes about three years. The first year, asparagus seedlings are only about the diameter of a pencil lead. Eventually, the spears grow into a fern-like canopy that is about waist high.
Chickens are helpful for farming asparagus, keeping the ground well-scratched and the bugs and weeds under control. The first chicken-asparagus farmers recommend about a dozen hens per thousand feet of growing asparagus.
Asparagus used to be called "sparrow grass." This was a corruption of the original Latin name, which we use today.
Can Dogs Have Asparagus
Is asparagus safe for dogs? Generally speaking, the answer is yes. The issue lies with asparagus leaves.
If you are familiar with asparagus spears purchased from the grocery store, then you may think the small scales on the side and top of the vegetable look like leaves. But they aren't "leaves" in the sense that you may think. They are the closest thing asparagus has to leaves.
So, when veterinarians and other pet experts say that asparagus leaves are toxic to dogs, they are referring to the leaves of an asparagus fern, which is related but not exactly the same as the vegetable you eat.
Like asparagus spears, some people eat the fern, but it is more commonly kept as an ornamental plant. You obviously would not mistake the fern for the vegetable, but the terminology can be very confusing. Especially if you want to keep your pup safe.
The fern plant contains natural substances in the leaves called saponins. That have been linked to intestinal issues and liver toxicity in dogs.
So, you do not want your dog eating asparagus fern or coming into contact with it, but the asparagus spear vegetable is safe and free of toxins.
Asparagus, in fact, contains a number of nutrients, including vitamins A, C, and B6, fiber, potassium, and thiamine.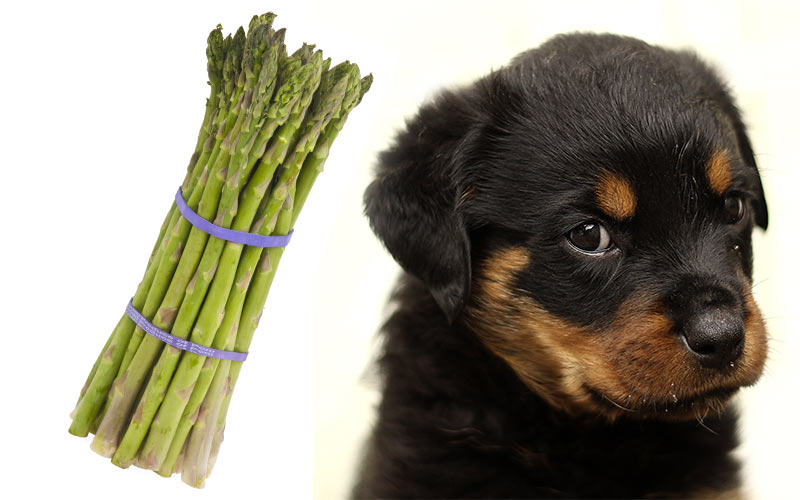 Is Asparagus Bad For Dogs?
Can dogs eat asparagus?
Asparagus is a healthy food, and it should be fine for your dog to eat, unless your dog happens to dislike it.
If you enjoy grilling or cooking your asparagus, then you like it tender. This type of asparagus is ideal for your dog. However, if you like the vegetable raw, then this might pose a bit of a problem.
Raw asparagus is tough and can be difficult for your dog to digest. This can lead to some vomiting, gas and diarrhea.
Even if your dog likes the vegetable, he may not be too keen on the odor it can create. The odor is caused by the asparagusic acid in the vegetable. When the compound breaks down, sulfur is released. This creates icky smelling urine and gas.
Studies show that some people cannot smell the sulphur compounds in their own urine after eating asparagus.
Unfortunately, your dog and his super-smeller nose will definitely notice the odor. So, if you notice your dog urinating in an unusual spot after eating asparagus or avoiding his pee altogether, this is why.
Your canine is not going to make the connection between the asparagus and the unique urine smell, but you should keep the stinky odor in mind if you dog acts just a bit odd during potty breaks. If this causes potty issues either inside or outside the home, then it may be best to find another healthy snack for your pup.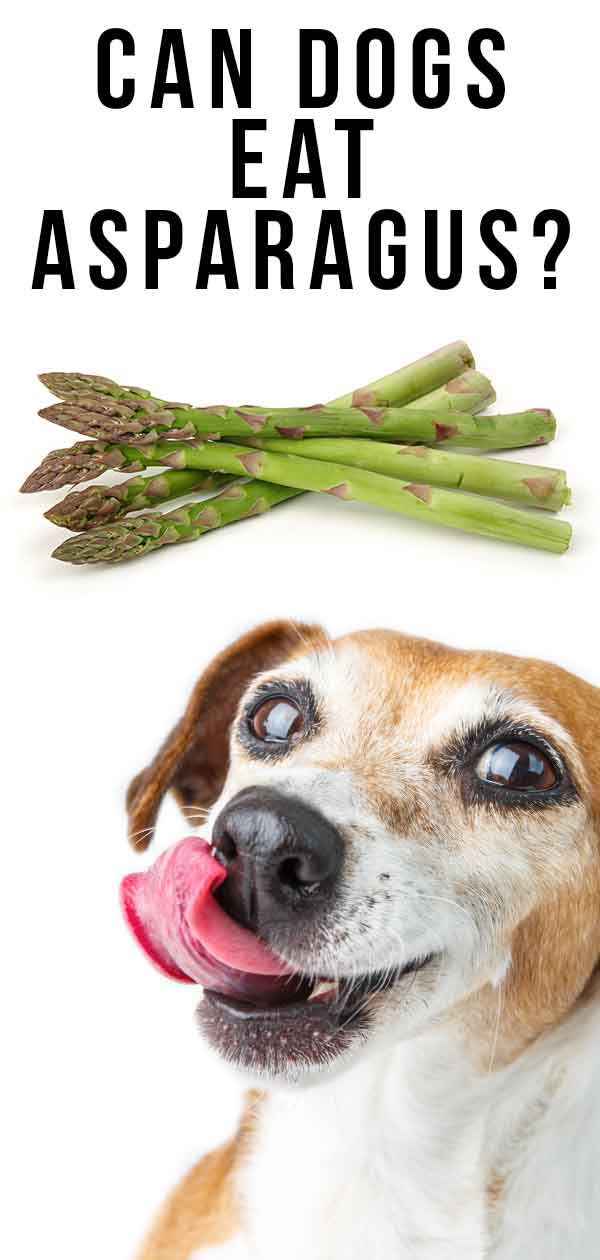 Is Asparagus Good For Dogs?
It's always best to test how your dog reacts to new foods before giving them any significant portion.
Asparagus is an extremely healthy food, and your dog can gain some of the same benefits that you can when eating it.
It should be noted, though, that asparagus is not a normal part of a dog's diet. Asparagus is a nice treat, but shouldn't be a substitute for their usual complete food or raw meat and bones diet.
Before you introduce asparagus into your dog's diet, you should ask your veterinarian if it is OK for your pup. This is wise with any type of new food you introduce.
If the animal professional gives you the go ahead, then start sharing the asparagus as a sometimes treat. While adult dogs may need fewer calories and fat than puppies, they still need a great deal of protein and amino acids.
Cheryl Yull tells us that dog foods should meet Association of American Feed Control Officials (AAFCO) guidelines and contain at least 22% protein. This highlights exactly how much protein your dog should be consuming.
As long as your dog is eating a high quality food that meets the AAFCO guidelines, or a raw food diet equivalent, then a few cut up spears can be added as a healthy treat once or twice a week.
Health Benefits Of Asparagus For Dogs
Asparagus contains the following nutrients:
Folate
Vitamin C
Vitamin K
Beta-carotene
Vitamin E
Zinc
Manganese
Selenium
Chromium
Asparagine
So, can dogs eat asparagus for these benefits?
As you can see, asparagus offers a wide variety of nutrients your dog needs, and the inclusion of vitamin E is especially helpful to reduce deficiencies that can lead to eye problems. Specifically, studies show that a canine diet low in vitamin E can lead to retinopathy.
Retinopathy is a disease where the delicate tissues that sit in the back of the eye, called the retina, become damaged. When this happens, the eyesight is affected and blind spots develop in your canine's visual field. Peripheral and night vision are often affected too.
Can Dogs Eat Raw Asparagus?
Is your dog used to eating raw vegetables like broccoli, carrots, cucumbers, and celery? Especially as part of a raw food diet? Then go ahead and feed your dog a piece of raw asparagus to see if he tolerates it well.
After all, raw vegetables do contain more vitamins and nutrients than cooked varieties.
Make sure to cut the asparagus into small pieces though, or choking may become an issue as your pup impatiently tries to swallow the tough spear whole.
If your canine is a bit gassy, vomits up an almost completely undigested piece of asparagus, or if he has never eaten a raw vegetable, then make sure to steam or grill the spear until tender. If you can easily prick the vegetable with your fork, then it is safe to feed to your pup.
Of course, you still want to cut the spear into small pieces to reduce choking concerns.
You can take it a step further and really make things easy on your dog. Use your knife to gently trim away the woody crown and the scales from the stalk before cutting it up.
Can Dogs Eat White Asparagus?
Can dogs have asparagus that is a different color than usual, such as white?
As a matter of fact, white asparagus gets its color simply because of the conditions in which it is grown. There is therefore no genetically induced component to the color.
So white asparagus is just as safe for your dog as any other color.
And, in fact, once it is cooked, the "albino" appearance will fade, and the asparagus will look like any other variety.
Can Dogs Eat Purple Asparagus?
Purple asparagus gets its color from hybridization, but otherwise it is a great deal like green asparagus. Again, most of the color is lost when it is cooked.
Purple asparagus tends to be a little bit higher in sugar than green or white. It may also be more tender, which makes it easier to eat raw.
So the answer to, "Can dogs have asparagus that is purple?" is still yes. But it's best to be mindful of the slightly elevated levels of sugar involved.
Can Asparagus Treat Obesity In Dogs?
Can asparagus for dogs help with the problem of being overweight? This isn't an uncommon thought for many.
It makes sense, after all.
Since one asparagus spear has a whopping total of three calories and zero fat, it seems like the ideal snack for chunkier dogs that do not need extra fat or calories.
Asparagus certainly may be able to help control your dog's weight.
Just like with humans, it may take more than simply adjusting a small portion of a diet to make a long-term change, however.
But if your dog is used to high-fat treats on a regular basis, opting for a vegetable like asparagus instead may help to curb weight gain.
If you feel that your dog needs to lose weight, it is recommended that you check with your vet for guidance on the best way to do so healthily.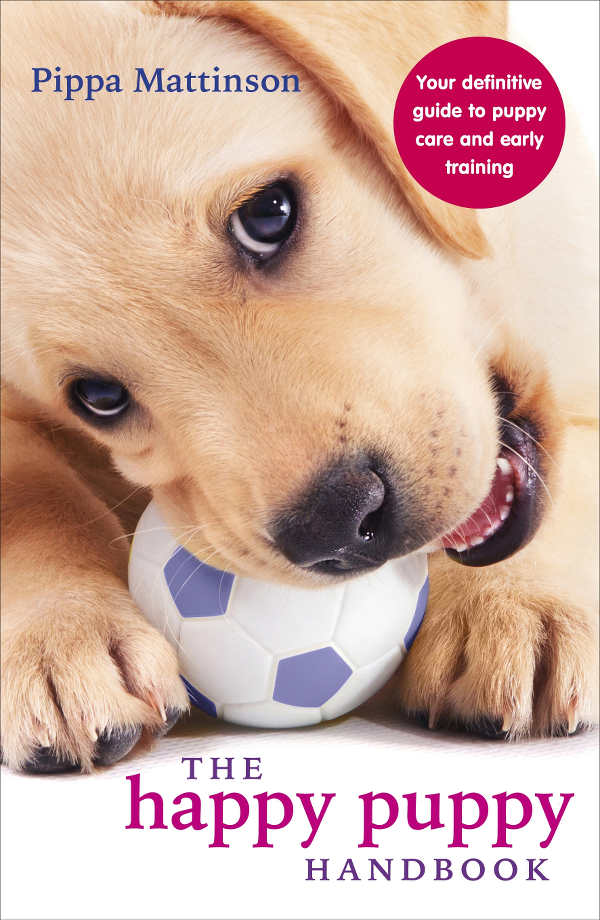 How To Give A Dog Asparagus
We have touched a bit on asparagus and potential choking issues, so you may be wondering if dogs can physically chew the spears.
You probably understand that humans have premolars and molars that are used to grind tough foods, like the vegetables we eat.
While your dog has premolars and molars as well, the teeth are a bit sharper than the ones you are familiar with in your own mouth. This means your dog is not as equipped to grind tough foods.
This is another reason why you may want to hold off on the raw asparagus.
It's best to try a small amount of cooked asparagus out on your dog to see how they react.
Alternatives To Asparagus For Dogs
If you're not completely sold on the idea of asparagus for dogs, that's perfectly fine. Not every human likes asparagus. So not every dog will either!
Here are a few similar alternatives.
Can Dogs Eat Asparagus Summary
Asparagus can be a great healthy addition to your canine's summer diet. But you should make sure to cook the vegetable thoroughly and cut it up into small pieces. Especially if your pup does not usually eat raw vegetables.
As always, you should ask your veterinarian about the asparagus first. So make your local animal clinic your first stop before heading off to the farmer's market. If you are concerned about the vegetable being too tough for your dog, then make sure to bring this up during the visit.
You also should keep in mind that stinky urine might be an issue, so do not be surprised if you notice some interesting potty behaviors after an asparagus treat session.
Have you given your dog asparagus, and have you noticed any asparagus odors yourself?
Does your canine have his own favorite vegetable snack, or do you have a doggie asparagus treat recipe to share?
Let us know in the comments below.
References and Further Reading
Monique A. R. Udell, Nicole R. Dorey, Clive D. L. Wynne. Can your dog read your mind? Understanding the causes of canine perspective taking. Learning & Behavior, 2011; DOI: 10.3758/s13420-011-0034-6
Louis Maes. Intravenous and Subcutaneous Toxicity and Absorption Kinetics in Mice and Dogs of the Antileishmanial Triterpene Saponin PX-6518. Molecules 2013, 18, 4803-4815; doi:10.3390/molecules18044803
Riis RC, Sheffy BE, Loew E, Kern TJ, Smith JS. Vitamin E deficiency retinopathy in dogs. Am J Vet Res. 1981 Jan;42(1):74-86.
World Wide Words, Asparagus
Barth, B, 2014, Ten Surprising Facts About Asparagus, Modern Farmer
Asparagus Fern, SFGate Home Guides
Levy, J, 2015, Asparagus Nutrition, Dr. Axe
White Asparagus, Asparagus-Lover.com
This article has been extensively revised and updated for 2019.