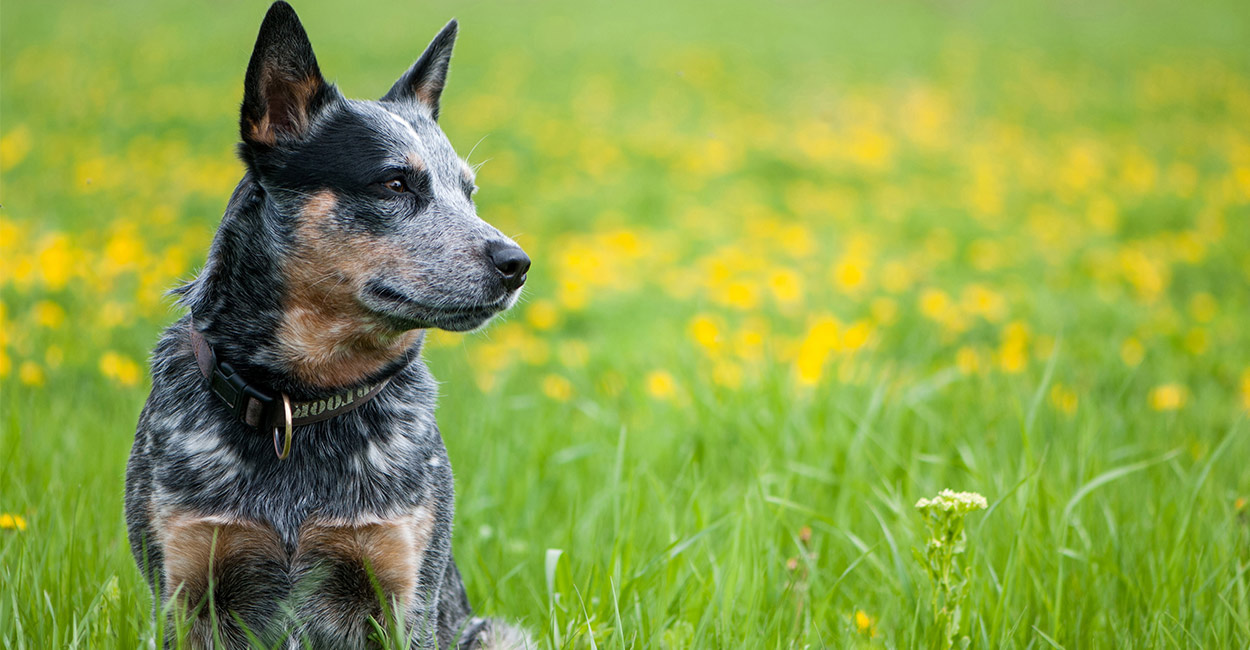 If you've been seeking the best dog food for Blue Heelers, look no further.
Whatever stage of life your Blue Heeler is at, or special dietary needs they have, we have the best food choices for him right here.
The
hard-charging Blue Heeler dog
 is an active breed who requires an equally robust and hardy food in order to be at the top of his game. This medium sized, high-energy dog is also known as the Australian Cattle Dog (ACD), and it can actually lay claim to being part dingo! As you might imagine, such a unique breed of canine requires a diet that can keep up with his exceptional DNA. What is the best Blue Heeler dog food? We're glad you asked!
Products included in this article were carefully and independently selected by the Happy Puppy Site team. If you decide to make a purchase from one of the links marked by an asterisk, we may earn a small commission on that sale. This is at no extra cost to you.
Best Food for Blue Heeler
For starters, the best dog food for Australian Cattle Dog needs is one that is complete and balanced. How do you know if a dog food is complete and balanced? You simply look on the label, thankfully it's that simple! The Association of American Feed Control Officials (AAFCO) is the US regulatory group responsible for overseeing standards for commercial dog food. You want to make sure that any dog food you buy, wet or dry, bagged or canned, has the AAFCO endorsement on its packaging.
Blue Heeler Food
A complete and balanced Australian Cattle Dog food meets a dog's nutritional needs at whatever stage of life she's in. Thus the best puppy food for Blue Heelers will be different than the best senior Blue Heeler dog food. By using commercial food it's also possible to specialize your dog's diet according to his breed, including small, medium, and large breeds. Narrowing the dietary field down even further, pet food manufacturers make foods tailored to a dog's special needs such as grain intolerance, food allergies, etc. All of these choices are a boon to pet parents, who know that a happy dog makes for a happy household!
Best dog food for Blue Heelers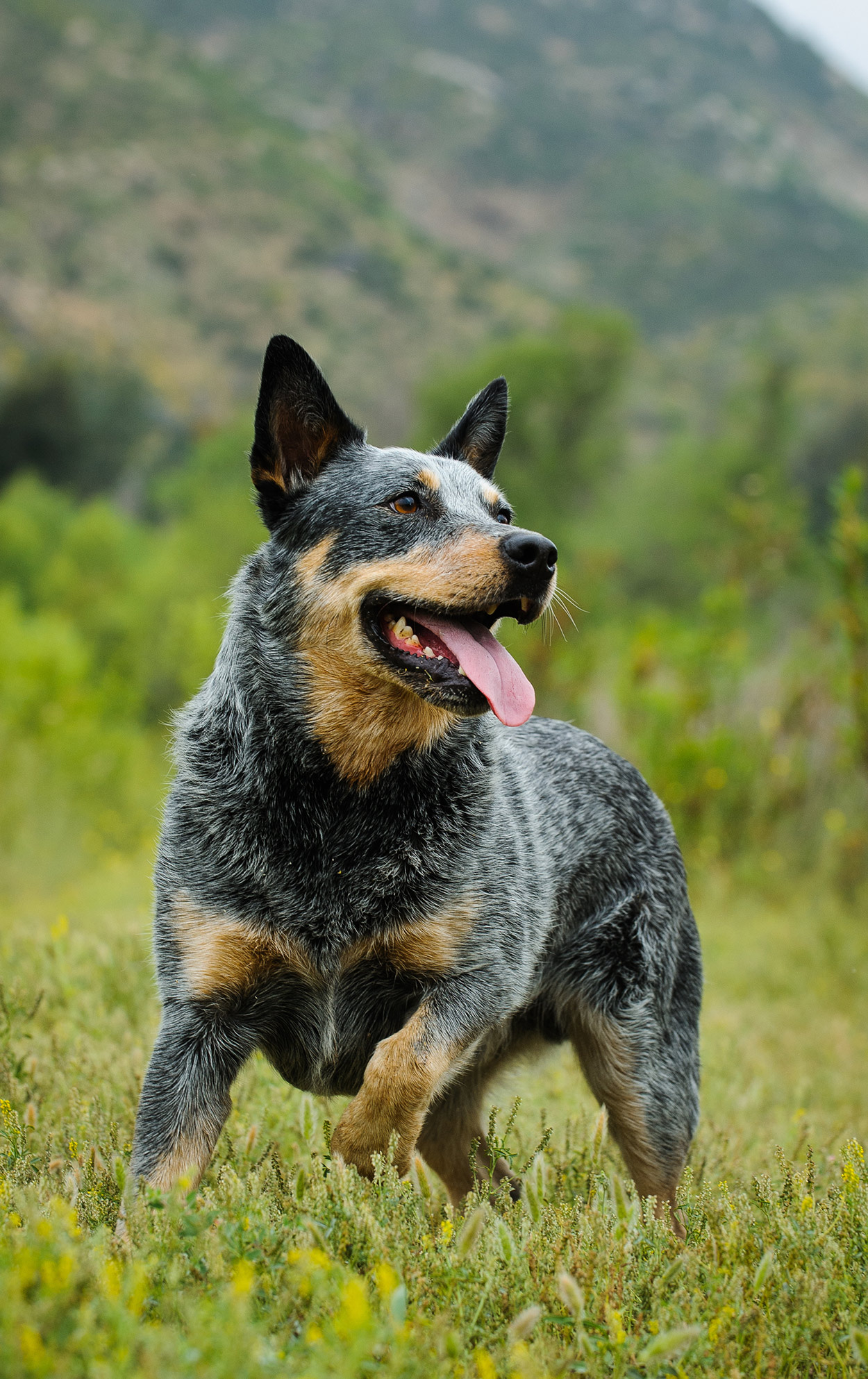 With this in mind, we're going to review the best dog food for cattle dogs, including Blue Heeler puppy food. But before we delve into our best food for Australian cattle dog section, let's take a look at what makes these magnificent creatures so distinctive and exceptional.
Blue Heeler background
The Blue Heeler is an Australian export who was bred to be a top-of-the-line herding dog. As such he has the capacity to work all day long without complaint, chasing cattle for miles over tough terrain. A lot is asked of a working dog, and the Blue Heeler is no exception; as befits the physical demands made on their bodies, Blue Heelers have impressive physiques. They stand anywhere from 17 to 20 inches tall and can pack approximately 30 to 50 pounds of muscle on their frames. This likeable and affectionate dog has an equally active mind as it does body, which makes for a dog who must be engaged physically and mentally in order to be healthy and well. And as you can imagine, with such strong drives, the Blue Heeler burns up a slot of calories!
Good dog food for Blue Heelers
Dogs are omnivores meaning they can eat meat, vegetables, and grains. However, when you look at the label on your dog's food, the first ingredient should not be a grain or vegetable, it should be a protein. Like all breeds, energetic Blue Heelers have a unique set of needs, which of course extends to their dietary requirements. As an active breed, Blue Heelers need a formulation that is high in protein and fat order to meet their high energy needs. To this end, some experts recommend that dry food have a protein content that is higher than 28% and a fat content that is higher than 20%. And it is suggested that wet food contain over 7% protein and over 5% fat.
Extras to look for in Blue Heeler dog food
Additionally, active breeds like Blue Heelers are hard on their bones and joints, so food with added supplements that support bone health, such as glucosamine and chondroitin, are a good choice. This is especially true for the Blue Heeler since they are prone to dysplasia, a condition in which joints develop abnormally. Studies also show that probiotics and antioxidants play an important role in supporting the developing canine immune system, particularly during the first few crucial months of a puppy's life. As we've mentioned, Blue Heeler dog food should be tailored to your dog's size, stage of life, activity level, and any special needs. With these factors in mind, let's take a look at the best dog food for Blue Heeler dogs!
Best dry food for Blue Heelers
High energy dogs need high energy foods to develop and maintain their optimal health profiles. A high protein/high fat diet has been recommended as one strategy to meet the outsize energy requirements of active breeds. If your pooch prefers kibble, these select choices provide a high protein option to meet her active lifestyle requirements.
Bully Max High Performance Super Premium Dog Food
This
high protein dog food*
features a 30% level of protein and a 20% level of fat.
All of the ingredients are natural and there is no corn, soy or wheat to interfere with a dog's digestive system. It is recommended for dogs of all life stages.
IAMS Proactive Health Adult MiniChunks Dry Dog Food
A popular option from the stellar IAMS brand, and real chicken is
the number one ingredient listed here*
.
In addition, protein sourced from chicken and egg are present to support strong, firm muscles. A plentiful blend of vitamins and antioxidants are included to help maintain a healthy immune system.
Diamond Naturals Real Meat Recipe Natural Dry Dog Food
High quality protein comes via cage free chicken in this
tasty all life stage food*
, which is supplemented with a guaranteed level of probiotics to support the GI tract.
An optimal level of amino acids sustain strong muscles while superfood antioxidants, including a natural omega acid blend, help to maintain coat and skin.
Best wet food for Blue Heelers
If your dog favors wet food, any of these high-quality recipes is sure to tickle his taste buds!
NUTRO ULTRA Wet Dog Food Adult Chunks in Gravy Wet Dog Food
This
top quality, highly-recommended dog food*
is made specifically for the needs of medium breed dog such as the Blue Heeler.
It comes in packages of 12 cans and features three high quality proteins. Additionally the proteins are complemented with over 10 vibrant superfoods to give your dog the energy he needs to get through his busy day.
Nature's Variety Instinct Ultimate Protein Grain Free Recipe Natural Wet Canned Dog Food
This
high quality recipe*
contains 95% of its protein from beef and liver, with US raised beef the first ingredient.
There are no artificial colors or preservatives, and zero grain, wheat, or soy.
Purina Beyond Natural Grain Free Ground Wet Dog Food
High quality protein from real salmon is the
number one ingredient in this formulation*
that comes in handy packages of twelve, 13 ounce cans.
You can be assured that there is zero wheat, corn, or soy to interfere with sensitive digestive systems.
Best grain free food for Blue Heelers
Does your dog have a sensitive digestive system? A grain free food like the ones below may help to alleviate his gastrointestinal discomfort.
Taste of the Wild, Canine Formula
With Roasted Bison, this all natural recipe features meat as the number one ingredient. In addition ample additions of amino acids help support healthy muscles. Superfoods and antioxidants help boost skin and coat, while probiotics support a healthy GI tract. Zero grain is included in the formulation.
AvoDerm Natural Dog Food grain free salmon
This recipe's
premium protein is healthy salmon*
.
It is grain free to aid with sensitive digestion and omega acids come from high quality California avocados and avocado oil to support coat and skin. The entire formulation contains only all natural ingredients and is corn and wheat free. In addition, vitamins, minerals, and antioxidants are present to help boost immune system function. It also comes in other flavors and a
canned wet formulation*
.
BLUE Wilderness Regional Recipes High Protein Grain Free Dry Dog Food
Real meat sources  provide high levels of energy in
this popular dog food*
.
It is grain free, and includes a precise blend of vitamins, minerals and antioxidants to enhance your active dog's overall health.
Best dog food for Blue Heeler seniors
A dog's chief requirement from its diet is a reliable source of energy. Any of these top choices will help your pet as he makes the transition into doggie maturity!
IAMS Proactive Health Senior and Mature Adult Dry Dog Food
Real chicken is the
number one listed ingredient in this recipe*
packed with needed antioxidants including Vitamin E and beta carotene to boost the immune system response of older dogs.
Purina Pro Plan SPORT Performance 30/20 Formula Dry Dog Food
Dogs in all stages of life will benefit from this
high performance food*
that features chicken as the first ingredient.
The recipe boasts 30% protein and 20% fat levels to boost energy levels while also supporting a lean muscle mass. Additionally glucosamine is present to help maintain joint health and mobility.
CRAVE Grain Free High Protein Dry Dog Food
All sizes of dog will benefit from this
high protein (34%) formulation*
.
Made with real lamb, chicken or salmon, meat or fish is the number one ingredient. The extra high protein level will help your dog to maintain muscle mass, and has zero grain.
Nulo Grain Free Senior Dog Food with Glucosamine and Chondroitin
This
high protein recipe*
contains 80% animal-based protein in addition to glucosamine and chondroitin for joint support.
These anti-inflammatory properties promote joint flexibility and pain relief. A patented probiotic is present to support a healthy GI tract and aid in digestion and metabolism regulation.
Best puppy food for Blue Heelers
These premium choices are aimed at helping your pup maintain her specific energy requirement to develop a strong and healthy body.
Puppy Naturals – A Healthy Nutritional Formula for Growing Puppies
This recipe contains a whopping
32% protein and 40% fat per scoop*
.
Made specifically to meet the nutritional needs of growing pups, there are over 20 nutrients, vitamins and minerals a growing pooch requires to support bone and muscle growth and boost the immune system.
AvoDerm Natural Dog Food puppy
Premium protein is the first listed ingredient in
this specialized puppy food*
, and there are plenty of vitamins, minerals, and antioxidant nutrients to boost the developing immune system.
Omega acids (from healthy avocados) promotes a healthy coat and skin.
Purina Pro Plan SPORT Active 26/16 Formula Dry Dog Food
Active puppies will benefit from this
trusted brand's formulation*
that contains 26% protein and 16% fat.
Chicken is the number one ingredient, plus tons of antioxidants are present to support developing bodies.
Best dog food for herding dogs
We hope you enjoyed our Blue Heeler dog food reviews, including the best dog food for Blue Heeler puppies! The best dog food for Blue Heelers is always one that's been made with high quality proteins, endorsed by the Association of American Feed Control Officials, and tailored to your dog's stage of life. Remember, before changing your dog's diet, it's a good idea to consult with your veterinarian first!

What Blue Heeler dog food goes down a storm in your house?
Please share your dinner time recommendations in the comments section below!
Affiliate link disclosure: Links in this article marked with an * are affiliate links, and we may receive a small commission if you purchase these products. However, we selected them for inclusion independently, and all of the views expressed in this article are our own.
Related Articles
Sources
AKC
Australian Cattle Dog Club of America 
Benyacoub, J. et al,
Supplementation of Food with Enterococcus faecium (SF68) Stimulates Immune Functions in Young Dogs
, The Journal of Nutrition, 2003 Burger, I.H.,
Energy Needs of Companion Animals: Matching Food Intakes to Requirements Throughout the Life Cycle
, The Journal of Nutrition, 1994 Roush, J.K., et al,
Multicenter veterinary practice assessment of the effects of omega-3 fatty acids on osteoarthritis in dogs
, Journal of the American Veterinary Medical Association, 2010