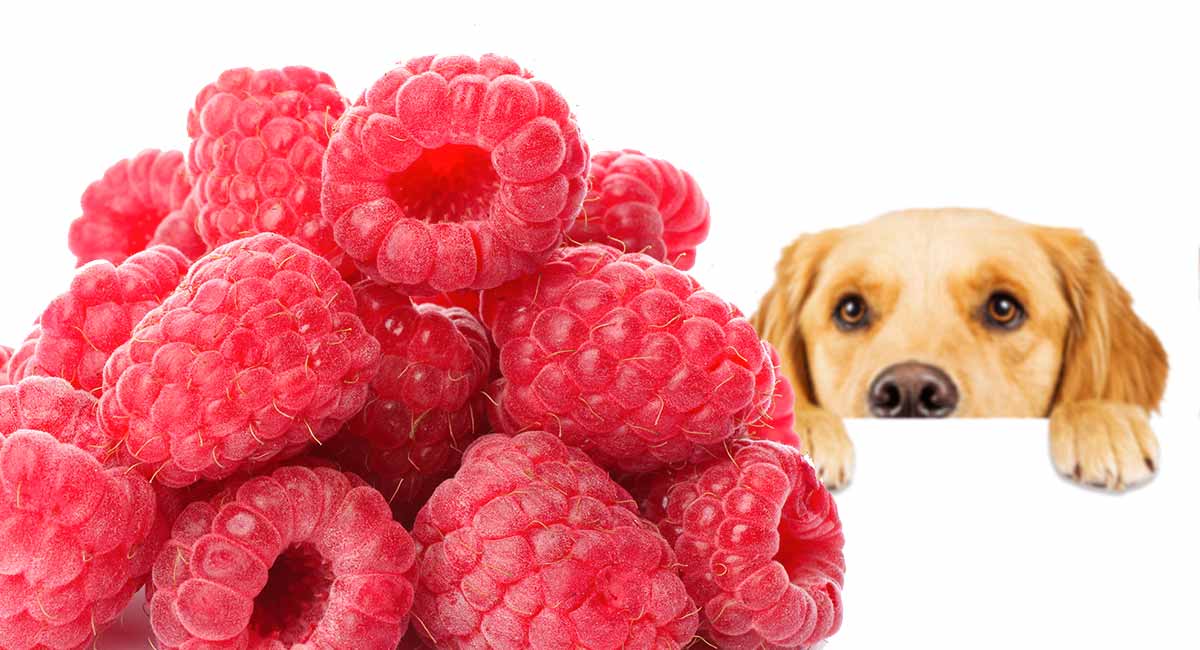 People have been eating wild raspberries for thousands of years. So, can dogs have raspberries too? Are raspberries good for dogs? The short answers are, "Yes" and "A little bit." Dogs can safely eat raspberries in small quantities.
And they have some health benefits. Raspberries are low in calories but are rich in dietary fiber, vitamins, and antioxidants. But it does contain high levels of a natural sweetener that can be toxic to dogs and still contains some sugar.
Let's take a closer look!
Some Fun Facts About Raspberries
Raspberries actually come in a variety of colors including black, golden, purple and yellow. However, the red raspberry is the most common. is the most common and well-known.
This fruit is rich red, juicy, and packed with flavor. It is also full of antioxidants.
Can Dogs Have Raspberries?
Many people enjoy eating a variety of fruits including the juicy red raspberry.
So it's only natural that we might want to share this sweet and delicious fruit with our dogs.
However, just because a food is safe, or even beneficial for people, does not mean that food is necessarily safe for dogs.
Let me tell you a personal story addressing the question, "Can dogs have raspberries?"
A Story About My Dog And Raspberries
Raspberries are relatively easy to grow, especially in cooler climates. So, here in the UK, raspberries are a popular crop for keen gardeners. They make a welcome addition to our table in the summer.
My parents were passionate gardeners. And they were especially fond of growing their own fruit and vegetables.
I remember one particular year, my father was scratching his head, trying to figure out how his entire, precious raspberry crop had been pilfered from underneath the bird netting.
The culprit, of course, was our Golden Retriever. His guilty red whiskers giving him away.
Thankfully, he survived his raspberry eating escapade without so much as an upset stomach. He was doing what wild dogs have been doing for thousands of years. He was helping himself to nature's best and most temporary snack bar.
And yes, most experts agree that it's safe for dogs to eat raspberries
But still, is it a good idea to let a dog eat raspberries. Or to feed raspberries to a dog deliberately?
Let's dig a little deeper.

Are Raspberries Bad For Dogs?
There are some fruits which are very dangerous to dogs, including grapes and raisins. Fortunately, most berries, including raspberries, are safe for dogs to eat in moderation.
However, there are a few important aspects of raspberries you should know about.
Raspberries And Xylitol
First, you should be aware of a sweetener called xylitol, which is very poisonous to dogs. Xylitol can cause both liver disease and hypoglycemia, which could be life-threatening if left untreated.
In fact, many fruits contain traces of xylitol, but raspberries contain more xylitol than most other fruits
However, the amounts of xylitol found naturally in fruit are incredibly small. Dr. Marie from "Ask a vet" has calculated that a dog would have to eat around 32 cups of raspberries to ingest a fatal dose!
Xylitol poisoning in dogs is usually caused by consumption of chewing gum or other products which xylitol has been added to. Not from eating fruit.
In other words, the quantity of xylitol in a few raspberries is unlikely to do your dog any harm.
Raspberries And Sugar
Secondly, the main substance found in raspberries that is particularly bad for dogs is plain old sugar.
The sugar found in fruit is called fructose. It' a slightly different structure from sucrose, which is the sugar we buy in bags and use in our kitchens.
But although fructose is different from the sugar you might add to your tea or use in baking, and is more "natural" it is still not particularly good for dogs.
Not only that, but the volume of sugar found in modern fruits is far greater than the sugar found in the wild fruits that your dog's wolf ancestors consumed thirty thousand years ago.
Selective breeding has created bigger, sweeter, and more sugary raspberries.
And today, some wild animals use the fruit in berries consumed during the fall, to fatten themselves up for winter.
However, a dog's digestive system is designed to process mainly protein and fat. Sugary food, while it may be a nice occasional treat, is best not consumed on a regular basis.
Fortunately, the sugar in raspberries is low and combined with some fiber, which helps with digestion and obesity. This combination helps put less of a strain on your dog's sugar balancing system, than man-made treats like sweets, cakes, or cookies.
But dogs, like people, can also develop diabetes if they are allowed to eat a lot of sugar regularly. So, small amounts are best.
Other possible stomach problems that might occur from feeding your dog too many raspberries are vomiting, diarrhea, and constipation.
This leads to the question, "Is there anything in raspberries that is good for dogs?"
Are Raspberries Good For Dogs?
Health Benefits Of Raspberries For Dogs
Just like people, dogs often show signs of cognitive decline associated with aging. And some studies have even shown that raspberries may be able to reduce the decline in cognitive function associated with aging in people.
Similarly, antioxidants have been shown to reduce these signs and improve cognitive performance in aging dogs.
As we mentioned, raspberries are bursting antioxidants. And evidence from studies on dogs suggests that eating foods rich in antioxidants may help alleviate the mental decline that sometimes accompanies the aging process.
Anti-oxidants also help fight heart disease, cancer, diabetes, and arthritis.
Raspberries also contain flavonoids. These are substances associated with reducing inflammation and the risks of cardiovascular disease.
And they have minerals such as copper, folic acid, iron, manganese, and magnesium and vitamins (B-complex, C, and K).
But ultimately, there are minimal benefits for you to feed raspberries to your dog due to the small amount you should be giving them.
Additionally, puppies don't need a "cognitive boost" and smaller dogs are even more vulnerable to the potential harm from xylitol and sugar.
So, while there are perhaps some health benefits in raspberries for dogs (especially older ones), you are better off feeding your dogs and pups quality puppy food designed to cater to their nutritional needs.

Can Dogs Eat Frozen Raspberries?
Frozen fruit can be a great option for your pup on those hot summer days. It's popular to make your own frozen treats for dogs by placing a fruit like a raspberry in an ice cube tray full of water and freezing them.
Ultimately, the same rule applies for frozen raspberries as it does for fresh ones. Give them to your dog in moderation. And of course, you'll want to make sure they are not clumped up in a freezer burn mess, and therefore a choking hazard!
Can Dogs Eat Canned Raspberries?
Unfortunately, canned raspberries (or in jars, like jams or spreads) usually contain an even higher amount of sugar and dangerous preservatives that can be toxic to your dog.
You'll want to avoid giving this sweet alternative to your dog.
How to Give a Dog Raspberries?
So, now that we've answered the question, "Can dogs have raspberries?" How should we give a dog raspberries?
Well, one or two raspberries every now and then probably won't hurt your dog.
You can give them to your dog fresh or frozen. But it's recommended that you don't feed it to them with protein which digests slower than fruits.
And just be sure they don't get into your raspberry patch!
Alternatives To Raspberries For Dogs
Here are some other fruits for you to consider other raspberries for dogs.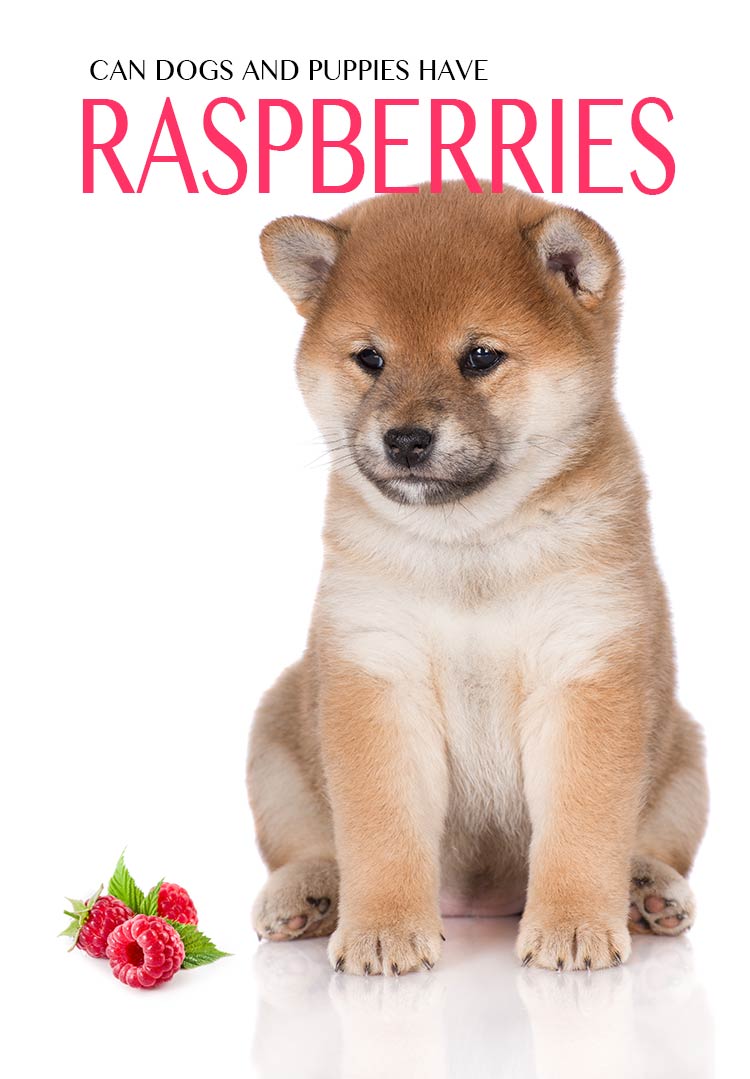 Summary: Can Dogs Eat Raspberries?
So, can dogs have raspberries too? The answer is, "Yes." Raspberries and most other berries are okay for you to give to your dog in small quantities.
Basically, you shouldn't feed huge quantities of raspberries to any dog. They are not designed to digest sugars in any quantity. And if you give them excessive fruit of any kind, it is likely to result in an upset stomach.
If your dog is going to have a sugary treat of some sort, then raspberries are relatively harmless to dogs. And they are preferable to many other "human" foods.
Are raspberries good for dogs? The antioxidants a few raspberries contain may even give your senior dog's brain a bit of a boost but it's not a huge health benefit to dogs overall.
So, if you want to feed a treat to your dog, then a raspberry or two is one of the safer options. But dogs don't actually need to eat fruit. It is essentially a sweet treat.
Do you share raspberries with your dog? Please share your knowledge and experiences in the comments box below!
References And Further Reading