The English Bulldog is a popular large breed dog. So finding the best food for English Bulldog pets is vital. As they can tolerate only minimal exercise, keeping a watch on their weight and nutrition to avoid obesity is particularly important. This breed tends to have a lot of health issues, including a tendency to food allergies. Glucosamine, chondroitin and fish oils may be helpful additions for Bulldogs who develop the joint issues that can commonly afflict this breed.
Let's take a look at some of the brands you might want to consider.
Best Dog Food for English Bulldog
When looking for the best food for your English Bulldog pal, it is a good idea to make sure it is appropriate for your dog's stage of life and activity level.
Young dogs have higher needs for protein and fat and total energy as they are growing. For the best food for English Bulldog puppies, visit this article.
Even the healthiest young bulldog is a relatively sedentary pal, so you won't find as large a range of potential food needs to support various activity levels as you might with other breeds.
Older dogs need a bit lower caloric density in their foods in order to avoid gaining too much weight as they become less active. They do still, however, need nutrient-dense foods to provide plenty of vitamins and minerals.
There is some evidence that suggests that adequate protein, antioxidant vitamins and adjusted levels of long chain fatty acids may slow the aging process.
Though the ideal protein and fat content of food for an English Bulldog is debatable, what is certain is that this is a breed that needs careful attention to the total amount of food fed.
Although they are not a very long-lived breed under the best conditions, their enjoyment of life can be maximized through careful attention to nutrition.
English Bulldog Health and Diet
Unfortunately, English Bulldogs do have tendencies toward a number of health conditions. In some cases, careful attention to nutrition can at least help some.
Brachycephalic dogs, such as the English Bulldog have a few potential challenges with the physicality of eating.
With their flattened faces and short muzzles, they have smaller jaws and mouths. Thus, they may face challenges in picking up and chewing food. Brachycephalic dogs also have less space for teeth, so they may experience dental issues that can make eating more difficult.
Additionally, they may also have trouble taking in enough air while they eat.
These problems can be overcome in part by feeding food that contains smaller-sized pieces or is softer. This is why choosing the best food for English Bulldogs is so important.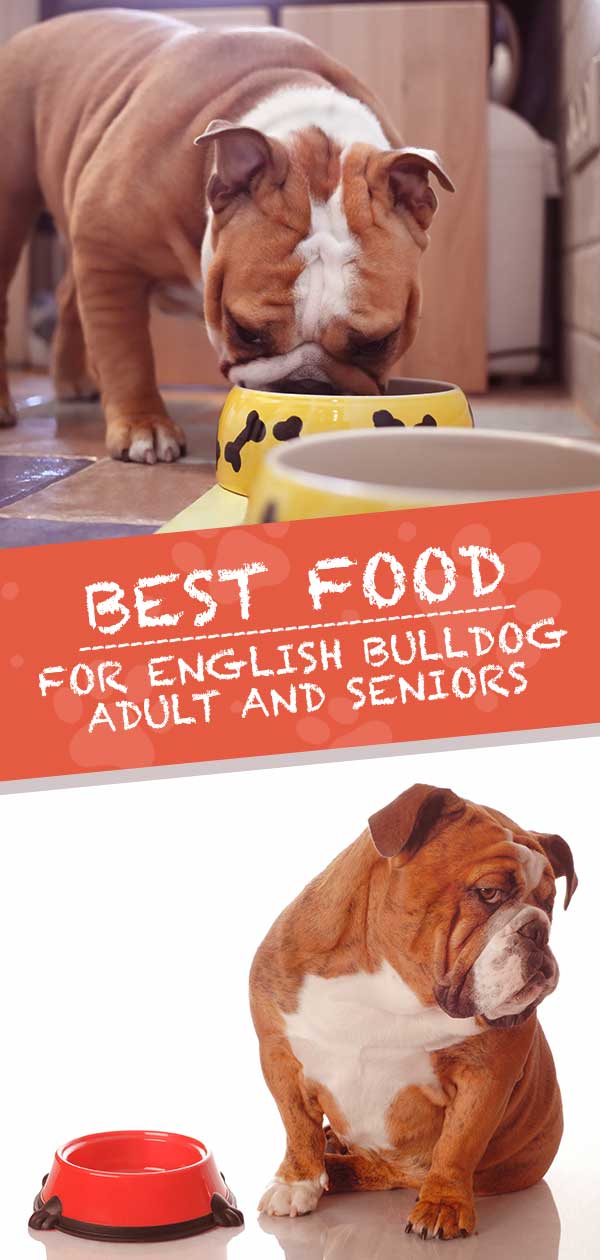 Conditions that May be Prevented or Improved with Diet
As the English Bulldog can be prone to obesity, care should be taken in monitoring your pup's weight and adjusting food type and intake as needed. This is especially important as excess weight will only make any of the structural issues to which they are prone more painful and severe.
Common physical health concerns in this breed include concerns include hip and elbow dysplasia, luxating patella, pelvic deformities, intervertebral disk disease, posterior cruciate ligament rupture, degenerative spine disease and chondrodysplasia.
Older dogs who have developed any bone or joint issues may benefit from supplementation with omega-3 fatty acids, glucosamine and chondroitin, as well as curcumin (from turmeric).
English Bulldogs also tend toward allergies, which can include food allergies. If you notice your dog seems to be having digestive upset or generally not feeling well, it may be time to check for allergies.
So, it's really important to make sure the food you choose for your dog's diet is optimal to help her live as healthfully as possible!
Let's look at the best food for English Bulldogs when it comes to those all-important nutrients, the size of kibble, palatability, and other elements that make up the best food for English Bulldogs.
English Bulldog Dog Food Choices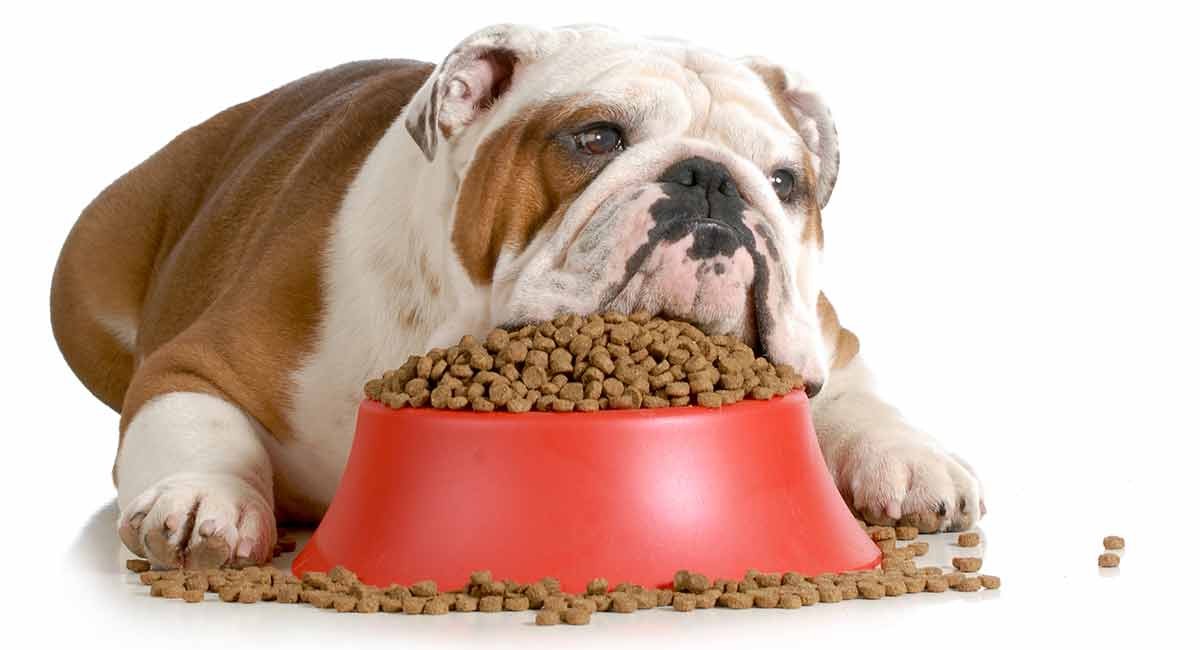 Today, you have many choices for the kind of food you will feed you beloved dog, everything from complete-food dry kibble to homemade raw cuisine. Nothing says it has to be all one or the other. Some combination may work best for you and your dog. So what types of best dog food for English Bulldogs exist?
Dry food is a classic choice for feeding dogs. It offers the convenience of an all-in-one complete diet. Dry food is easy to store and can be left out all day without spoiling. It is easy to bring along while traveling. In addition, the hard bits will tend to help clean a dog's teeth.
Some dogs struggle to eat dry food though, or maybe you want to provide a juicy treat. Wet foods share many of the benefits of dry food in terms of often being a complete-food choice.
One downside is that they do not have the tooth-cleaning properties of dry foods, so if this is your choice, it may be good to include more regular dental cleaning for your dog as well.
Raw food diets have become fairly popular for the English Bulldog. They offer the benefits of typically higher nutrient density and freshness. In addition, they are often closer to what a canine would naturally eat.
Food Allergies
As this breed does tend toward food allergies, you may find yourself looking for grain-free foods. There are fortunately a number of options available in this category these days. If you do go this route, you should be aware that the FDA has recently had reports of an unexpected number of dogs eating grain-free (but high legume) foods getting a type of heart disease.
You might keep in mind though that it is typically a good idea to make any diet changes for your dog gradually over a period of several weeks. This can help them to adapt to the new food more comfortably.
So, let's look at some of the popular styles of dog food available today. What you choose is ultimately your call. We will just offer our favorites in each category. So you can choose the best food for your English Bulldog.
Best Dry Dog Food for English Bulldog Adults
As we saw earlier, dry food has many advantages for dogs and their humans. If your dog tolerates it well, it can be convenient, and guaranteed to meet basic nutritional needs. It also helps maintain good oral health.
So, here are some of our favorite dry foods for the English Bulldog.
Royal Canin Breed Health Nutrition Bulldog Adult Dry Dog Food
This food* is designed (to the best of our current ability) specifically for this breed. It also includes balanced fibers to reduce flatulence and digestive upset.
It also helps protect joints and strengthens the skin – both issues that many Bulldogs face.
Additionally, the kibble is wave-shaped, so it's easier for a short-nosed breed like the English Bulldog to pick up with their teeth.
Users rave about how it has improved their Bullys' gas, diarrhea, and skin issues.
Purina Pro Plan Focus Large Breed Formula Dry Dog Food
This specialist dog food* has many of the nutrients that Bulldogs need, like fatty acids for joint health and healthy skin and coat.
Also, the formula is designed to be easily absorbed, which is great for English Bulldogs.
You can get Purina Pro Plan Focus products in weight management, life stage, and sensitive skin formulas, based on your Bully's needs.
CANIDAE All Life Stages Dry Dog Food for Puppies, Adults & Seniors
Designed for all stages of a dog's life, this dry food* offers premium ingredients and is vet-formulated.
It offers a nice amount of protein, probiotics for digestion and immune issues, and fatty acids for skin and coat health.
Bulldog owners say it has helped their canine friends with gas, skin health, and shedding, which makes it a very good dog food for English Bulldogs.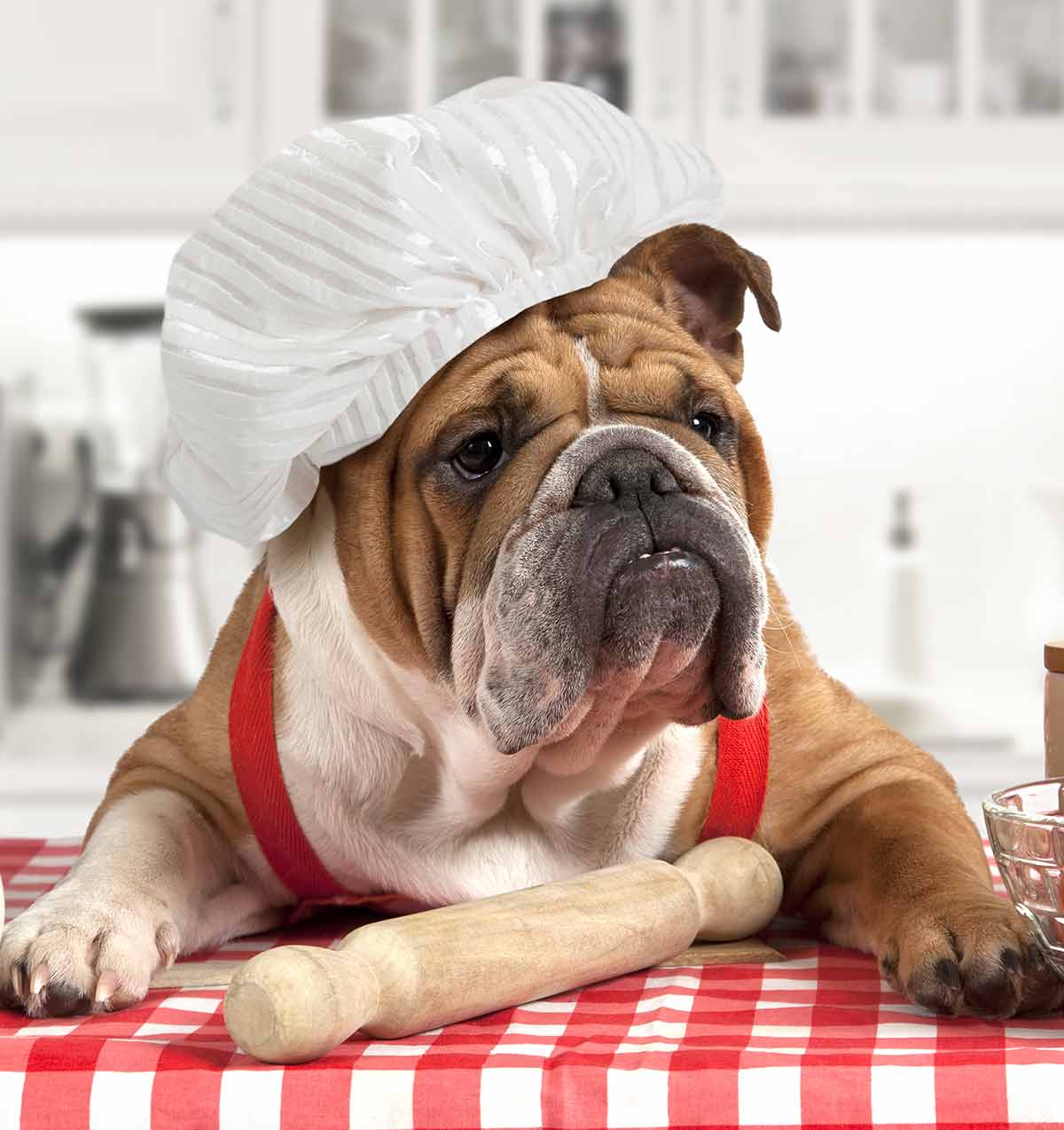 Best Wet Dog Food for English Bulldogs
Many dogs relish a juicy, smelly wet food. This can be of benefit for a dog who is having trouble eating due to lack of appetite or dental problems. Wet food comes as a complete food, covering all basic nutritional requirements as well as only as a supplemental food.
It is not uncommon to layer a bit of wet food on top of dry kibble for an extra enjoyable meal for your pup.
Here are a few of our favorites.
Blue Buffalo Homestyle Recipe Natural Adult Wet Dog Food
Coming in a variety of delicious flavors, this wet food from Blue Buffalo* may just be your pup's next favorite!

We like it for natural ingredients and no artificial colors, flavors or preservatives. It also contains fruits and vegetables, natural sources for many needed vitamins and minerals.
Nutro Ultra Grain-Free Paté Wet Dog Food
If your dog has a hard time with the physical process of eating, or you just want to offer a special treat this wet superfood pate by Nutro* may be just the one to try.

It is GMO-free, grain-free, and free of artificial preservatives, flavors, and colorings. As a pate, it should be easy to consume for most dogs.
Best Raw Dog Food for English Bulldogs
You may have heard of a raw diet for dogs and you may have tried it. The basic premise is to feed your favorite pup a diet that is as close as practical to what she might get as a wild canine.
These types of diets tend to be very high in health-promoting nutrients and avoid unhealthful fillers.
While it is completely possible to prepare fresh food for your pup from scratch, dehydrated products such as those below can definitely make the process easier, either as part of her regular diet, or when time is tight or you're away from home.
While some nutrients are lost in the process of dehydration or freeze drying, it is far fewer than are lost in more intensive processing.
So, here are a few of our favorite easier raw diet solutions. Will these be your choice for the best dog food for English Bulldogs?
Dr. Harvey's Veg-to-Bowl Fine Ground Dog Food, Human Grade Dehydrated Base Mix for Dogs, Grain Free Holistic Mix for Small Dogs or Picky Eaters
If you want to feed you dog real, recognizable foods with the convenience of quick preparation, Dr. Harvey's line* is worth checking out.
This version is ground finely for small mouths. It is a base of dehydrated grains and veggies to which you will add fresh meat.
TruDog: Feed Me: Freeze Dried Raw Superfood
Trudog* is pretty much just clean freeze dried meat.

This could work really well with the above for a complete just-add-water raw food while on the go.
ORIJEN Dry Dog Food, Original, Biologically Appropriate & Grain Free
Another offering by Orijen, this is a well-conceived comprehensive raw-based diet solution*.

That is, it contains freeze dried animal foods as well as vegetables and probiotics. It is a grain free option.
The relatively long list of ingredients means you're getting a wide variety of nutrients beyond covering the basics.
Best Grain-Free Food for English Bulldogs
Grain free diets have become popular for dogs recently.
The idea is to more closely replicate the diet a wild canine might eat. In addition, many dogs, especially English Bulldogs, are allergic to grains.
Here are a few of our favorite grain-free foods.
ACANA Heritage Dry Dog Food
This choice is grain-free* and contains high-quality ingredients.

It is 60% raw dried animal ingredients, a ratio meant to mimic a wild dog diet.
Nutro Grain Free Adult Wet Dog Food Cuts in Gravy
Here is a wet grain free option* with wholesome ingredients.

It comes in a variety of flavors and contains no GMO foods, corn, wheat or soy or artificial preservatives.
Taste of the Wild Grain Free Premium High Protein Dry Dog Food
This wild salmon-based dry food* could be perfect for this breed.

It contains fruits and vegetables for antioxidants and wild-sourced salmon. We also like the chicory and probiotics which support a healthy digestive system.
Best Dog Food for English Bulldog Seniors
Is your Bulldog getting on in years?
Then you'll want a food to keep them as healthy as possible, for as long as possible.
Blue Buffalo Homestyle Recipe Natural Senior Wet Dog Food
This wet food* is formulated specifically for the needs of older dogs.

As it is wet, it is easier to eat for those who may have dental problems or lower appetite.
We love the natural ingredients, lack of artificial colors, flavors, or preservatives, and inclusion of fruits and vegetables.
Nulo Senior Grain Free Dog Food
This is a great food choice* for an older dog who is developing joint pains.

The glucosamine and chondroitin are included to help maintain the health of cartilage. We also like that it contains probiotics for gut health and L-carnitine to support fat metabolism.
Merrick Grain Free Senior Dry Dog Food Recipe
Addressing joint health with omega-3 fatty acids, glucosamine and chondroitin, Merrick has created a great grain-free option for senior dogs.*

We love the natural ingredient list and included supplementation that is designed specifically for older dogs.
Best Food for Dogs with Arthritis
You may be wondering if your English Bulldog has already developed joint pain or arthritis if diet can help.
Yes and no.
While diet is likely to have limited influence on degenerative joint changes, it can reduce inflammation and thus pain. This can have a small effect on the progression of certain kinds of joint disorders.
The addition of specific anti-inflammatory nutrients such as turmeric and fish oil can help reduce symptoms and glucosamine and chondroitin may protect cartilage.
In any case, be sure to consult with your vet for any new joint pain your dog appears to be experiencing.
As a baseline, a good-quality dog food such as included in this review is a great start.
How Much Should I Feed my English Bulldog
You will want to feed once or twice a day. Total calorie intake for an adult should be between 1300 and 1500 calories a day, depending on his activity level. This is typically equivalent to 3-4 cups of dry kibble a day.
Let's look at how to tell if your dog is a healthy weight.
English Bulldog Weight and Diet
A healthy English Bulldog should weigh 40-60 lbs.
If you are strong, and certainly when they are a puppy, it is simple to weight them at home. Just step on the scale with him in your arms, record the weight. Then weigh yourself after putting him down. Subtract the difference and you have his weight.
If you are not able to hold your dog in your arms, you will need to monitor his weight at the vet's office.
By feel, you should be able to feel his ribs without probing. They should not, however, be extremely prominent.
Looking from either the top or the side, you should see a clear waistline. Bulging would be a sign he is carrying excess weight. Sharp hip bones would be a sign he is underweight.
Best English Bulldog Food For Weight Loss
If your dog needs to lose weight, the first thing you will want to consider is the total amount of food you give him.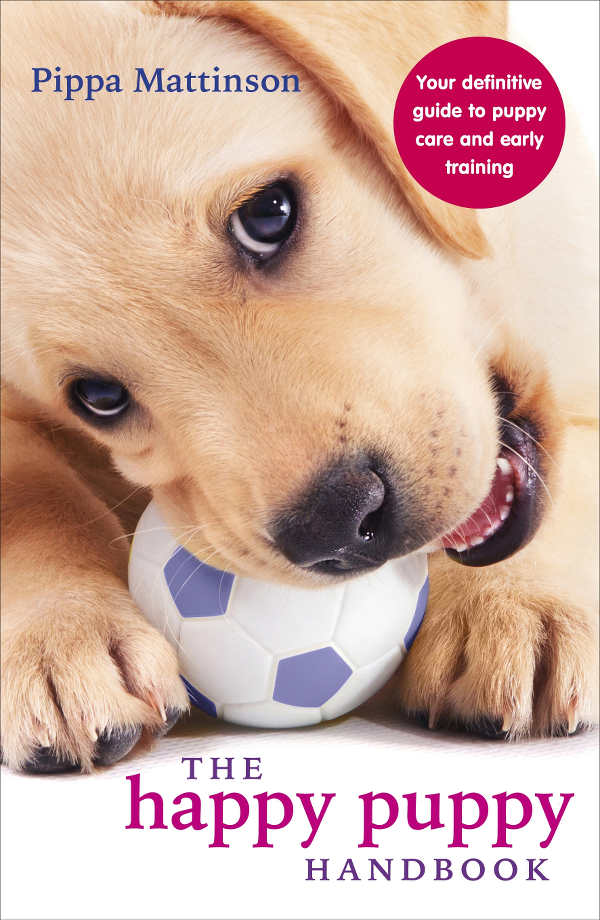 It can also help your overweight pup to feel more satisfied (during weight loss) to consume more dog-safe vegetables which are low in calories, but high in fiber, vitamins, and minerals.
These foods are specifically designed with lower caloric density, so you might want to give them a try.
AvoDerm Natural Advanced Healthy Weight Dry Dog Food
This formula* is designed specifically to help overweight dogs to return to a more healthful weight.

It is unique in containing a significant amount of avocado — a very rich source of healthy fats, vitamins and minerals.
Blue Buffalo Life Protection Formula Healthy Weight
Blue Buffalo reliably makes good quality dog foods with well-planned nutrition and this formula was designed for dogs who need to lose a few pounds.*

We like that it includes many fruits and vegetables that will provide your pup with antioxidants.
Best Food For English Bulldogs With Allergies
English Bulldogs are prone to allergies, so yours may need a hypoallergenic food if she is having issues with itches, runny nose and eyes, ear infections, digestive issues or other symptoms.
Most hypoallergenic foods will remove grains and other common allergens. One type is a minimal ingredient diet.
Here are a couple of options for allergy-sensitive pups. This could be the best food for English Bulldogs with allergies.
BLUE Freedom Grain Free Dry Dog Food
The Blue Buffalo Co* is a trusted brand in the dog-food world, and for English Bulldog food allergies this is also true.
This grain-free formula features real meat and the company's own mixture of vitamins, minerals, and antioxidants.
The BLUE formulations, which you can get for adult and senior dogs, are great for weight control, skin issues, and digestion.
Wellness Simple Natural Dry Limited Ingredient Dog Food
The appeal of this English Bulldog food* is that it's meant to be easily digestible for dogs with sensitivities, allergies, and intolerances, with a limited ingredient list that's all natural.
The kibble is made with just one protein source and easily digestible, gluten-free carbs.
Wellness' Simple products are designed to assist in skin health, digestive health, and immunity. They also address the eyes, teeth, and gums.
There's a wet formula* as well! So, have you found your best food for English Bulldogs?
Best Dog Food for English Bulldogs Summary
So, what is the best food for English Bulldogs?
When it comes to the best food for English Bulldogs, just remember to pay attention to their health challenges.
We hope we've helped you find a good food for English Bulldogs. Let us know in the comments what works for yours!
If you've enjoyed reading about the best food for English Bulldogs, you might also want to check our guide to action when dogs eat plastic.
Affiliate link disclosure: Links in this article marked with an * are affiliate links, and we may receive a small commission if you purchase these products. However, we selected them for inclusion independently, and all of the views expressed in this article are our own.
References and Further Reading
Association of American Feed Control Officials, Dog and Cat Food Nutrient Profiles.
Beckmann et al (2009). Metabolite fingerprinting of urine suggests breed-specific dietary metabolism differences in domestic dogs.
Harper, E. J. (1998). Changing perspectives on aging and energy requirements: aging and energy intakes in humans, dogs, and cats. The Journal of Nutrition, 128(12).
Hutchinson, D. et al (2011). Survey of opinions about nutritional requirements of senior dogs and analysis of nutrient profiles of commercially available diets for senior dogs. International Journal of Applied Research in Veterinary Medicine, 9(1).
Larsen, J. (2014). Nutrition of aging dogs (2014). Veterinary Clinics: Small Animal Practice, 44(4).
Pederson, N. C. et al (2016). A genetic assessment of the English bulldog. Canine Genetics and Epidemiology, 3(6).
MICHAEL G. HAYEK and GARY M. DAVENPORT. Nutrition and Aging in Companion Animals. Journal of Anti-Aging Medicine.Jan 1998.ahead of print,