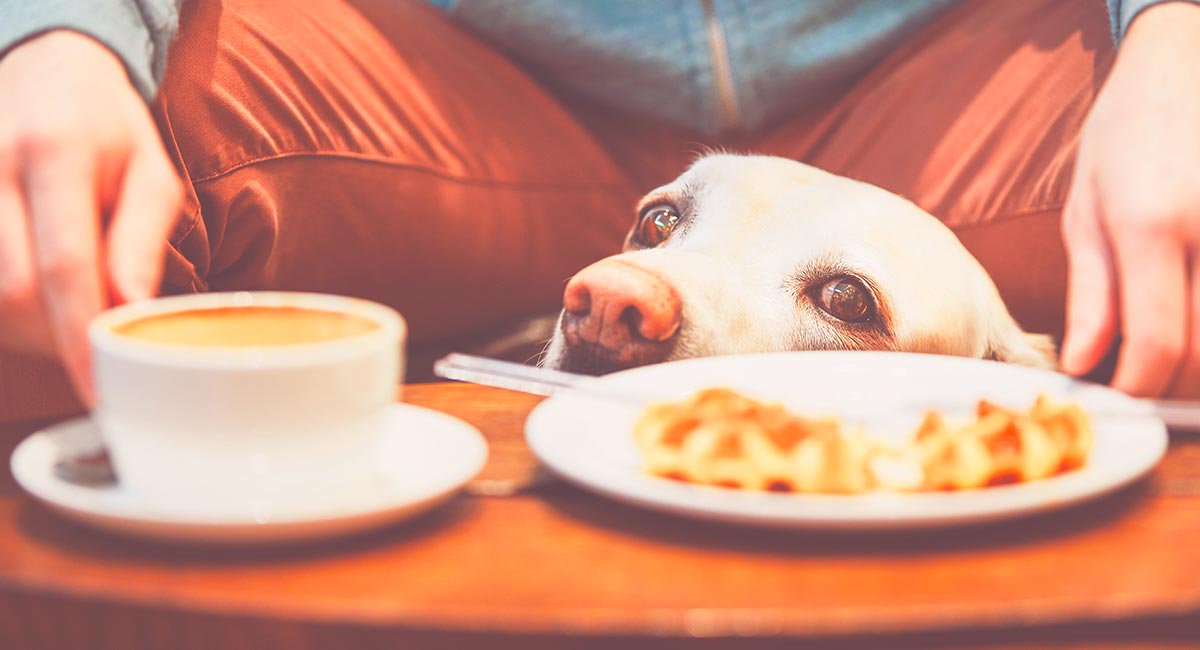 Can dogs drink coffee? Simply put, coffee is not safe for dogs to drink. Caffeine is toxic to dogs even in small quantities, and ingestion can be fatal.
Lots of dogs will attempt to drink coffee, especially milky and sweetened drinks. But they should always be prevented from doing so.
Can Dogs Drink Coffee?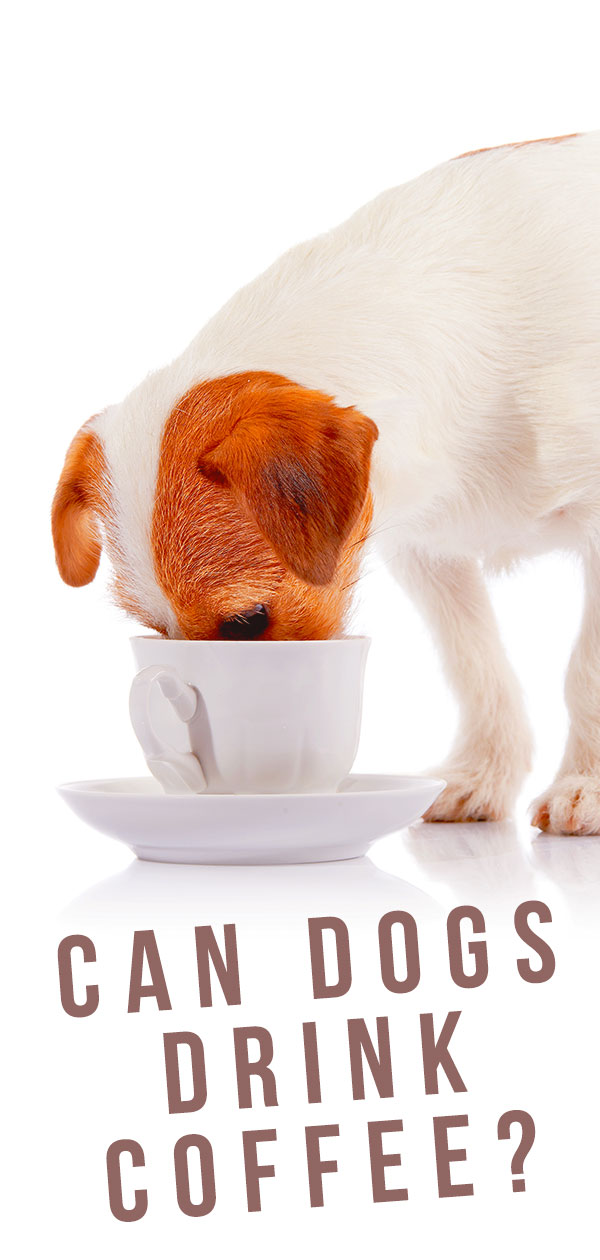 Are you wondering, "Can dogs drink coffee?" Then read this!
You love your coffee every morning when you wake up. In fact, some days you just can't do without it.
However, the same is not true for dogs. They don't need caffeine.
I mean, how often have they wanted you to let them out at oh-dark-thirty in the morning?
But is coffee actually bad for dogs? Let's find out.
Where Does Coffee Come From?
Coffee originates from a plant genus called Coffea.
Up to 100 species of different coffee plants may exist, but Arabica and Robusta are the main types made into commercial coffees.
The coffee cherry (fruit of the tree) is harvested from the trees either by hand or mechanical means, depending on the location and landscape.
After that, the fruits are processed.
How Is Coffee Processed?
The fruit may be laid out in the sun to dry.
Or de-pulped by machine, fermented to remove the layer of mucilage on top, and then dried.
The beans are then roasted, ground, and brewed.
In the brewing process, water is poured over the ground coffee beans and absorbs the chemical compounds within.
Finally, the coffee grounds are filtered out to create a smooth texture. Filtering also removes some oils from the bean that can increase cholesterol levels.
The flavor of the coffee depends on many factors including the country it originated in, coffee bean variety, type of roast, and texture of the grind.
Benefits and Drawbacks of Coffee For Humans
Studies show that drinking coffee can have clear health benefits for people.
Harvard Medical School reports that, among other diseases, coffee may protect against:
Alzheimer's
Cancer
Diabetes
Stroke
Parkinson's disease.
Coffee contains antioxidants and a few important vitamins and minerals, like magnesium and potassium.
And as you may know, coffee also contains caffeine. This substance can be both good and bad for humans.
It can enhance performance, but also raises blood pressure, stiffens arteries, and increases cholesterol and insulin levels.
Most 8 oz. cups of coffee contain about 100 milligrams of caffeine. The amount of caffeine in 100 cups of coffee will kill you.
Naturally, you'd like to pass any health benefits of coffee on to your dog, if possible. But is coffee good for dogs?
What is a Natural Diet for Dogs?
The natural diet of dogs comprises mostly animal proteins and fats and some carbohydrates.
Proteins are the main source of energy for dogs and are vital for growth and muscle maintenance.
Fats and fatty acids provide concentrated energy. Fats also help with cell function and keep skin and coat healthy.
Carbs provide energy and may aid in immunity and the regulation of blood glucose.
Dogs require certain minerals, 12 of which are essential. These include calcium, phosphorus, magnesium, potassium, and sodium.
They also require certain vitamins for proper metabolic functioning. And water, of course.
Dogs, unlike cats, have evolved in conjunction with domestication by humans to be omnivorous.
So adding some vegetables and starches into their protein-based diet can offer complete nutrition.
Moreover, dogs can adapt to a wide range of ingredients. So, what about coffee?
Is Coffee Good for Dogs?
The short answer is "no." Read below for why!
Is Coffee Bad for Dogs?
Coffee contains caffeine, which belongs to the methylxanthine family of chemicals.
All methylxanthines, including caffeine, are toxic to pets.
What Happens To Dogs When They Ingest Coffee?
Caffeine stimulates the heart, brain, and central nervous system. It increases heart rate and causes hyperactivity and hypertension.
Over-caffeinated animals may experience a fever and become weak.
In addition, caffeine raises blood pressure and can cause irregular heartbeat, along with muscle control issues, pancreatitis, and GI tract problems.
Seizures, coma, and death may result from cardiac arrhythmia or respiratory failure.
Is Coffee Bad for All Dogs?
Dogs are more sensitive to caffeine than humans.
What we might consider a "moderate" amount of coffee could be fatal to small dogs.
Larger dogs are less affected by similar amounts of caffeine.
And healthy young dogs will do better than older dogs that may have other health problems already.
How Much Coffee Is Bad for Your Dog?
It's best if you simply keep caffeine, whether in coffee, tea, chocolate, or other similar foods, away from your dogs.
About 10–20 mg, or one-third of a cup, can induce symptoms of poisoning in dogs.
Studies show that severe signs show up at 40-50 mg and seizures begin at 60 mg.
Can Dogs Drink Coffee With Cream and Sugar?
Don't forget, coffee isn't just coffee beans, either.
Milk and sugar are often added to coffee to make it taste better.
Sugar isn't good for dogs. Sugars can cause obesity and health problems related to obesity, such as pancreatitis.
Additionally, sweeteners could be added to your drink. For example, xylitol is extremely toxic to dogs and causes potentially fatal hypoglycemia.
Milk isn't necessarily good for dogs either. Cow's milk can be fed to dogs in small amounts as a treat, but some dogs experience lactose intolerance.
As for milk substitutes? Be cautious. Nuts like almonds can induce digestive upset and provide too much fat.
Other nuts, most notably macadamias, are toxic to dogs. So nut milk is best avoided, too.
Can Dogs Drink Flavored Coffees?
Chocolate, vanilla, caramel, and other substances are also added to coffee. Just think how much you enjoy that pumpkin spice latte in fall!
Chocolate and synthetic flavorings are among the ingredients you definitely don't want to give your dog since chocolate is harmful for the same reasons caffeine is.
In fact, it is the most common source of methylxanthine toxicity in dogs.
Some nuts, such as macadamia nuts, are toxic to dogs. Research shows that as little as 0.7 grams can induce poisoning symptoms in pups.
Can Dogs Drink Decaf Coffee?
To make decaffeinated coffee, manufacturers often use chemicals, liquid carbon dioxide, or water to strip away caffeine.
The process usually involves soaking or steaming unroasted coffee beans until caffeine gets dissolved or pores open enough that the caffeine can get extracted.
However, no method removes caffeine completely. Up to 3 percent stays in your coffee.
A 2006 study on decaf coffee from 10 different establishments, including Starbucks, found that up to 13.9 mg of caffeine still remained in a 16 oz. serving.
A couple of cups could still be dangerous for your dog!
Can Dogs Drink Filtered Coffee?
The reason we filter coffee is mostly to keep grounds out, although filters also trap diterpenes—oily substances that block cholesterol regulators.
However, filtering does nothing to remove caffeine. So filtered coffee is still dangerous for dogs.
Can Dogs Eat Coffee Grounds?
No. Coffee grounds retain caffeine.
Can Dogs Eat Coffee Beans?
Coffee beans contain caffeine in a highly concentrated form. So don't allow your dog to eat them.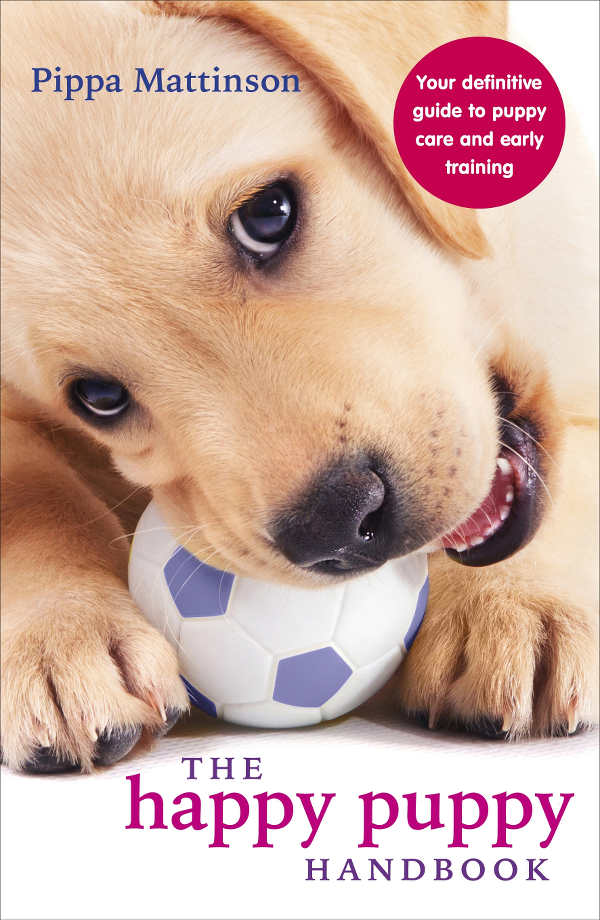 In fact, if you store coffee beans in your house, keep them in a spot your dog can't reach them.
If your dog gets hold of a bag of beans and ingests them, he may need medical intervention.
Do Dogs Like Coffee?
Some dogs do like the taste of coffee or might be curious about the flavor if they smell it.
They can definitely tell bitter, sour, and sweet flavors, and may enjoy coffee because of this.
Do not encourage this behavior! If you don't finish your coffee, dump it out.
Do not leave grounds or beans around, and secure your trash if it contains coffee remnants.
Can Dogs Drink Coffee?
No, dogs cannot drink coffee.
It's better to be safe than sorry. Be sure to take precautions to make sure your dog does not have access to coffee or coffee products of any kind.
Your dog will thank you a latte for your care and caution!
Has your dog ever drank coffee by mistake? Tell us about your experience in the comments below.
References and Further Reading
U.S. Food & Drug Administration (FDA)
Cortinovis C & Caloni F. 2016. Household food items toxic to dogs and cats. Frontiers in Veterinary Science.
McCusker RR et al. 2006. Caffeine content of decaffeinated coffee. Journal of Analytical Toxicology.