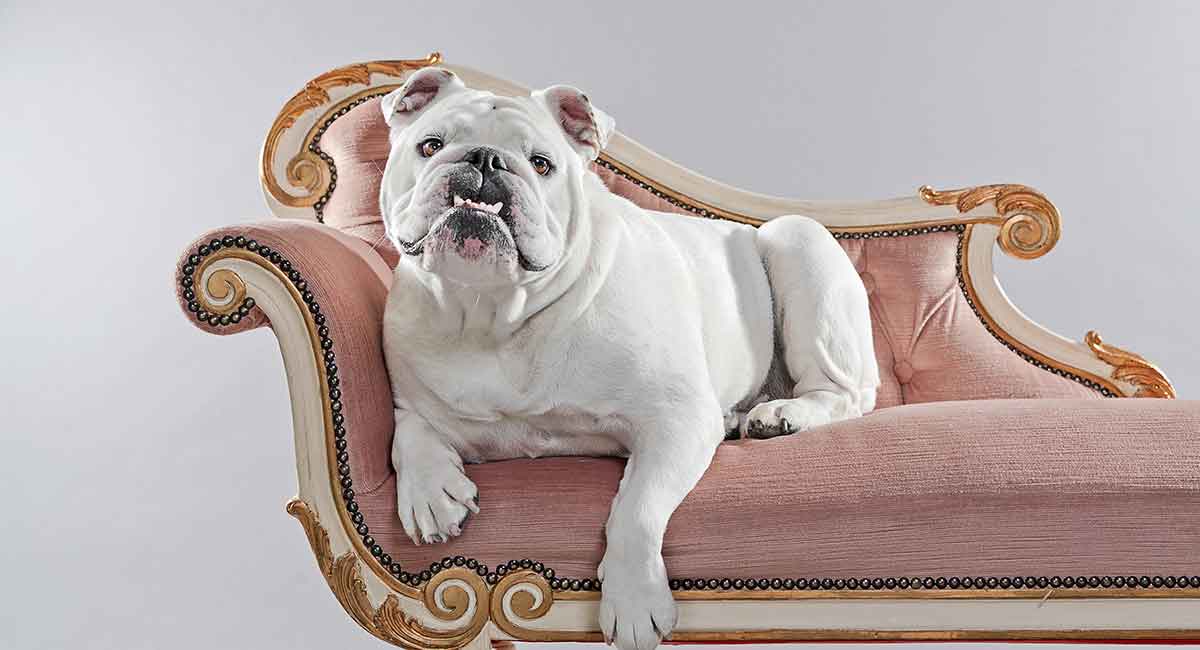 It's hard to confuse a white English Bulldog for any other breed.
With his characteristic bowed legs, stocky body, wrinkled face and piggy-like snort, the English Bulldog is as cute as he is popular.
And when it comes to color, the white English Bulldog is rising in the ranks.
But are white English Bulldogs healthy, and what kind of temperament do they have?
Does this color of English Bulldog make the right pet for you?
Join us as we learn the truth about the white English Bulldog.
What Is a White English Bulldog?
The white English Bulldog is a color of English Bulldog.
The white English Bulldog is one of many color combinations that is recognized and accepted for show, according to the American Kennel Club.
The full list of standard colors and color combinations an English Bulldog can come in include:
White
Fawn
Piebald
Fan and White
Brindle and White
Red and White
Red Brindle
Red
White English Bulldog Appearance
As you may have guessed, a white English Bulldog is purely white from nose to tail, with no markings on his body.
His coat is short, smooth and lays flat to his body.
The English Bulldog, in general, is famous for his thick, squat body and build.
Muscular but wrinkled, this sturdy little fellow can weigh between 40 and 50 pounds while standing just 14 to 15 inches.
He has short, floppy ears; round eyes; a short, curled tail; and a flattened face. His wide mouth can also lead to a bit of drooling.
He sounds so cute, right? Do you want a white English Bulldog?
Before you decide if this color or even this breed is the right pet for you, let's learn about the genetics behind his coloring.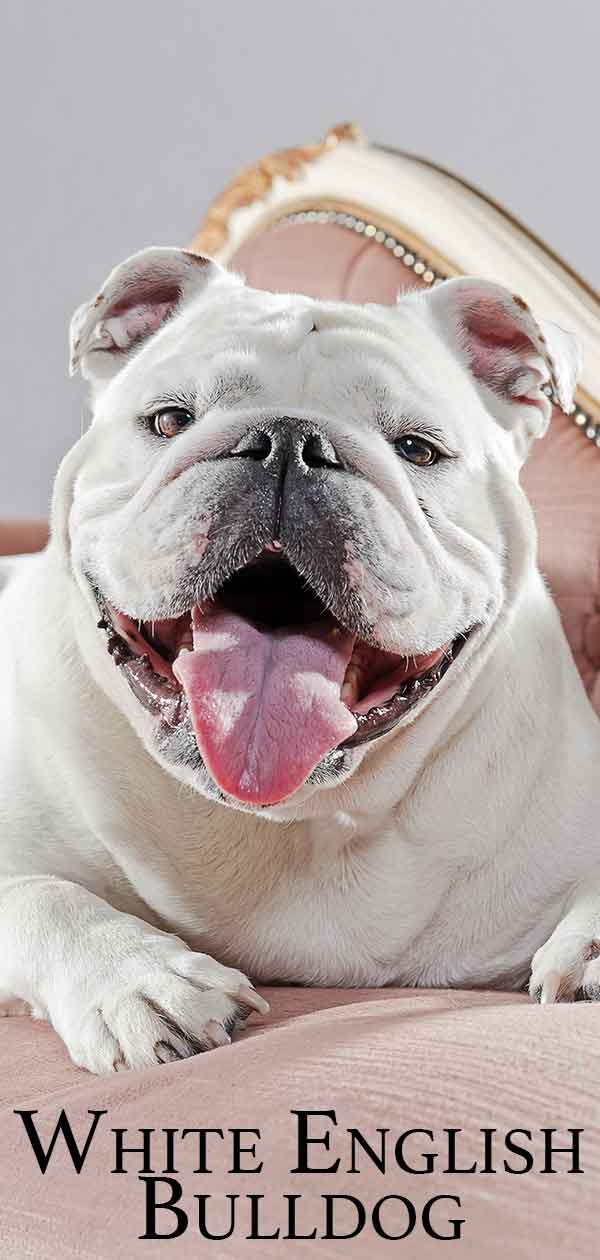 White English Bulldog Genetics
There is quite a bit of speculation when it comes to the color of a dog and its correlation with the dog's overall health and temperament.
But how much of this speculation is fact and how much of it is a myth?
The color of your dog's overall coat, regardless of his breed, is the result of two base colors: red and black.
The color of your dog depends on his genetics from parent breeds, along with a bit of chance based on foundation colors.
But is there any truth to the idea that a dog's coat color can affect his personality or health?
Color vs Hearing Risks
Luckily, there is no proof that coat color has any connection to a dog's temperament or personality.
However, there have been studies done that link a dog's coat color to his health. So, which colors should you look out for?
Lighter colored coats have been known to correlate with congenital deafness in dogs.
Here are the coat colors most associated with the gene:
So, what does this mean for a white English Bulldog?
Unfortunately, since the white English Bulldog is white, he can be more susceptible to suffering from congenital deafness.
However, congenital deafness is not the only health concern you should look out for when it comes to a white English Bulldog.
But before we dive further into this breed's overall health, let's discuss his temperament.
White English Bulldog Temperament
As we mentioned above, no study proves that coat color has any connection with a dog's personality and temperament.
There are plenty of myths floating around about how black dogs are more aggressive and coat color's connection to aggression.
But, according to Dr. Stanley Coren, the truth is that there have been no conclusive studies proving such myth.
The truth is a dog who is properly socialized, exercised and trained will more likely than not grow up to be happy, healthy and well-behaved.
So, what is a white English Bulldog's temperament like?
According to the American Kennel Club, English Bulldogs are happy, calm companions.
Family Tips for White English Bulldogs
They have a loyal nature and do well with families and other household pets so long as they are socialized from an early age.
They can become protective over toys and food.
They should be taught very early on not to be anxious about people reaching for their belongings.
English Bulldogs are eager to please, which makes training them quite a fun experience.
They love making their people proud and learn best with positive reinforcement such as food and praise.
This wide-mouthed breed can also be known to chew, and the habit can be destructive to furniture and clothing.
Owners can help reduce destructive chewing by:
making sure their English Bulldog has plenty of chew bones and chew toys available
ensuring he is properly exercised
confirming he is mentally stimulated to keep him from becoming bored or anxious.
But what about the health of a white English Bulldog?
Keep reading.
White English Bulldog Health
Congenital deafness, as mentioned above, is not your only concern when it comes to the white English Bulldog.
With an average life span of eight to 10 years, there are many structural issues when it comes to this breed.
These issues make him an overall unhealthy and at-risk dog, which can lead to financial and emotional distress for owners down the road.
Sadly, it is what makes the English Bulldog so cute that also makes him the most vulnerable to health defects.
His squat build, squishy face and curled tail can all lead to a number of painful and dangerous problems for the breed.
Brachycephalic Airway Syndrome Risks
For example, the English Bulldog's squished face results in a serious breathing disorder known as brachycephalic airway syndrome.
Brachycephalic airway syndrome can cause respiratory distress, excessive panting, snoring, heat intolerance and more.
Unfortunately, English Bulldogs are susceptible to more health issues than many other breeds.
Other Health Concerns
The full list of an English Bulldog's health issues are:
Brachycephalic syndrome
Hip and elbow dysplasia
Canine intervertebral disk disease
Dermatitis
Acne
Eczema
Demodicosis
Head shaking
Patellar luxation
Cherry eye
Dry eye
Corneal ulcers
Eyelash abnormalities
Cherry eye
Canine entropion
Interdigital cysts
Hypothyroidism
Canine kidney disease
von Willebrand's disease
Urinary issues
Bloat
There are currently no recommended health tests for the English Bulldog.
However, there are a few ways a prospective owner can go about helping to keep their white English Bulldog as healthy as possible.
Keeping a White English Bulldog Healthy
Considering the number of health issues, we do not recommend these dogs for novice dog owners.
English Bulldogs are best suited for more experienced dog owners who are aware and prepared for the severity of their long list of health issues.
We also recommend that, instead of buying from a breeder, owners opt to adopt an adult English Bulldog from a shelter.
Adopting an adult white English Bulldog can give you a better insight into any health problems he has.
This will likely lead to fewer surprises both financially and emotionally.
Planning a Feeding Schedule
You can also help keep your white English Bulldog healthy by feeding him on a schedule.
Since the white English Bulldog can be prone to Bloat, feed him several small meals a day instead of one or two large meals.
We also suggest that our white English Bulldog is put on well-balanced, high-quality dog food.
Make sure it is free of any fillers, and specified for your dog's age and weight.
Remember, the English Bulldog already has a compromised immune system due to his breed.
It is important to make sure he sees his veterinarian regularly.
And while the English Bulldog does need regular exercise, he should be monitored.
He can be susceptible to exercise and heat intolerance.
Because of brachycephalic airway syndrome and his flattened face, the white English Bulldog should never be left unaccompanied in water.
If he is, there is the possibility that he can drown.
Another way you can help to keep your white English Bulldog happy and healthy is utilizing proper grooming habits.
Let's learn more.
White English Bulldog Grooming
Because of his light coat color, the White English Bulldog is more susceptible to showing dirt and tear stains.
Bathing the White English Bulldog
You can opt to bath him occasionally with a high-quality dog shampoo.
But be careful not to bathe him too often or too little, as doing so can cause an imbalance in his pH levels and result in skin issues.
Most experts agree that an English Bulldog can be bathed as needed.
However, owners should try not to bathe them more than once a month.
Since the English Bulldog is already prone to skin allergies and issues, pay close attention to brushing and grooming techniques.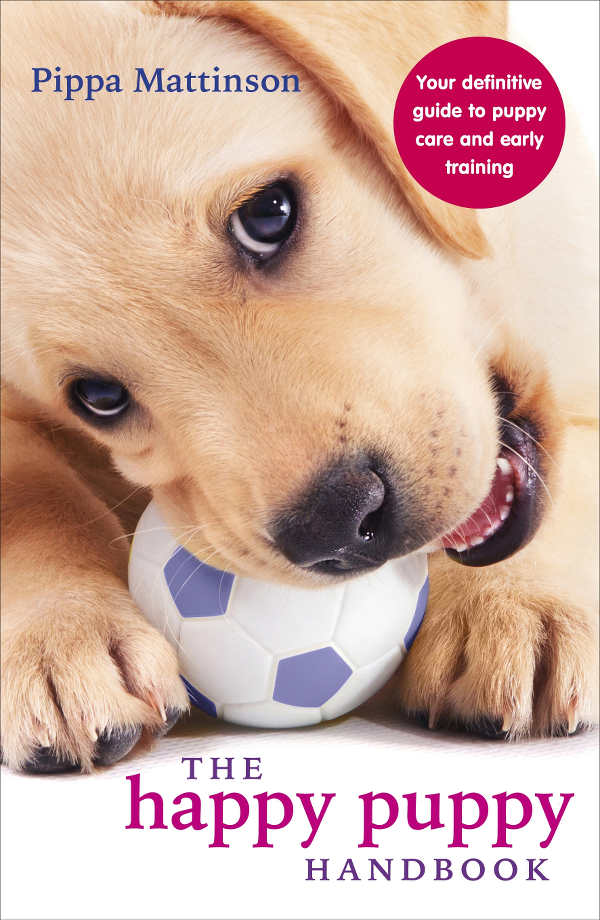 Healthy Skin and Fur Grooming Tips
Brush the English Bulldog at least two or three times a week to help keep loose hair at bay, and help stimulate healthy skin and fur.
Cute, signature wrinkles on your English Bulldog need to be cleaned regularly.
The goal is to avoid the risks of debris buildup, which can lead to irritation, skin issues, and infection.
You can keep the folds in your English Bulldog clean by using an unscented baby wipe or grooming wipe.
Wipe him down two or three times a week during his regular brushing.
Of course, like all dogs, the English Bulldog needs his nails trimmed regularly to keep them from cracking or splitting.
His ears should be checked and cleaned often to keep waxy buildup, moisture and debris from leading to ear infections.
Your White English Bulldog
Currently, the English Bulldog ranks in at number four out of 194 on the American Kennel Club's list of America's most popular dog breeds.
But he is certainly not the dog for everyone.
Due to the white English Bulldog's massive list of health issues, we do not suggest this breed for the novice owner.
We also do not recommend that owners buy this dog from a breeder.
Even the most responsible breeders cannot manage or breed out the health issues prone to the English Bulldog.
If you must get your hands on one of these wrinkly cuties, seek out a white English Bulldog through a rescue shelter in your area.
Are you a fan of the white English Bulldog? Comment below.
References and Further Reading:
Buzhardt, L., "Genetics Basics – Coat Color Genetics in Dogs," VCA Hospitals
Coren, S., 2011, "Are Black Dogs Less Lovable?" Psychology Today
Coren, S., 2012, "Your Dog's Coat Color Predicts His Hearing Ability," Psychology Today
Howell, T.J., et al., et al., 2015, "Puppy Parties and Beyond: The Role of Early Age Socialization Practices on Adult Dog Behavior," Dovepress
Schmutz, S.M. and Berryere, T.G., 2007, "Genes Affecting Coat Color and Pattern in Domestic Dogs: A Review," Animal Genetics