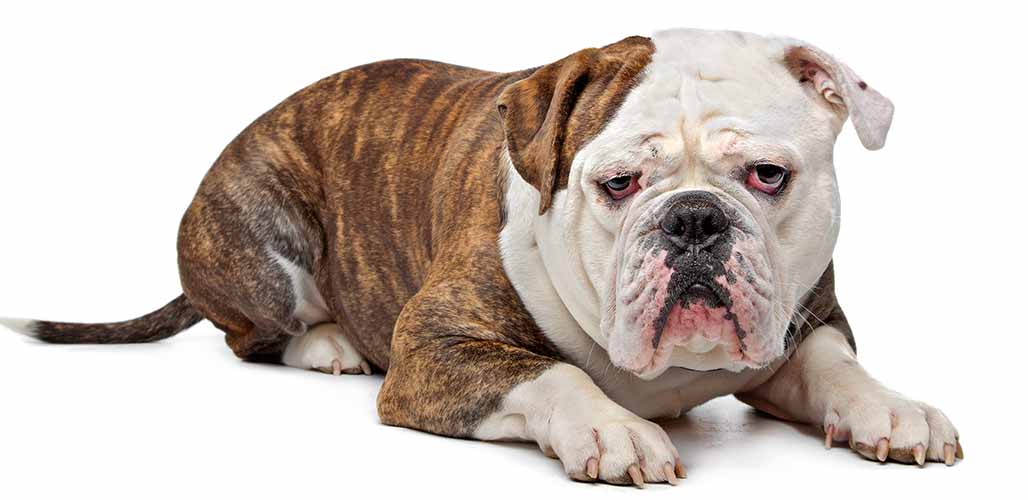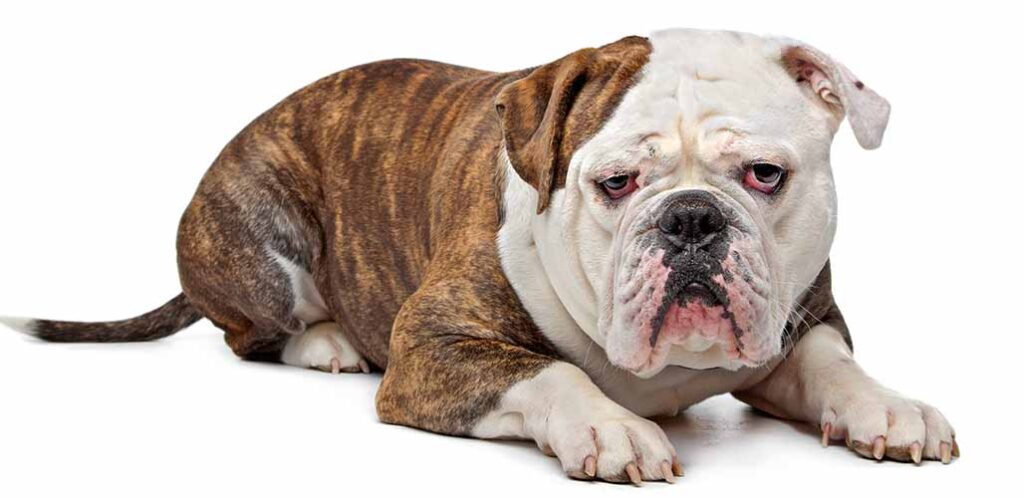 An old Bulldog will have slightly different care needs to its younger self. This complete guide takes a closer look at your old Bulldog's health, diet, and exercise needs.
As your Bulldog ages, their needs will change. Senior Bulldogs will usually need less exercise, but they may need more mental stimulation to compensate. Your old Bulldog can benefit from transitioning to a senior dog food, and other adjustments, like a new dog bed. But, it's also important to stay vigilant about their health and watch for early symptoms of the most common Bulldog health issues.
About the Bulldog
The Bulldog is also known as the English Bulldog – not to be confused with the Olde English Bulldog! Bulldogs originate in 13th Century England, where they were used in sports like bull baiting. When this practice became illegal, Bulldogs transformed into a popular companion breed.
The Bulldog has a flat, brachycephalic face with wrinkled skin and folded, triangular ears. They are short, stout dogs with an overall muscular body. English Bulldogs are known for their docile, affectionate temperament. They form strong bonds with their close family, but need good socialization from a young age. Proper socialization will produce a Bulldog that gets along with strangers, children, and other animals.
How Long Do English Bulldogs Live?
There are plenty of studies that examine the average lifespan of our favorite purebred dog breeds. This can provide owners with a good ballpark figure for their dog's lifespan. But, it's important to remember that the figures are most often mean averages. So, some dogs will live longer and shorter lives.
One such study puts the average Bulldog lifespan at 8.4 years. But, others have less optimistic findings, with an average closer to 6 years. Taking a closer look, this second study shows some Bulldogs living as long as 14 years old, but the mean average is considerably lower. Average lifespans can be useful, but your Bulldog may exceed these figures.
You can help your English Bulldog live a long and happy life by giving them the best possible care throughout their entire life, and adjusting to their changing needs as they age.
When is my Bulldog Considered a Senior?
Opinions disagree about the age that a Bulldog becomes a senior dog. But, a generally accepted age is 7 years old. So, when your Bulldog reaches 7 years, you should start thinking about things like senior dog foods.
Your veterinarian may recommend bringing forward or postponing these changes depending on the health and status of your Bulldog. It's important to remember that all dogs are individuals, and may not age at the same rates! But, as a general idea, Bulldogs are classed as seniors at around 7 years old.
Caring for an Old Bulldog
As we now know, our Bulldog's needs will change as they age. Supporting these changes can help to extend your dog's lifespan, and to keep them comfortable no matter what challenges life throws. So, let's take a closer look at how to care for your senior English Bulldog.
Food and Diet
One of the biggest changes that happens to our dogs as they age is the transition from adult to senior dog food. Senior dog food is designed to support a dog as they age. It will often include ingredients like glucosamine and chondroitin, which will help your dog's joints, antioxidants to support the immune system and cognitive function, and omega-3 fatty acids to reduce inflammation.
If your Bulldog currently eats kibble, you may also want to consider transitioning to a wet food. As our dogs age, they can experience more dental issues. Particularly flat faced dogs like the Bulldog. A wet food will be softer on their teeth. But, since kibble plays a part in keeping our dogs' teeth clean, you may need to add dental chews or teeth brushing into your old Bulldog's daily routine.
Like the transition from puppy food to adult food, transitioning to senior dog food should be a gradual process. Over the course of a week, replace some of your dog's current food with their new food. Increase the ratio of new food to old food as the week progresses. By the end of the week, your Bulldog should be eating only their new food. This gradual process will be easier for your old Bulldog's stomach to adjust to, causing fewer gastrointestinal problems.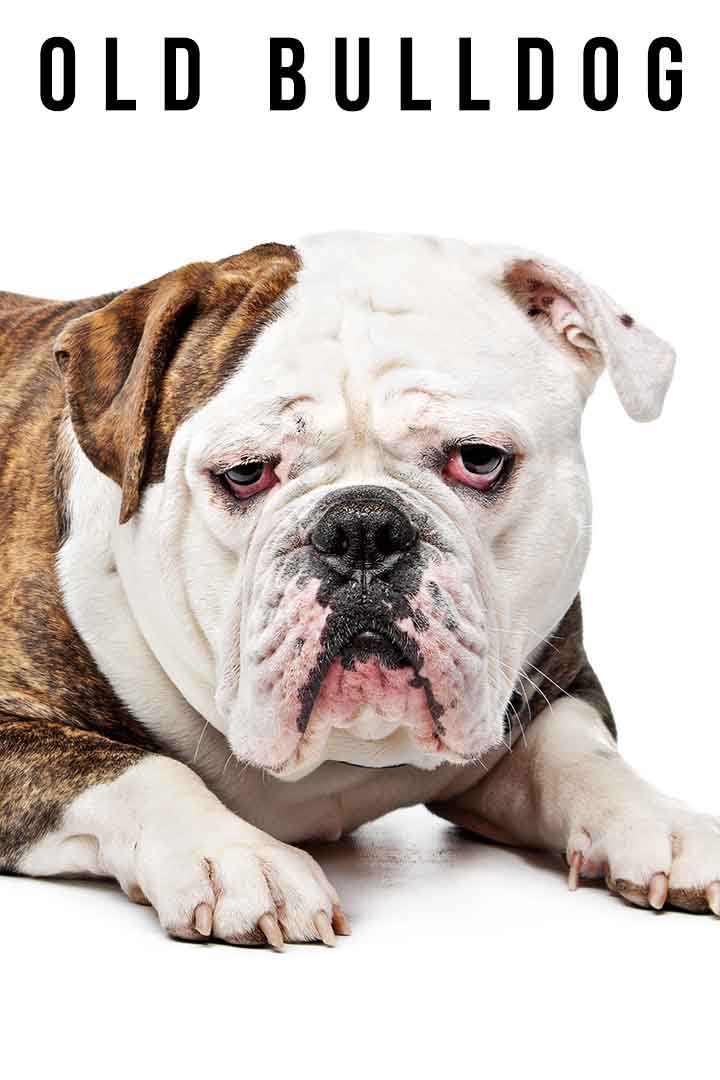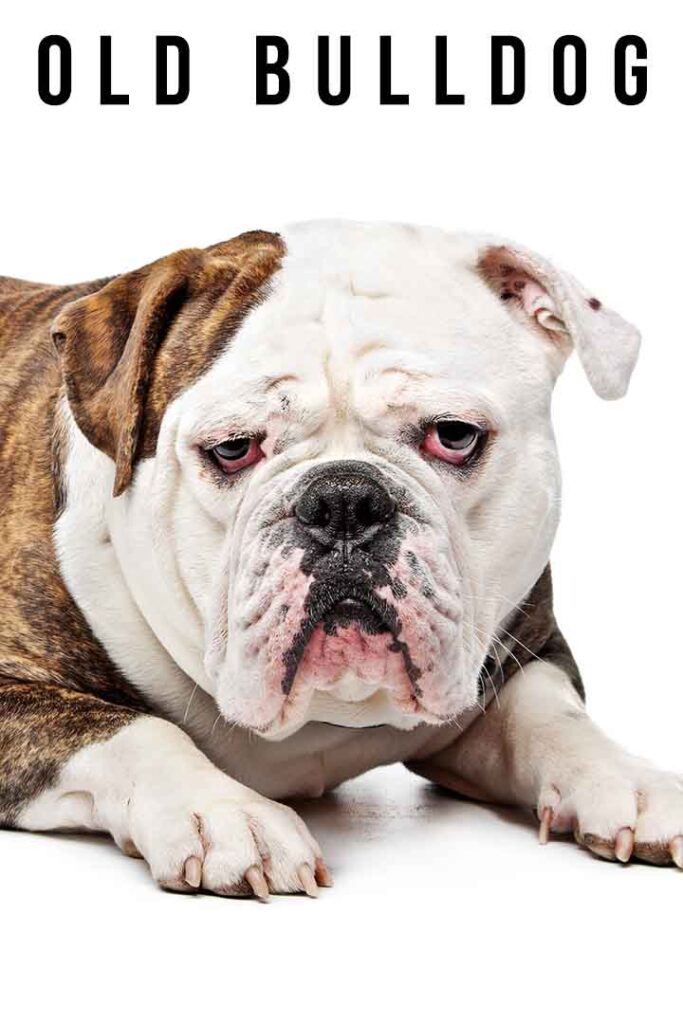 Joints
The English Bulldog is prone to certain joint problems like hip and elbow dysplasia. Breeders can test dogs before breeding them to reduce the frequency of this joint issue, but not all Bulldogs come from reputable breeders, and some will develop it despite a breeder's best efforts.
As your Bulldog ages, signs of joint issues may start to show. For instance, they may limp, whine when pressure is placed on their joints, struggle to jump or get comfortable, and so on. Changing your dog's food to a senior recipe can help with joint problems, particularly if you choose a food with some of the ingredients listed above.
On top of this, you could also invest in an orthopedic dog bed. These are designed to provide maximum comfort and support to your dog when they're sleeping, and may have other features like a cooling, washable fabric. Your veterinarian is the best source for more help with your dog's joints, so schedule an appointment if you're concerned about your old Bulldog.
Exercise Requirements
Since the Bulldog is a small brachycephalic breed, they will always have lower exercise needs than many other breeds. Their flat faces can make it harder to breathe, but are also linked to heatstroke and an inability to cool down like other dogs. So, exercise levels will likely already be quite low for your Bulldog.
If you find your senior Bulldog struggling with their current exercise routine, it can help to switch things up. Instead of daily walks, include more playing sessions in your day. It's a great idea to choose interactive games and toys that will stimulate your Bulldog's brain and challenge them. Not only can these be a low-impact way to tire out your old Bulldog, but they'll also prevent boredom and the associated unwanted behaviors.
And, if you're reducing exercise levels, remember that you may need to adjust your Bulldog's food intake. Preventing obesity is important, as this excess weight can worsen some common health issues for this breed.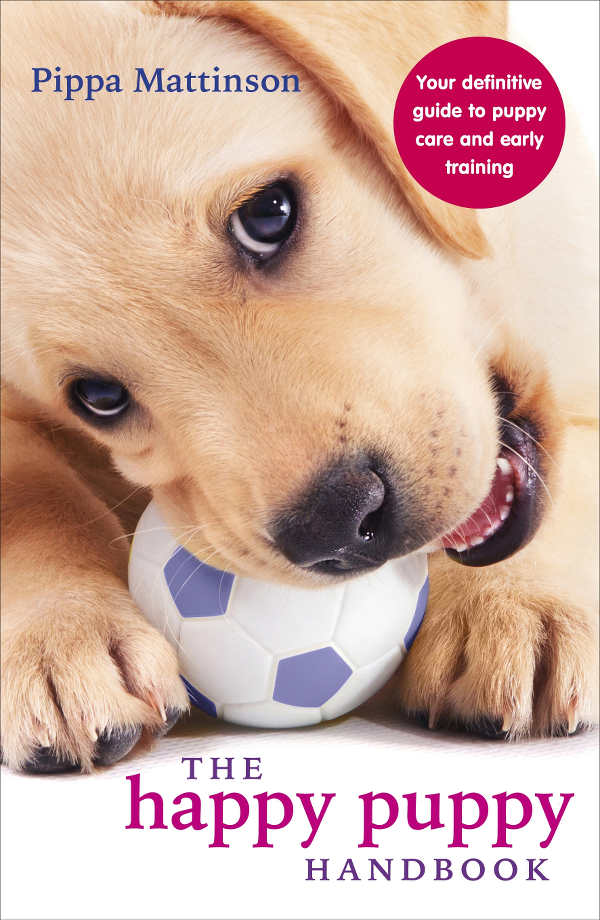 Most Common Health Issues in Bulldogs
It's important to monitor your Bulldog's health as it ages. Recognising early symptoms of common problems can be a great way to start treatment and increase your dog's lifespan. Here are some of the main health issues that English Bulldogs experience:
Joint problems (dysplasia, arthritis, etc.)
Brachycephalic Obstructive Airway Syndrome
Patellar luxation (dislocated kneecap)
Autoimmune thyroiditis
Congenital deafness
Hyperuricosuria
Dental issues associated with overcrowded teeth
Skin infections (particularly in wrinkled, folded skin)
Sleep apnoea and other sleeping problems
Brachycephalic Ocular Syndrome and associated problems, like corneal ulcers
Some of these problems are related to your Bulldog's conformation. So, you won't necessarily be able to prevent them. But, problems like sleep apnoea, caused by brachycephaly, can be improved with surgery, or by investing in different shaped dog beds. Your veterinarian is always the best source for further help with your old Bulldog's health.
Old Bulldog – A Summary
Your old Bulldog will have different needs to their younger selves. They can benefit from a new food, a new type of bed, and a new exercise routine. But, the specific changes you make will usually depend on your Bulldog's health. For instance, those with dental issues may benefit from a wet food and tooth brushing, whilst others may still prefer a kibble diet that can be used in interactive toys.
Have you got any tips for looking after an old Bulldog? Make sure to leave them in the comments to help out other owners! We would love to hear about your senior dogs!
Readers Also Liked
References and Resources
O'Neill, D. (et al), 'Longevity and Mortality of Owned Dogs in England', Veterinary Journal (2013)
Adams, V. (et al), 'Methods and Mortality Results of a Health Survey of Purebred Dogs in the UK', Journal of Small Animal Practice (2010)
Sutherland, K. (et al), 'Equations Used to Develop Commercial Dog Feeding Guidelines and Canadian Owner Feeding Practices in 2018', The Canadian Veterinary Journal (2021)
Thompson, T. 'Vet Advice: Dog Food for Pain, Arthritis, Joints & Hip Dysplasia', Natural Pets HQ (2021)
Pedersen, N. (et al), 'A Genetic Assessment of the English Bulldog', Canine Medicine and Genetics (2016)
OFA – The Canine Health Information Center
Packer, R. (et al), 'Great Expectations, Inconvenient Truths, and the Paradoxes of the Dog-Owner Relationship for Owners of Brachycephalic Dogs', Plos One (2019)
O'Neill, D. (Et al), 'Unravelling the Health Status of Brachycephalic Dogs in the UK Using Multivariable Analysis', Scientific Reports (2020)
Packer, R. & Tivers, M. 'Strategies for the Management and Prevention of Conformation-Related Respiratory Disorders in Brachycephalic Dogs', Veterinary Medicine: Research and Reports (2015)
Fasanella, F. (et al), 'Brachycephalic Airway Obstructive Syndrome in Dogs: 90 Cases (1991 – 2008)', American Veterinary Medical Association (2010)
Farrell, L. (et al), 'The Challenges of Pedigree Dog Health: Approaches to Combating Inherited Disease', Canine Medicine and Genetics (2015)