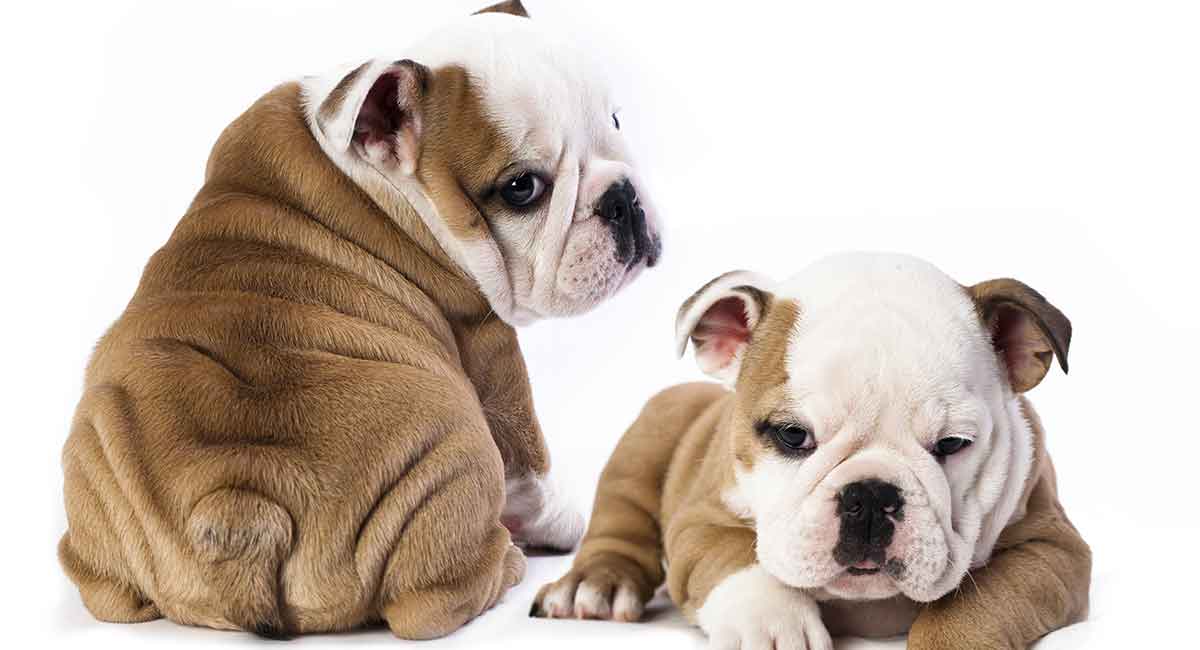 The Bulldog is already a well-loved breed, so it's no surprise miniature versions have started to make an appearance. Their stocky, low to the ground body, flat face and gentle, calm temperament already hold a lot of appeal. A mini Bulldog aims to retain all these characteristics, but in a more portable puppy size. However, when you shrink down a dog you can create or exacerbate some pretty serious problems.
Contents
Why Are Miniature Breeds So Popular?
Humans tend to find childlike characteristics in an animal cute. For dogs, this means that puppies generally get a whole lot more squealing and pats than their adult counterparts!
The appeal of a miniature dog is that it stays puppy-sized for its entire life. It retains that cute and innocent draw that many puppy-lovers cannot get enough of. Many find smaller-breeds inherently cuter than bigger breeds. And miniature versions of larger dogs can perhaps be a way to bring a large dog into a smaller, cuter package.
Mini Bulldog Full Grown Size
The miniature Bulldog is not recognized by the American Kennel Club. It has, however, been recognized by various societies and registries. Such as the American Canine Association. The ACA states that an adult miniature Bulldog should be around 10–14 inches in height. They should be 25–40 pounds in weight.
This is just under the specifications for a normal Bulldog. So it can be said that any Bulldog that does not reach the 10 inches could be categorized as miniature. However, it is possible for adult mini Bulldogs to be even smaller than this, though not recommended.
There is such a thing as too small, with breeds such as teacup Chihuahuas being an example of going too far. Being too tiny can lead to a wealth of health issues. This can have a significant impact on the dog's quality of life.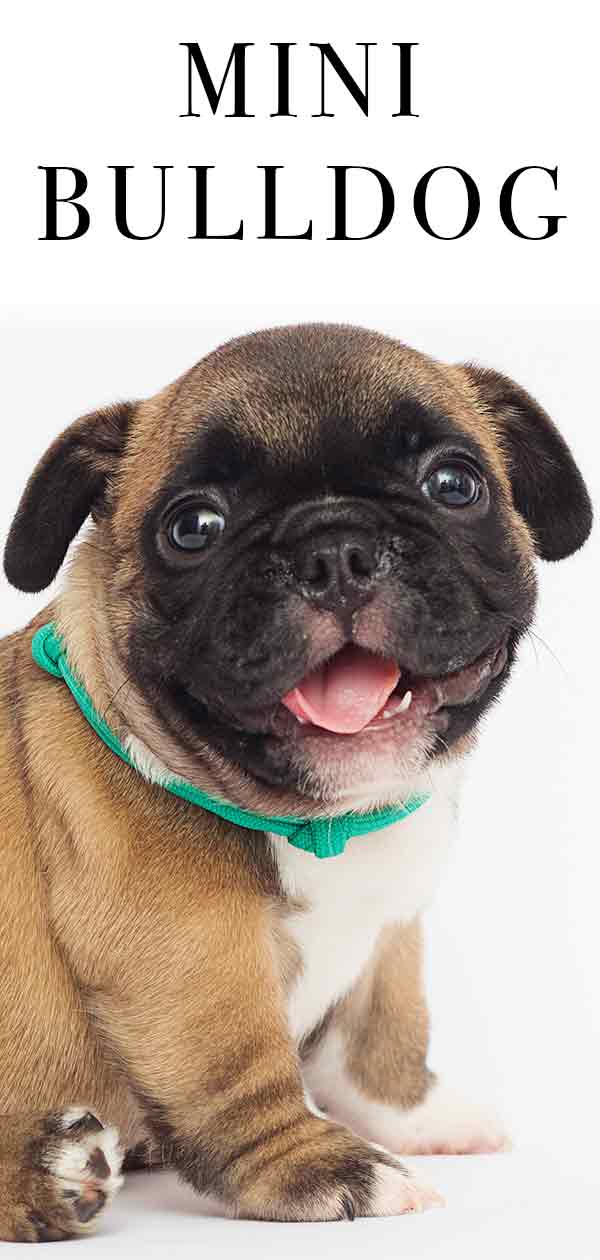 Mini Bulldogs – How Are They Bred?
There are three methods in which one can achieve miniaturization with any given breed, each with their drawbacks.
Crossbreeds
The first method is to crossbreed with a smaller breed. Puppies of crosses such as these will end up shrinking down, due to the smaller parent within the cross. However, this sometimes is not desirable, as crossbreeds have a unpredictable appearance and temperament.
Crossbreed puppies can take after any aspect of either parent. Therefore they could lose traits intrinsic to the Bulldog breed. They become an entirely different dog for all intents and purposes.
Basically, dogs of this method will not be 100% Bulldog anymore. Crossbreeds also run the risk of introducing new health issues or worsening current ones if they are not planned wisely.
Dwarfism
Another method is to introduce the dwarfism gene to the breed. Rather than shrinking the dog's size as a whole, this introduces the gene that creates short and stumpy legs. Think Dachshunds or Corgis.
The shorter legs will make the original breed a lot lower to the ground, so they appear smaller. Dogs with this trait are known as chondrodysplastic.
This method is generally not desirable. It brings with it a lot of potential joint and back issues. You will be adding a lot of stress to the joints of the dog. This can lead to early onset of arthritis and other painful conditions.
Dogs with this trait need special care to prevent wear and tear to their overworked joints and to prevent injury.
Runts
The final method of miniaturization is to selectively breed the smallest members of the dog breed with each other. There will always be runts within litters who are smaller than the rest. And this method breeds those dogs together to start a genetic line of smaller and smaller dogs.
This is how breeds such as the toy Poodle and the miniature Schnauzer came to be.
This approach only breeds members of the original breed. This way is the safest to ensure that no traits of the original breed are lost. However, this can take many generations of dogs to achieve a significant size difference from the original breed.
Runts can often suffer health problems as a result of their size and status as well. Breeders must be very careful not to unintentionally propagate these. It requires a lot of work and intelligent breeding to pull this off and have healthy puppies by the end of it.
How Are Mini Bulldogs Usually Made?
They are usually created by either crossbreeding with a Pug. Or breeding the smallest members of the breed with each other.
It's important to note that the Bulldog already has the gene for dwarfism as part of the conformation of the breed. This is why they have stumpy front legs. Therefore, miniaturization of this breed is technically a combination of the 2nd method with either the 1st or the 3rd.
Health Issues of the Mini Bulldog
The main health concern surrounding Bulldogs is the fact that they are brachycephalic. A brachycephalic breed is one that has a flat-face, like the Bulldog. It brings with it a wealth of potential health issues that range from mild to life-threatening.
The flat face seen within certain dog breeds is a characteristic that has been bred into them over time by us. This shortening of the skull compresses the nasal cavity, causing the dog to have significant breathing problems. This is known as brachycephalic airway syndrome.
These breathing issues can eventually lead to Laryngeal Collapse. A condition where the dog's breathing can suddenly worsen. Other health issues brought upon by being a brachycephalic breed include:
skin infection and irritation
problems giving birth
debilitating spinal conditions
easily irritated and injured eyes
Caring for a Mini Bulldog
The first thing to be aware of when living with a mini Bulldog is to not treat them like you would their larger cousins. This is doubly important when you take into consideration their breathing issues.
Being smaller, what might be a moderate walk for a normal Bulldog may be quite intense for the mini Bulldog. Likewise, some furniture may be a bit more dangerous for them to jump down from.
As the miniaturization of this breed is less extreme than it is with others, this is less of a problem. But it is still worth considering.
A short walk daily will do for the mini Bulldog. However, brachycephalic airway syndrome is exacerbated by hot weather. So you may find you cannot take your mini Bulldog outside on a hot day. Find some fun exercise indoors during this time.
It's also a good idea to use a harness as opposed to a collar with this breed. A collar can further impede the dog's breathing.
Grooming
The mini Bulldog's short coat should be easy to care for, requiring a weekly brush to remove any dead hairs. However, they will also require regular cleaning of their skin folds and wrinkles. These areas are prone to infection and irritation.
Finding and Purchasing Mini Bulldog Puppies
Mini Bulldogs are becoming increasingly popular, so you shouldn't be hard-pressed to find a breeder. However, there unfortunately are a lot of bad breeders out there, especially those involved in creating miniature breeds.
Be wary of how the miniaturization was achieved. If it was via crossbreeding with a Pug, traits of the original Bulldog may have been lost and replaced with traits of the Pug. Trustworthy breeders of the mini Bulldog will be open. They should also let you see the parent dogs so you know exactly where the puppy has come from.
Viewing A Puppy
Check the puppy's breathing. Are they breathing loudly, snorting and sniffling? Are their nostrils wide and free-flowing, or are they pinched shut?
If the puppy is exerting significant effort to breathe, they should be avoided.
Also be sure to check the parent dogs too. Check their breathing as you did for the puppy. Also see if they can move without any signs of pain or lameness.
Good health in the parents can be indicative of good puppy health.
How Much Is a Mini Bulldog?
Micro Bulldogs usually go for around $500 to $2000, depending on the puppy's conformation to the breed standard. There are a few ads floating around for ridiculous amounts of money, however, of up to $20,000.
These ones claim to be from "champion bloodlines" and to be of fantastic show quality. However, many of these same breeders have received complaints of being unethical. And there are stories of customers receiving miniature Bulldog puppies with health concerns.