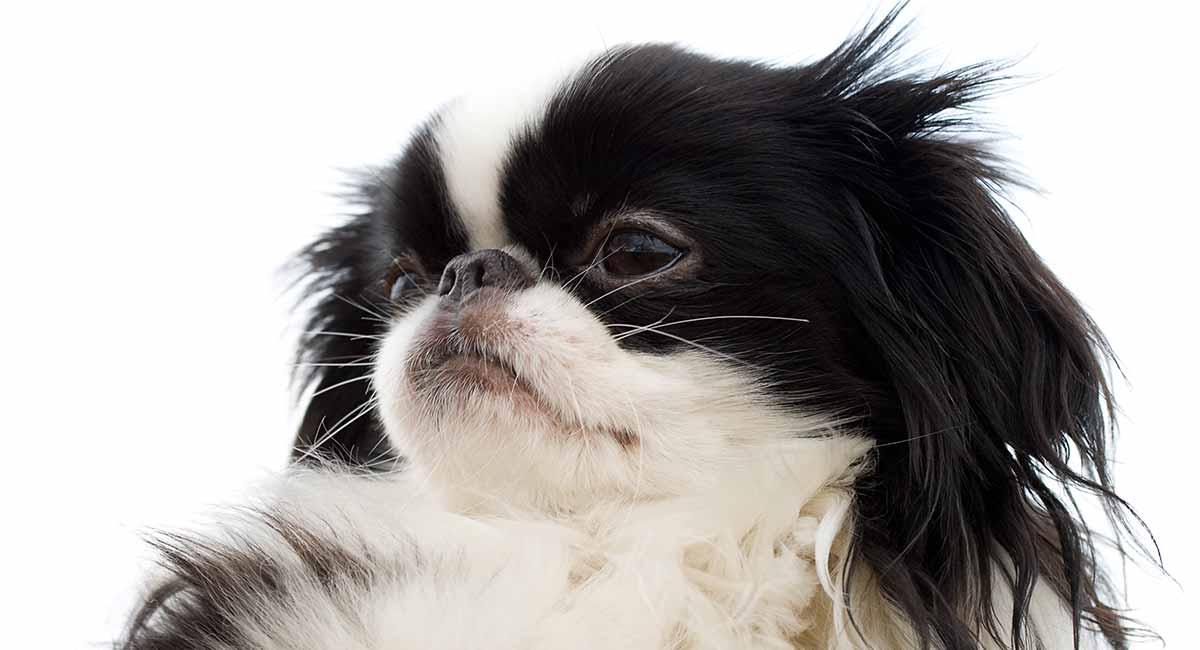 The Japanese Chin is a toy dog who's been a popular companion breed in Asia for more than a thousand years.
Japanese Chins typically weigh from 7 to 11 pounds and stand between 8 to 11 inches tall.
With their abundant, silky coat, flattish face, and wide-set eyes, they bear the distinctive look of an Asian breed.
What makes them unique is their many cat-like qualities, such as their penchant for climbing and perching in high places
In this article, we'll take a look at the origins of the Japanese Chin and discover what kind of pet they make.
We'll give you information about temperament, health, and training to help you decide if this is the right dog for you.
Where Does the Japanese Chin Come From?
There has been a lot of speculation about the Japanese Chin's origins.
Despite their name, it seems that the breed originated in the Chinese imperial court as long as 1,500 years ago.
Like the Pekingese, this royal breed was bred to warm the laps of Chinese aristocracy.
Theories diverge on how the Chin ended up in Japan.
However, it's quite possible that Chinese emperors presented them as gifts to visiting Japanese dignitaries.
Regardless of how these dogs arrived in the country from which they get their name, it's agreed that Japanese nobles were responsible for developing the breed.
Small spaniel-type dogs were likely used to get the appearance we see today.
In Japan these dogs were so highly esteemed, they were not seen as dogs, but rather as 'chin'—their own separate entity.
The breed was introduced to the west in the 1850s.
President, Franklin Pierce was one of the first American owners of the breed.
In the U.S., Chins were known as the Japanese Spaniel until 1977.
Fun Facts About the Japanese Chin
Chins are known for their impish antics. When particularly excited they'll do something known as the "Chin spin," turning around in circles, sometimes on their hind legs.
Japanese nobility would use small Chins as ornamentation and kept them in hanging cages typically used for birds.
Chins have an incredible ability to climb. Don't be surprised to see one overseeing their domain perched on the back of a sofa.
The breed's other cat-like tendencies include washing themselves and batting objects with their paws.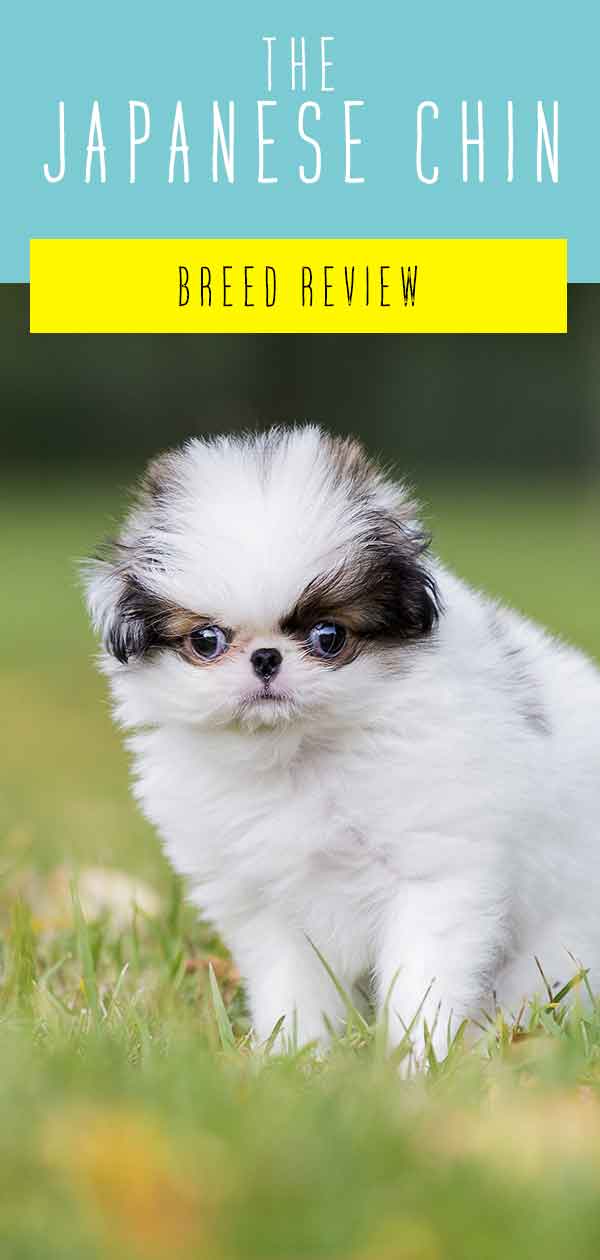 Japanese Chin Appearance
The Japanese Chin is one of several Asian flat-faced toy dogs that are brachycephalic breeds.
They possess the broad, domed head, large, protruding eyes, and short muzzle that give them a somewhat human-like quality, which many people find appealing.
Unfortunately, this also causes some serious health problems, which we'll look into shortly.
The Chin's single coat is abundant and moderately long, with a silky texture.
A thick mane around the neck and shoulders, feathering on the ears and legs, and a plumed tail arching over the back are distinctive breed traits.
Coats come in black and white, red and white, or black and white with tan points.
Small but sturdy, Japanese Chins move with a bouncy gait, stand from 8 to 11 inches tall and weigh just 7 to 11 pounds.
Japanese Chin Temperament
The Japanese Chin is an overall happy and friendly dog who gets along with everyone, including other dogs and pets.
However, their small size can leave them vulnerable to injury from larger breeds.
This is also true of young children who can accidentally drop or step on such a small dog.
Highly sensitive, it's been said that the Chin will naturally adapt to their environment, being serene in a quiet home and livelier in those where there's more action.
But these dogs love nothing better than to curl up in the warm lap of someone they love.
Chins may have a tendency to be shy around strangers or unfamiliar situations and like any dog require early socialization.
This breed is extremely devoted to their family and may suffer from separation anxiety if left alone for very long.
Charming, noble, fun-loving, smart, stubborn, mischievous, and downright comical, the Japanese Chin loves to entertain and expects their antics to be noticed and appreciated.
Training Your Japanese Chin
The intelligent Chin is quite trainable and responsive—providing he wants to be.
These dogs can have a mind of their own and if they become bored, will often decide to find something more entertaining to amuse themselves.
As with many toy breeds, housetraining can be difficult.
Consistency is important, as are positive training methods that use food and praise as rewards.
Training and socialization should start early.
Exercising Your Japanese Chin
Although the Japanese Chin has fairly low exercise needs, they still require daily activity in the form of slow walks or play sessions to keep them fit and healthy.
This makes them a good match for older adults who aren't able to provide a dog with more vigorous exercise.
The Japanese Chin's flat face means they're prone to heatstroke and are unable to handle excessive heat and humidity.
They should never be exercised outdoors on hot days.
Toy breeds also have delicate necks and using a harness is preferable to a collar during walks.
Japanese Chin Health
The Japanese Chin has an average lifespan of 10 to 12 years.
Like all breeds, they're at risk for certain genetic health conditions.
This is why finding a reputable breeder who is able to prove that their breeding stock have been tested and cleared for the following health concerns is so important.
Patella luxation is common in toy breeds like the Chin.
It occurs when the kneecap is dislocated from the correct anatomical position and can cause lameness or an abnormal gait. Severe cases may require surgery.
Eye diseases such as cataracts and progressive retinal atrophy may also affect the breed.
Heart murmurs are often an indicator of mitral valve disease. A weakened heart valve can leak blood and strain the heart.
If diagnosed early, medication and maintaining a healthy weight can reduce symptoms.
Japanese Chin are also at risk for a fatal neurological condition called GM2 gangliosidosis.
This inherited disorder progressively destroys cells of the brain and nervous system. Once affected, dogs show symptoms such as loss of balance and vision loss.
The disease progresses rapidly and dogs typically die within months.
Being a brachycephalic breed with a short nose and flat face also puts them at risk for a number of additional health problems.
Brachycephalic Obstructive Airway Syndrome is a chronic respiratory disease in which the airways are blocked due to the short facial bones altering soft tissue structures.
This can lead to severe respiratory problems and is why brachycephalic dogs will snort, sniffle, and cough.
Japanese Chin Grooming and Feeding
Although the Japanese Chin's long, silky coat looks high-maintenance, it rarely mats and is fairly easy to care for.
They require only weekly brushing to remove loose hairs.
The Chin's nails will grow quickly and will need to be clipped once or twice a month.
You'll know it's time when you can hear their nails on the floor.
Their ears should be checked for signs of infection such as odor, redness, or swelling on a weekly basis.
Like other toy breeds, the Japanese Chin is prone to periodontal disease.
Being a brachycephalic breed further exacerbates the problem due to extreme teeth crowding.
Brushing their teeth at least two or three times a week will remove tartar buildup and reduce the chance of gum disease.
Japanese Chins should be fed a dog food that's specifically formulated for small or toy breeds.
Look for a high quality, age-appropriate food that contains lean meats, healthy fats, and fiber.
Little dogs can be prone to obesity and even a small amount of excess weight can increase their risk for the numerous health problems.
Do Japanese Chins Make Good Family Dogs?
The Japanese Chin is a loving dog who is devoted to its family.
They make wonderful pets for seniors who have the time to dedicate to a pet who thrives on attention and is prone to separation anxiety if left on their own too often.
Their small size means they are adaptable to any sort of living accommodations, including apartments.
And the fact that they're generally less barky then some other toy breeds, means they won't annoy the neighbors.
Generally, they will be fine in homes with other pets, but those with young children would do better choosing a dog that's less fragile than the tiny Chin.
Due to the severe health issues associated with the structure of the dog, we recommend rescuing an adult from a shelter.
Rescuing a Japanese Chin
Dogs wind up in shelters for all sorts of reasons.
Although most of them will not be puppies, adopting an older dog offers plenty of benefits.
Sometimes they've already been trained by their previous owner.
Most will be vaccinated.
And adoption is almost guaranteed to be less expensive than getting a puppy from a breeder.
Rescuing is a great way to find a pet because there's no shortage of lovable dogs looking for a new forever home.
Finding a Japanese Chin Puppy
Searching for a puppy is an endeavor that should not be entered into lightly.
Doing research will end up saving you money and heartache in the long run.
Seek out a responsible breeder who has health certifications that prove their dogs have been health tested for genetic diseases.
They will love the Japanese Chin breed as much as you do and be happy to address any questions or concerns you have.
By no means should you purchase a puppy from a pet store, since they're almost always supplied by puppy mills.
These commercial breeding facilities are notorious for their horrendous conditions and their puppies often have health and temperamental problems.
Raising a Japanese Chin Puppy
Our puppy care and puppy training guides are excellent resources.
They offer tons of important information on how to raise a puppy into a well-adjusted adult dog.
Japanese Chin Products and Accessories
Pros and Cons of Getting a Japanese Chin
Cons:
Fragility of toy breeds makes them ill-suited for homes with small children
Needs lots of attention
Very prone to separation anxiety
Serious health problems due to facial structure
Pros:
An adorable lap dog who loves to snuggle
Friendly and playful
Low exercise requirements
Suitable for any living situation
Good with other pets
Similar Breeds
Here are some small dog breeds that are similar to the Japanese Chin, but with a healthier conformation.
Japanese Chin Rescues
These rescues specialize in the Japanese Chin.
If you know of other organizations please include them in the comments section.
Is a Japanese Chin Right For Me?
Japanese Chins are delightful and adorable little dogs.
They're well-suited to any household where there are people at home for most of the day.
If there are young children in the family, ensure that they're never left alone together.
Older children who know how to behave properly will be fine with this breed.
However, due to the health problems we've discussed, instead of getting a puppy, consider rescuing an older Chin in need of a loving home.
Do you have a Japanese Chin in your life?
Tell us about it in the comments.
References and Resources