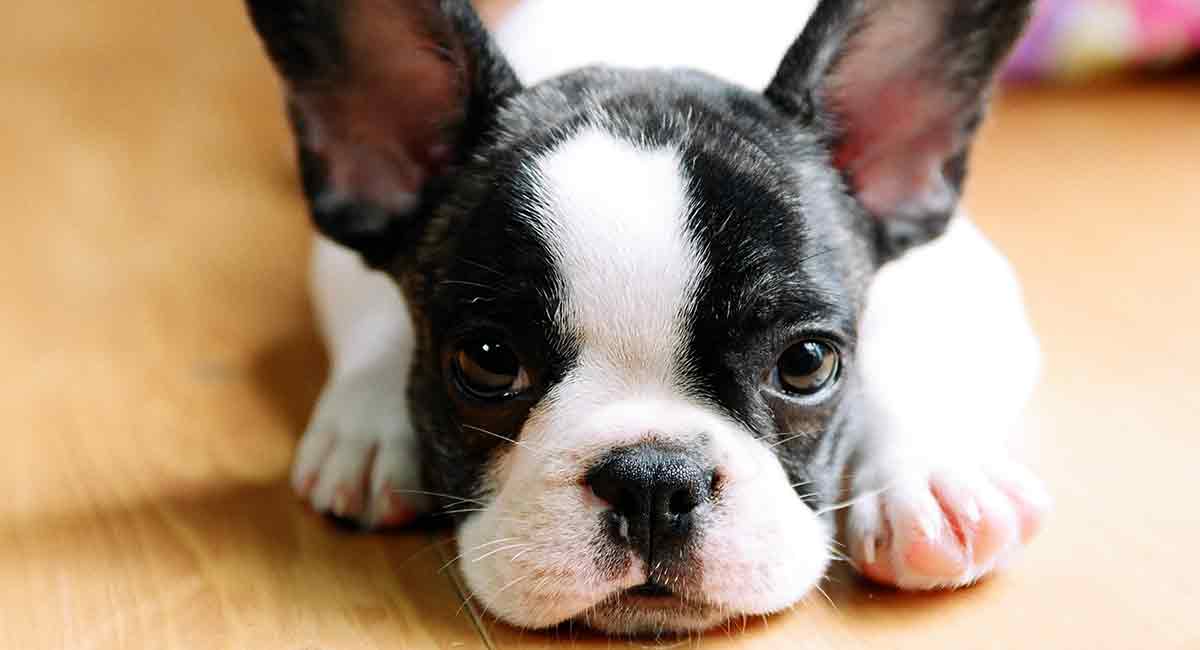 The teacup Boston Terrier is designed to fit the cute Boston temperament into an even cuter package. Today we are going to look at how micro Boston Terrier puppies are bred, and whether they make great pets.
The Boston Terrier is a popular breed, known for being a friendly and lively companion. They're instantly recognizable with their compact body sporting a tight tuxedo jacket.
Check out these other teacup breeds
The Boston Terrier has distinctive facial features, endearing wide-set round eyes, and a square flat muzzle. The Boston is so well-mannered that he's earned the nickname "The American Gentleman" and was named for the city where he was developed.
Making the Boston Terrier Smaller
A Teacup Boston Terrier is not a separate breed, but a Boston Terrier that's been miniaturized to be significantly smaller than the standard version.
A Boston Terrier stands between 15 and 17 inches and weighs between 12 and 25 pounds when fully grown.
When you see an advertisement for a Teacup Boston Terrier, it's merely an undersized Boston Terrier who weighs less than the breed standard.
In this article, we'll take a close look at the practice of miniaturization and what it means to be a micro Boston Terrier.
The Appeal of the Teacup Boston Terrier
If Boston Terriers are cute, then it stands to reason that a smaller version will be even cuter.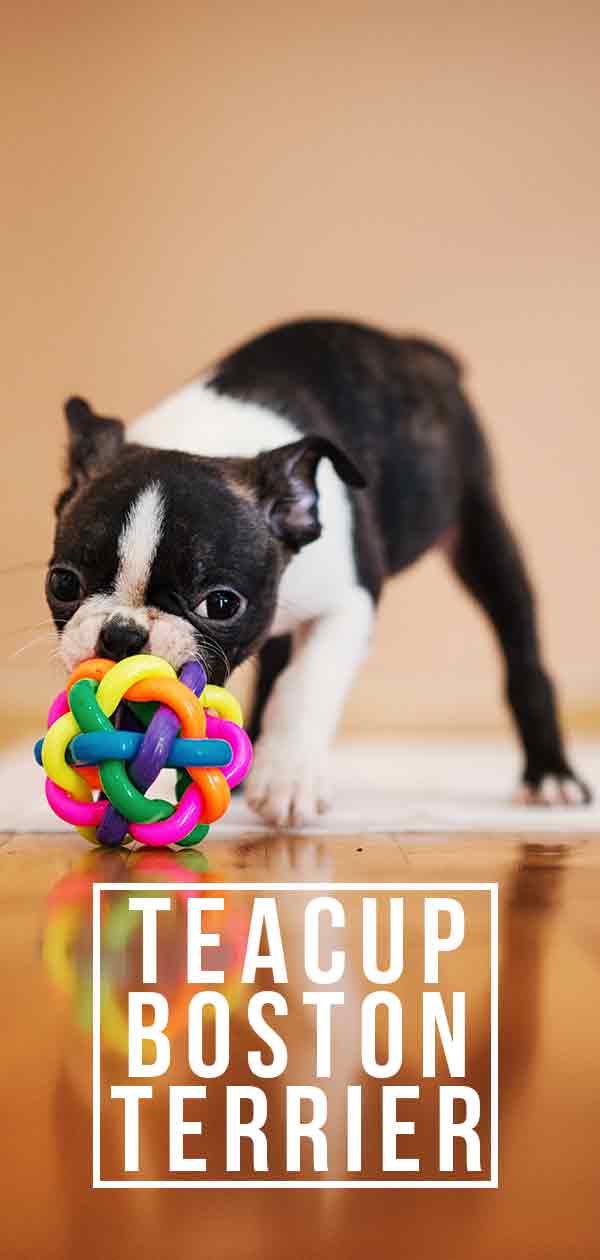 Sweet puppy features on a head that's large in proportion to the body is a big part of the teacup phenomenon appeal.
It's almost like having a puppy that never grows up, and there's something kind of magical about that.
There's also the attraction of having a smaller dog living in your house or apartment.
They take up less space, make less of a mess and are generally more manageable than larger dogs.
A tiny Teacup Boston Terrier requires less food and exercise, and is easy to carry around wherever you go.
There's no shortage of reasons for the appeal of a Teacup Boston Terrier.
But how do you get a downsized version of a Boston Terrier?
Is there a downside to the miniaturization process?
Where Do Teacup Boston Terriers Come From?
There are essentially three breeding techniques used to create a miniaturized dog.
Each has its own inherent problems.
One way is to mix the breed you want to miniaturize with a smaller dog breed.
The second way to make a Teacup Boston Terrier is to introduce the gene for dwarfism.
The third method is to breed two runts together, and repeat the process until the puppies are miniaturized.
Mixing with a Smaller Breed
Mixing a standard-sized Boston Terrier with a smaller dog is one way to get a teacup version.
This is a popular method, but the outcome can be extremely unpredictable.
Whenever two different breeds are combined, it's impossible to know which parent the offspring will take after.
There's always a chance that the puppies will resemble the Boston Terrier dog in size, and the smaller dog in appearance and temperament.
In this case, the puppies wouldn't be like a Boston at all.
Even puppies from the same litter can look different from each other.
Here are some popular small breed Boston Terrier crosses.
Boston Terrier Chihuahua Mix
The Bo-Chi is the result of crossing a Boston Terrier with a Chihuahua.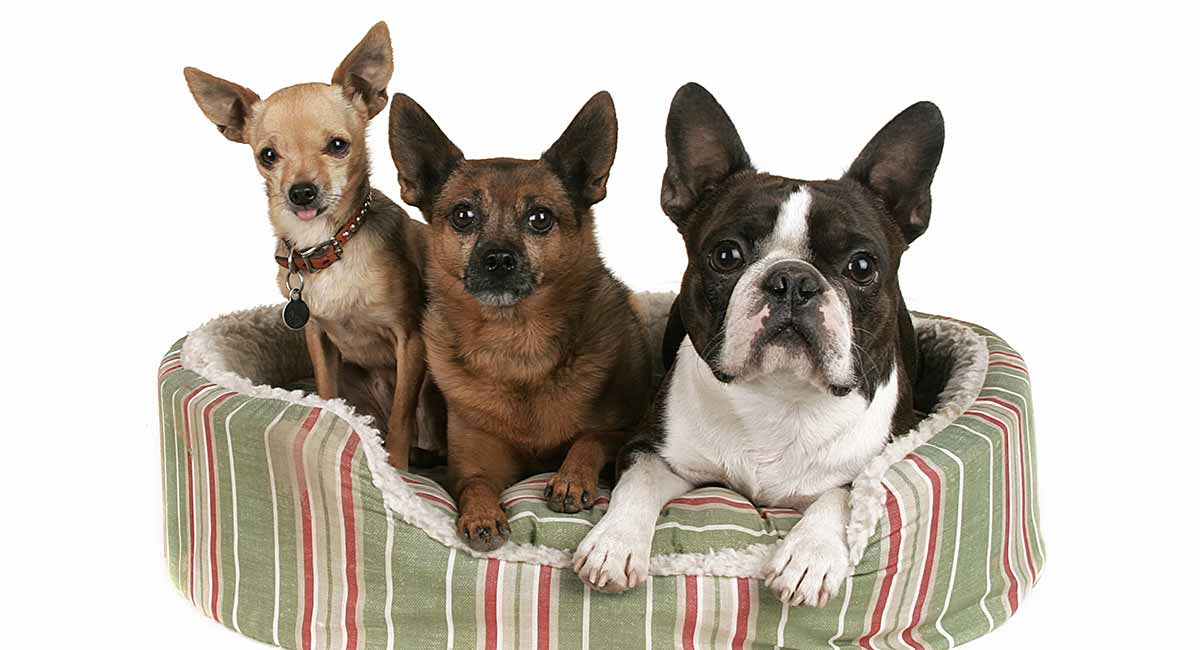 Both of these popular breeds are known for being intelligent and having oodles of personality.
But the Boston tends to be friendlier and more laid-back than the often stubborn and sassy Chihuahua.
The Chihuahua is the world's smallest dog breed, measuring just 5 to 8 inches and weighing under 6 pounds.
The round, apple-shaped head is a hallmark of the Chihuahua breed, but there's also a Deer Head Chihuahua with a longer muzzle.
Boston Terrier Pug Mix
The affectionately named Bugg is a cross between the Boston Terrier and a Pug.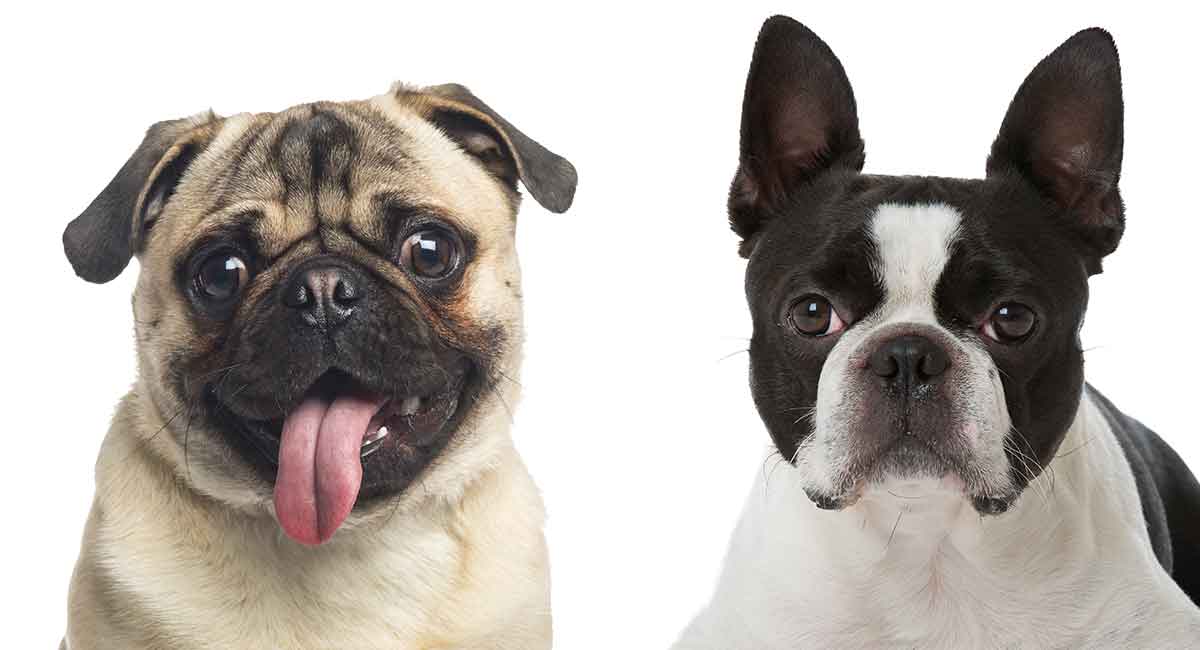 The Pug is small, but muscular, standing 10 to 13 inches.
They're known for a large round head, big eyes, flat muzzle and a wrinkled brow that furnishes them with a host of amusing human-like expressions.
The Boston Terrier and the Pug share a loving, calm temperament.
Boston Terrier French Bulldog Mix
The Frenchton is a cross between the Boston Terrier and the French Bulldog.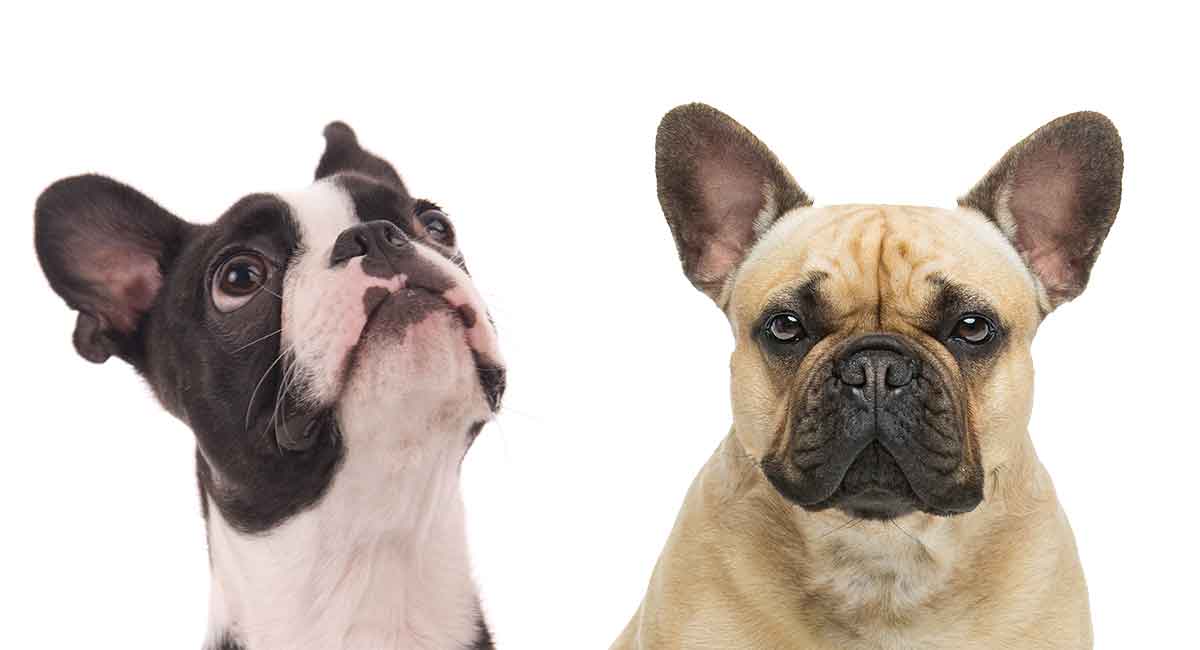 Although slightly smaller than the Boston Terrier at 11 to 13 inches, the Frenchie often weighs more, due to a stockier build.
They closely resemble an English Bulldog, with their large square head and extremely short muzzle.
But with erect bat-like ears that are the hallmark of the Boston breed.
Known for being outgoing and amusing, the French Bulldog will make friends with everyone.
What Is a Brachycephalic Dog?
As mentioned, the Boston Terrier is a brachycephalic breed, as are the Pug, the French Bulldog, and to a lesser degree, the Apple Head Chihuahua.
This term refers to their short muzzles, which gives them that adorable baby face that many people find so appealing.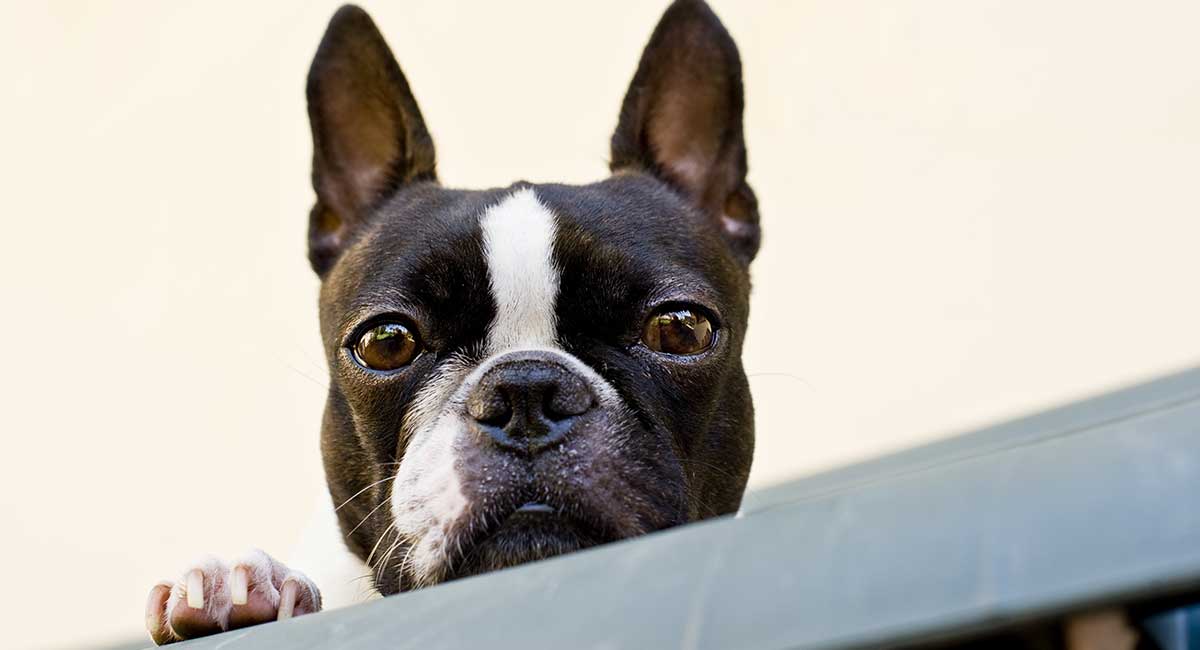 Extreme shortening of facial bones is caused by abnormalities in jaw structure that are genetically inherited when two short muzzled dogs are bred together.
Unfortunately, it also creates undersized or flattened throats that cause serious breathing problems and other associated health issues.
Eye diseases are also common in brachycephalic breeds with protruding eyes.
These dogs often have trouble exercising and can overheat very quickly in hot weather.
When you combine two breeds with the same conformational problems, it can increase the risk for the many health issues associated with having a short flat muzzle.
Other Teacup Boston Terrier Concerns
The round, protruding eyes of the Boston Terrier are one of their most endearing traits but also cause them a lot of problems.
They're prone to cataracts, glaucoma, chronic dry eye and corneal ulcers.
It's important to protect their eyes as much as possible.
Boston Terriers also have a genetic predisposition to deafness.
This study found the Boston Terrier to have a high incidence of vertebral malformation.
Patellar luxation, a hereditary condition in which the kneecap is dislocated, is also common for the breed.
Introducing the Dwarfism Gene
The gene for dwarfism causes achondroplasia, a bone growth disorder, in which skeletal development is stunted, resulting in abnormally short limbs.
Although this is an easy way to get a dog with a shorter stature than what is normal for the breed, it's a defect that can cause pain and suffering for the animal.
Intervertebral disc disease (IVDD) is a common health hazard for dogs with shortened limbs.
This disease can be very painful and in severe cases causes paralysis.
Brachycephalic breeds are also predisposed to a disease called screw tail.
Here the malformed spinal bones called hemivertebrae can cause weakness of the limbs, incontinence, and in severe cases, paralysis.
Breeding from Runts
The runt simply means the smallest puppy in the litter.
When you take two dogs like this and breed them together, there's a good chance that you'll get a smaller than normal puppy.
It also means that if you're breeding two small Boston Terriers together, you'll get a dog who has all of the appealing physical and temperamental characteristics of the breed.
Although being born the runt doesn't necessarily mean they'll have inherited health issues, it does escalate the risk.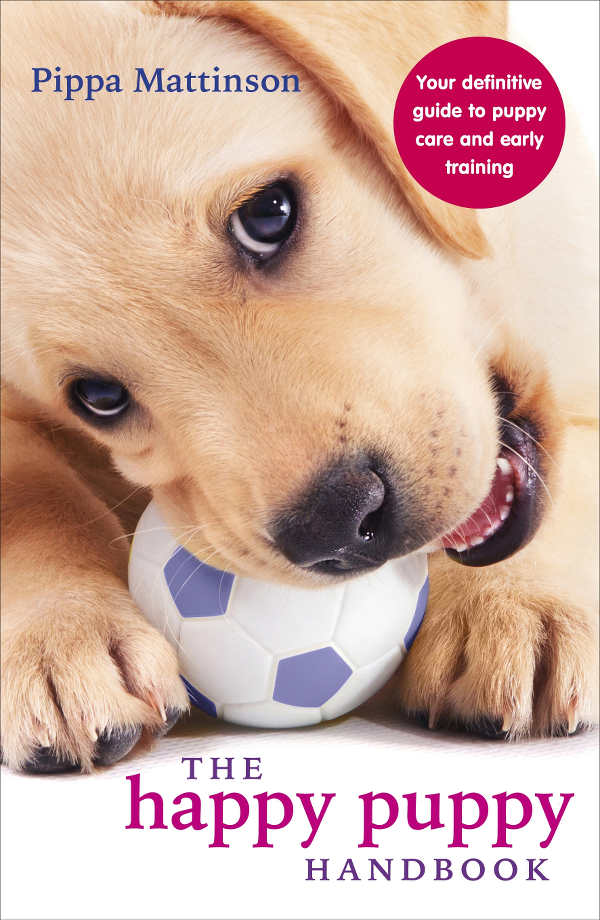 When you breed two runts, it greatly increases the chances that health problems will be passed on to their offspring.
Is a Teacup Boston Terrier Right for Me?
When looking for a puppy, remember that a term like "teacup" merely means smaller than the standard and nothing more.
It's just a way to make puny pups appear more desirable and special.
The fact that they're often sold for a significantly higher price contributes to this illusion.
It also keeps unscrupulous breeders in business as they continually try to produce smaller and smaller puppies.
Even without being the offspring of two runts, the Boston Terrier is prone to a number of serious health conditions, most of which are associated with their conformation.
Although the Boston Terrier has many impressive characteristics, and the idea of a Teacup Boston is beyond adorable, we do not recommend this dog.
There are just too many potential health problems created by miniaturizing a dog that suffers from brachycephaly.
Finding a Teacup Boston Terrier
It's not uncommon for some puppies to be born smaller than others.
Even reputable breeders will produce smaller-than-average puppies.
Problems arise when breeders purposely pursue the creation of undersized Boston Terriers that are small enough to merit the name teacup.
The reality is there is no way to miniaturize any dog without taking a huge risk with their health.
If the Boston Terrier is your ideal dog, then look for ones who have been crossbred with a healthier breed that isn't brachycephalic.
Good breeders will not specialize in micro Boston Terrier puppies or advertise them as such.
They will have tested their stock for eye problems such as cataracts, corneal ulcers and glaucoma, as well as for deafness and patellar luxation.
Shelters and rescues are really excellent places to look for a puppy.
You'll find dogs of all ages, sizes and breeds waiting for someone to adopt them and give them a loving home.
References and Further Reading