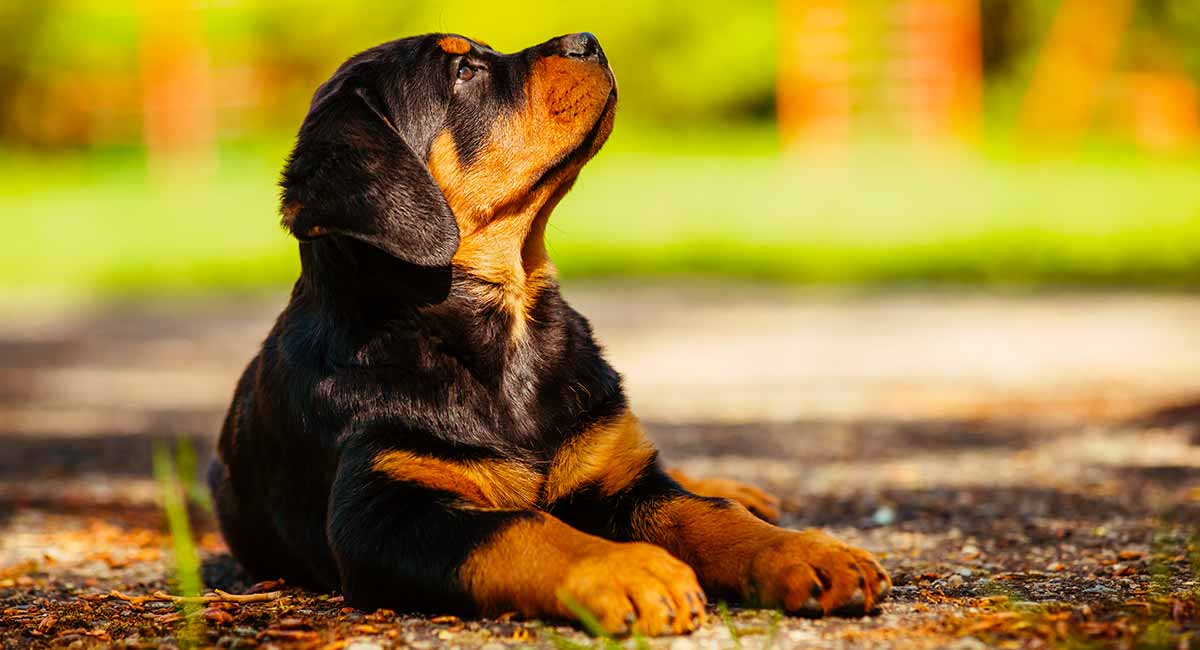 One of the most pressing questions prospective rottweiler owners have is how long do rottweilers live.
The rottweiler life expectancy is known to be shorter than that for other purebred dog breeds that are similar in size and weight.
In this short, focused article, we take a close look at what researchers have learned about life span in rottweilers.
Rottweiler Life Span Research
Current research data places the average rottweiler life span at around 8.92 years.
Delayed Disease Onset
A 2003 life span research study reviewed 345 rottweiler dogs to learn why some rottweilers lived far longer (up to 13.3 years) than others.
The researchers learned that the older a rottweiler is when first diagnosed with a serious illness, the longer that dog is likely to live.
Rottweilers that lived well beyond the average life span of 8.92 years were healthy up until around the ninth year of life.
Even if an elderly rottweiler was then diagnosed with cancer or another serious illness, that dog had just a 19 percent likelihood of passing from cancer versus natural old age.
This tells us that cancer resistance is an important predictor of a longer-lived rottweiler dog.
Delayed Spaying Study
A 2010 research study showed a strong connection between allowing female rottweilers to remain intact (un-spayed) until the age of 6 years old and a longer life span.
Specifically, the chances of a female rottweiler living to the age of 13 increased by nearly five times when the ovaries were left intact until age 6.
Researchers don't yet know for sure whether the same positive effect is true for delayed neutering in male rottweilers.
Canine Predictive Life Span Model
In 2015, a team of researchers in Tokyo, Japan, conducted a massive canine life span study to learn more about rottweiler life span predictors.
Researchers divided the canine participants into five weight/size groups.
The rottweiler's average weight of 80 to 135 pounds places this dog in the large/giant groups.
Data showed that the average large dog breed will live 12.5 years. The average giant dog breed will live 10.6 years.
For most large/giant size dog breeds, the data showed that reaching the age of 8 years results in a 12 percent chance of mortality the following year.
Reaching the age of 9 years results in a 17 percent chance of mortality the following year.
However, the chances of mortality at age 8 to 9 is near total for rottweilers, indicating this breed does not conform with the overall data findings for breed weight/size.
Researchers are still working to understand why.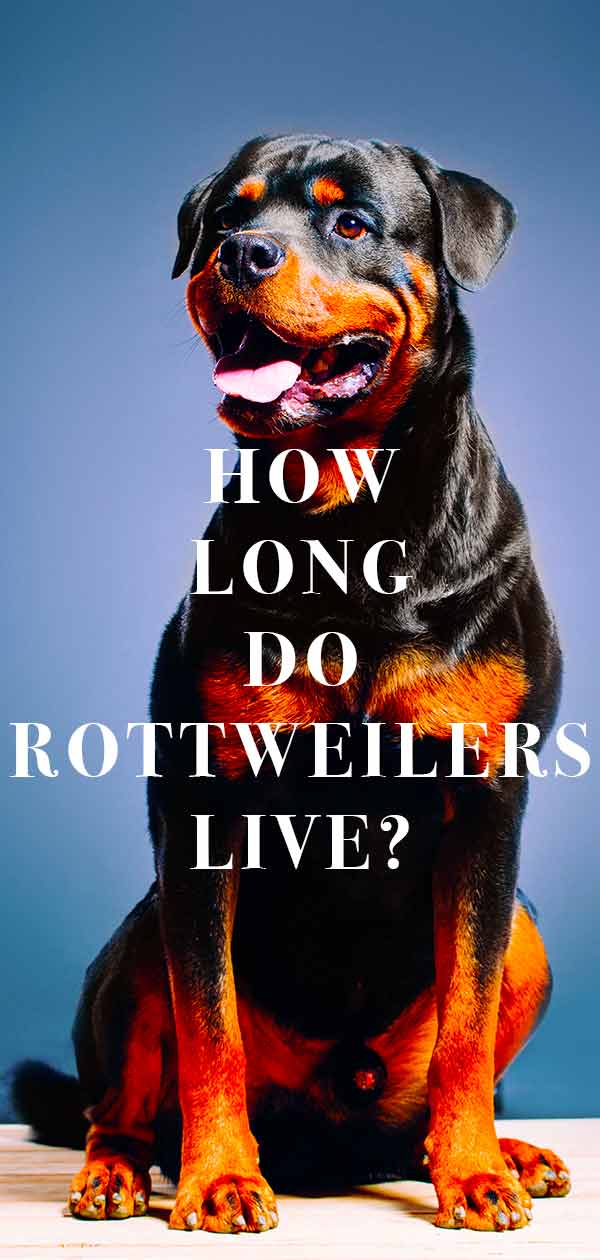 Rottweiler Cancer Concerns
The rottweiler has a higher than average risk of contracting canine cancer.
Here, it is important to understand that canine cancer is actually fairly common throughout the canine community.
Research through the Animal Cancer Foundation shows 25 percent of dogs will develop cancer during their lifetime.
In contrast, a 2017 rottweiler research study reviewed data from 5,321 rottweiler veterinary patients and discovered that just over 40 percent of rottweilers died from cancer-related causes.
Thirty-three percent of reported deaths were due to cancer, and 7.1 percent were due to mass-associated disorders, which are most frequently malignant.
Two of the most concerning cancers for the rottweiler breed are osteosarcoma (bone cancer) and lymphoma (lymph cancer).
In both cases, rottweilers tend to contract aggressive forms of the cancer and response to treatment is unfavorable.
Ongoing Rottweiler Cancer Research
The Rottweiler Health Foundation sponsors ongoing research to identify better techniques to diagnose and treat cancer in rottweilers.
This research includes development of a cancer vaccine.
What Can You Do
Thanks to the Rottweiler Health Foundation, we now have data to indicate the following actions may help to prolong your rottweiler's life:
Delayed spaying (after the age of 6 years old) for females and (possibly) males.
Delivering all recommended or required vaccinations precisely on time.
Strengthen the rottweiler's immune system, which can ward off cancer.
Feed a healthy diet and pay close attention to weight maintenance and exercise.
Minimize exposure to stress; rottweilers are very smart and sensitive animals.
Manage growth during puppyhood to minimize joint and bone issues later in life.
Longest Living Rottweiler
One of the oldest known rottweilers is Bort, a 13-year-old rottweiler who lives in Holliston, Massachusetts.
This YouTube video features a reportedly 15-year-old Bulgarian rottweiler (name not mentioned).
Several comments indicate that other viewers also have or know rottweilers that have reached the age of 15.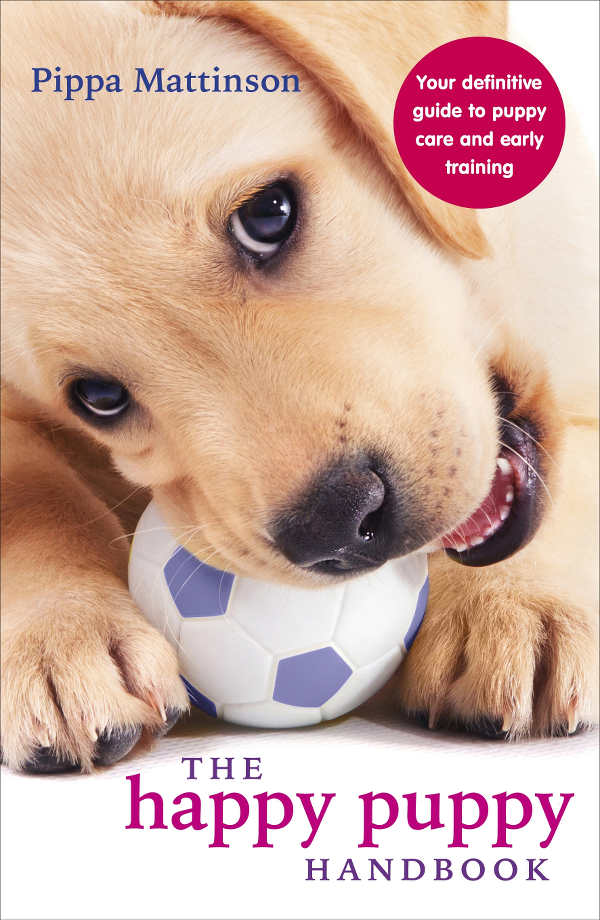 How Long Do Rottweilers Live?
As of the time of this writing, the answer to the question of how long do rottweilers live is clearly "not long enough."
It is our hope that ongoing research efforts will help breeders, veterinarians and owners prolong life—both length and quality—for these beloved pet dogs.
Resources and Further Reading:
"Canine Lymphoma," Vet Cares Clinic
Cooley, D.M., et al., 2003, "Exceptional Longevity in Pet Dogs Is Accompanied by Cancer Resistance and Delayed Onset of Major Diseases," Journal of Gerontology
Coren, S., 2015, "The Life Expectancy of 165 Breeds of Dogs," Psychology Today
"Genetic Welfare Problems of Companion Animals," United Federation of Animal Welfare
Nolen, R.S., 2010, "Rottweiler Study Links Ovaries with Exceptional Longevity," American Veterinary Medical Association (AVMA)
O'Neill, D., et al., 2017, "Rottweilers Under Primary Veterinary Care in the UK: Demography, Mortality and Disorders," Canine Genetics and Epidemiology
"Rottweiler Health," The Rottweiler Club UK