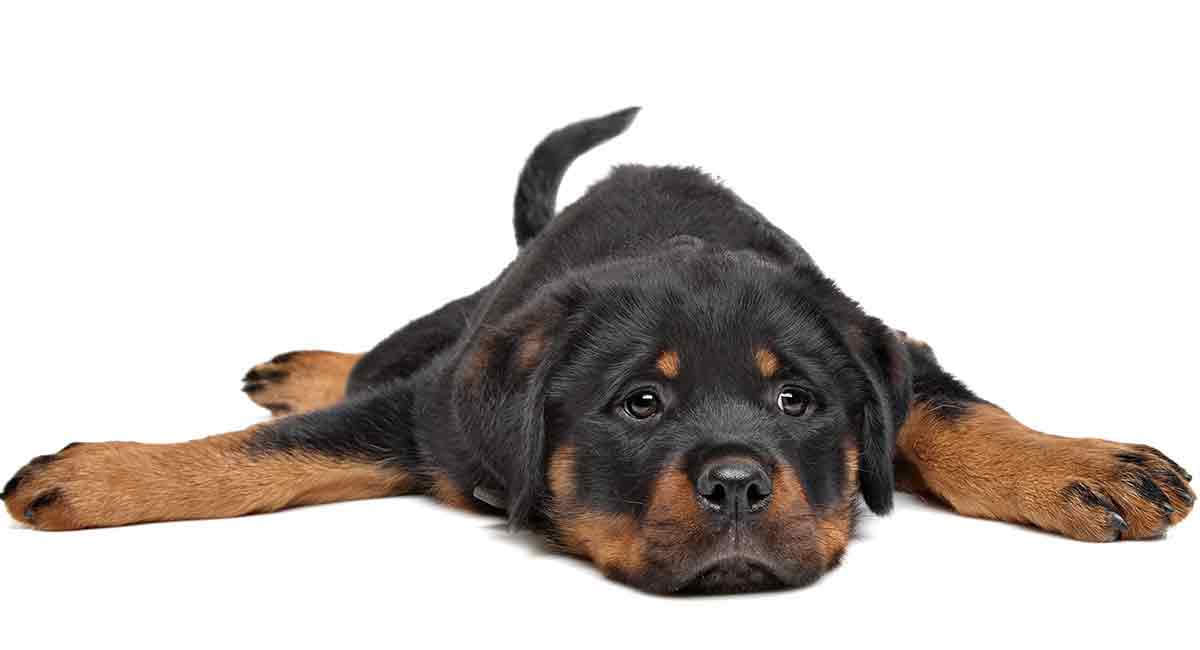 Esther Snyder asks "Do Rottweilers shed?" and helps you prepare for sharing your home and furniture with a glossy Rottie…
If you're considering bringing a Rottweiler into your family, you'll want to know everything you can about them to make sure they will be a good fit for you and the people you love.
You may have heard that they are loyal dogs who stick close by their owners.
But what about their fur? Will that be sticking to you too?
Shedding can be a "hairy" issue. Shed fur can fly around the house on air currents sticking to everything and everyone.
Giving yourself a quick pants-roll with a sticky lint remover before work is one thing, but no one likes to find dog hair in their dinner!
Here we'll discuss whether and how much Rottweilers shed their fur.
Do Rottweilers shed?
Yes, Rottweilers do shed.
Shedding is a normal phase of the hair growth and maintenance cycle in all mammals, meaning that all dogs shed fur, even the so-called non-shedding varieties.
Not all dogs shed the same amount though. Some breeds are heavy shedders, others are moderate shedders, and some are light shedders.
Light or "non-shedding" breeds are often recommended for people with allergies to pet dander or mites, but their reputation is not backed up by science.
If allergies are a concern for you, take a look at our article on hypoallergenic dogs here.
Why do dogs shed?
As mentioned, shedding is a normal part of the hair cycle.
Lifelong cycling of hair follicles is essential to maintain a full and healthy fur coat. It is also responsible for seasonal changes in fur color and quality.
Let's take a look at a typical hair cycle to understand more about why dogs shed hair.
The phases in the hair cycle are known as:
Growth phase (anagen) – hair is growing to the breed-specific length, which is genetically determined.
Regression phase (catagen) – hair stops growing.
Quiescent phase (telogen) – hair rests while a new hair begins the growth phase beneath it.
Shedding phase (exogen) – this is the phase where shedding of the old hair occurs. The shed hair is replaced by newly growing hair. This last phase can occur at any part of the hair cycle and is independent of the other three phases.
Each of these phases is influenced by a number of factors including
genetics
age
sex
body region
nutrition
health (including drug use and trauma)
and environmental factors (temperature, day length, etc.).
Genetics
Two genes, MC5R and RSPO2, are likely to be responsible for the amount of shedding in dogs.
And what's more new versions of these genes have evolved since dogs were domesticated.
It seems that the older (ancestral) versions of both genes predict heavy shedding, whereas the newer (derived) versions of both result in light shedding.

For example, a study of the Portuguese Water Dog (a non-shedding breed) showed that dogs that had the ancestral RSPO2 shed much more than those that carried a derived, mutated version.
Similarly, another non-shedding breed, the Poodle, almost always carries two copies of the derived RSPO2 gene.
In contrast, heavy shedders like the Akita and Alaskan Malamute carry the ancestral MC5R gene.
Interestingly, moderate shedders like the Cocker Spaniel and Pug have a mix: the derived version of the MC5R gene and the ancestral version of the RSPO2 gene.
Typically, dogs with a double coat (undercoat and top coat) will shed in the spring to make way for a lighter summer coat and again in the fall to prepare for a thicker, winter coat.
These changes are normal and natural and indicate that your dog is healthy.
How much do Rottweilers shed?
Because they have short hair, you might think that Rotties won't shed that much.
The truth is they tend to be moderate shedders, with little shedding throughout the year, but extra shedding in the spring and the fall.
As you may have guessed by now, Rotties have a double coat.
So that extra shedding needs to happen before the summer and winter seasons to help prep them for the change in weather.
Dealing with Rottweiler shedding
During the spring and fall when they change their coats, you'll need to groom a Rottweiler more frequently than the rest of the year.
Doing so will remove a lot of their loose fur and prevent it from ending up all over your house!
Luckily, Rottweiler coats are smooth and very easy to groom. You'll just need a good dog brush and comb to get to both the under and top coat.
As a general rule, two to three times a week is a good schedule for grooming during the spring and fall, and once a week should be fine for the rest of the year.
During those heavier shedding periods, giving your Rottie a good brush before a scrub in the bath can also help to remove more of their shedding fur.
You shouldn't need to bathe them more than once a month though unless they get dirty. Too many baths can dry out their skin and make them shed even more!
This article reviews the best shampoos to care for your Rottweiler's coat.
If you're keen to keep those extra dog hairs off your couch completely, you can invest in seat/furniture covers. Alternatively, keep the vacuum handy.
Some HEPA filters can also remove pet hair from the air during shedding season.
Diet
Diet may also play a role in how much a dog sheds his/her fur.
Deficiencies in essential fatty acids are thought to cause a dull coat and excessive shedding, eventually leading to alopecia.
Similarly, protein deficiency makes dogs shed more than normal and, though rare, it can occur in young, growing dogs or those who are pregnant or lactating and whose protein needs are high.
Therefore, making sure your dog gets a balanced diet with enough protein and fatty acids (such as linoleic acid and arachidonic acid) will help keep his/her coat shiny, healthy, and full.
Our full guide to feeding your Rottie pup is right here.
Rottweiler Haircuts
Rottweilers have short hair year-round and therefore don't need haircuts.
There's no evidence that shaving their fur in the spring, for example, will help them shed less.
In fact, it's best to completely avoid shaving a Rottweiler (or any breed with a double coat) as they need both layers to help them insulate and regulate their body temperature.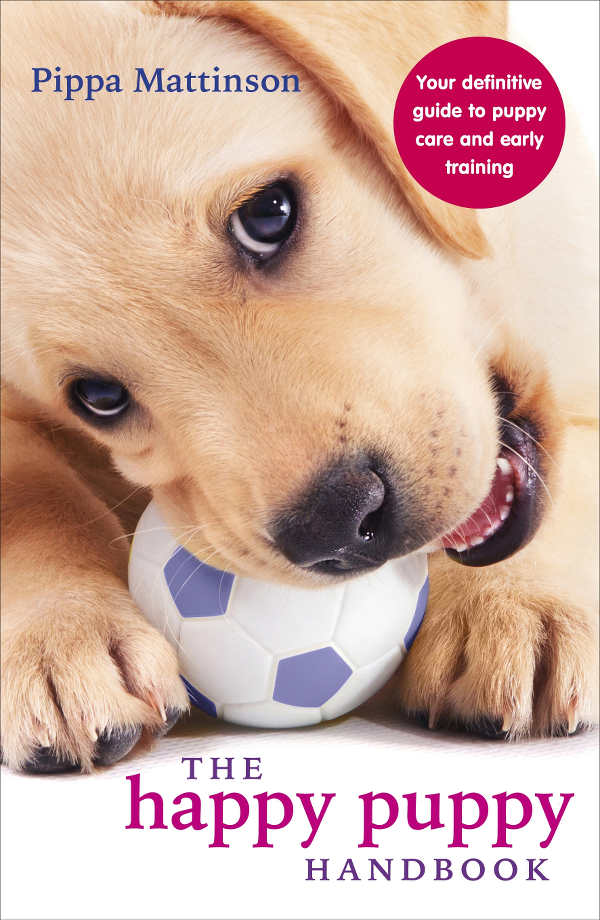 Do Rottweilers shed too much?
Rottweilers shed, like any other dog. But in comparison with other breeds, they tend to be moderate shedders.
They will typically shed more than usual twice a year: in the spring and fall, so be prepared to deal with extra fur at those times.
You'll also need to groom them more during heavier shedding episodes to prevent the fur from getting everywhere. Be sure to have both a brush and a comb to deal with their double coat.
Making sure your Rottie has a balanced diet with enough protein and essential fatty acids will ensure that he/she has a healthy coat that doesn't shed more than it needs to.
All in all, Rottweilers aren't heavy shedders, so you won't have to worry too much about prevention or clean up.
This also means that picking dog hair out of your dinner should be a rare occurrence!
References and Further Reading
Brunner et al. 2017. Novel insights into the pathways regulating the canine hair cycle and their deregulation in alopecia X. PLoS ONE
Hayward et al. 2016. Complex disease and phenotype mapping in the domestic dog. Nature Communications.
Holowinski. 2011. The Everything Rottweiler Book: A Complete Guide to Raising, Training, and Caring for Your Rottweiler. Simon and Schuster.
Parker et al. 2017. The bald and the beautiful: hairlessness in domestic dog breeds. Phil. Trans. R. Soc. B
Parker et al. 2010. An insertion in the RSPO2 gene correlates with improper coat in the Portuguese water dog. The Journal of heredity.
Watson. 1998. Diet and Skin Disease in Dogs and Cats. The Journal of Nutrition.