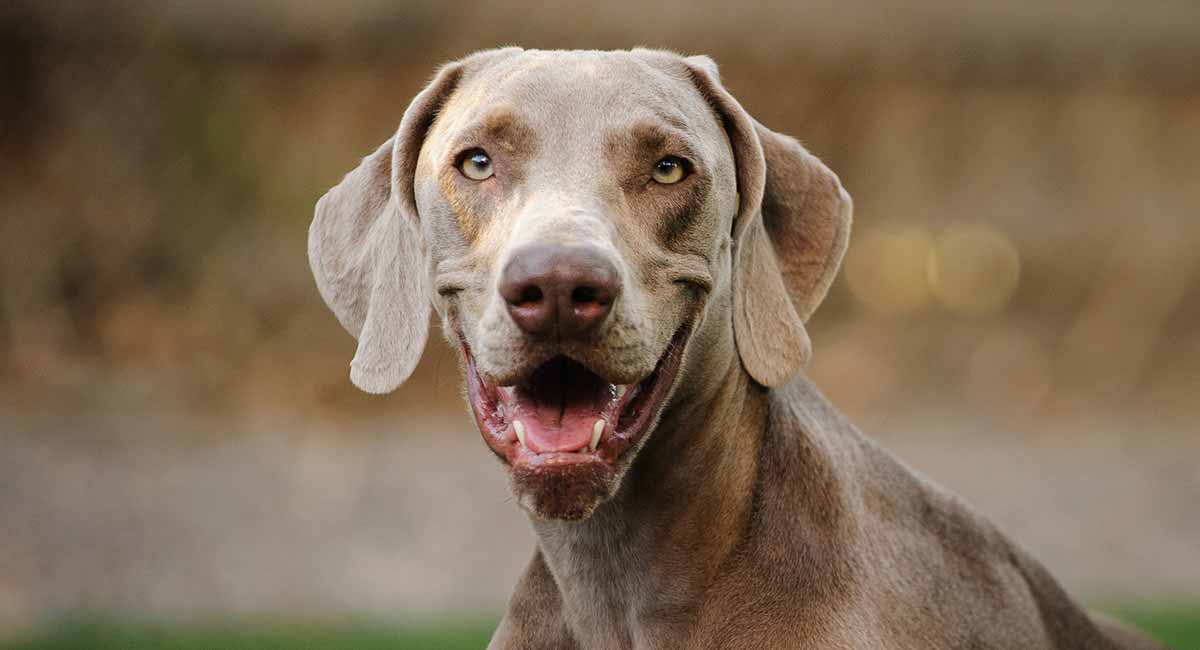 The average Weimaraner lifespan is 11 to 12 years.
However, lucky Weimaraners live into their teens if reared by breeders committed to health testing and looked after in their homes.
Keeping a healthy weight through diet and exercise is one of the surest ways to prolong Weimaraner lifespan.
Weimaraner Lifespan
Sleek, swift and handsome, the Weimaraner is known as the 'gray ghost' for their striking silvery-gray coat.
We'll look at common health problems that impact Weimaraner lifespan and the importance of health testing.
If you have a Weimaraner, or are getting one, this look at their life expectancy will reveal ways to help your dog live the longest, healthiest life possible.
How Long Do Weimaraners Live?
According to a 2004 UK Kennel Club study, the median Weimaraner lifespan is 11 years and 2 months.
This lines up with this 2010 study of 242 Weimaraners that found the average lifespan to be 11.1 years.
However, this study was a bit more optimistic, putting the Weimaraner lifespan at 12.6 years.
All in all, this fits very closely with average life expectancy for the purebred dog population as a whole.
Longest Living Weimaraner
The longest living Weimaraner lived to 18 years and 10 months of age.
Although smaller breeds generally live longer than larger breeds, the dog who holds the record for being the world's oldest was an Australian Cattle Dog named Bluey.
Bluey lived until 29 years and 5 months Ironically he also hailed from Victoria, Australia.
Weimaraner Lifespan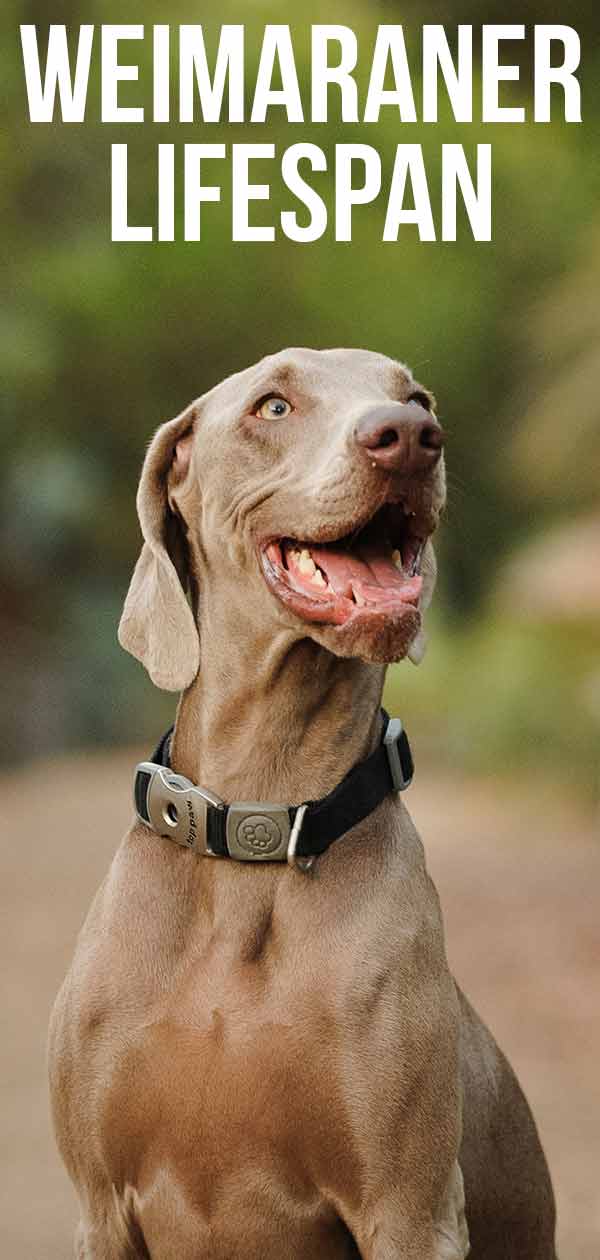 There's no question that some breeds live longer than others.
The Weimaraner is a medium-large breed bred in Germany in the early 19th century as a gundog to hunt big game.
The breed stands from 23 to 27 inches and weighs from 55 to 90 pounds.
Although size plays a role in a dog's lifespan, genetics, structure, and lifestyle will all impact a dog's health and lifespan.
We'll look at each of these to better understand how to increase your Weimaraner's lifespan.
How Diet Impacts the Weimaraner Lifespan
Just like humans, the food a dog eats throughout his life will have an effect on his health.
Restricting calories has proven to be one way to increase a dog's lifespan as it will improve their quality of life. It will also help to avoid diabetes and delay the onset of conditions like osteoarthritis.
When it comes to what to feed a Weimaraner, it should be noted that this breed is quite prone to food allergies.
It is recommended to use a grain-free dog food as this breed often have a problem with wheat, corn, soy and barley.
Bloat and the Weimaraner Lifespan
Deep-chested breeds like the Weimaraner are also at risk for bloat. This happens when the dog's stomach fills with gas or air.
If the blood supply is cut off, it puts pressure on the surrounding organs and can be fatal.
Although there's no known cause for bloat, feeding your dog smaller meals during the day can reduce the risk. So, make sure to avoid exercise for at least an hour after eating.
Unfortunately, Weimaraners can be fearful and are prone to separation anxiety.
Since being anxious can make it hard to digest food, this increases the chance of developing bloat.
Fear and Anxiety and the Weimaraner Lifespan
Weimaraners chew on anything they can get their mouth around! This is due to their natural instincts to retrieve.
But in dogs that suffer from fear or anxiety, it can result in eating inedible objects and other destructive actions.
Such behavior puts them at risk for mouth and gum injuries as well as choking or surgery if they eat things they shouldn't.
This study showed that the stress of a fear or anxiety disorder can negatively impact health and lifespan.
Crate training can safely confine a dog and stop them from injuring themselves.
How Exercise impacts the Weimaraner Lifespan
Luckily the Weimaraner is not prone to becoming overweight as long as they get enough exercise.
And for this high-energy, athletic breed, enough means rigorous daily exercise as these dogs have stamina and need to be able to run hard.
Dogs who don't get plenty of daily activity and mental stimulation can become high-strung and edgy.
Also, make sure that Weimaraner puppies are not over-exercised as this can lead to joint injuries.
How Genetics Impact Weimaraner Lifespan
Fortunately, the Weimaraner doesn't have the structural problems that impact many other purebred dogs. But like any breed, they are prone to inheriting conditions from their parents.
Bloat is probably the most serious disease, but Weimaraners are also at risk for some minor conditions which can affect their quality of life.
These are the health tests recommended from the National Breed Club:
Hip evaluation – Like many larger breeds, the Weimaraner is at risk for hip dysplasia. Make sure both parents are tested as this can develop into painful osteoarthritis, bone spurs, and degenerative joint disease.
Ophthalmologist evaluation – Distichiasis occurs when an eyelash grows from an abnormal part of the eyelid. While entropion is when eyelashes grow through the inside of the eyelid.
Thyroid evaluation
Osteodystrophy is a bone disease of the front limbs that affects the bones that grow quickly in large and giant breeds. This painful condition is obvious by swelling of the growth plates in the dog's leg bones.
It appears in puppies between the ages of two and seven months and the cause is currently unknown but may be related to the immune system.
Preventative Care to Boost a Weimaraner's Lifespan
Since it's much easier to prevent disease than to treat it, an annual checkup is crucial for keeping your pet healthy for as long as possible.
Early detection of many canine diseases can increase the chances of a positive outcome.
Vaccinations also play an important role in preventing diseases like rabies, heartworm, and distemper.
As already mentioned, a proper diet and regular exercise are key to giving your Weimaraner the best chance for a long and healthy life.
Importance of Choosing a good Breeder
It's not just looks and temperament that your Weimaraner puppy gets from their parents, their health can be inherited too.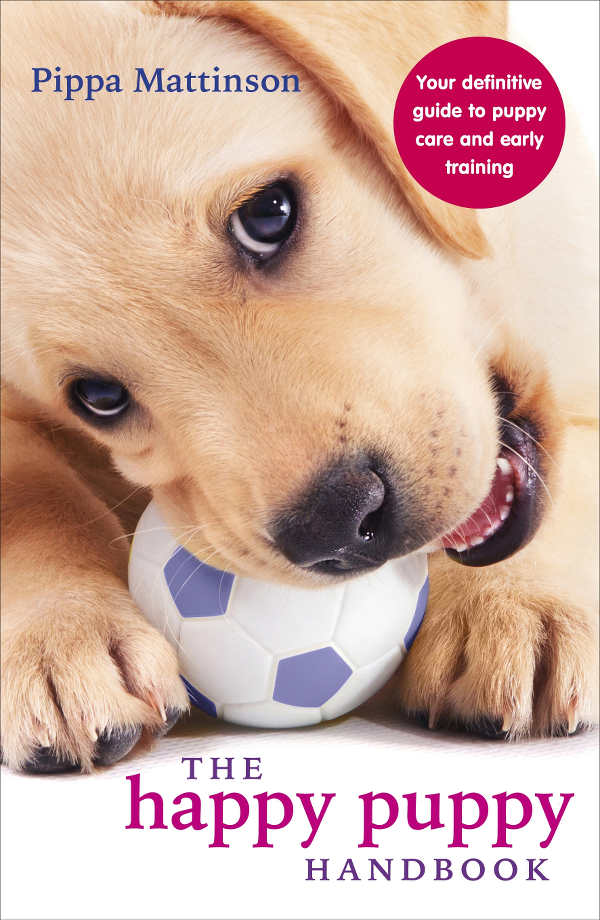 Fortunately, many genetic diseases now have health screening tests available for them.
A good breeder will have health-tested both parents and be able to show you their health clearance certification.
Never get a puppy from a pet store or breeding facilities known as puppy mills.
These dogs are usually kept in small cages and don't receive any proper vet care, exercise, or even affection.
Always ask the breeder to see the parents and where the puppies have been raised. This will give you an indication of the kind of care their dogs have received.
Tell us about the Weimaraner Lifespan
Do you have a Weimaraner? Tell us how old they are in the comments below!
References and Resources
Fleming, JM, et al., Journal of Veterinary Internal Medicine, 2011
Larson, BT, et al., The Journal of Nutrition, 2003
Dreschel, NA, Applied Animal Behavior Science, 2010
Evans, KM, et al., Journal of Small Animal Practice, 2010
Lawson, DD, Journal of Small Animal Practice, 1973
"Dog Periodontitis," Google Patents